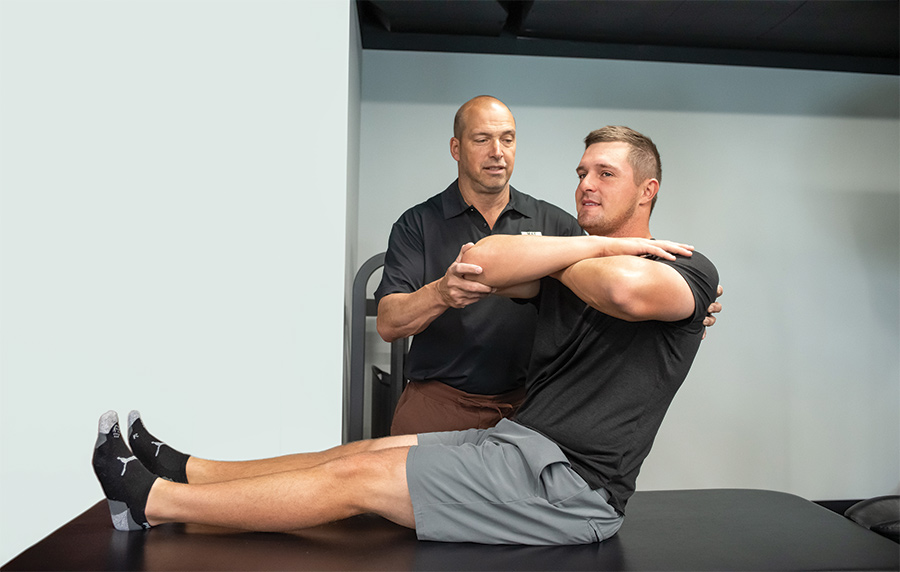 Bryson DeChambeau and his Colorado-based trainer Greg Roskopf are on a journey to break barriers and reach places no other golfer has gone before.
By Anthony Cotton
BY THE TIME you read this story, if Bryson DeChambeau has his way—and, let's face it, asserting himself has never been his problem—he will have caused your jaw to drop.
Of course, on some level, that declaration is something of a sucker's bet, akin to saying the sky is blue or water is wet. Over the last couple of years, whether via his play on the PGA TOUR, or his running commentary away from the course, about the only person more adept at generating headlines than the 27-year-old is a recent retiree to Florida who's been known to dabble a bit in golf.
In this case, DeChambeau is excited about a breakthrough he thinks he's made in one of the driving forces in his life— becoming the world's best golfer, which, perhaps to your surprise, DeChambeau admits isn't the guy in the mirror wearing the Ben Hogan brim.
"There was a moment in time, right after I won the U.S. Open, then shot a 63 in the first round of the Shriners (Hospitals for Children Open, his next event following his major championship triumph at Winged Foot) where I felt like I was the best in the world," he says. "But I mean, if you're talking the world rankings and the best players in the world, it's Dustin Johnson, right? And, you know, Justin Thomas is right up there—I feel like those guys are ahead of me for sure."
But if he's right about his new discovery, that's about to change. And while he isn't particularly forthcoming on the specifics, he does allow that the potential game changer occurred during a recent visit to Colorado.
"Yesterday, we figured out something monumental that could be revolutionary to the way I'm producing speed and power," he said one day in late April. "This could help me get to a whole other level—and we just figured it out yesterday.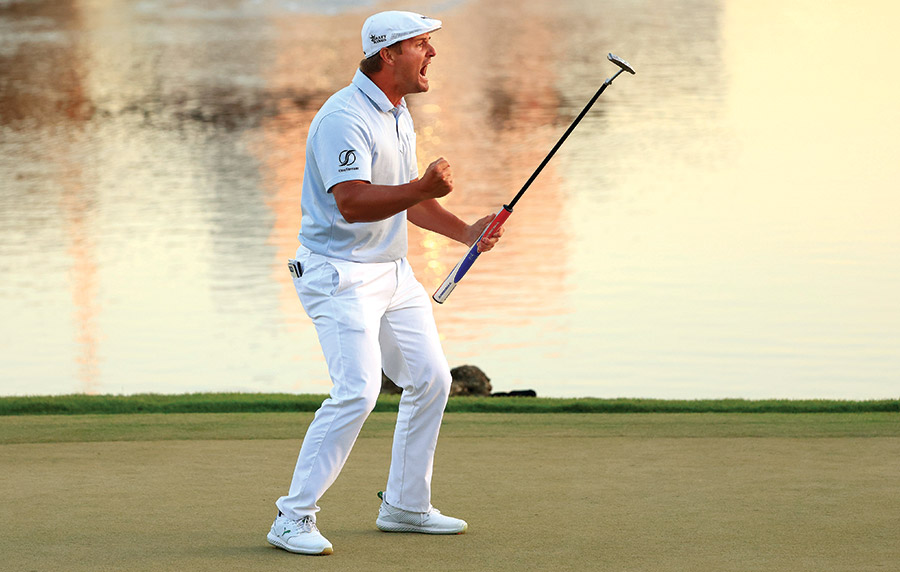 "I can't explain it, and I can't really talk about it, but I will say it's along the lines of speed and power… We've been building strength; now we're going to start building power, and…they're two completely different trains of thought…
"I've always been inquisitive and trying to find the best way to do things."
It's no coincidence that DeChambeau's rise up the World Golf Rankings overlaps with his treks to the Centennial State. The common, somewhat pejorative label of DeChambeau being something of a mad scientist stems from that inquisitiveness, and his never-ending willingness to explore how best to apply disciplines like physics into activities many of us do every day, with nary a thought about the hows and whys—be it doing a reverse leg curl on a machine, or moving a golf club around the body and down into the ball.
Fortunately for him, DeChambeau has found a kindred spirit, not in a laboratory, but rather in a surprisingly cramped space in Englewood. After the two met through mutual acquaintances, Greg Roskopf, the founder and owner of Muscle Activation Techniques, has become an integral part of the golfer's journey, convening twice a month with DeChambeau, the two nerding out on an exploration of the far reaches of physical possibilities.
"We're never going to be happy with the status quo—we're going to question and challenge everything," Roskopf says. "Every time he comes here, he'll say something, even in a casual conversation, that makes me think, that challenges me."
"I think what attracted me most to Greg was that he wasn't stuck in the normal modalities of physical therapy and how to recover your body," adds DeChambeau. "I've been to plenty of chiropractors, plenty of physical therapists, and when someone referred Greg to me, I thought I'd see what he was about; he answered the questions that I had about recovery and how do you get your body to perform better.
"It was all about treating the nervous system and not just treating the muscles. And I was like, 'I've never thought about that.' And as I started going through it, I started feeling immediately better—every time I went to him, it was just…it wasn't anything specific, but it was like I was becoming more like a kid again. And that's the best reference I can give to it—my body just felt younger."
STRAIGHT, NO CHASER
According to Roskopf, there are 43 movements in the human body; the work he and DeChambeau are doing seeks to train the golfer's body, both muscularly and neurologically, to maximize those movements by breaking down the body, then immediately building it back up again, gaining strength— and the ability to add and tolerate force—in the process. With a palpable sense of awe in his voice, Roskopf speaks of one marathon training session where DeChambeau went from maxing out at 90 pounds in one rotational exercise to hitting 150 pounds, and doubling the amount of force he subsequently was able to generate.
That's the reason why DeChambeau is reaching jaw-dropping numbers in areas like club head and ball speed—in 2016, he was averaging 295 yards off the tee; by 2020 that figure was a Tour-best 322 yards. Going into last year's U.S. Open, all the talk was about how brutal Winged Foot played in 2006, the last time it welcomed the national championship. As it turned out, DeChambeau bullied the course—averaging almost 326 yards off the tee, he hit just 23 fairways over the 72 holes, but it didn't matter, in essence turning the tournament into a pitch-and-putt (that's not to denigrate his short game—DeChambeau averaged more than a stroke gained on the putting greens).
In the five previous U.S. Opens at Winged Foot, only two out of 750 competitors broke par over 72 holes—the best a four-under-par 276. DeChambeau finished at 6-under 274.
"I don't really know what to say because that's just the complete opposite of what you think a U.S. Open champion does," Rory McIlroy said afterwards. "Look, he's found a way to do it. Whether that's good or bad for the game, I don't know, but it's just not the way I saw this golf course being played or this tournament being played."
Some six months later, in the throes of a "slump" that would see him go without a win on the PGA TOUR from November of 2019 to May of 2021, McIlroy admitted that part of issue was a swing change that came about because of a quest of his own—chasing more distance in an effort to keep up with DeChambeau.
"I'd be lying if I said it wasn't anything to do with what Bryson did at the U.S. Open," he admitted.
Asked about the comment, a slight smile crosses DeChambeau's face, followed by an audible smirk.
"Gaining distance is a very difficult endeavor and one that in the golf industry, we don't truly know how to do through a systematic process," he said. "We know how to systematically get better with your golf game—we don't know how to systematically get better with how far you're hitting it.
"It's an unknown thing for the most part." Roskopf says the problem most players have is that they're focusing on the wrong things.
"Golfers are saying 'I want to work out and increase my (swing) speed,' but what they're really doing is working out and breaking themselves down. Brooks Koepka works out a lot—he's always injured…and if they break themselves down, nobody's there to fix them—that's why 90 percent of the people who work out are injured; they overload their bodies and tighten up, the movement gets more restrictive and they compensate, but that's like driving your car with bad alignment—the harder and faster you drive, the quicker it's going to break down.
"When you overload muscles through any type of activity, the first thing the body does is tighten up—the second thing it does is shout out in pain, saying 'We're unstable and weak here.' What we're doing here is preparing his body so he can go out on the course with an 'S' on his chest, he can go out and put all the force on his body that he wants and not get injured.
"Nobody else in the world is doing this—Bryson has something that no one else has. There are a few other golfers who have jumped on board…"
"But not at this level," DeChambeau interjects. "Like he says, I feel like I have an 'S' on my chest."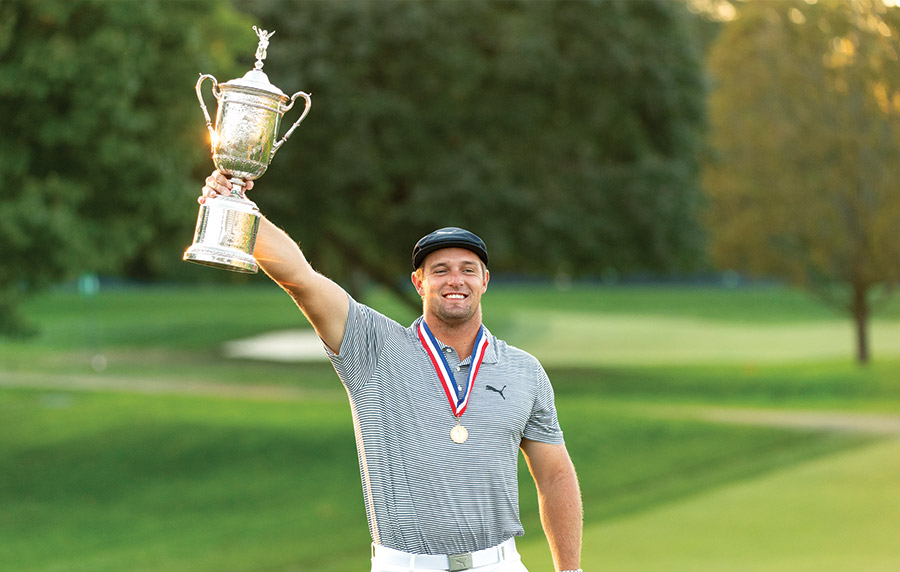 LIVE AND LEARN
Or perhaps it's a scarlet letter; as McIlroy alluded to, there are some who question whether DeChambeau's approach is good for golf—a sentiment that applies both on and off the course. Quick to let his emotions show, DeChambeau has also been willing to jostle the status quo in other ways, courting the golf gods' furor with utterances like how the 2020 Masters, played in November on a course far more forgiving than it usually plays in April, would "play like a par-67 for me."
As it turned out, that wasn't the case. Citing dizziness and a stomach bug, DeChambeau finished in a tie for 34th. Playing in the final round with 63-year-old Bernhard Langer, DeChambeau averaged 315 yards off the tee to his partner's 250, but it was Langer who finished with the better score, shooting a 71 to DeChambeau's 73.
In the aftermath, DeChambeau says he learned a lesson—but not the one you might expect.
"I was saying what I felt, but to me, those comments were harmless; I wasn't trying to say to the golf course's that easy, I was just saying in my mind, that's what I'm trying to make it play as, so that I can shoot 15-under, or 16-under (Dustin Johnson won at 20-under)," he said. "There was no malice intended; it was more of like, that's my mindset so that I can go shoot a low number.
"I mean, when I was growing up, I'd always play from the red tees, the shortest tees, so I could learn how to shoot 58, 59—that's kind of the way I always had my mindset, to learn how to score. And so, I didn't realize it would be that much of a controversy; it was more of my thought process of saying, 'Hey, I want to make this feel like it's easier in my brain.'
"I mean, I could have as easily said it would play as a par-76 … I think people just misunderstood that a bit and that's okay—I mean, as I move forward, I'm learning how to react to certain questions and how to say certain things so that, you know, people don't get offended, people don't get frustrated and be like, 'Why did you say that—you don't need to say that.' I've made a lot of mistakes in my life, but I'm learning as time goes on."
NAMING NAMES
Turn on Golf Channel, and chances are it won't take long before Chris Como, DeChambeau's swing coach, pops up on the screen. While the latter says the work that's being done involves a multi-faceted approach incorporating strength and mechanics, it's clear that, while chicks— and distance-loving guys—may dig the long ball, treatises on applied physics and the neuromuscular system don't necessarily make for appointment television viewing.
As far as Roskopf is concerned, that's perfectly fine.
"One of the reasons why we're kind of private about all this is that we don't want people to think they know what we're doing and try and play around with it because they'd probably make people worse, rather than better," he says. "So as far as being out of the spotlight, I'm fine with that. Bryson has probably gotten more vocal about it the last couple of years; there are players on tour who Bryson talks with, and he tells them, 'Hey, you need to do this.'"
As it turns out, a number of players have indeed approached Roskopf and started to work with him, and while they haven't seen the explosive success that DeChambeau has, there's certainly been evidence that the process is working for them as well—most notable among them Australian Matt Jones, who tied for 26th at the Masters, just weeks after winning his first PGA TOUR event, The Honda Classic.
Because of his growing clientele, Roskopf says he's now able to watch golf tournaments, even when DeChambeau isn't playing in them. Just don't expect him to become a fixture out on the circuit.
"I don't want to travel and be at all the events; I have a life, I have a family," he says. "And there are a lot of people around here who depend on me; that's probably my biggest stress right now, how do I manage the demand—I'm charging $600 an hour and I still have a waiting list of people who I can't get in.
"It's a difficult problem, but I guess, it's really a good one to have."
Anthony Cotton is the former editor of Colorado AvidGolfer.