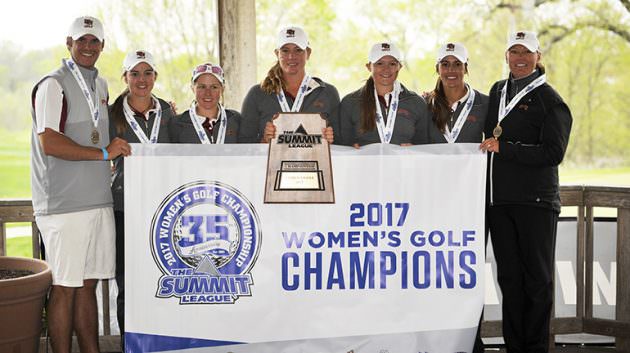 NEBRASKA CITY, Neb. – The University of Denver women's golf team rallied on Tuesday en route to picking up the Summit League Championship. The Pioneers, who entered the day down two strokes to South Dakota State, posted a final-round 293 (5-over) to secure its fourth straight league title.
The team finished with an overall score of 906 (42-over), six shots ahead of the Jackrabbits. The Crimson and Gold have now won 14 straight league/conference titles.
Par for the course was 72 at Arbor Links Golf Course.
DU entered the round trailing for the first time ever in the tournament since joining the league back in 2013.
But with the stakes raised, head coach Lindsay Kuhle delivered a powerful message to the players late on Monday night and they responded by coming out of the gates fast Tuesday morning.
Jessica Carty, Mariell Bruun, Lauren Whyte, Jessica Dreesbeimdieke and Sophie Newlove all had it going early for the Crimson and Gold, rolling out to a quick lead before making the turn.
SDSU, though, battled back and made it close heading into the final stretch of holes. Denver responded with the championship pedigree that is shown since joining the league and under the guidance of Kuhle, using a late surge to get the separation it needed to secure the team title.
The senior duo Carty and Bruun became the first pair of Pioneers to capture four Summit League Championships in program history. They also were the two members to be selected to the all-tournament team.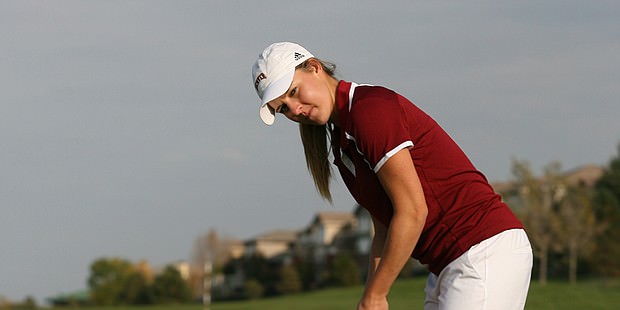 Carty once again used a big performance on the back nine to lock up runner-up status. The senior posted an even-par 72 for the day, but went 2-under in her final 13 holes of play.
Bruun, despite a lower leg injury, fought her way into a tie for third with a 1-over 73 in her last outing at a Summit League Championship. She closed strong, going 1-under during her final five holes of the tournament.
Dreesbeimdieke turned in her best round of the three-day event, firing a 72 on the day to jump up into sixth place for the tournament.
Newlove closed out her championship in seventh after posting a 4-over on Tuesday. The sophomore did get hot late, making three straight birdies on holes 14-16.
Whyte fired a 76 on her last day on the course, good for an eighth-place finish.
The Pioneers now wait to see where they will head for the NCAA Regional in early May.