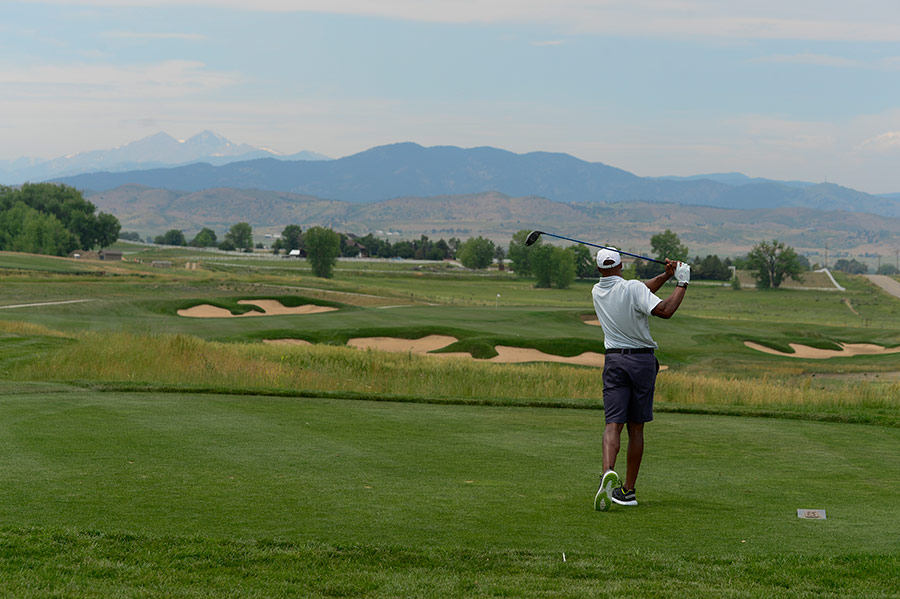 In coach Karl Dorrell, the rejuvenated Buffs finally find a calm, strong leader who's equally in command moving his team down the field and his ball around a course.
By Andy Bigford
Photographs by John Leyba
AFTER HAMMERING a drive nearly 300 yards on the state's longest hole, the par-5 13th at TPC Colorado in Berthoud (773 yards from the tips), Karl Dorrell follows with a well-struck fairway wood. But he misjudges the line, trying to cut off too much, and the ball falls into the cavernous, 110-yard-long Hell Bunker (à la St. Andrews), which stoutly guards the entire left-side approach.
He's now imprisoned in a deep, randomly fingered pit of sand from which visitors are fortunate just to emerge without physical or mental damage. From the depths of Hell, Dorrell pures his pitching wedge, and the ball arcs 130 yards to the upper tier of the sliver of green. Minutes later, he center-cuts the 15-foot birdie putt, and the second-year head coach of the University of Colorado Buffaloes football team has just brought TPC's No. 1 handicap hole, nicknamed "Longer Still," to its knees.
This might be the rescue job of the summer golf season, but it's nothing compared to the reclamation he conjured last fall. That's when Dorrell re-awoke Buffs Nation by guiding the once prominent but long beleaguered team through COVID-19 protocols to post four consecutive wins, an Alamo Bowl berth against Texas, and, ultimately, Pac-12 Coach of the Year honors.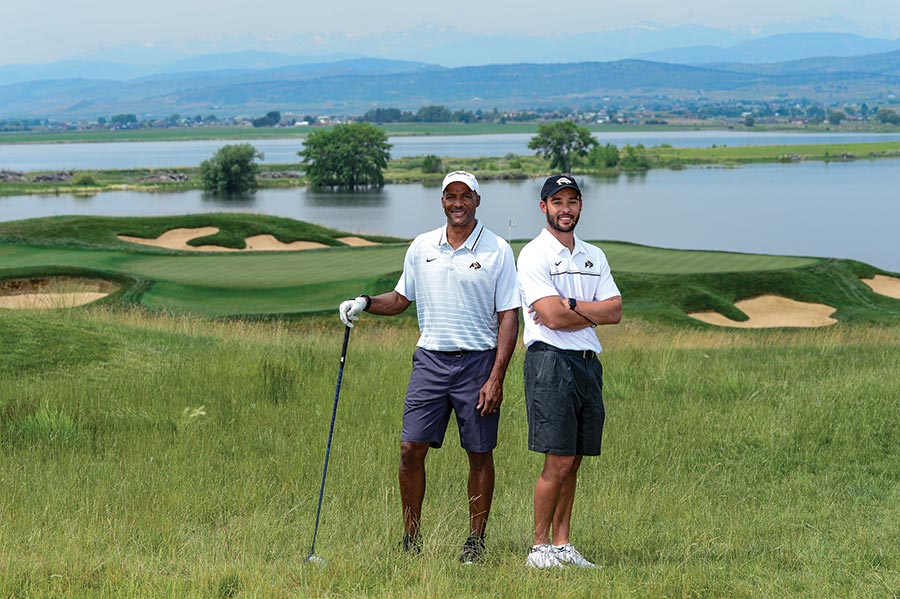 When a fit, youthful-looking Dorrell, 58, appears at TPC with his son, 26-year-old Chandler (CU's director of player personnel), for this late morning round near the end of June, it's immediately apparent that everything they say about the coach is true. Despite the commanding presence, he's still soft-spoken, thoughtful, calm, and extremely professional. Then, deftly switching gears when the situation warrants, he turns intensely passionate and unerringly direct.
Before Dorrell was hired in February 2020, CU Athletic Director Rick George and Buffs faithful found themselves in their own Hell Bunker. George had apparently chosen well when he plucked up-and-comer Mel Tucker, to lead the Buffs for the 2019 season. After a promising first year and a recruiting surge, the Buffs outlook was rosy. Then the once likeable Tucker suddenly morphed into "Midnight Mel," departing hastily one night for more than double the salary and the resources at Michigan State University. The process by which George then found Dorrell was akin to him frantically searching for an errant shot that appeared to bounce over the green and into the water, only to find his ball in the bottom of the hole while walking to the next tee.
THE PERFECT MATCH
Karl Dorrell, who was a three-time Rose Bowl-winning wide receiver for UCLA and then served as an assistant coach under Bill McCartney during the Buffs 1990s glory days, says he would not have left the NFL coaching ranks for any college position except for the one he now occupies.
He hadn't even sought the job. In February 2020, the Miami Dolphins promoted him to assistant head coach, and he'd planned on heading to the NFL Combine in Indianapolis after spending a weekend with his wife, Kim, in the house they had built in 2016 in Lafayette, 10 miles east of CU's Folsom Field.
Meanwhile, Rick George and his lieu- tenant, Lance Carl, had been fretting over a once-promising but now futile list of a dozen candidates to replace Tucker: No one was the right fit. Then George thought of Dorrell, whose résumé included five bowl games while compiling a 35-27 record with the UCLA program as head coach from 2003-07.
Carl called Karl and was pleasantly surprised to learn that he not only had a home in Boulder County, but was headed there that night. George, Carl and Dorrell met the next day in Lafayette and finalized a five-year deal, set to pay Dorrell a $3.2 million salary that escalates annually to $4 million in the final season). (Dorrell, along with George and head men's basketball coach Tad Boyle, took 10 percent pay cuts for the COVID-impacted fiscal year 2020-21.)
"It couldn't have been a better hire for that position," observes former Buffs coach Gary Barnett, now the team's KOA radio color commentator. As for the odd circumstances that produced it? "You gotta be a little lucky in that business," Barnett says. "CU was due."
Since 2006, the Buffs have won less than one-third of their games. Even on the rare occasions when the team tasted success, the seasons ended badly. For the pandemic- shortened 2020 campaign, CU didn't even kick off till early November, when it got out to big leads and then hung on to dispatch UCLA and Stanford. The next two games were canceled because of COVID issues with opponents Arizona State and UCLA.
The Buffs then won their next two, against San Diego State and Arizona. Their 4-0 start propelled them to No. 21 in the Associated Press poll (several other teams had already played 10 games). Buffs fans were ecstatic and reveling in schadenfreude, as Midnight Mel and the Spartans stumbled to a 2-5 record in East Lansing.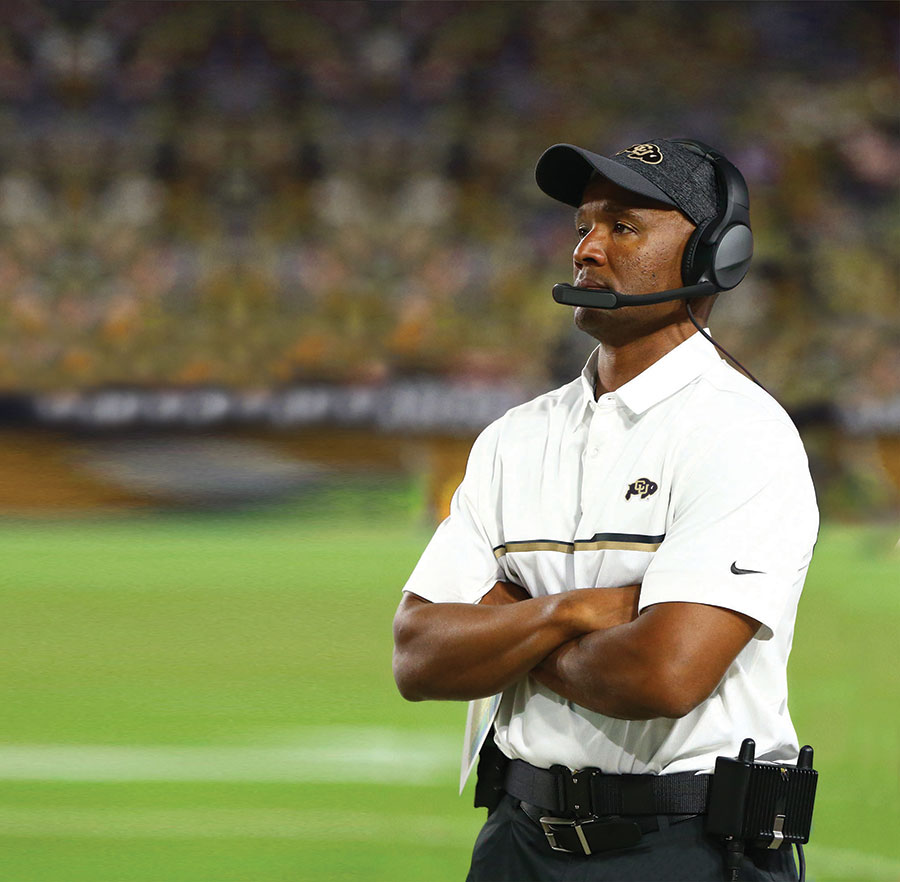 BORN TO COACH…AND GOLF?
Karl Dorrell, born Feb. 18, 1963, was the son of a chief petty officer based in the Navy hotbed of San Diego. He played most sports growing up and was writing playbooks as a 9-year-old street-ball QB, but no golf. After five years as a wide receiver at UCLA, catching passes from quarterback Rick Neuheisel (whom he would later assist at CU and Washington), Dorrell already had a job lined up to sell computers for IBM
Then he learned that a future in coaching could actually be quite bright, and he decided to give it a try, starting out at the very bottom of the ladder as a grad assistant. At about this time he started playing golf, with an assist from Kay Cockerill, a fellow UCLA athlete and two-time U.S. Women's Amateur champion who currently works as a Golf Channel broadcaster. Golf hooked Dorrell immediately, although as he rose through the coaching ranks he realized it would always be a limited, off-season endeavor.
He met Kim, his future wife, in 1989, when he was a 26-year-old offensive coordinator at Northern Arizona University in Flagstaff (she was from Phoenix). The next 30 years saw the couple buy and sell 14 homes across the country while Karl worked for such schools as Colorado, Arizona State, the University of Washington and UCLA, and NFL teams in Denver, Miami, Houston and New York.
By 2016, they'd had enough of packing tape and decided to build their Lafayette home while Karl rented a one-bedroom apartment in whatever city he worked. Dorrell fervently follows the PGA TOUR on TV with a teacher's/pupil's eye. At TPC, he is full of lessons gleaned from viewing John Rahm's U.S. Open win, as he and Chandler, both southpaws who draw the ball, navigate the course from the gold tees. Neither has played for five weeks, and both are swinging new clubs, having recently gone through full-bag fittings with PXG at Colorado National Golf Club in Erie. Chandler, who carries a 6 index, hits it long and could be scary good—if he had the time to play regularly. Karl has a swing and hits shots (and putts) that could identify him as a low single-digit, but he also suffers through mishits that veer off at odd angles. The entire group frequently falls victim to TPC's thick, juicy rough, which stands at 4-plus inches for the Korn Ferry Tour's TPC Colorado Championship at Heron Lakes.
"I wish I were a better golfer, but then I wouldn't be a good coach," says Dorrell, who plays to a 10 during those stretches when he can get out on the course semi-regularly. It's a truism that Karl and Chandler now bond over: If you're a coach who maintains a low handicap, you are either new to the business or won't be in it for long. Karl first put a club in Chandler's hands at age three, but he excelled at football, playing wide receiver for three seasons at Vanderbilt (and before that, Stanford). With an economics degree in hand, Chandler got involved in start-ups after college, then wandered back to football as a volunteer assistant coach alongside dad with the New York Jets and Miami Dolphins.
As the Buffs director of player personnel, he holds considerable sway over everything from recruiting and scholarships to final rosters and travel. His digital savvy along with analytical and organizational skills proved particularly helpful during the long, COVID remote period. His role is akin to an NFL GM—Chandler's career goal. (Kim and Karl's daughter, Lauren, played volleyball for CU but recently finished up at Auburn.)
Dorrell's dream is to retire in Colorado after a long, successful run with the Buffs, and to live on a golf course. He and Chandler are impressed by the quality of TPC Colorado, and Karl asks for a membership packet after the round. With the COVID spike, the club has already filled its rolls, while the construction of course-side homes is fast and furious. When Karl was head coach at UCLA, the Dorrells belonged to TPC Valencia (now known as the Oaks Club at Valencia); it's where Chandler learned the game, and the two share fond memories of those days. It's no surprise that Karl, the ultimate teacher, has an affinity for a club network tied to the game's professionals.
"Prior to starting the COVID season in 2020, if someone told you the Buffs would win their first four games…you'd have to be satisfied?"
"No! I wanted to win all six," Dorrell quickly answers. Indeed, when the conversation turns to something about which the coach is particularly passionate, his attention and delivery ramp up, as does his eye contact.
The Buffs did wilt down the stretch, losing to semi-rival Utah and getting blown out, 55-23, by No. 20 Texas in the Alamo Bowl to finish 4-2.
This sort of late-season collapse has haunted the Buffs in recent years. The emphasis for 2021 is to "finish the fourth quarter, finish the season," Dorrell repeats, adding the Buffs need to embrace the psychology of "never being satisfied."
"Karl does an amazing job of, telling everybody—coaches, players, staff—what is and what is not expected of them," Barnett says. "And he is going to hold them to it."
Dorrell brings a gameday intensity that was evident after All-Pac 12 quarterback Sam Noyer, who threw two straight interceptions in the win against Arizona, was volubly lectured on the sideline. Afterward, both men told reporters they were on the same page about the desire to meet high expectations and the process needed to get there.
"Well, I think they have a feel for what my expectations are," Dorrell told the Colorado Springs Gazette. "I can't tell you…that it's not going to happen again. I'm going to tell you, matter of fact, it probably will."
Reduced practices during the pandemic last year resulted in a Buffs offense that only ran 40 percent of the plays that Dorrell would normally install. "That's also why teams figured us out at the end of the season," adds Chandler. The playbook—and crowds at Folsom Field—will return to normal this fall.
The prognosticators who picked the Buffs to finish near the bottom last season aren't overly optimistic this fall, either, particularly with a brutal early-season run of Texas A&M, Minnesota, USC and Arizona State. The pundits say CU might win a total of three or four games; Dorrell thinks his team can double that number and contend for the loaded Pac-12 South title.
"I think we'll surprise some people— again," says Dorrell, who's repeatedly proven he doesn't mind hitting out of deep holes.
Contributor Andy Bigford first bought CU football season tickets for the 1997 season, when Karl Dorrell was an assistant coach with the Buffs.
---
This article was also featured in the August/September 2021 Issue of Colorado AvidGolfer.
Colorado AvidGolfer is the state's leading resource for golf and the lifestyle that surrounds it, publishing eight issues annually and proudly delivering daily content via coloradoavidgolfer.com.