Homegrown Colorado Rockies' pitcher Kyle Freeland is an ace on the mound— and on the green.
By Andy Bigford | Photography by John Leyba
---
[easyazon_infoblock align="right" identifier="B01ANUKCRW" locale="US" tag="coloradoavidg-20″]WHEN KYLE FREELAND unleashes his powerful 6-foot, 4-inch, 200-pound frame into a Tour-worthy southpaw golf swing, the ball launches 350 yards down the middle of the fairway—and the second-guessing begins. What if Freeland, who grew up in southeast Denver, had channeled this un-common talent into golf rather than throw-ing a baseball? Might we be watching him in the first week of April at Augusta National—rather than taking the mound for the home opener of the Colorado Rockies, as he did last year as a rookie when he shut out the Los Angeles Dodgers for six innings en route to a 2-1 win in front of al-most 50,000 fans?
"If only we all had a swing like that," muses Brady Wilson, a Durango native, PGA teaching professional and the general manager at Ak-Chin Southern Dunes Golf Club, the sublime Troon Golf course that is an hour's drive south of the Rockies spring training camp, Salt River Fields at Talking Stick, in Scottsdale. "Kyle asked me to take a look, and I told him not to change a thing. He checks all the boxes in every position," says Wilson, who ballparks Freeland's handicap as "probably something on the plus-side."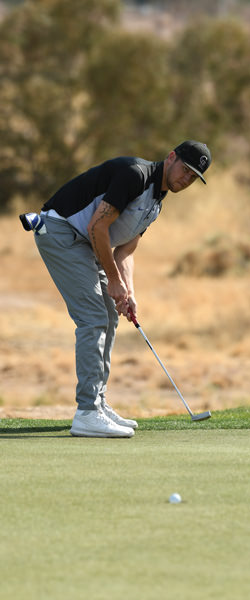 On the first day of March, Freeland, who is a youthful-look-ing 24, is joined at Southern Dunes by fellow Rockies starters Jon Gray and Jeff Hoffman, plus workhorse reliever Chris Rusin. Freeland, Gray, and Hoffman were all first-round, top-10 picks in the MLB draft, and Rusin, 31, the diminutive veteran of the group at just 6-foot, 2-inches and 194 pounds, pitched 85 innings in 60 appearances last year, the second most in the Majors. When the four warm up at the far end of the monstrous, two-sided 300-yard plus Southern Dunes practice range, their drives fly over the distant practice tee and bounce off the cart path beyond. Good thing there are no golfers on the opposite, customer end.
Southern Dunes architects Brian Curley, Lee Schmidt and Fred Couples did not design the opening, 411-yard hole as a drivable par-four, but Freeland gives it a scare when his tee shot soars well over the strategically placed bunkering at its dogleg, finishing in the middle of the fairway just 60 yards shy of the green. This happens a few minutes after Freeland mentions that his "scoring clubs," shots from 150 yards in, are the strongest part of his game.
Digging in with his high-top Nike Air Jordan Retro 1 golf shoes, Freeland does drive the 311-yard par-4 second to record his first birdie. On the undulating, heavily bunkered 513-yard par-5 3rd, the No. 1 handicap, his drive leaves him with a 213-yard seven-iron to the green. In a rare mishit, Freeland thins it right, down a steep embankment, behind trees and shortsided—total jail. Showing off that savvy short game, he scrambles and makes a 16-footer for a birdie 4.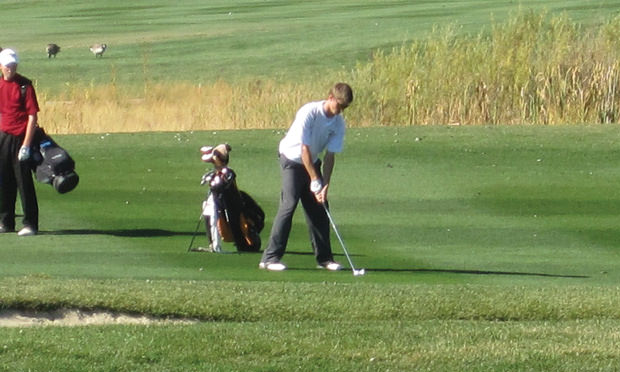 Freeland is trading respectful barbs with Hoffman, his best golf buddy and a roughly 6-handicap with a high ceiling, and with Gray, who recently took up the game. The same height as Freeland but packing an additional 55 pounds, Gray alternates 350-yard missiles down the sprinkler-line angle (no surprise, given the 467-foot bomb to dead center he hit last season against the Cincinnati Reds for his first MLB home run) with misfires that go the same distance at 90-degree angles. His playing partners call him "Cheese," as in the big cheese on the Rockies pitching staff.
Amid the banter, Freeland retreats to his own zone to execute shots, playing quickly, decisively and with the steely focus of an elite athlete. Thoughtful and soft-spoken but competitively intense, he seems to have the perfect makeup for golf. A natural drawer of the ball, he is also perfecting the fade. All of his shots have an unusually high trajectory, and his driver swing appears to be in the mid-120s, high even for a PGA player. Wilson, who also serves as an assistant coach with the University of Wyoming golf team, says both Freeland and Hoffman hit if farther than 90 percent of NCAA Division I players he's seen.
In the ongoing chaos of searching for balls and keeping track of their spirited game of Wolf, Freeland's partners become respectful spectators when he settles in over the ball. The birdie binge continues on Nos. 5, 7 and 8, and despite a three-putt bogey on the ninth, when Freeland's delicate approach barely trickles over a crown and down into a treacherous swale, he finishes the front nine with a scorching 4-under 32. It's the golf equivalent of throwing a "no-no" into the 9th, as Freeland did last July 9 when he held the Chicago White Sox hitless be-fore surrendering a single in a 10-0 Rockies' win, the best-ever outing for a Rockies pitcher at Coors Field.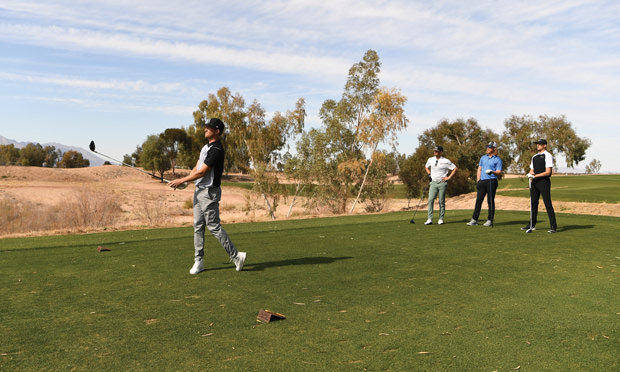 Despite focusing almost solely on baseball from age five through his record-setting career with the Thomas Jefferson High School Spartans, Freeland found just enough free time in the fall to play on the TJ golf team. He qualified for the state championships three years' running, and put himself in the hunt with a first-round 75 as a senior. Freeland could have gone to state all four years, but in his fresh-man season he voluntarily gave up his spot for regionals to his older brother Colin, who was a senior.
The Freeland boys were introduced to golf by their father, Don, who was inspired by his own father, the extremely Scottish and golf-obsessed James Freeland. The boys started at the par-3 Harvard Gulch, working up to play Kennedy Golf Course, a Denver city muni, where Kyle is still revered as the hometown hero.
"My dad told me to swing right and left, then asked which felt better," recalls Kyle. "They both felt natural, so he said I might as well swing lefty since that's how I throw and bat." Don, who writes parking tickets for the City and County of Denver, was a big Phil Mickelson fan, so Kyle became one too, along with idolizing Tiger Woods.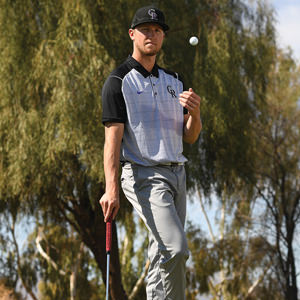 "Kyle's never had a paid lesson in his life. A lot of it is just natural," says Don, who coached the boys for a decade in baseball. When Kyle struggled a bit on the diamond during his junior year, Don wondered if golf might be the better ticket to college. "It was in the back of my mind, if baseball doesn't work out, there are a lot of golf scholarships out there," says Don.
In his senior season at TJ, Freeland set the state record for strikeouts and was drafted in the 35th round by the Philadelphia Phillies. Baseball had won out over golf, but it was never a fair fight. Freeland ended up accepting a scholarship to the University of Evansville in Indiana, the first school that recruited him, where he met his longtime girlfriend, Ashley Chrisman, who played soccer for Evansville. Freeland grabbed MLB attention when he led the summer Cape Cod League in strikeouts in 2013, then was named Missouri Valley Conference pitcher of the year in 2014.
In a dream come true for a kid who grew up idolizing the Rockies, Colorado selected Freeland in the first round of the 2014 draft, eighth overall. He received a $2.3 million signing bonus and now earns a $535,000 salary; the really big bucks are a few seasons away, when he qualifies for arbitration and free agency.
In his rookie season, when the Rockies made it to the playoffs for the first time since 2009 (and only the fourth time in the club's 24-year history), Freeland led the team in wins, finishing with an 11-11 record and a 4.10 ERA. There were also double bogeys and "others," like when he lost his composure and got lit up on Fire-works Night at Coors Field by the Cincinnati Reds.
During this year's spring camp, expectations for the Rockies are running high, and Freeland knows he's a critical part of the equation. He wears his allegiance to his hometown on his sleeve, literally: the tattoo running down his right arm depicts Front Range peaks and lyrics from the Machine Gun Kelly song, "Victory Music": "My city told me it needed me, so I'm grindin' for that."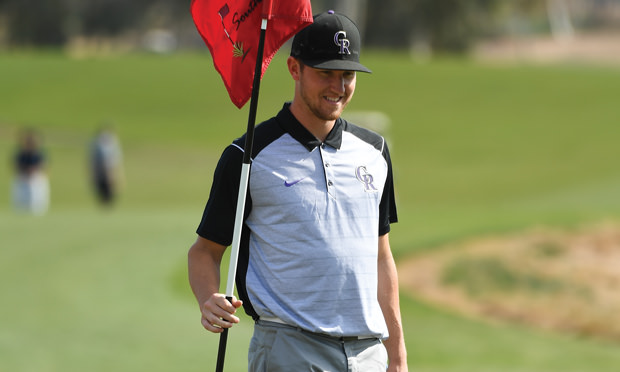 The sun is setting at Southern Dunes, where the course is full on a beautiful spring day, so the Rockies foursome gets the OK to play the front nine again in order to finish before dark. Freeland is reflecting on how golf and pitching complement each other, especially in staying calm through adversity. His talks with Rockies bullpen coach Darren Holmes often drift into golf analogies, he says. "You get into a jam, you have to think creatively. Baseball and golf go hand-in-hand."
Among all professional athletes, the work schedule of an MLB starter provides the perfect fit for golf. Freeland and his foursome need look no further than the Atlanta Braves' Hall of Fame trio of Greg Maddux, Tom Glavine and John Smoltz, scratch golfers who competed obsessively against each other on the golf course during their careers. Rick Rhoden, an All-Star pitcher for the Dodgers and Pittsburgh Pirates, played on the PGA Champions Tour and dominated the Celebrity Golf Tour with more than 50 victories. Last July, former Oakland A's All-Star pitcher Mark Mulder won a record third-straight title at the American Century Championship celebrity tourney in Lake Tahoe.
Golf is mysterious, but hurling a baseball at 95 mph from a pile of dirt to a swinging target 60 feet away may be the most fickle endeavor of all. There are no guarantees. Nagged by a bothersome shoulder, Hoffman couldn't get the reps he needed early in spring camp, and it appeared he might not be on the Rockies roster for Opening Day. Freeland was also battling to lock his own starting spot, and perhaps repeat last year's heroics when the Rockies open at home on April 6 against the Braves.
All of that is forgotten in the natural splendor of Southern Dunes, where Freeland again drives the second green and makes another birdie, even while Hoffman crouches over the hole with his best clown face imitation. Unable to quickly find his drive along the tree line on the par-5 7th in the dusk, Freeland takes a penalty and makes double, but closes strong by again birdieing the 8th and parring the 9th.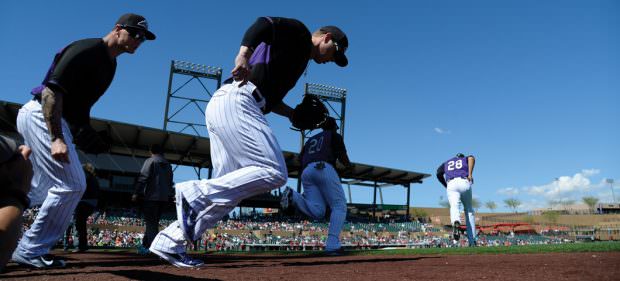 He finishes with seven birdies and a 2-under 70 from the Gold Tees, which stretch 6,902 yards (Freeland and Hoffman usually play the 7,330-yard Blacks or the 7,546-yard Tips). Freeland says it's his best score ever, though that's a little hard to believe. Besides pounding driver long and straight all day, hitting crisp approach shots, and demonstrating an uncommonly deft feel for the short game, Freeland has holed roughly 160 feet worth of putts.
Whatever happens on the baseball diamond, he'll always have golf, and he wants it to be a big part of his life when his base-ball days are over. "Whether in teaching or playing, we'll see," he says, grinning at the thought of either.
"If Kyle spent all his time training for golf," predicts the PGA pro Wilson, "I can only guess what his ceiling would be."
---
This article is the cover story in the April 2018 issue of Colorado AvidGolfer.
Colorado AvidGolfer is the state's leading resource for golf and the lifestyle that surrounds it, publishing eight issues annually and proudly delivering daily content via coloradoavidgolfer.com.