George's headline-making summer hire is looking better by the minute.
by Jim Bebbington
This is a follow-up article to our cover story in the August/September 2023 Colorado AvidGolfer magazine. Click HERE to read the original article.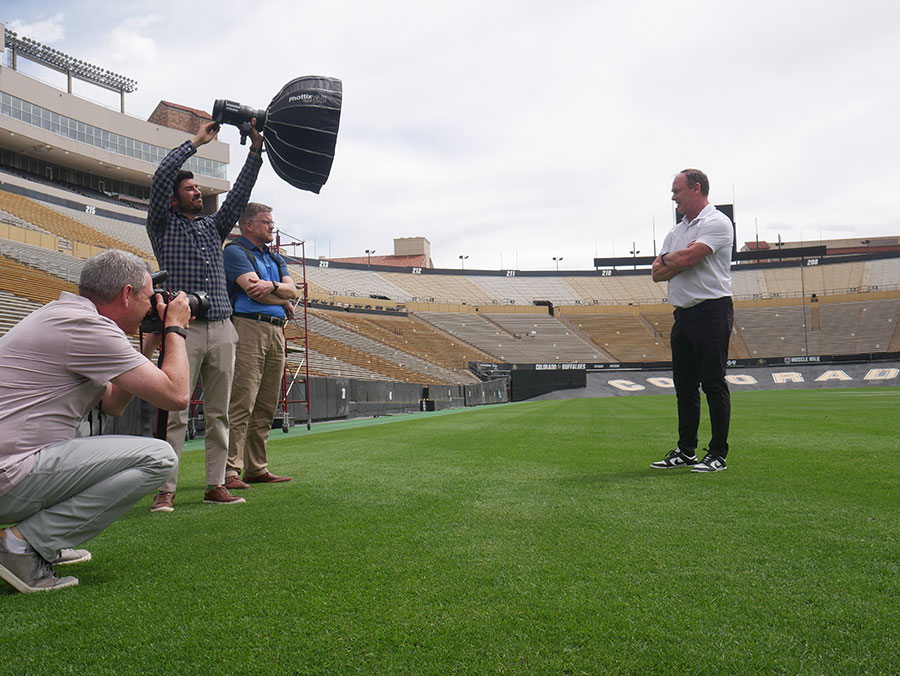 Rick George, the athletic director at the University of Colorado and – let's be honest, this is more important – the cover model for the August print edition of Colorado AvidGolfer, is not ready for a victory lap – yet.
George, as we detailed in our August article, came to Boulder after a career with the PGA Tour, running a golf tournament in New Orleans, and helping run the Texas Rangers. At CU he has raised millions, led successful capital campaigns, and watched as a decade of Buffs athletes won league and national titles in an array of sports.
But the football program languished, and last fall George became the man who hired Deion Sanders to turn it around.
"I just felt fairly strongly at the beginning (of the search) that this could be a match made in heaven and I think it was at the end of the day," George said in a video interview posted by Colorado Football on YouTube.
In his interview with AvidGolfer, George told the story of how he moved from football coaching to golf tournament operations and baseball leadership, learning along the way what it took to lead a large successful sports entity.
"I mean everything positive or negative comes back to the AD typically," he said. "And to have the right coaches in place, the right support mechanisms in place and there's always pressure in this job to have your teams competing at the highest level and that's why we get in the business of doing what we do – supporting young men and women to get their college education and go on and lead meaningful lives."
Matt McChesney, the former Buffs defensive guard NFL veteran and sports broadcaster on Altitude 92.5 FM, told the 365Sports podcast after Saturday's game that he was among the former Buffs who begged George to hire Sanders.
There were ten ex-players talking with Rick George to give advice, McChesney said. "We distinctly said please don't go for comfort, do go conservative… don't go safe. Go for greatness. Rick George went for greatness and he hired Deion Sanders."
Saturday's 45 to 42 victory over TCU in the Buffs' first game under Sanders led the national sports headlines and made Buffs-Nation euphoric.
On Saturday George hugged Sanders on the field post-game, looking nearly overwhelmed with emotion. In his post-game press conference – after berating reporters and others for not believing that he could lead a Division 1 program to success – Sanders again thanked George for giving him the opportunity.
In an interview last spring Sanders said George is why he's at Colorado. "Rick has a way of presenting something that only he can do it the way he does it. He's not lying. He's not falsifying anything. He's not selling anything. His passion and love for the university just bled through."
"Phenomenal game; just the start," George posted on social media Saturday.
---
Colorado AvidGolfer Magazine is the state's leading resource for golf and the lifestyle that surrounds it, publishing eight issues annually and proudly delivering daily content via coloradoavidgolfer.com.