Athletic Director brought lessons from golf, baseball and coaching to remake CU sports
by Jim Bebbington
photos by Jamie Schwaberow/Clarkson Creative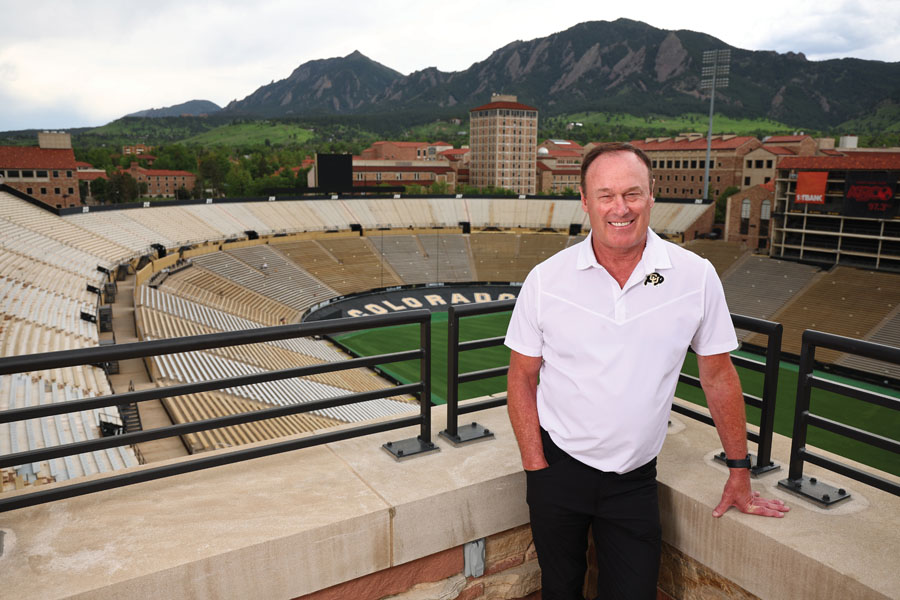 For 10 years Rick George, the University of Colorado Athletic Director, has worked to put CU athletes in a position to succeed.
He has raised more than $100 million dollars to renovate and build new facilities. He kept long-time, successful coaches on staff, and he brought in new coaches who have turned programs around. Most Buffs teams are winning. Some are champions. Student-athletes are graduating.
Then last December he rolled the dice on the highest-profile decision of his career. He is the man who hired a shy, little-known first-time Division 1 football head coach named … (checks notes)… Deion Sanders to lead CU's down-trodden football team back to glory.
In a diverse career before he came to Boulder George worked for the PGA Tour, helped run the Texas Rangers, and ran a New Orleans PGA tournament to raise money for a children's charity. He oversaw recruiting for the Buff's national championship team in 1990. He's had success at nearly every stop.
The Sanders hiring in December instantaneously put Colorado football back on the map. Sanders is a one-man multi-media circus – a trash-talking former NFL star who rivals Bo Jackson as the greatest two-sport athlete of his generation. Sanders is coming off a winning three-year stint as head coach of the historically black college Jackson State University – his first college head coaching gig. He showed up in Boulder with video cameras rolling and appearances on ESPN and other national outlets filling his calendar.
For George, 63, it is arguably the biggest swing of his career. Running the PGA's Champions Tour? Piffle. Helping lead the Rangers' business operations under boss Nolan Ryan? A mere trifle. Trying to talk Tiger Woods into playing in the New Orleans Compaq Open? Pffft.
But bringing the Buffs back to national prominence by luring in one of the loudest, most charismatic football showmen in the country? Grab the popcorn, dear viewers: it's going to be a show!
PRIME HIRE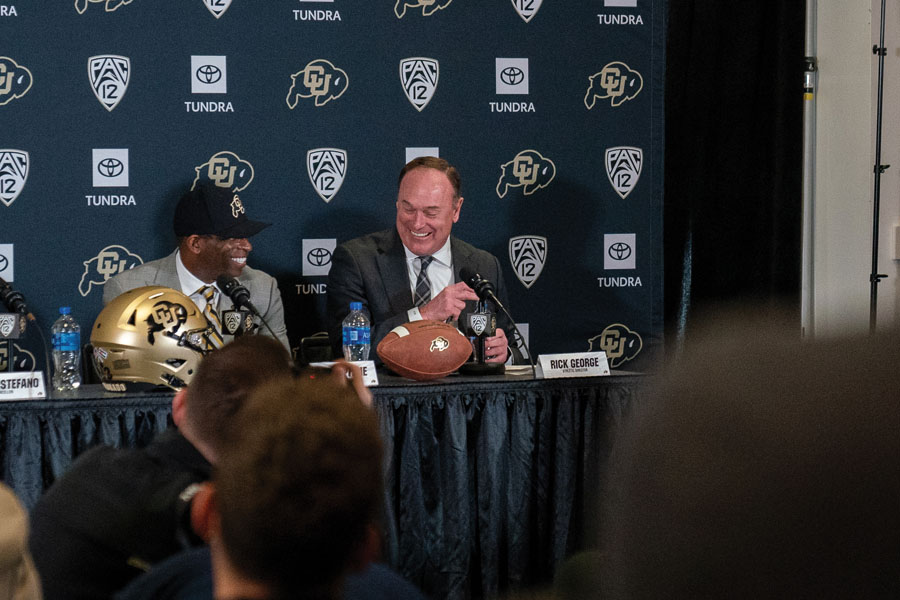 In his office this past summer, George summed up his position when the 2022 football season ended in another disappointment and the school had dismissed head coach Karl Dorrell five games into the season, all losses.
"There were a number of highly qualified and impressive candidates interested in becoming the next head football coach at Colorado, but none of them had the pedigree, the knowledge and the ability to connect with student-athletes like Deion Sanders" George said. "Not only will Coach Prime energize our fanbase, I'm confident that he will lead our program back to national prominence while leading a team of high quality and high character."
At his introductory press conference, Sanders poured praise onto George.
"Rick is a whole other thing; I met my match," he said. "I met somebody who was profound, passionate, that was caring, that stood on morals. A God-fearing man, devoted husband. He understands the game; understands people; understands life. And he will not stop until he has accomplished all that he has set out to accomplish."
Sanders, who talks at press conferences like he is giving a church sermon, said George sold him on the opportunity.
"Now that I've gotten here and I see it and I understand it Rick, and I can grasp it and I can touch it and I can feel it and I can taste it I truly understand what you want," Sanders said. "All you want is the opportunity to win, to compete, to dominate, to be amongst the elite, to be amongst the best. And darn it, I'm going to give you that."
The Chancellor of the university, Phil DiStefano, gave George credit for making a hire that was more than a safe, optimistic step forward.
"Rick George worked tirelessly to conduct a nationwide search for a coach who would return our football program to prominence while also fitting in with the culture and values that make CU Boulder so special," DiStefano said. "Rick set out to make a transcendent, transformational hire, and he succeeded."
Sanders did not come cheap. He has an annual base pay plus payments for TV and promotional work of $4 million a year, according to his employment contract. He receives an additional payment of $1.5 million for supporting the football team's inclusion into the school's academic, citizenship and culture. There are incentives for wins too; if he were to lead CU to a 12-0 season, PAC-12 championship, a national championship and be voted coach of the year, he would receive in total an additional $2.4 million that season.
(George's contract runs through 2026 and calls for him to earn $1 million a year base and supplemental salary with incentives for academic performance of the teams, attendance at football and basketball games, and hitting fundraising goals of $20 million a year or more.)
But as the effort continued to recruit Sanders, George had to keep DiStefano appraised and to make sure members of the school's board of trustees agreed with bringing in such a high-profile presence.
"We just kept (the Trustees) informed because you never know when you're going through a process like this, who it's going to be," George said.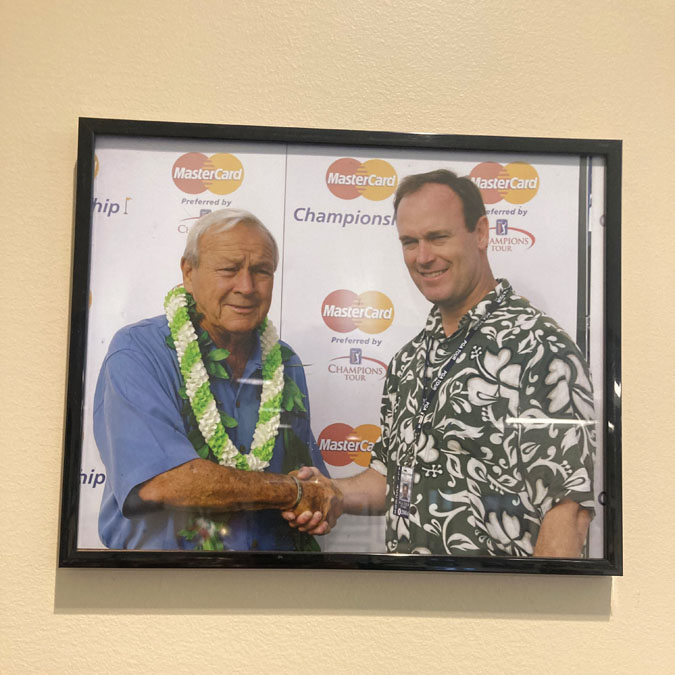 George began at CU in 2013 when the school had big aspirations for its sports programs. He immediately led a huge renovation project – updating Folsom Field and adding needed training facilities. George raised more than $100 million to make it happen and bring the projects in on time and on budget.
George's connections at CU go back to the Bill McCartney 1990 national championship era. George was the director of football recruiting for that squad, having come to CU in 1987 from his alma mater, University of Illinois.
George left CU for Vanderbilt and began to work outside of football operations for the first time in his career.
In 1998 he took his first golf job. He served as the CEO of a New Orleans charity Fore!Kids, which ran the PGA Tour's New Orleans stop – now called the Zurich Classic, but then dubbed the Compaq.
In that role he stumped across the country, meeting with the biggest names in the game to encourage them to come to New Orleans.
Then the PGA Tour called. He ran the league's Champions Tour for five years, adding to the number of events and prize money. He was executive vice president and chief of operations for the PGA Tour in 2010 when he jumped to a new role – helping run the Texas Rangers under team co-owner Nolan Ryan.
Then he returned to Boulder in 2013 to run the whole athletic operation.
"We want all of our teams to be successful," he said. "You know what we put in place was an infrastructure we didn't have. We didn't have this facility seven years ago. We put programs in place for our student athletes under the umbrella of the Crawford family whole student athlete program, which is nutrition, psychological, health, leadership and career development, academics, all the different things that touch our student athletes. So we wanted to put that infrastructure in place and we finally got all that in place. Where we were missing is football wasn't as successful as it needed to be. And so we made a change and we brought Coach Prime in and we'll see what happens this fall."
He said he has used all of his professional experiences –  golf, baseball, coaching, recruiting, fundraising – as he worked to make CU better.
"I've learned something in every role that I've had and what it always comes back to is relationships and how you treat people," he said. "I got the Ranger job because the search firm was a personal friend and connected us. When we ran the tournament in New Orleans, we did a lot of really positive things. The Commissioner noted that and asked me to come in and run the Champions Tour as the first President of that tour."
He learned something at every step of the way.
"In New Orleans when I was running the Fore!Kids Foundation and that golf tournament, it was all about how do we make more money for children's charities? So budgeting and revenue that you brought in and the expenses that you had all made a difference because the net all went back to children's charity. And so in in every place that I've been, I've learned something that I've been able to take and build as I've moved forward in my career."
"I had this conversation with (Retired PGA Tour Commissioner Tim Fincham) a long time ago is that everybody ought to go on the road and work on the road that comes into our organization because … it's putting stakes in; It's being up at 5 o'clock in the morning before the golfers come in, and setting the pins for the Rules Committee and. All those different things and just seeing all the work that goes behind the product that's on the field."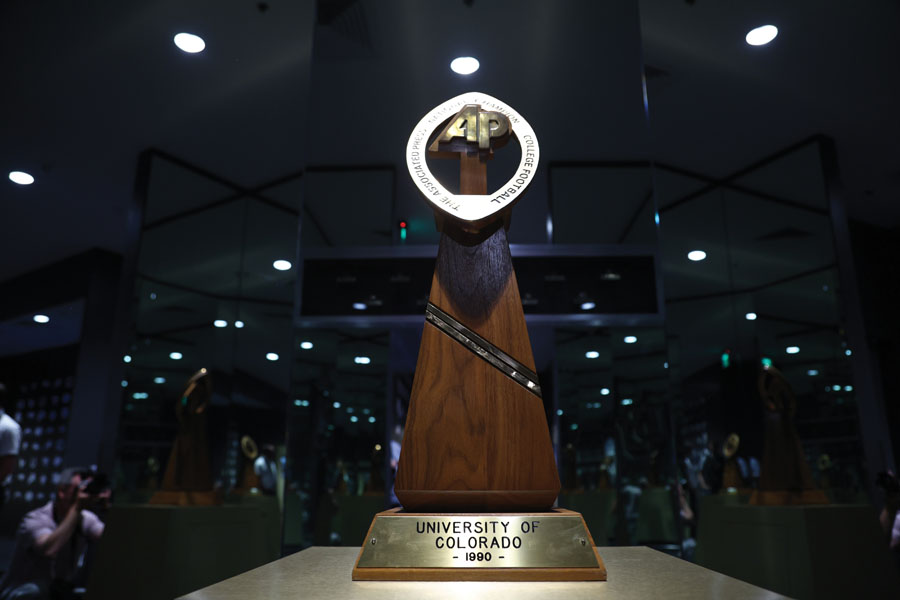 LEAD AND SUCCEED
Women's golf coach Anne Kelley has coached at CU for 26 years and seen three ADs in her time. George impressed her quickly by listening to her and Roy Edwards, the men's coach, about their ideas for a golf-centric office and workout space during the athletic department renovation.
"The biggest thing Rick has done in my opinion is what he did for our facilities coming in," Kelley said. "The Olympic sport teams – golf, tennis, ski – they never had a locker room. We would work out in the morning and the ladies would have to go into a bathroom to change to go to class. Now our athletes can work out, shower, store their things. That's what he does well, it's just not football focused. We all know football drives the ship we all want football to do well. But he's been very supportive of all the sports, especially women's sports."
JR Payne, who has coached the women's basketball team for eight seasons, is one of the coaches George has brought on. She was coaching at Santa Clara University and had her team in the conference championships when a mutual acquaintance put the two together, and they met for a dinner.
"We always joke it was love at first sight," she said. "It was a great first meeting."
What are his marching orders for his coaches?
"The most important thing for Rick is for us to fulfill our jobs is we come to work every day to serve our student athletes," Payne said. "To challenge them and help them become the capable adults they are trying to become."
Winning of course matters; everyone in the department is competitive and wants to succeed, Payne said.
But George wants the students to succeed across the board and for the coaches to make that possible, and for CU to be seen in a good light.
Payne said when she took the job she attended an athletics department dinner; she knew no one other than George so she stood near him by the front door. Dozens of students from all the teams streamed through the door. "He greeted every single kid by name, and not just their name but he's asking 'Hey, your brother is a freshman at Cincinnati; how's he doing?'" Payne said. "He really knows these kids. It's wild. It goes to show his investment in all of them."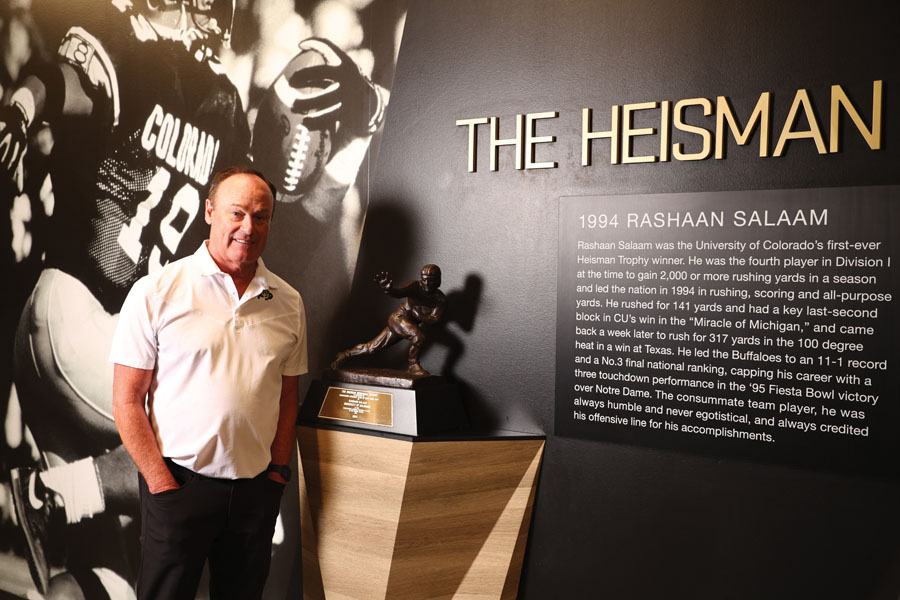 In George's office, through the main windows, the view shows the stunning Flatirons foothills that have made Boulder a destination for thousands of residents, hundreds of thousands of CU students and alumni, and millions of visitors.
This vision is meant to impress. When recruits and their parents are brought up to meet with George, they are seated on couches that give them no choice but to gawk at the rugged mountain beauty.
Then, framed on the wall near George's desk, there is a poster that states the vision for the CU athletics department: "To be nationally recognized as a premier athletics department, by providing a world-class and holistic Student-Athlete experience, operating in a fiscally responsible manner, while consistently competing and winning championships."
(On the floor too is a gigantic Barbie play set – enormously pink – for his granddaughters Maddie and Harper when they come over to watch games from his office.)
As he leaves his office on a tour of the facilities, George walks into the department's cavernous indoor-training facility.
"Way to go this weekend," he shouts across the field to two women running drills on the track.
"Thank you!" one shouts back.
"That's Avery McMullen, who's a really good heptathlete and she's a hurdler and sprinter, and that's Abbey Glynn, and then (Track Head Coach ) Jenny Simpson who is our Olympian over there. They are getting ready to work out for their nationals in two weeks."
(Glynn would finish 8th in the finals of the 400 meter hurdles; McMullen finished 10th in the finals of the heptathalon.)
With a lot of evidence of success around the complex – athletes training for NCAA championship tournaments, trophies on the walls and a very crowded football summer walk-on camp being conducted next door – George is asked about what's next.
"At some point we've got to fix the West side of our football stadium and we've got to work on our basketball arena," he said. Both need more boxes and upgrades; the football stadium work will likely cost another $100 million.
"But we're redoing our track, we're putting lights in for our soccer program, we're fixing our lacrosse field, putting a new lacrosse field in all this summer. Look, we still got to go out and win football games and I think we're doing things the right way and we've got the right people in place and now we just need support and we're getting it. So we're in a good spot."
---
Colorado AvidGolfer Magazine is the state's leading resource for golf and the lifestyle that surrounds it, publishing eight issues annually and proudly delivering daily content via coloradoavidgolfer.com.