Colorado State standouts are victorious at the 4th US Women's Amateur Four-Ball Championship.
By Drew Kort
Just two weeks after qualifying for NCAA Regionals as individuals, Colorado State junior Katrina Prendergast (Sparks, Nevada) and sophomore Ellen Secor (Portland, Oregon) are USGA champions.
A year ago, the dynamic duo competed in the U.S. Women's Amateur Four-Ball and made an exit in the round of 16. This year, they set their sights higher. They took Tarzana, California's par-72 El Caballero Country Club apart.
"Going into it, we really wanted to win," Prendergast told Colorado AvidGolfer. "As long as we played our games, we knew we could do it."
The pair qualified with ease for the match play portion of the event with scores of 70-67 in their first two loops during stroke play action. With a two-day total of 7 under par, they earned the ninth seed out of the 32 qualifying pairs. From that point on, they were dominant.
In their first match, the Rams earned a 4 & 2 victory over up-and-comer Calynne and Auburn-commit Chandler Rosholt. They then rolled over youngsters Hailey Borja and Chayse Gomez in the round of 16 by the same margin.
The unit then faced a tough opponent in former K-State Wildcats Katherine Gravel-Coursol and Paige Nelson in a match that was square through 16 holes. But two clutch birdies on the last two holes propelled them into the semifinals.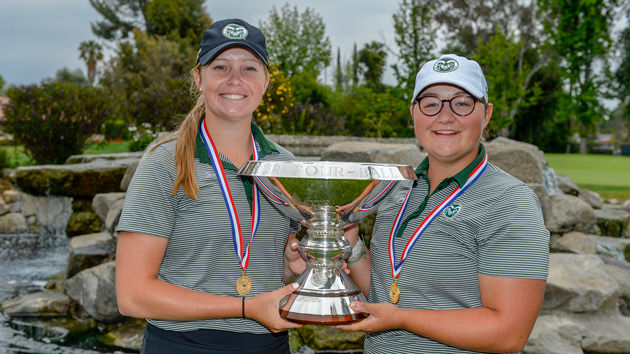 "We knew we were going to have those tough competitors," added Secor. "But we just kept our heads down and stayed fearless."
With only four pairs remaining, the girls squared-off against Duke-commits Erica Shephard and Megan Furtney-they were up to the challenge once again. They logged a 3 & 2 win.
After four victories and six loops around the course, the only thing that stood between the Lady Rams and the title were international standouts Ya-Chun Chang and Lei Ye.
After exchanging birdies the first seven holes of the match, Prendergast and Secor found themselves trailing for the first time the entire tournament on the 8th tee box. But it didn't last long.
With birdies on holes 8 and 9, they regained the lead until the Chinese duo evened the match with a birdie of their own on 10. After a par on 13 and a bogey on 14, the CSU girls then faced their largest deficit of the match-2 down with 4 holes to play.
The side drew extra motivation from the perceived lack of support they were receiving from the galleries. "We felt like the crowd was against us at that point. It was like an away match," said Prendergast. "It made us want to play better."
In dramatic fashion, they responded by taking the next three holes and closed out the duel on 18 for a 1-up victory.
It comes as no surprise that the twosome stood with trophy in-hand at the end of the grueling 7-round event considering they out-birdied their opponents 30 to 12. They didn't just win, they blew away the rest of the field.
Both players will be back in action May 7-9 in Austin, Texas, to compete as individuals at NCAA Regionals. After their performance in California, look out.
"This shows us that we have the games to compete with the top teams," explained Prendergast. Don't be surprised to see these girls near contending for that title, too.
Click here for tournament stats and scores.