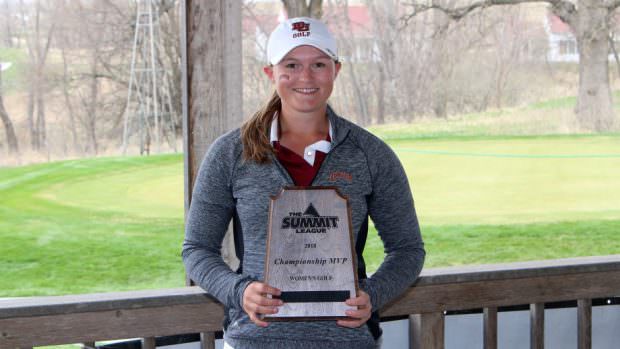 Both the Denver men's and women's golf teams finish second at Summit League Championships
By Drew Kort
Ranked at No. 51 and No. 119 in the nation respectively (per Golfstat), the DU women's and men's golf teams needed strong performances in their conference tournaments to advance to NCAA Regionals.
The women's championship was held at the par-72, 6,261-yard ArborLinks Golf Club in Nebraska City. With a 15th consecutive conference title and fifth consecutive Summit League title on the line, it's difficult to imagine that the Lady Pios expected anything less than a victory out of their trip to Nebraska. But, at some point, the streak had to end.
Three competing golfers out of five logged top-10 finishes for the Denver women, and this includes the Summit League individual champ, junior Sophie Newlove (Nottingham, England).
Newlove fired bookend 1-under-par 71s and a moving day 75 to sit tied atop the individual leaderboard at 1 over par after 54 holes. She then knocked off North Dakota State's Natalie Roth and South Dakota State's Teresa Toscano in a playoff to take home the honors by herself. She has now two individual collegiate victories to her name.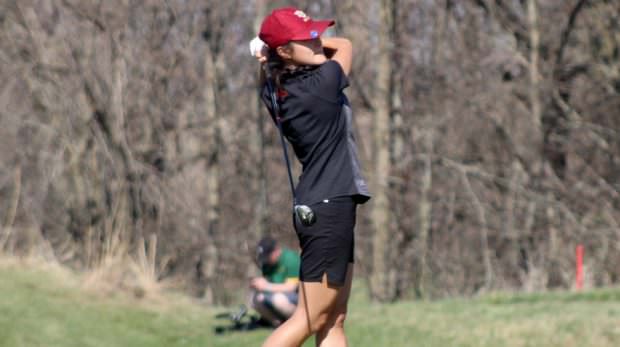 Coming in at T4 and 7 over par was local sophomore Mary Weinstein (Highlands Ranch). The youngster's grit and resilience were on full display when she fired 71-73 to finish after a disappointing 79 in her opening loop. Senior Lauren Whyte (St. Andrews, Scotland) shot 75-72-77 and 8 over par for the tournament to finish T6.
At 28 over par, the team wound up four strokes shy of North Dakota State and yet another Summit League crown. But, there performance was good enough to extend their season. The Lady Pios will travel to Tallahassee, Florida, on May 7-9 to compete in NCAA Regionals as a seven seed.
The men's side had a similar run at their own conference title out in Newton, Kansas, at the par-72, 6,733-yard Sand Creek Station Golf Course. They too fell just short of North Dakota State to finish in second place by only two strokes. Denver and South Dakota State were the only two squads under par in the final round.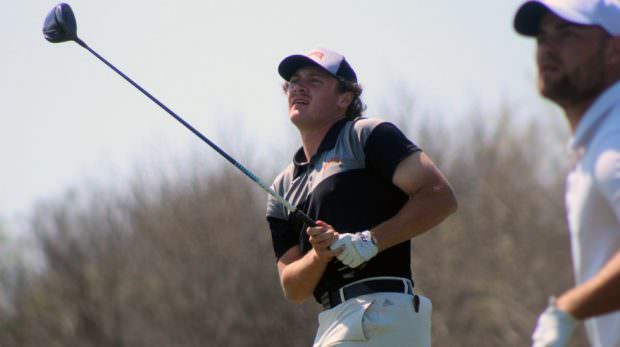 Like their lady counterparts, the Denver men had three golfers finish in the top 10-all of which are Colorado-grown.
The charge was led by senior Jake Kelley (Littleton) who shot an impressive 68 to close the tournament at 5 over par and T4. He was the only player in the field to play the par 4s under par. He navigated them in 1 under par for the week.
Senior Chris Korte (Littleton) and freshman Jackson Solem (Longmont) grinded their way to T7 finishes at 8 over par. It was the best result of the year for Solem.
The second place showing stings much more for the men than it does the women. With a ranking as high as 119th in the nation, they needed a conference title to earn a spot in Regionals. They are ranked too low to be awarded an at-large bid.
Korte, however, because of his strong play throughout the season, will be competing in Regionals as an individual. He will tee it up May 14-16 in Norman, Oklahoma.
Click here for the women's stats and scores, and here for the men's.