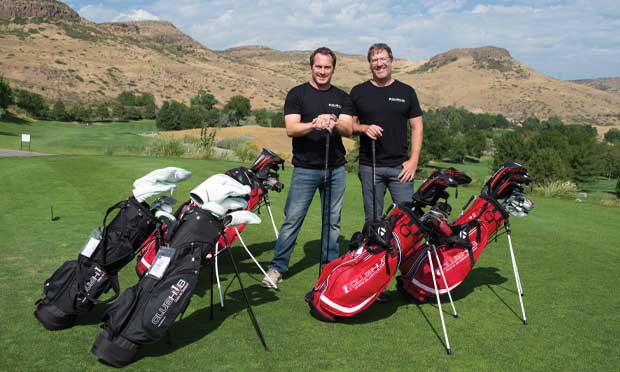 IF YOUR NEXT BUSINESS or pleasure trip involves golf, you basically have three choices: schlep your sticks, pay airline fees and risk damage or theft; settle for the rental clubs your destination course has available; or ship your clubs for a hefty tab.
Now there's a fourth: Rent from ClubHub.com.
There you can find models of the latest premium offerings from TaylorMade (and, as of 2020, other top-of-the-line manufacturers) in your choice of club type, shaft stiffness, lefty or righty, ladies or men's. ClubHub will ship your customized selection from one of its nationwide warehouses—custom stand bag and all—to any club, hotel or staffed business location in the continental United States. After your round(s), put the clubs into the sturdy cardboard box in which they arrived, slap on the return address sticker and leave them at the destination where you picked them up or at a UPS location.
The cost? $69 all in.
Just place your order three days in advance of your first day of golf and send back the set the following business day. This makes it ideal for a Saturday-Sunday getaway. Extra days cost $20 apiece. Longer rentals (up to 31 days) can drop the price to as low as $10 per day.
Denver's Ben Bouillion started the ClubHub concept five years ago after he'd played with a rental set in a corporate event near Houston. "The course gave me a set of Titleist Starships with dents the size of rocks," he remembers. "I quit after seven or eight holes." And why was he playing with rentals instead of his own sticks? "An airline had recently, somehow, lost my Mizuno MP33 2, 3 and 9 irons."
Bouillion did some market research, which revealed a business-to-business opportunity that would help golf courses manage their rental fleets. "Big courses, especially big resorts, often have 50 or more sets," he explains. "We basically would ground-ship clubs to them for their big events, and that would allow them to right-size their inventory." He soon struck deals with TaylorMade and UPS and set up a distribution network.
From a golf operations perspective, "it makes all the sense in the world," says Steve Irwin, the VP of Hale Irwin Golf Services and an active partner in ClubHub.com. "It's reliable and courses don't have to keep the clubs onsite. When golf courses have to buy and maintain rental clubs, they're often foregoing other revenue opportunities. When courses have events, they just call us."
And so do the event planners and companies who want to differentiate their corporate outings by giving guests a unique experience. "It's one thing to ask a guest to come from Tennessee to Pebble Beach to play golf," Irwin says. "It's another to ask them to lug their golf clubs to play for one day. If you can provide brand-new clubs that nine or even 10 times out of 10 are better than the course rents, it becomes a no-brainer."
That success also made it easy to see the direct-to-consumer potential. Bouillion and his team did a pilot in Colorado with 30 sets of clubs and a few courses. "We realized very quickly there was a bunch of pent-up demand," he says, noting the pilot roughly coincided with the start of added airline fees.
"As a guy who travels for business, but also has a family, I don't want to lug my clubs with me," says Irwin, a two-time Colorado Golf Association Player of the Year who qualified for this year's U.S. Mid-Amateur. "If I might play one time, I'm not taking my clubs. And I'm not shipping them, either. Which makes ClubHub the best solution."
He's not alone in his sentiments. Between course and consumer rentals, ClubHub.com is approaching 100,000 shipments to nearly 5,000 different courses across the country. With a commitment to providing the best clubs at the best value, ClubHub perforce keeps its ample inventory current, and resells its gently used sets at 40 percent off retail "generally in the fall."
Still, the company has gone relatively unnoticed. But that could soon change. Bouillion entered into a partnership with Golf Channel and GolfNow. "We have this proven concept we need to tell the golf world about," he says, "and Golf Channel and GolfNow are the perfect vehicles to help us get there."
The company expects to make a big splash at January's PGA Merchandise Show and expand the brands it carries. "That's when it's going to get really exciting," Irwin says. "People can hop on there and say, 'I can do any of these? So, one trip I can play TaylorMade, the next trip Callaway…' I just love that idea." clubhub.com
CAG Special
Want to try Clubhub.com for your next trip? Colorado AvidGolfer readers get a 20 percent discount on rentals of three days or more. Visit clubhub.com Enter promo code: COLOAVID.
---
This article appeared in the 2019  Fall Issue of Colorado AvidGolfer.
Colorado AvidGolfer Magazine is the state's leading resource for golf and the lifestyle that surrounds it, publishing eight issues annually and proudly delivering daily content via coloradoavidgolfer.com.