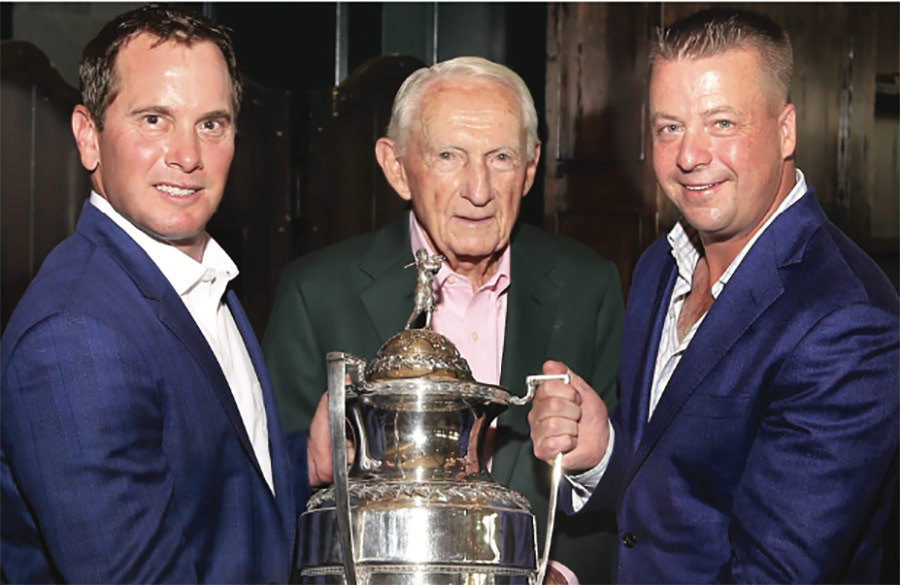 IN A PERFECT bit of symmetry, 100 golfers will gather in Colorado Springs July 25-29 to compete in the 100th Anniversary edition of The Broadmoor Invitation. They'll come for more than the golf.
Originally known as the Broadmoor Amateur, the event has changed more than its name since J.H. Potter of Colorado Springs defeated Frank Godchaux of New Orleans in the inaugural competition.
For its first 70 years, The Broadmoor sent invitations (hence the eventual appellation) to the country's best collegiate and nonprofessional golfers to compete in the five-day match play. Notable winners included Duffy Waldorf, U.S. Amateur victors Charlie Coe and Bob Dickson, and seven future PGA Tour champions. Lawson Little won it in 1932, as did Hale Irwin in 1967. Those two and three subsequent Invitation runners- up—Lanny Wadkins, Mark O'Meara and Fred Couples—are now in the World Golf Hall of Fame.
From 1992 and 1994, The Broadmoor switched to a two-man best-ball match-play format before discontinuing the event. In 2014, however, PGA Director of Golf Russ Miller resurrected the tournament and recast it.
It initially remained a two-man best-ball match play, but whereas that format could result in a team playing as few as one or two rounds, a new flighted arrangement guaranteed four rounds in four days (plus a Sunday practice round). Then, in 2018, since many matches weren't going 18 holes (thus depriving some teams from competing on the entire East and West courses), Miller switched the format to two-man best-ball stroke play, allowing players to select from one of three yardages: 7,100 (Champions); 6,800 (Traditions); and 6,200 (Legends). All play is from scratch—no handicaps.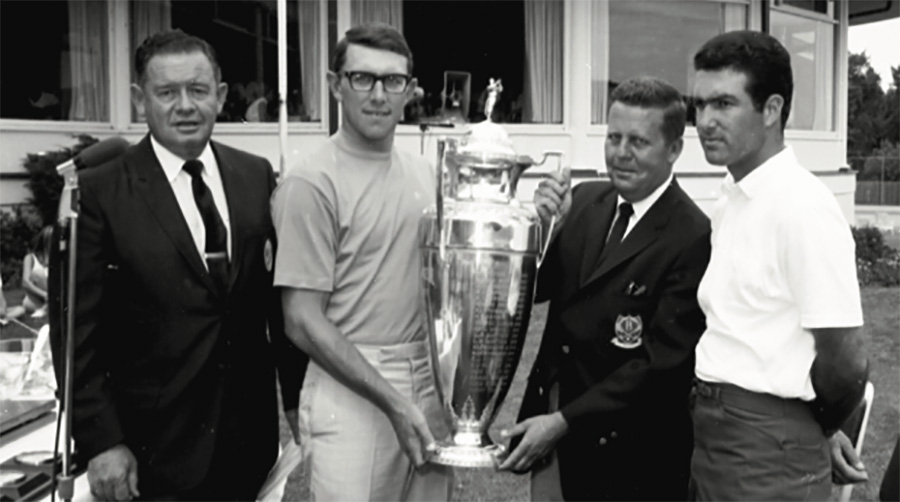 "Sure I want to win, but that's not why I've played in it six times," says Trent MacEachran, a Chicago executive who lived in Denver until three years ago. "It's unlike any other tournament I've ever competed in. It's world-class from start to finish. They have your name on placards on the range, like the U.S. Open; starters wear jackets and ties; your name appears on the leaderboard they use for the USGA championships. For those of us who never made it on any professional tour, it's pretty cool."
Another major change from days of yore: Unlike the cash-strapped collegians who had of- ten played The Invitation without staying at The Broadmoor, the 21st Century competitors and their significant others also lodge at the resort, taking full advantage of its myriad Five-Star, Five-Diamond amenities.
"We put a huge emphasis on making sure the spouses have activities very unique to the hotel and the area while their husbands are playing golf," Miller says. Among this year's highlights: cooking classes with Broadmoor chefs, hikes to Cheyenne Canyon and Cloud Camp, insider tours, a cellphone photography lesson and wine tasting.
"The wives are great spokespeople for the tournament," confirms Oklahoman Ed Wells. He and his wife, Betty, have gone to four of the last six Invitations with three other couples. "The women look forward to it as much as the men do. They love the lunches, the spa, the pool. This is not your normal member-guest tournament."
A distinction, he adds, is "They take great care not to overschedule you."
This year's Invitation kicks off with a Sunday- evening fireside chat with Hale Irwin. Both players and spouses receive luxurious gifts, and this year, every golfer in the field will also get fitted by Callaway SVP/Odyssey GM Sean Toulon for an Odyssey Triple Track putter to help handle those tricky Broadmoor greens.
The on-course competition is stiff, but participants no longer require an official invite. For each player and spouse/guest, the all-inclusive price for this unparalleled five-night, five-round experience is $4,450. broadmoor.com
---
This article was also featured in the April Issue of Colorado AvidGolfer.
Colorado AvidGolfer is the state's leading resource for golf and the lifestyle that surrounds it, publishing eight issues annually and proudly delivering daily content via coloradoavidgolfer.com.