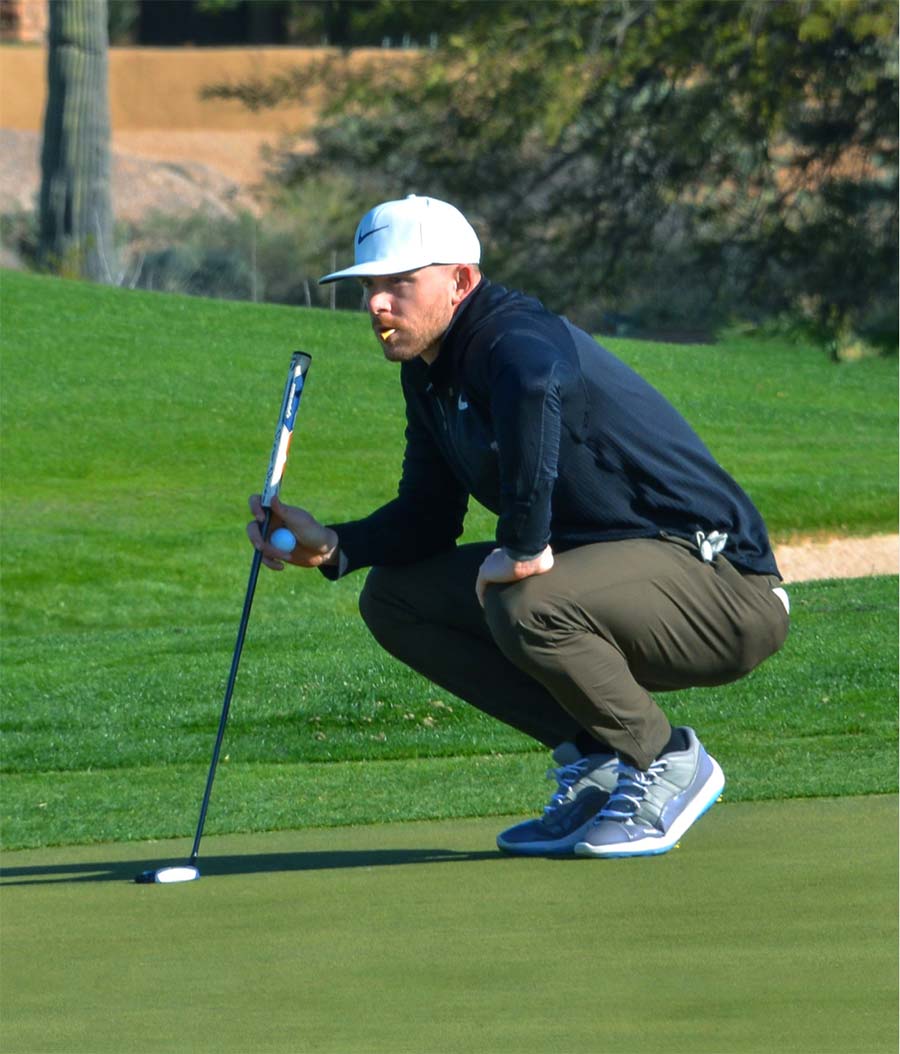 He's now the face of the Colorado Rockies, but with a big-money contract, free agency and a possible trade on the horizon, fans should take a good look at TREVOR STORY—you may not see him for long.
By ANTHONY COTTON | Photographs by STEVE JELLERSON
"By nature I'm more of a quiet guy, but I think the older I get the more experienced and comfortable I am; I feel confident in speaking up or saying something if something needs to be said."
TREVOR STORY is looking for…well…a new story. Standing on the tee box at Troon North Golf Club in Scottsdale, Arizona, the Colorado Rockies' shortstop, scheduled to become a free agent after the 2021 season, and subsequently, the subject of endless trade rumors, is breaking down his thought process with teammates Kyle Freeland and Ryan McMahon.
"I just finished 'Power' (a Showtime drama centered around a Fortune 500 businessman leading a double life as the head of a New York City drug empire)," Story says. "Should it be something old school? I'm thinking, maybe 'The Sopranos'…
"What should I do next?"
This is indeed a question with implications that, ominously, portend into areas far greater than television programming. For most of his five years with the team, Story has been a must- see on any binge-watcher's list—two all-star game appearances and a pair of Silver Slugger awards, recognizing the best hitting player at each position. Each of those years were spent playing alongside Nolan Arenado; long regarded as one of the top-five players in Major League Baseball, the duo comprised what many considered to be the best combo in baseball.
Now, on a breezy day and fighting a whippy hook with his driver, Story finds himself in a familiar position—answering questions about the future. Arenado, himself an avid golfer, has taken his sticks, both golf and baseball, to St. Louis, traded away during the off-season. His departure has effectively elevated Story to become the face of the franchise, but that appellation doesn't necessarily carry Mount Rushmore-like permanence. The 2021 season will be the last under Story's current contract, leaving him, and the Rockies, with some decisions to make. The team could try to sign Story to an extension, one that would certainly carry a price tag that would reach into the hundreds of millions. Or, sensing a reluctance from Story to re- sign, Colorado could deal him to another team sometime between now and the mid- season trade deadline.
For his part, Story has to weigh how committed the Rockies, who just traded away Arenado after signing his own $260 million contract extension just two years earlier, are to winning. Or, Story could decide he wants to test the free-agent market, where there would likely be multiple teams bidding on his services, possibly driving up the price of a new contract to levels that would make the Rockies' ownership blanch.
It's rare that a day passes that Story isn't asked about the situation, certainly not when he's facing the media at the Rockies' spring training facility in Scottsdale. So it's understandable that, when he makes an attempt to get away from the topic, Story tries to set the odds in his favor. Initially slated to play at Talking Stick Golf Club, hard against Salt River Fields, where the Rockies are prepping for 2021, Story calls an audible, admitting a little uneasiness with the idea of running into well-wishing, but inquisitive, Coloradans who may be doing a late February Golf/Spring Training Baseball doubleheader getaway from the Centennial State.
"I don't know, maybe it's a little bit better to be somewhere less approachable," he says.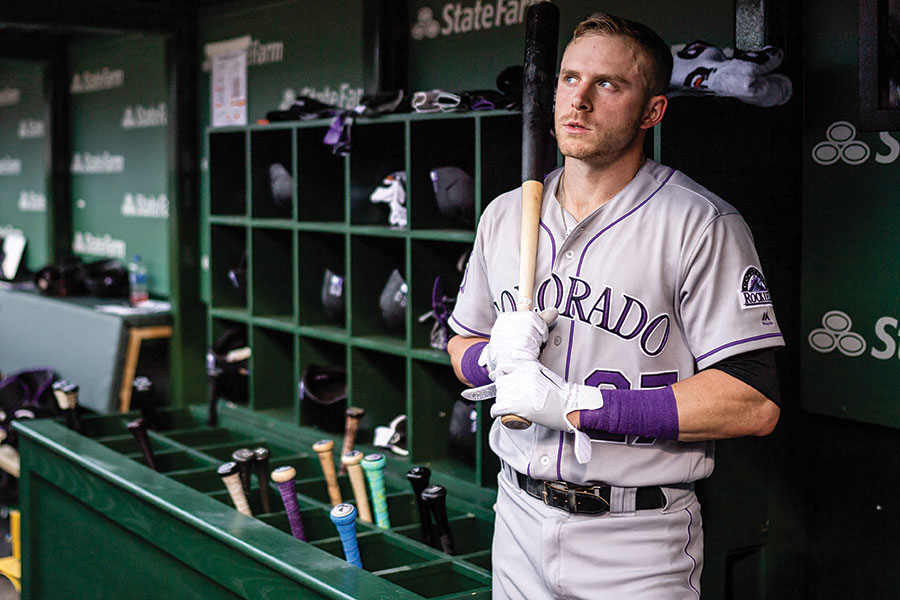 A PLACE IN THE SUN
Reflecting on the off-season, with the Arenado trade and its long-term impact on the franchise, as well as his pending free agent status, Story says he went through a roller coaster of "crazy emotions." Rockies manager Bud Black says he's counseled Story to ignore all the noise; Freeland, whose own success could be impacted by the absence of first, Arenado, and perhaps his shortstop if he's traded or walks away, merely says "Story's gotta do what he needs to and what's best for him."
If Story has made a decision, it certainly hasn't been for mass consumption—unless one counts Crash Davis' tutorials on using cliches to Nuke LaLoosh in the movie "Bull Durham" as in the public realm.
"There's not much I can do about any of it; everything is out of my control, other than me going out there and giving my best for my teammates," he said. "I know that it is pretty clichéd, but that's what I have to focus on."
Which is why being outside on a golf course, getting away from it all amidst green grass, nature and sunshine—to further the clichés—is such a welcome commodity. That is, unless you happen to be paired with two guys determined to inject as much misery as possible into the proceedings. If Story, who carries a close to scratch handicap, isn't the Rockies' best golfer, then it's Freeland—and if McMahon isn't quite at his playing partners' level, he makes up for it with his hustling skills, coming up with a playing format for the day that maximizes not only the number of strokes he'll receive but increases his chances of coming away with the win.
Then there's the trash talking that starts on the practice range, moves to the putting green—and certainly doesn't let up when Story three putts from 30 for an opening hole bogey. When he yanks one off the tee into the brush on No. 2, the group finds about five balls, none of which are his. When Freeland, himself the subject of a cover story for this magazine, starts laying it on about the pressure of having to perform, Story dips his head.
"I'm not very comfortable with this," he whispers.
Story has been playing the game since he was a kid growing up in Irving, Texas.
His first memories of the game are going out to the range and learning the fundamentals alongside his dad, Kenny.
"I just remember trying to hit the ball as far as I could; and of course that didn't happen, it was really just a lot of lefts and rights," he said. "I was always interested in the game, playing with my Dad…it was baseball, golf, football and basketball for me, but I knew from the first few times that I played that I would love golf forever, and that's been the case so far—each time I play, I love it more and more."
Freeland is part of a long-standing baseball legacy of pitchers who excel at golf. For a long time, it was frowned upon for position players like Story to play the game, lest the golf swing mess up a hitter's baseball swing.
Black, a former pitcher who still knows his way around a golf course, says he's never bought into that theory.
"They're two different types of swings; there's some comparables with timing and rhythm, but one doesn't mess up the other," Black said. "If Dustin Johnson showed up at a baseball field and had a bat in his hand for a couple of days and was swinging off a pitch- ing machine, I'm pretty sure it wouldn't mess up his golf game, and I don't think playing golf is going to mess up Ryan McMahon or Trevor Story hitting a baseball."
At one point during the round, Story said he was being too "handsy" with his swing, reminiscent, he said, of his technique when he's in the batter's box. Like Black, Story doesn't see a conflict between the sports—in fact, he says he takes a similar approach in both.
"I try to go 'Less is More'; every time I try to really smash a golf ball, it doesn't really work out, but when I try to be smoother, you know, work at 75 percent, then that's when I feel I'm at my best," he said. "That's where it's very similar to baseball—'Less is More'—I use that 75 percent cue there too.
"That's the effort level I try to play at; I'll pretty much never swing the bat as hard as I possibly can—I can generate more bat speed by doing that, but I'm not as accurate or in control, and I can (not swing at) tough pitches if I need to. When I'm working at 75 percent, I'm a little more smooth, and in the grand scheme of things, I think I'm still really close to my maximum speed when I'm thinking that way."
Story says that's even the case when he comes up to bat with the bases loaded in the bottom of the ninth, with the Rockies down by three runs.
"I never think of it as trying to hit a home run, I just think of trying to just square the baseball; I have a natural lift to my swing, so if I square it with my natural swing, it's going to be in the air, and if I hit it the right way, it's going to be a home run."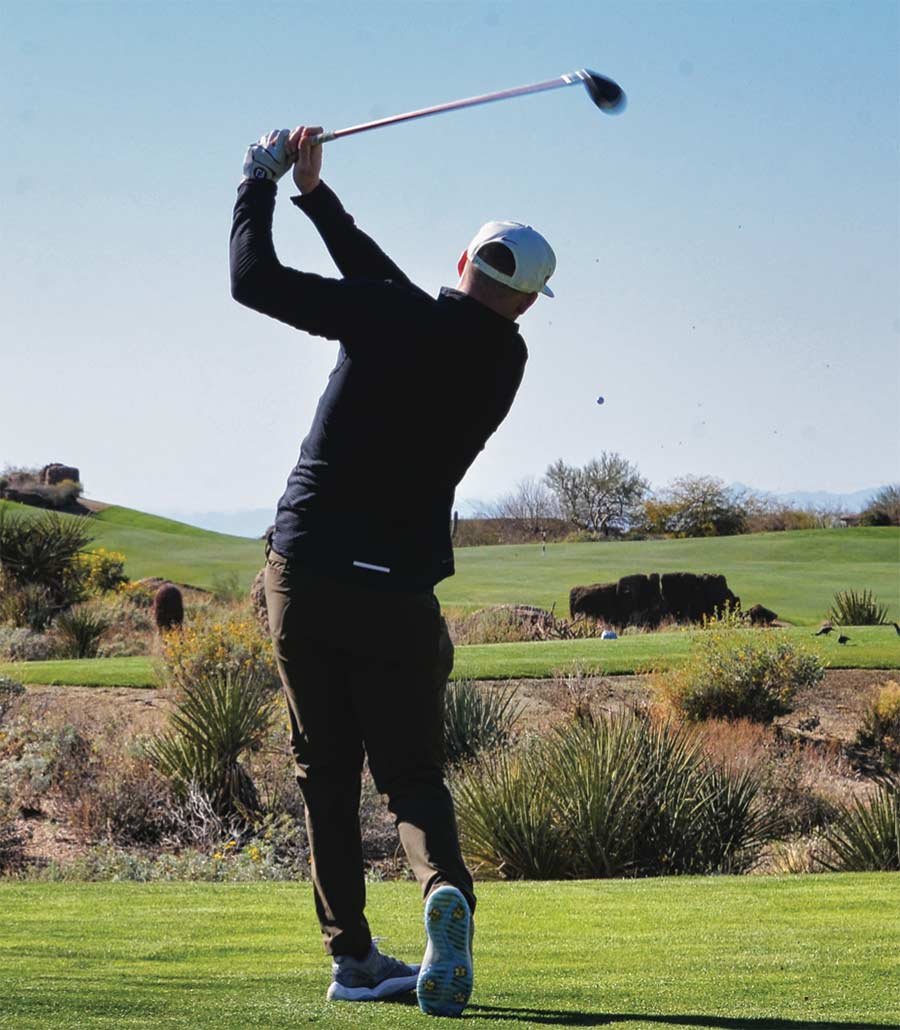 IT'S GOTTA BE THE SHOES
Story has hit 134 home runs since the start of the 2016 season; in that same time span, New York Mets' shortstop Francisco Lindor has slugged 126, while Javier Baez of the Chicago Cubs has 108, Carlos Correa of the Houston Astros has 85 and Los Angeles Dodgers shortstop Corey Seager has 84. Each of that quintet, regarded as among the most talented players in the game and potential franchise centerpieces, are all free agents after this season.
Throughout the off-season, there was an ongoing debate about the group—who was the best; how many, if any, would resign with their teams; what the marketplace would look like a year from now, with Major League Baseball and the players' union slated to negotiate a new collective bargaining agreement.
Most observers feel Story, who led the National League in stolen bases in last year's abbreviated season, is the most well- rounded player. Indeed, when MLB Network compiled its annual list of the top 10 players at each position, it ranked Story No. 1 for the second consecutive year.
The discussion, with its assorted twists and turns—signings, potential trades—is sure to continue throughout the season. And while it may be a distraction from his one-day-at-a- time mantra, Story admits there's also some- thing compelling about the comparisons.
"I look at it through the lens of gratitude," he said. "It's a special group, and I think we all push each other in one way or another, whether we know it or not. It's cool to be a part of those guys; I appreciate their games, I love watching them. It was special for MLB Network to say what they said, but I'm sure each of them would say they were No. 1."
There is one area where Story considers himself a clear-cut favorite. Throughout spring training and the run-up to the season, he's rocked an assortment of stylish cleats.
"He's got a top-level shoe game," Black says. "That's why they call him 'Sneaker Head' in the clubhouse."
In an interview on MLB Network Radio, Story was asked where he stood among the quintet in that category.
"Dude, I have to put myself No. 1—that's the one thing I'm not going to be so humble about, because I feel I can design and create something with the best of them," he said. "I know Lindor's right there, his new shoes are pretty sick, but I think the way I created mine this year is pretty tough to beat."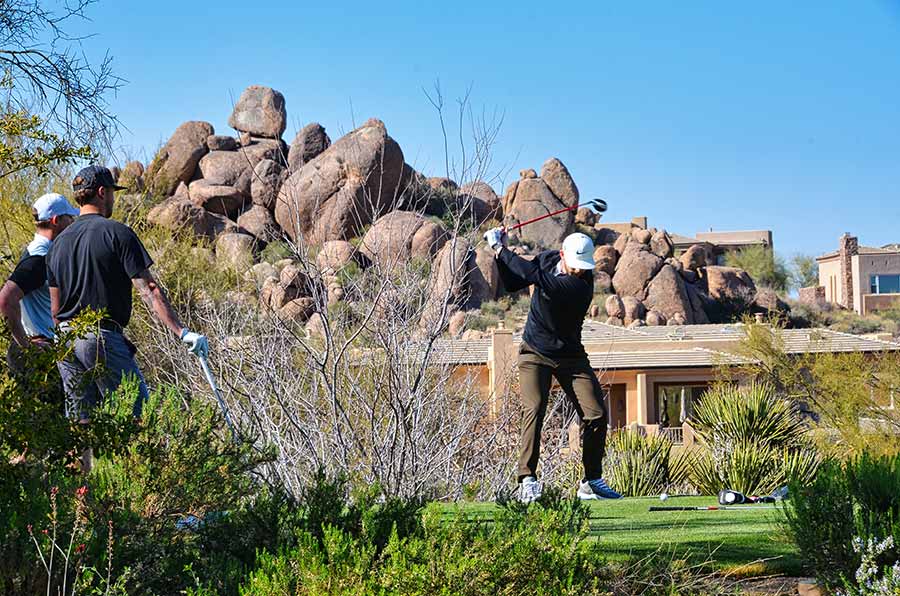 NOSE TO THE GRINDSTONE
Of course fancy spikes, like boots, are made for walking, whether it's around the bases after a long home run, or to a new city. By the time Story hits the links again before the 2022 season, the number of things that may have changed in his life—he and his wife, Mallie, are interested in starting a family, and you can buy a lot of house (not to mention baseball bats and golf clubs) with a new, multimillion dollar contract—are mind- boggling.
But right now, Story isn't thinking much about contracts, or free agency. On a day when he, to borrow a phrase, didn't have his A-game (indeed it was McMahon who went deep—into his teammates' wallets), Story is more concerned with shrugging off a "brutal" round. Walking out to his car in the gathering darkness, Story will wake up the following day to baseball, focusing he says, on the most mundane of tasks—how he grips a bat and uses his hands while practicing in a batting cage; grabbing a tablet and watching film of that night's opposing pitcher—anything that can put him in the here and now.
"It's certainly easy to look ahead and speculate on what could or couldn't happen, but again, I look at it with gratitude, that I just get to play baseball," he said. "The preparation, all the little things I do and the work I put in to get ready to play every single day.
"I just get lost in that…I really, really do."
Anthony Cotton is the editor of Colorado AvidGolfer.
---
This article was also featured in the April Issue of Colorado AvidGolfer.
Colorado AvidGolfer is the state's leading resource for golf and the lifestyle that surrounds it, publishing eight issues annually and proudly delivering daily content via coloradoavidgolfer.com.