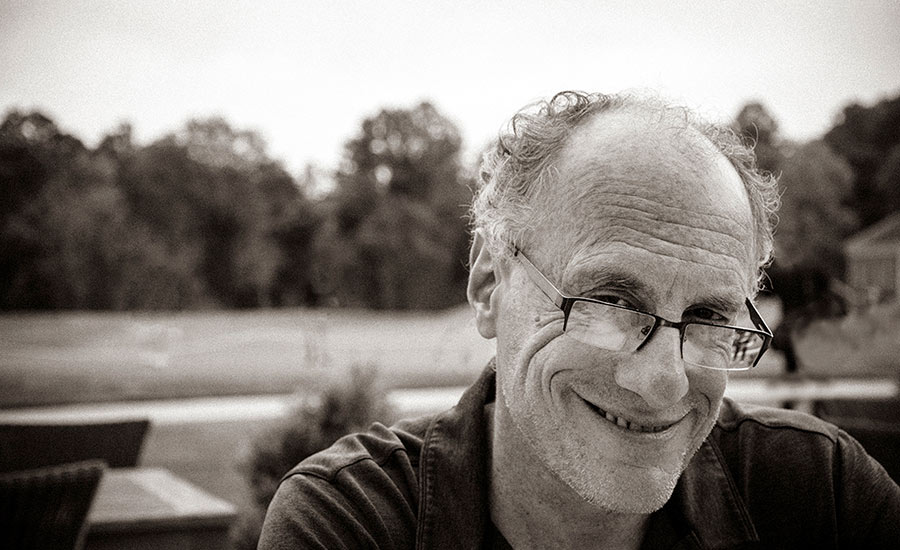 Words cannot express the gratitude, respect and fondness that I have for Jon Rizzi. I could not have asked for a better partner and editor to work with over the past 18 years. He is truly the best! From an editorial and content standpoint, he created something very special. Not only special, but the best regional golf and lifestyle magazine ever. He never let me, our readers or our advertisers down. Jon, I will miss your friendly jabs, wit, vision, great puns, which make great headlines, writing style, Forethoughts and, most all, you. You made us all proud. Thank you, Jon.
—Allen Walters, President & Publisher, Colorado AvidGolfer
---
It has been an absolute honor and privilege getting an opportunity to work with Jon Rizzi for over 16 years! Jon is a special editor, partner and friend who embodies all the right things an editor should bring to the table. He is the ultimate professional that always brought a high level of experience, strong pride in his product, tireless work ethic, humor and conviction to his work. Nobody took more pride in what we created than Jon. During challenging and evolving times in media, Jon never compromised his core values when it came to producing content the right way and doing what he knew would ultimately drive readership.
His quirky, smart, worldly and witty ways always balanced the dynamic within our company and challenged many of us to look at opportunities, people, topics, challenges and the world itself through different colored glasses. I have always felt that the true test of what kind of impact you make lies in the respect that you earn from the people that work around you/for you and with you. Anyone that has ever worked with Jon loves him, and would do anything for him. He is real—and that comes out in his work and through his interaction with people.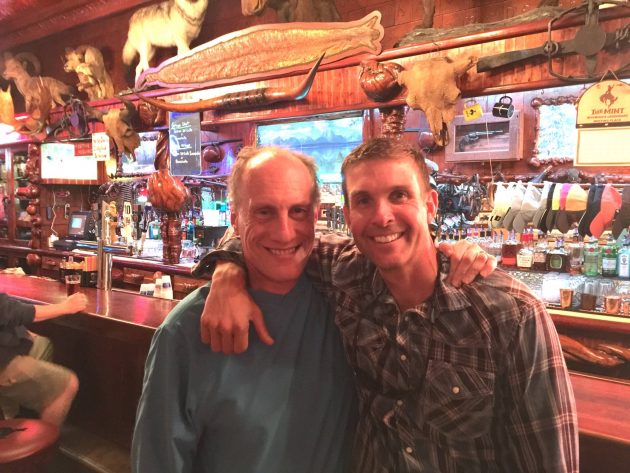 5 things I will miss most about Jon Rizzi:
I will miss our road trip adventures to places like The Powderhorn and the The Prairie Club. We couldn't be more different, but we never were short of finding interesting conversation about sports, life, art, music etc. for hours on the road! He taught me a lot, and taught me how to appreciate diverse things!
I will miss the interesting and educated political conversations we always had in his office at the end of day, when I would barge in while he was trying to wrap up work😊
I will miss enjoying watching him be so in love with JoAnne and how she made him a happier person at work!
I will miss his sarcasm, his classic eye rolls in staff meetings,  his funny "I don't give a you know what" attitude at times, his inside jokes about golf topics or characters we have come across over the years, his perspective, his stubbornness, his gentleness ……the list goes on!
Last, I will miss the high level of consistency he brought every day to our team, the respect and credibility that he created with our brand and the relationships he fostered along the way!
You are only as good as the product that you are involved with, and Rizz….. through studying the game of golf, your pure talent and your New York work ethic, you created the best regional golf magazine in the entire country for us! I could not be more proud and or more thankful to have experienced this journey with you. Thanks for all the great memories!
—Chris Phillips, Associate Publisher, Colorado AvidGolfer and Publisher, AvidLifestyle
---
As a public relations professional for 49 years, I have worked with legions of journalists and editors. Over my career, there have been a precious few that I have grown to admire for their professionalism, dedication and skill set to the point where our interactions transcended simply a working relationship and I am now honored to truly call them "friend." Jon Rizzi is one of those people. His dedication to crafting a great story is like an artist with a palate of myriad colors. He studies his subject and then creates a masterful story. Thank you, my friend, for sharing your prodigious talents with all of us. Most of all, thank you for all the wonderful years we shared working together on so many stories and events.
—Allison Scott, Director of Communications for The Broadmoor (retired)
---
I swear my first memory of Jon Rizzi was leaving the office on a Friday while he diligently typed away, only to find him early the following Monday still in the same position….and possibly wearing the same clothes.
I will miss his witty humor, his ability to name any song along with the artist and his infectious laugh echoing from his office (along with some colorful language when on deadline). And, of course, anything and everything you would ever need to know about the great game of golf. So many memories in that 12-year span….way too many to share. But all will be dearly remembered.
—Cindy Palmer, Office Manager, Colorado AvidGolfer
---
I would like to thank Jon for his years of dedication to all things golf in Colorado! His efforts to put out a phenomenal product to the golfers of this state has been extraordinary. Your stories have been memorable and your support of the Colorado PGA's initiatives are very much appreciated. I'd also like to thank you for always taking on my golf tip submissions including the time to edit and photograph them. I sincerely appreciate the professionalism in which they've been published. From all of us at the Trent Wearner Golf Academy, I give you a huge THANK YOU and wish you the best in your future endeavors.
—Trent Wearner, Trent Wearner Golf Academy
---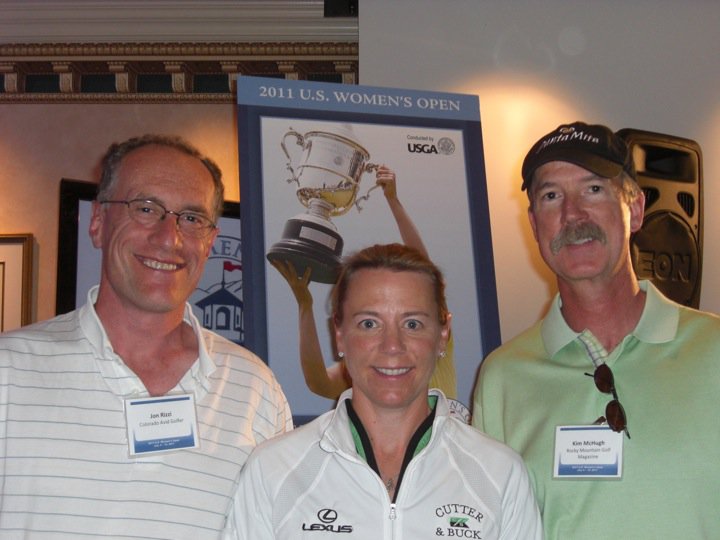 If there was a lightning round of word association centered around Jon Rizzi these words would immediately come to mind: Integrity. Passionate. Thorough. Engaging. Insightful. Witty. Reflective. Sincere. Honest. Wry.
His writing has earned him admiration from his readers, respect from his peers and accolades from organizations like The International Network of Golf, Colorado Open Foundation, Colorado PGA Section and the Colorado Golf Association.
To say that getting assignments from Riz over the last ten years has been a privilege is to say that Charlie Blackmon is a pretty good ballplayer. Besides expecting a well-written piece, he underscored just how important it was that stories gave readers a perspective they perhaps hadn't considered, information that provided more depth to a person or topic or details that helped readers make more informed decisions.
If you've had the opportunity to tee up with Riz, you know that, while he has the utmost respect for the rules of the game, he brings his sense of humor to the course…and isn't afraid to use it.
I'm not sure what the future holds for the New-York-Mets-loving-former-editor of Colorado AvidGolfer, but be assured that whatever he writes will be a pleasure to read.
—Kim D. McHugh, Contributor
---
It would be wrong, of course, to discount the significant contributions of the publishers, ad executives, designers, writers, photographers, and admin staff to the success of Colorado AvidGolfer over the last 18 years, but their talents and labors would have counted for nothing without the expertise and singular leadership of the man steering the ship. Jon combined exceptional editorial skills as well as his own writing strength to create one of the finest regional golf publications in the country. Actually, scratch "regional." It's one of the finest golf publications in the country.
Equally important, if not more so, was the fact Jon is such a good, humble, considerate guy every one of the individuals who wrote articles, designed pages, shot photographs, supplied content, managed offices, or sought advertisers for him did so happily knowing their efforts would be recognized. It was always a great pleasure working for Jon, and the shoes he leaves behind will be very hard-filled.
---
As someone who photographed (and hacked his way around) many Colorado golf courses, it is an pleasure to celebrate Jon for the magnificent skills he brought to Colorado golf as a truly professional editor who made the courses, and all who provided photographs, look so good on the pages of the magazine.
—Dick Durrance II, Contributor
---
Jon was a delight to have as an editor—literally. If you don't laugh out loud a few times during a conversation with him, something is wrong. Funny, self-deprecating and knowledgeable on a host of subjects, he is a natural entertainer. When I started writing fashion pages for the magazine a couple of years back, he would always profess to know nothing about the subject and then proceed to give me chapter and verse on this designer or that, women's as well as men's. He has an opinion on everything! Here's a favorite exchange I saved from one of his emails a couple years back when he'd forward press releases to me:
I got my first Travis Mathew shirt over the weekend and it's my new fave. Love the material. (I'm very old school when it comes to golf shirts. I hate those stretchy polyblend golf shirts that look like soccer tops and seem to show off every follicle of body hair when the wearer sweats. Blecch!)
 So funny, so descriptive, so Jon Rizzi.
Jon is a wonderful friend, not only me, but Castle Pines Golf Club! We have always appreciated that Jon has shown so much respect for the game of golf! Even though he's not leaving the area, the golf industry will miss him. Jon is a great friend and wish him well in his new endeavor.
—Keith Schneider, Vice President/General Manager, Castle Pines Golf Club
---
Colorado golf was blessed 18 years ago with the arrival of Jon Rizzi. He brought real chops to the job, including experience as a top editor at ESPN The Magazine, Town & Country, and Travel & Leisure Golf. He also brought a love of storytelling and an appreciation and respect for the language, characteristics long in decline, plus a healthy sense of humor. He chronicled and defined Colorado golf's expansive growth with color and insight, and also worked tirelessly through the down times, as magazines sputtered in the digital age. I've never met anyone in the golf world who didn't respect and admire Jon Rizzi, or appreciate the enormity of the work he did. And that is the highest compliment of all.
---
Jon and I met during the halcyon days of Travel & Leisure Golf, circa 2000, when he took over my role as managing editor. Instead of commuting from the Bay Area to Boulder, I got to travel the world.
We stayed in touch and made me a regular contributor to Colorado AvidGolfer.
Thanks to him, I've had some great gigs, including: Another story on Australia, travel pieces on Mazatlan, Tucson, Scottsdale and Puerto Vallarta. Plus, I do the annual the CAG Buyer's Guide.
Jon was always willing to offer insight into stories and laid out key points he wanted included. My writing was so much better, and invariably he added something a little extra, like the title for the Australia piece, "Down Under With Dad and Dr. MacKenzie."
He and I have had chances to talk and share about many things as our careers and lives have evolved. When my dad was in critical care and in the last months of his life, I had to drive his car from Wisconsin to California. The Nebraska Sandhills just happened to be along the way, and Jon agreed to let me write about the golf experience. It became one of the best pieces we've put together.
There's no doubt in my mind that CAG was the best regional golf magazine in the country—better than Met Golfer, better than New England and anything in Southern California, by a long shot. Jon knows a good story, knows what the magazine needed, and knows writers. I'm going to miss working with him. He's one of the best.
---
It's hard to believe I was under Jon's mentorship for just a year. His humility, empathy and passion for being an editor inspired me more in 365 days than I could have imagined when I joined the team to launch AvidLifestyle. He is also a ton of fun! When I think of Jon, I think of the countless karaoke sessions and dance parties he started at the office. They always put a groove in my step!
—Kendall Kostelic, Editor, AvidLifestyle
---
I was fortunate enough to work with Jon two separate times—first, as an intern, and then as an Art Director. My internship was my first "real-world" design experience, and I loved it. I learned many things about working in print from Jon, and I valued his mentorship. We stayed in touch, and he came to both my graduation party and my wedding.
Jon approached me a few years later about taking on the position of Art Director. I was flattered and excited at the prospect of working together again.
What I love most about Jon is how much he cares. He is passionate about golf, his work, and most importantly, his family and friends. That passion is evident in everything that he does, and it's clear that he will always have your back when you need him. I feel immensely grateful to know him, and while I am sad that he is leaving, I am also thrilled to see what the future holds for him. I know that our friendship will continue for years to come (and might even be more fun now that deadlines are officially over). Thanks for everything, Jon!
—Chelsea Oglesby, Art Director, Colorado AvidGolfer