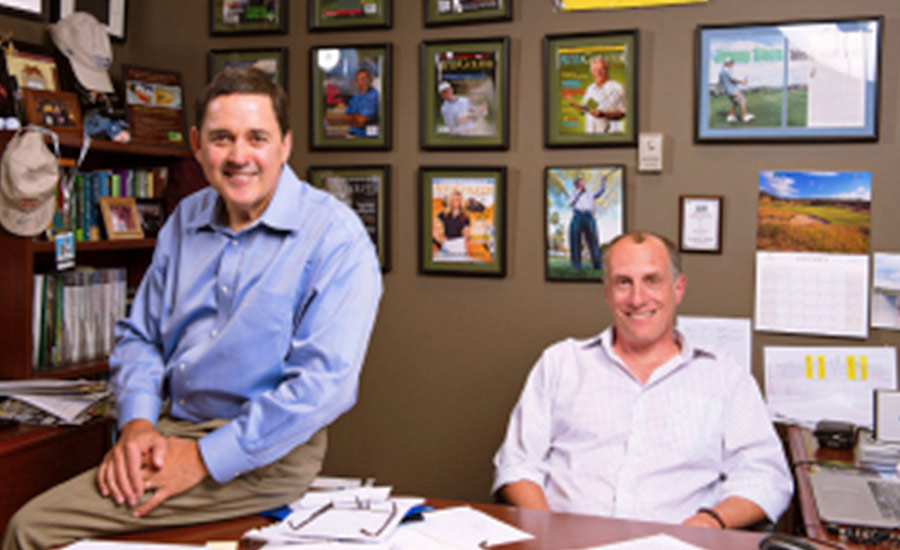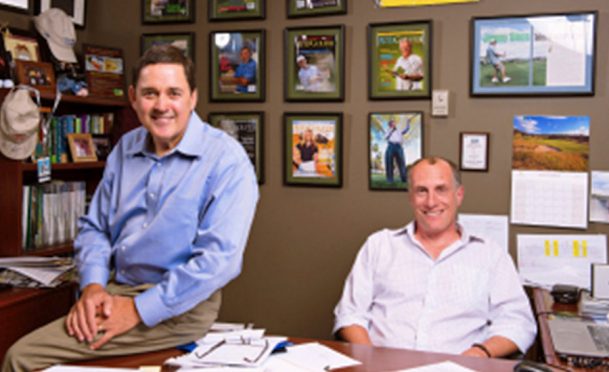 In the May issue of ColoradoAvidGolfer, founding editor Jon Rizzi guided us through some of the highlights of his 18 years as the magazine's editor. Even so, we couldn't let him leave without acknowledging the impact that his work—and more importantly, the man himself—had on the people who got to spend time with him.
As he prepares to move on to his next chapter, here are some tributes from his many current and former coworkers, colleagues, subjects and contributors, who all have at least one thing in common—they are lucky enough to call Jon a friend.
---
I first met Jon at a Starbucks in Greenwood Village in 2004. Colorado AvidGolfer was already well established and successful, while I was in the opposite position—soon to be graduating from college and hopeful for a break, which Jon and Allen generously provided. I spent the next eight years after that coffee meeting immersed in the game I love and the lifestyle that surrounds it, and learning the ins and outs of the publishing business. It was a dream job and one hell of a start to my career.
You would think that the best part of the job was perks—playing golf at all of the state's best courses, traveling to golf destinations near and far, and plenty of free gear. Nope. The best part—by far—was the opportunity to work with and learn from Jon. He took me under his wing, helping me grow personally and professionally, and patiently coaching me into a serviceable writer. My absolute favorite memories of my time at CAG were our daily meetings, where we sat in his office—sometimes for hours—chatting about every topic under the sun, and brainstorming subject and story ideas for the magazine. I'm proud of the work we did together and immensely grateful for Jon's mentorship and friendship. He is one of the most important people in my life to this day and will remain so for many years to come.
I love you, Jon!
–Jake Kubié, former associate editor, Colorado AvidGolfer
---
Just saying 'thank you' to Jon Rizzi is simply inadequate for what he's accomplished and how it has affected golf in Colorado. His standards in editing are unsurpassed and it is evident in each issue published over the past 18 years. Not only is Jon one of the most dedicated professionals I know, I consider him a true friend. When we worked together, we collaborated on "Loose Impediments" a column with which I had freedom. Although I had literary license in scribing the column, I always checked in with Jon to make sure the words represented his view of what the magazine should be.
Riz, you are a credit to your craft and truly one of a kind. All the best in your future endeavors my friend. You will be sorely missed.
–Jerry Walters, Contributor, Media Madness Runner-Up
---
I first met Jon Rizzi at one of the lowest points in his life. It was October of 1968, I was in Mexico City teaching Zumba classes, and Jon was…despondent. We both happened to end up at a quiet little cantina on the outskirts of town. I was sipping a margarita when Jon came barreling in. He was not in a good place—and it was obvious.
He muttered "mas tequila" to the bartender, but it was hard to hear through the whispering gravel that was all the voice he had left. The key word was "mas," he'd clearly already been through a few "otra" tequilas already. I turned a bit, trying to avoid the wreckage…but as so often seems to happen, he came right to me and sat down at the next chair.
"Should've been my glove" he blurted.
"What?!?" I responded…fearing that he might in fact answer me.
"My glove! It shoulda been my glove!"
Now, afraid of wandering down some bizarre road with a well-oiled stranger rambling his nonsense, I asked for the check.
As the check came though, I saw the newspaper on the bar…it was opened to the sports section. My Spanish was iffy at best, but the picture in the paper told the whole story. That iconic shot of Tommie Smith and John Carlos with their gloved fists in the air after finishing 1st & 3rd in the Olympic 200 meters. I flipped open the sports section, and saw that an American had finished 4th as well—young Jon Rizzi from Great Neck, New York. His time of 20.3 seconds actually tied the Olympic record, but was not enough on that day for a medal and a spot on the podium. I asked him if that was in fact him. It was he said.
We talked for quite a while that day, starting a friendship that would last many years—through the many ups and downs that life delivers.
It is that day…that chance meeting…that I always remember when I think of Jon. I had asked him on that October day in 1968 about coming close, about all of the training not being enough, about the fractions of a second that divide winners from losers in the eyes of history. He was angry, mostly at himself, thinking he could have—should have—done more. Then he said the words I'll never forget.
"I could've been a champion… an Olympic champion! Now, I'll probably end up editing a golf magazine in Colorado…"
He slumped back in his chair, a lone tear streaming down his face, as he passed out. Success drives us, but failure often defines us. For Jon Rizzi, the bitter disappointment of October 16, 1968 actually forged a career much greater than that of any Olympic gold medalist, as he is now widely considered the single greatest (monthly) (golf) magazine editor in Colorado history.
–Tom Green, 9News Anchor, Media Madness Champion and CAG Cover Subject
---
Jon, what a grand journey you've had! Your ability to paint pictures with words is amazing. Each editorial and article you've written has been both insightful interesting. I've enjoyed our friendship, counsel and endeavors as you became an enthusiastic and integral part of the game in Colorado. Good wishes for the next chapter of your life with Jo Anne at your side. I know it will be great!
–Gary Potter, Member, Colorado Golf Hall of Fame
---
The first time I spoke with Jon on the phone he made me feel like we had known each other for years. Yet we had never met. I'm sure he makes everyone feel like that. We talked on the phone for 30 minutes and pretty much talked about everything you can think of. It was a conversation I will never forget. Thanks for being so kind and supportive Jon!  Good luck in your next adventure.
–Shane Bertsch, Champions Tour, CAG Cover Subject
---
In May of 2010, the week of the senior PGA at Colorado Golf Club, I moved to Denver from having lived in Ireland for three years with my wife and children. Denver was new for me, in so many ways. Culturally, climate, overall landscape both physically and business wise. I didn't know what I was going to do to establish myself in a new market-one that looked so different from the fast pace of NYC advertising and editorial community. Searching thru possibilities, I found Colorado Avid Golfer Magazine online and reached out.
A few emails with different people led to an intro to Jon Rizzi and a lunch date. That led to my first assignments with the magazine and eventually an opening to this new market thru Jon's support and appreciation of my work. I've said many times and continue to express my gratitude to Jon. His trusting me with major assignments for the magazine gave me a profile in. This new market that has opened doors in golf community in a way I would have never imagined. Thank you, Jon Rizzi. I now spell "friend," as "Jon." Good luck mate. Looking forward to meeting up on your new adventure.
–EJ Carr, Contributor
---
"Hey Rizz, it's Tom. Give me a call."
I know how much he hated to hear that message pop up on his voice mail.  Usually it meant I was still working on a piece, well past deadline. We even had a fully understood language of need, which Rizzi invoked with an ascending scale of intonation. I need it Tuesday, Tom…Hey, Tom, I Need It by Friday…Look, I NEED IT Monday, can you make that?!?!?!  He accused me of wanting him to lose hair at the same the rapid rate I was losing my own. But what I really wanted was the time to make sure that any story I filed was worthy of review and approval by the finest editor I have worked with in my long writing career.
I could simply never bear the thought of turning in a pedestrian story to Jon Rizzi.  He could see right through it.
From the moment we met – well before a single issue of Colorado AvidGolfer had gone to press – I knew Rizzi was someone who would drive me professionally and support me personally.  We're about the same age, and the trajectory of our lives often arced in parallel as we passed from young adulthood into the choppy waters of middle age. Changing times. Changing family structures. The joys and heartbreak of parenthood.  More than few existential doubts.  What might start as a simple assignment conversation could and usually did turn into a therapy session. One of us was in need of some advice, and it is amazing how often that synced with the other of us needing a couch.  You learn about editor/writer roles and relationships in school and on into professional life. But you don't learn about the real depths of editor/writer friendship until you're lucky enough to live it. Rizzi has always known what I needed to say, even when I didn't know how to say it.  That's an editor's job.  But more than that, he's always known what I needed to hear, even when I didn't want to hear it.
I've written scores of stories for Jon Rizzi. They are the showcases of my portfolio. Jon has given me the freedom to explore, expand, expound and exhaust threads and themes. He's waited patiently and impatiently for the story to finally come together in my mind so I could get it all down. But more important than the scores of stories are the hundreds of phone calls, the lunch meetings, the commiserations and the wildly off-topic conversational detours and funny-only-to-us observations that wheeled out of them.
Jon has made me a better writer and storyteller. He has shared his experiences and his networks with me.  He has given direction to my professional and personal journeys. In typical long-winded fashion, I guess I've worked around the point: I don't know if I'm one of Jon's best friends (RIP, Jon's hair!), but Jon is one of my best friends. And I'm damned proud of that.
I can't wait to see what's in the next chapter, Rizz.  When can we have lunch?
 –Tom Ferrell, Editor-at-Large, Colorado AvidGolfer
---
As Colorado golfers, we have been so very fortunate to have had Jon Rizzi as our ambassador to the world of golf. Jon represents the very best of class, dignity and professionalism. It was Jon that lead Colorado AvidGolfer magazine to be the classiest regional golf publication in the country. As a wordsmith Jon is one of the best. As a friend and class act, Jon is better. Please stay a part of my life.
–Jim Engh, Chairman, Jim Engh Design
---
When Colorado AvidGolfer was birthed I predicted that it would fail in less than a year. Was I wrong? Well, yes, but that is nothing new!  In my years in golf I had seen many golf publications come and go, and my prediction was simply math. What I did not factor into the equation was Jon Rizzi! CAG's longevity and success are directly attributable to Jon's dedication, talent and passion. Anyone can sell ads (Allen 😊), but not everyone can lead, imagine and bring great editorial to life. In the final analysis, steak trumps sizzle! Congrats Jon on leaving the course better than you found it and for telling great stories in the 19th hole!
–Ed Mate, Executive Director/CEO, Colorado Golf Association
---
Twenty-six times Jon Rizzi used my writings as cover stories for Colorado AvidGolfer magazine. And there was that one time, in 2011, that he recommended me for an issue of Ebony—the historic African-American publication. That was a feat I'm certain won't ever be duplicated!
I wrote my first story for AvidGolfer in 2002. Jon wanted John Elway for the cover, and I was able to deliver. Since that time, our acquaintance developed into a connection, then blossomed fully into a friendship that I now consider a true relationship — one that reaches far beyond interview subjects, word counts and deadlines. Jon, we've played 18 years on the friendship course. I'm looking forward to another round of at least 18 more.
–Sam Adams, Contributor
---
Take a HUGE, happy bow JON RIZZI
Should you inexplicably succumb to a dizzy urge to choke on whatever chinks in Jon Rizzi's armour, it could only be because this gentle man is…forever willing…too available…extraordinarily capable…and damned glibly gifted.
And you didn't know a birdie from a bogey, a Arnold Nicklaus from a Dr. Watson, a Hogan from an Indian firepit and even a gimme from a gotcha. So wrongly go right on and wallow in envy. Jon Rizzi just happens to be one of the finest, most productive gentleman ever to grace our cold concrete cart paths, our hot sand pits, our glorious greensward or our Rip Torn divots.
Regrettably, even Santa Claus runs out of elves and gifts the like of Rizzi.
Thus, the man who etched an indelibly distinguished mark in major east coast markets before turning his inexhaustible vim and vigor to Denver some 18 years ago as editor of Colorado AvidGolfer, is packing up his computers, consummate talents, countless secrets and is setting sail for new and refreshing waters—so I'd love to believe.
Rizzi did it ALL in his time with Colorado, jump starting AvidGolfer from a dream to the  best, most comprehensive golf magazine in our Centennial states' bunker-blasting history. Not to overlook the fact he forever had eyes and ears to heed the lights and goodness ahead and spurn the dark rumble in the trunk. Thus, he emerged the finest, most up-beat chronicler of the game Colorado golfers ever had in which to luxuriate.
Far beyond making AvidGolfer a Denver delight, Jon had brilliant, probing eyes on many other worthy endeavors for the   betterment of our great state – most notably nearly two decades a board member of the Colorado Golf Hall of Fame, two of those years the boards' ever-creative, problem-solving president.
Premier in the wide eyes of this sports scribe who in another century had worn the tread off his tireless journalistic jousting, Jon Rizzi proved a truly irreplaceable great friend indeed, in need and in anywise. What a privilege!
A self-effacing man of great distinction imbued with extraordinary spizerinctum. And you can look THAT up while I'm wishing him and his delightful soul mate JoAnn health, wealth and peaceful happiness wherever he plants his prolific computer and his boundless journalistic jackstraws.
–Kaye Kessler, Contributor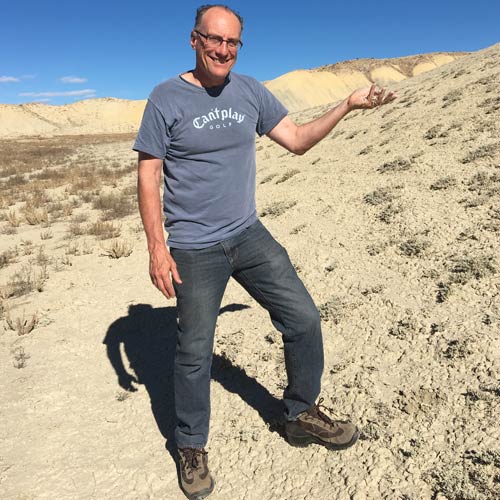 ---
For more of the latest Colorado golf news, visit our NEWS & PROFILES PAGE.
Colorado AvidGolfer Magazine is the state's leading resource for golf and the lifestyle that surrounds it. CAG publishes eight issues annually and delivers daily content via coloradoavidgolfer.com.
Follow us on Twitter, Facebook and Instagram