Life in the High Country
By Issac Bouchard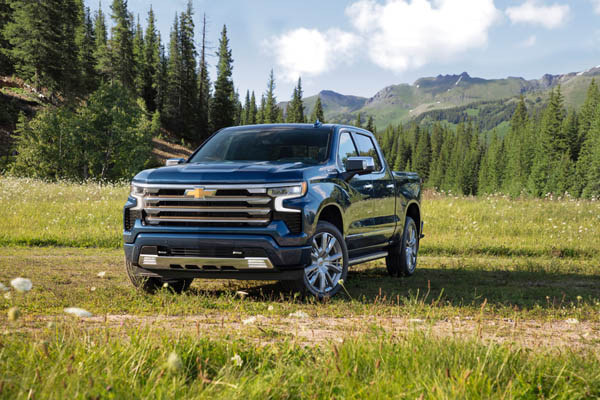 Chevrolet has had no trouble selling every single Silverado it can build. So it's no surprise that the company didn't rush to update its cheap-looking interior until now. Thankfully the changes made for 2022 are comprehensive; the cockpit of the 1500 is now a nice place to spend time and no longer a constant reminder that GM is laughing all the way to the bank. The dash design is much more cohesive; no longer are there randomly strewn buttons of various sizes and shapes staring back at you; instead there's a nice climate control panel with a bank of toggles above, all clearly labeled and that operate with a pleasingly solid response. The upgraded, 13.4-inch touchscreen has lovely graphics and is driven by Google's new automotive OS; its logic begs the question though of what is better about that company's software than GM's own though.
The Silverado'ss digital gauge cluster has nice graphics too and the steering wheel has logical controls. The 10.4-inch head up display is really useful and doesn't wash out when one wears polarized glasses. The rocker-style shifter moves with a satisfying action—it is certainly nicer than the rotary knob Ram uses, though it does eat up valuable real estate. The test vehicle was a High Country, Chevrolet's top trim and—in theory—the answer to the GMC Denali. Which makes one wonder why its grained plastic dash top and doors look so much cheaper than the leather-wrapped dash available in it. The Chevy is less than a Denali, so perhaps that explains it. And, the High Country's blue leather seats with amber stitching are lovely. The Silverado's exterior received a mild makeover for '22 as well, and the styling is really coming into its own, no longer looking overly busy like it did when this generation was released.
The Silverado rides and handles better than the Ford F-150; there's less chop n' hop induced by concrete slab highways, less frame shudder and more direct, responsive steering. However, the Ram still beats it, especially when equipped with four-wheel air suspension. Powertrain-wise, though, the option of either the thrifty and powerful inline six diesel or stout 6.2L V8 is a winner. The V8's voice is sonorous and it is very efficient when cruising on the highway. The 10-speed auto (whose mechanical bits are shared with Ford) is well-calibrated to make the most of the 420hp and 460lb-ft. The Silverado 1500 tows well too, making it perfect for those who don't want a heavy duty rig but have trailers and toys that are heavier than a pop-up camper. Chevrolet's party trick though has to be Super Cruise, its semi-autonomous, hands-free highway assist system. Once you've tasted its ability to demolish miles of superslab, changing lanes itself, you'll never want to go back. It is only available on the High Country though (which makes sense in our chip-short universe) but that's sad nonetheless. It is astonishing how accomplished and compelling fullsize trucks have become, especially to those of us who grew up when they were merely beast of burden. They are perfect for the lifestyle many of us enjoy in Colorado and are more compelling than many of the cars being turned out these days, and the Silverado High Country is one of the best.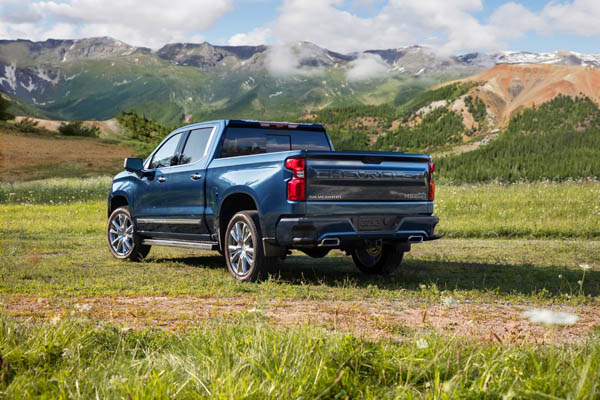 EPA Ratings: 15/20/17mpg
0-60mph: 5.4sec
Price as tested: $68,800
4 Stars
Here is what Chevrolet has to say.
Automotive Editor Isaac Bouchard owns Denver-based Bespoke Autos ([email protected]; 303-475-1462). Read more of his automotive writing, reviews and recommendations on coloradoavidgolfer.com and bespokeautos.com.
---
Colorado AvidGolfer Magazine is the state's leading resource for golf and the lifestyle that surrounds it, publishing eight issues annually and proudly delivering daily content via coloradoavidgolfer.com.