Get inside Hyundai's spicy and unique crossover
By Issac Bouchard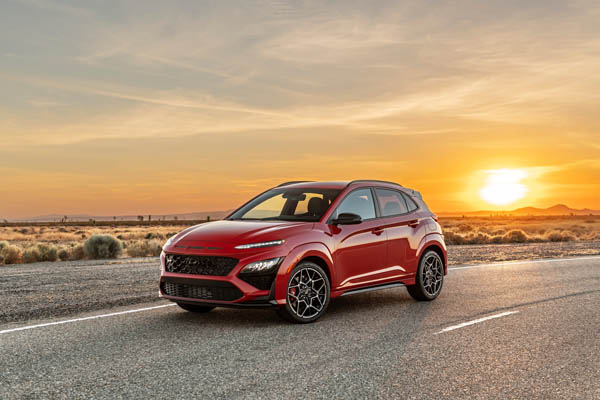 N equals (BMW) M in Hyundai-speak: hardcore versions of mainstream machines. The company even hired the head of the Bavarian's M Division to make sure the recipe was just right. Applying it to the Kona subcompact crossover creates a distinctive dish that is spicy and unique. Power comes from a 276hp four with a 10 horse "overboost" function (sorta like Push to Pass in an F1 car), channeled through an 8-speed twinclutch gearbox and a limited slip differential to the front wheels. That's right; there's no AWD in this Kona. Instead, we have classic hot hatch ingredients that give it the feel of the departed Veloster N.
The Hyundai rips, snorts and scratches its way to 60mph in 4.8 seconds, clings to corners like Velcro and has a ride that's never less than stiff and controlled. Its steering is direct and weighty, its brakes are firm and confidence-inspiring. The Kona N is a joy to fling around highway ramps, since the more power you give, the tighter a line it describes, thanks to that slippy diff. It rotates on at the outer limits of its tires' grip and it always inspires confidence.
The Hyundai has no options but for the three paint colors; it's otherwise very well equipped, with supportive, heated N cloth bucket seats, a big, fast touchscreen, a tight back seat (or big cargo area with them folded), solidly-assembled but hard plastics and lots of bright blue stitching. All the cool N stuff one is paying for is underneath, and for those who miss the purity of hot hatches of yore, this Kona is a great choice, though as a dish, it might be too hot for some.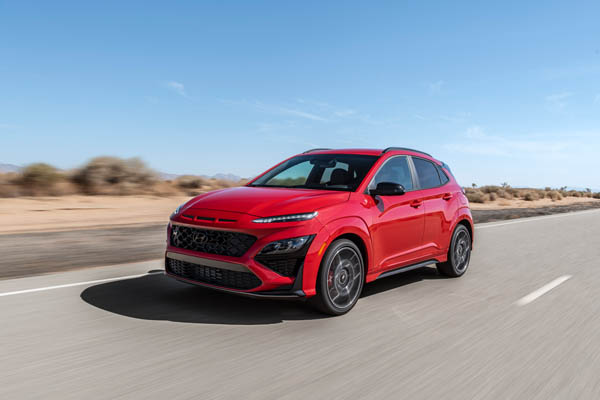 EPA Ratings: 20/27/23 mpg
0-60mph: 4.8sec
Price as tested: $35,445
4.5 Stars
Here is what Hyundai has to say.
Automotive Editor Isaac Bouchard owns Denver-based Bespoke Autos ([email protected]; 303-475-1462). Read more of his automotive writing, reviews and recommendations on coloradoavidgolfer.com and bespokeautos.com.
---
Colorado AvidGolfer Magazine is the state's leading resource for golf and the lifestyle that surrounds it, publishing eight issues annually and proudly delivering daily content via coloradoavidgolfer.com.