In our SUV-dominated world, funmobiles like the BMW Z4 and Toyota Supra have become an endangered species.
By Isaac Bouchard
2019 BMW Z4 30I
It's almost impossible for a mainstream—or even premium—car company to make a business case for a roadster these days. The "take rate" among consumers around the world has plummeted to the extent that these fun-focused machines are becoming an endangered species. Thankfully, BMW hasn't given up on them yet.
Witness the all-new Z4 droptop. Its exterior design is radical in proportion and detailing, while its cockpit is cutting-edge cool, with comfy seats, quality materials and good airflow management with its top down.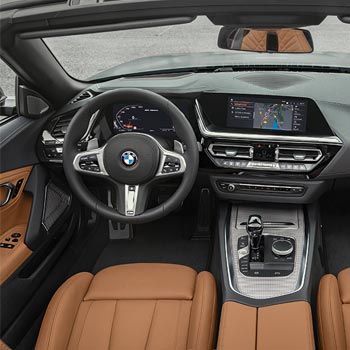 The Z4's dynamics hearken back to the time when BMWs were renowned for the way they drove, not just the status they conferred. It's got excellent body control, a biddableness to the front end and excellent damping. It excels in almost all types of driving scenarios.
Whether puttering around town, cruising the highway or barreling through backroads, the chassis remains composed and communicative.
Only under the most extreme duress—picture the Z4 loaded up in a tight, bumpy corner—does the suspension begin to run out of ideas. The entry-level powertrain, comprised of BMW's new 255hp turbo four and eight-speed tranny, is superb; this 30i model rips like it has 300-plus horses, and the stirring sounds emanating from beneath the complexly-shaped hood provide just the right level of encouragement. Not enough? Go for the M40i, with its silken 382hp, inline six and Porsche-humbling acceleration. Long live the ragtop!
EPA ratings: 25/32/28mpg
0-60mph: 4.9sec (est)
Price as tested: $56,135
---

2020 Toyota Supra
While the Z4 returns after a mere four-year hiatus, it's been almost two decades since the last A80-series Toyota Supra appeared in this country. While its 3-liter, turbo six could push it to 60mph in a quick—for the time—5.1sec, it was more GT than true sports car.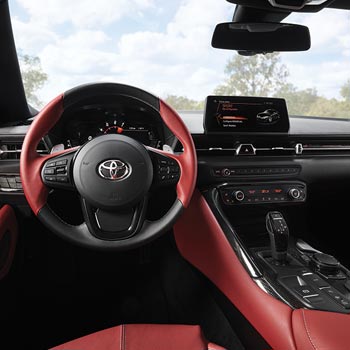 Codeveloping the Supra with BMW has enabled the Japanese to engineer a much more focused machine that is faster than the A80 (estimate0-60 in the low 4s) while just as comfortable.
Despite sharing a chassis and engine, the Z4 and Supra are quite different. The Toyota only comes as a coupe, and all its mechanical tuning and electronic calibrations are unique to it. They don't drive the same, look the same or necessarily even chase the same buyer. Based on how good both the Z4 and this new Supra are, perhaps teaming up isn't the worst thing that can happen to sports cars in their twilight years.
EPA ratings: 24/31/26mpg
0-60mph: 4.3sec (est)
Price as tested: $55,250 (Launch Edition)
---
Want to read more auto reviews? Visit our LIFESTYLE PAGE.
Colorado AvidGolfer Magazine is the state's leading resource for golf and the lifestyle that surrounds it, publishing eight issues annually and proudly delivering daily content via coloradoavidgolfer.com.