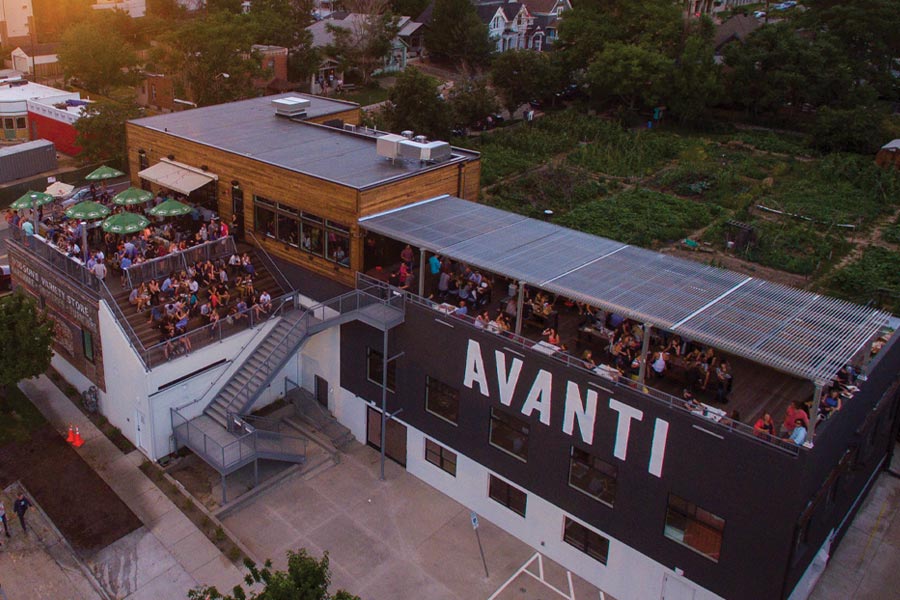 Surprising spots to wine and dine under summer Colorado skies.
By John Lehndorff
THERE'S NOTHING QUITE like finding a place to eat that takes you someplace else. I've enjoyed a lot of those meal moments dining outside during Colorado's long summers. Outdoor dining makes the food and wine taste just a little finer, but you do have to be spontaneous. Most restaurants won't take reservations for outdoor tables and make them available on a first come, first served basis. These four Front Range destinations provide stellar alfresco dining experiences.
AVANTI FOOD AND BEVERAGE
From the rooftop at Avanti Food and Beverage, the sunset view of downtown Denver's glistening skyscrapers reveals how our former "cow town" has matured. And the chef-driven fare dished at this urban food hall proves the food has followed suit.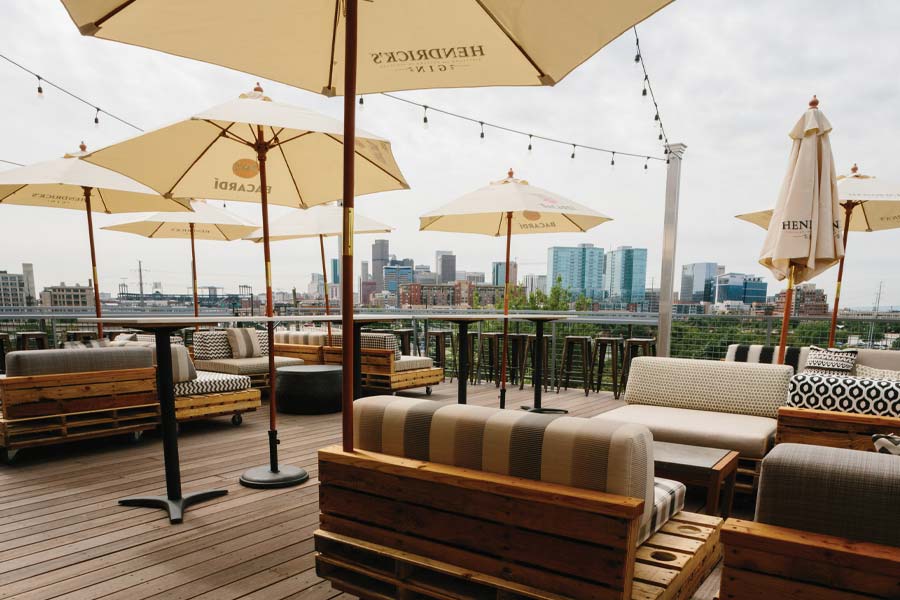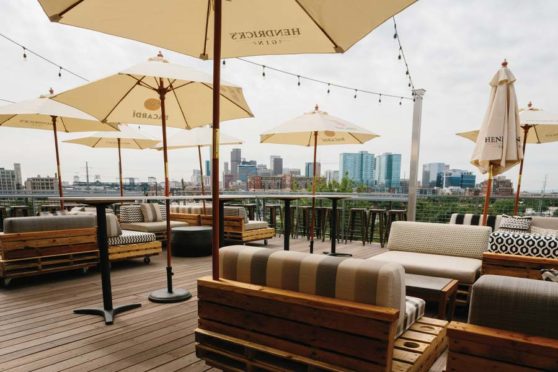 Tucked away in the hilly LoHi neighborhood, Avanti comprises seven food stalls and several bars inside converted steel shipping containers set up on two floors. The fare ranges from American Grind's exceptional burgers with scratch-made pickles, ketchup and buns to superfood rice bowls mounded with fried tofu, kale, avocado, edamame, radish and crispy shallot from QuickFish.
You can also create the ultimate combo plate at Quiero Arepas: A BorraCho al pastor taco with pineapple salsa and a Reina Arepa, a craveable Venezuelan-style corn flatbread stuffed with chicken, lime, avocado and plantains.
Three Avanti menu items are in the don't miss category. Start with the Bistro Georgette's truly authentic Parisian Moules-Frites: Mussels cooked in white wine, butter and garlic sided with a pile of crispy frites. Nearby, Brava! Pizzeria bakes as good a wood-fired pizza as you'll find in Denver. Try the white pizza with the right amount of prosciutto, goat cheese, fresh mozzarella, arugula and shaved Parmesan. Finally, make a beeline to The Rotary to sample the sublimely juicy pork shoulder—slow-roasted on a rotisserie—with vinegary peri peri chile sauce.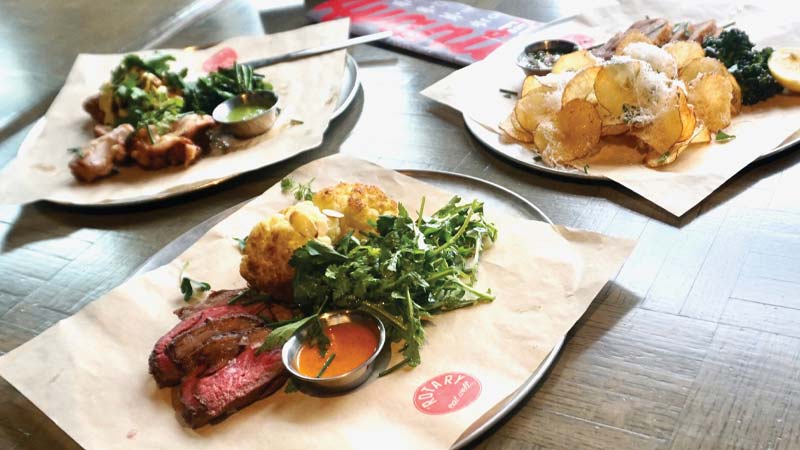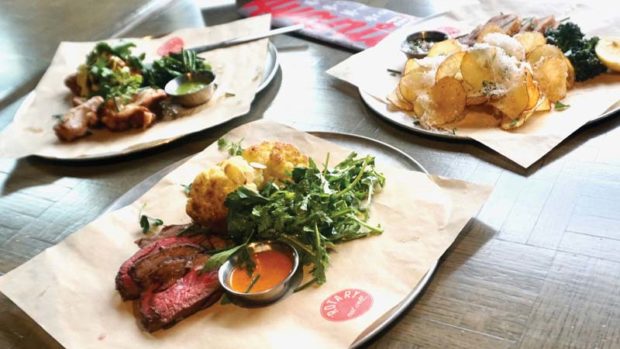 Avanti's expansive roof includes table and standup options with a sightline that includes Coors Field. On game nights you can often hear when the Rockies hit a home run. There is even a separate "bleacher" section facing the city.
One popular dining and imbibing area is a large covered porch featuring couch-like benches with pillows that allow lounging and hilarious overheard conversations.
Before the end of 2019, Avanti will open a new three-floor location on Boulder's Pearl Street Mall with a stunning view of the Flatirons.
3200 N. Pecos St., Denver
(720) 269-4778, avantifandb.com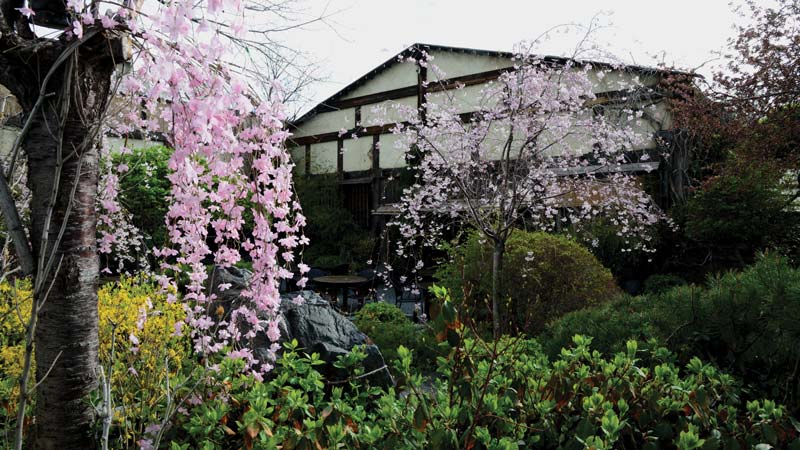 DOMO
If Colorado's alfresco dining culture has a spiritual center, it is Domo Restaurant. Surrounded by the Buddha statues, koi-filled pools and manicured flowering bushes, it's easy to forget the busy intersection of Colfax and Speer is only blocks away. The walled-in Zen garden provides shady nooks where you can slurp ramen to your heart's content. Only the occasional horn of a freight train reminds you of the downtown Denver hubbub.
The facility includes an Aikido dojo and cultural museum, all overseen by master teacher Gaku Homma. The traditional lunch and dinner menus feature teriyaki salmon and chicken, tempura shrimp, and an array of authentic noodle dishes such as chewy udon noodles in curry sauce and chicken katsu.
This northern Japanese-style country eatery is far removed from the usual urban sushi bar. Domo's Wankosushi is pre-seasoned seafood served over rice with various tasty sides. Don't even think of asking for soy sauce or wasabi.
My heat-of-summer, change-of-pace recommendation is Hiyashi Chuka, or cold ramen. Refreshing chilled noodles are topped with chicken, cucumber, sprouts, egg, tomato, red cabbage and blueberries with a sesame dressing. Order it—along with multiple sake toasts—while sitting with a group at one of the cozy garden tables under a shaded rustic porch.
1365 Osage St., Denver
(303) 595-3666, domorestaurant.com
MOUNTAIN VIEW RESTAURANT
In a state like Colorado, it takes some guts to call your eatery Mountain View Restaurant. But walk out onto the terrace of the eatery at Cheyenne Mountain Resort in Colorado Springs and you appreciate why the owners chose such an obvious name. Spread out in front of you is an eye-filling range of reddish mountains silhouetted against a bluebird sky.
Surprisingly, this iconic dining location has remained largely undiscovered, save for the golfers who have enjoyed the resort's 18-hole Pete Dye–designed course at Country Club of Colorado.
In the morning, the terrace provides a china-and-silverware buffet with made-to-order omelets and waffles, great coffee, fresh berries, smoked bratwurst and specials like crunchy biscuits submerged by white gravy thick with chorizo sausage chunks.
The Mountain View dinner menu shines when it comes to the chophouse classics. A must-taste starter is a Caesar salad with anchovies plus entrees like a grilled dry-rubbed ribeye steak or root beer-glazed pork chops with Yukon gold mashers. For a filling-rattling finale: caramel apple pie with cinnamon brown sugar crust—served warm and à la mode.
The view is so iconic that the Resort has established an area on the terrace where visitors can snap selfies without bothering diners.
Sipping a Breckenridge Brewery Summer Pils and looking at this forever landscape reminded me of the legion of big ideas that call this neighborhood home: The Broadmoor, Seven Falls, NORAD's Cheyenne Mountain Complex. My veteran server added another biggie: "You know," she said, "this is the best place in town to watch jet flyovers for the Air Force Academy and the fireworks."
3225 Broadmoor Valley Road, Colorado Springs
(800) 428-8886, cheyennemountain.com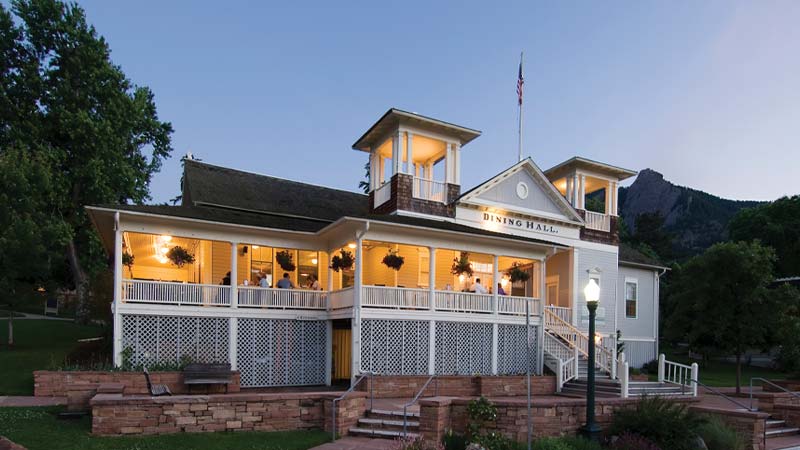 CHAUTAUQUA DINING HALL
Yearning for the simpler life of the '90s? At Boulder's Chautauqua Dining Hall, the nostalgia is for the 1890s. When you're munching a juicy bison burger on that wooden wraparound porch it's not that hard to imagine opening day, July 4, 1898.
The view north looks across Chautauqua Park's green meadow to the foothills. The peaceful east view is framed by large old trees near Chautauqua Auditorium. Nearby is one of the most selfie-d backdrops in the state and one of its most heavily hiked trails.
Locally sourced summer produce fills an evening menu that roams the map from a flatiron steak with salade niçoise to a grilled cauliflower steak with pesto and potato gratin.
Keep it simple with soup, salad and crispy Brussels sprouts or go for Colorado striped bass with confit beet puree, garlic roasted rainbow carrots matched to a well-priced selection of by-the-glass wines.
The flower-basketed porch provides the perfect spot for a pre- or post-event repast for a concert in the Auditorium, but I'm most fond of the cooler, quieter mornings on the porch with choices ranging from baked brioche French toast with raspberries to a substantial breakfast burrito with chunky, spicy pork green chile. The Dining Hall notably serves housemade chai and quality leaf tea made properly by the pot.
900 Baseline Road, Boulder
(303) 440-3776, chautauqua.com
John Lehndorff is the former dining critic of the Rocky Mountain News. He hosts Radio Nibbles on KGNU.
---
This article appeared in the 2019 June Issue of Colorado AvidGolfer.
Colorado AvidGolfer Magazine is the state's leading resource for golf and the lifestyle that surrounds it, publishing eight issues annually and proudly delivering daily content via coloradoavidgolfer.com.