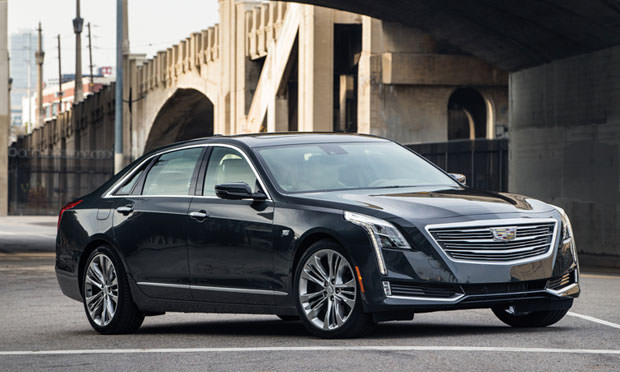 EPA ratings: 18/27mpg
0-60mph: 6.7sec (est.)
Price as tested: $63,910
Cadillac's new large sedan, the CT6, is so unapologetically athletic that it seems as though we now live in some kind of alternate reality—one where BMW builds cruisers for cities and the open interstate, and Caddy makes sports sedans to blaze pretzel-like alpine passes and tear up race tracks.
In the CT6 we see Cadillac chamfering off the sharpest of its edgy styling. Yet it still displays real street presence thanks to it being really wide, low and long.
Exterior adornment is discrete but thoughtfully executed. This refined theme carries through inside, where the material quality—even on a fairly basic model—is excellent, with wrapped dash and doors and some fresh detailing like the bronze mesh accenting the beautiful wood veneers. Front and back seat space is very spacious and the seating firmly serious. This is also the first production car with a rearview mirror that will display a camera's image; if this isn't desired, it also acts a conventional reflective surface.
The Cadillac's instrumentation is a mix of clean, classic analog and configurable screen for the driver, and the latest version of the much-maligned CUE system, which seems ready at last for prime time. Its large, high-resolution screen responds nimbly, augmented by a Lexus-style mouse pad. While some drivers will still prefer the wheel-controlled, Germanic system, this interface no longer exasperates as it once did. It also integrates better with Apple CarPlay than anything else tested.
As alluded to, the CT6 drives like it looks, only more so. Steering is linear, responsive and accurate and the body is very well controlled. Lean, sway, large vertical motions and fore-aft pitch are snubbed right down; the trade off is a ride that can verge on harsh over really bad pavement. In compensation, it feels much more entertaining than larger Bavarian machines, with intuitive, sharp turn in, a result of the careful mass distributions and ultra-rigid new structure.
Being 90 percent aluminum makes the CT6 very light for its size, meaning it responds quickly to all its controls, including the firm, easily modulated brakes. There is some high-strength steel employed in the pillars and other areas (similar to what BMW did on the 7-series with its "Carbon Core") to control noise. Whatever the reasons, this is one quiet car, even for Cadillac.
The CT6's low mass also means the AWD model's base engine, an updated, 335hp V6, doesn't feel or sound strained, despite only having 285lb-ft of torque. The intuitive eight-speed automatic ably deploys this serenity; paddle shifts are there for fun. The CT6 hits 0-60 in the mid-sixes. For those who want to get there faster, there is a 404hp, turbocharged model.
Another intriguing option is the Active Chassis package, which includes adjustable, magnetic damping and four-wheel steering. Equipped thusly, it makes a BMW 550i feel ponderous and sterile. Yet even the basic CT6 is very much a driver's machine; while the Bavarians may own the tagline about being the Ultimate version of such a car, there is no doubt that in this new reality, Cadillac now has the more focused lineup.
This article appears in the June 2016 issue of Colorado AvidGolfer.
Colorado AvidGolfer is the state's leading resource for golf and the lifestyle that surrounds it. It publishes eight issues annually and proudly delivers daily content via coloradoavidgolfer.com.