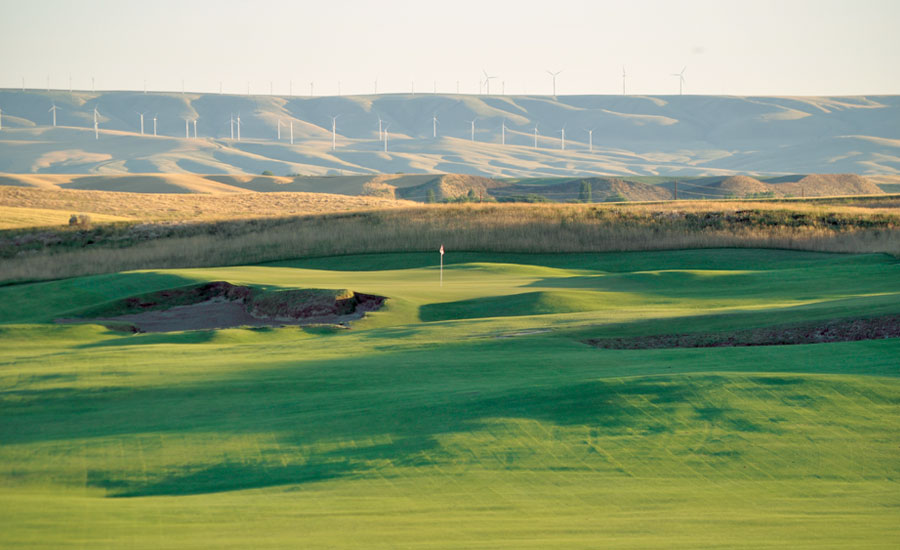 Tasting notes from a golf trip to 

Eastern Washington

.
By Jeff Wallach
HOW ABOUT A round of vintage golf—as on a course surrounded by more than 100 wineries producing some of the top vintages in the U.S.?
I could well be talking about Napa or Sonoma or the pinot noir hotbed of Oregon's Willamette Valley—all of which have fine terroir for grapes and golf. Instead, I'm referring to Walla Walla, Wash., the ascendant home of world-class Cabernet Francs, Merlots, Syrahs—and the Wine Valley Golf Club.
Just as Walla Walla's wines appeal to the viticultural cognoscenti, so do the designs of Wine Valley course creator Dan Hixson attract connoisseurs of golf-course architecture. In any other era, Hixson would have achieved the star quality of a Pete Dye or Robert Trent Jones. But Hixson, a former PGA club professional, hung his golf-course design shingle during one of the most fallow periods in the history of U.S. golf-course development.
His best designs (Wine Valley and Oregon's Bandon Crossings and Silvies Valley Ranch) are worth sipping slowly and will likely get even better with age. Like well-crafted art of any kind (including winemaking), Hixson's work is so full of subtleties and subtexts that you can't possibly appreciate its depth in just one serving.
"This golf course is marked by open spaces and movement created by wind and water over thousands and thousands of years," Hixson told The Seattle Times. "Conditions change every day, or more often than that. You can't just come out here and play it the same way over and over. You've got to think and adapt, and to me, that is what makes golf fun."
The back tees stretch 7,600 yards, but even with a sensible slope rating of 134 you'd only play from there after way too much Cab Franc. The trouble isn't in its length—or even its width, as the fairways are promiscuously wide. Each hole develops like a whodunit as you get closer to the greens.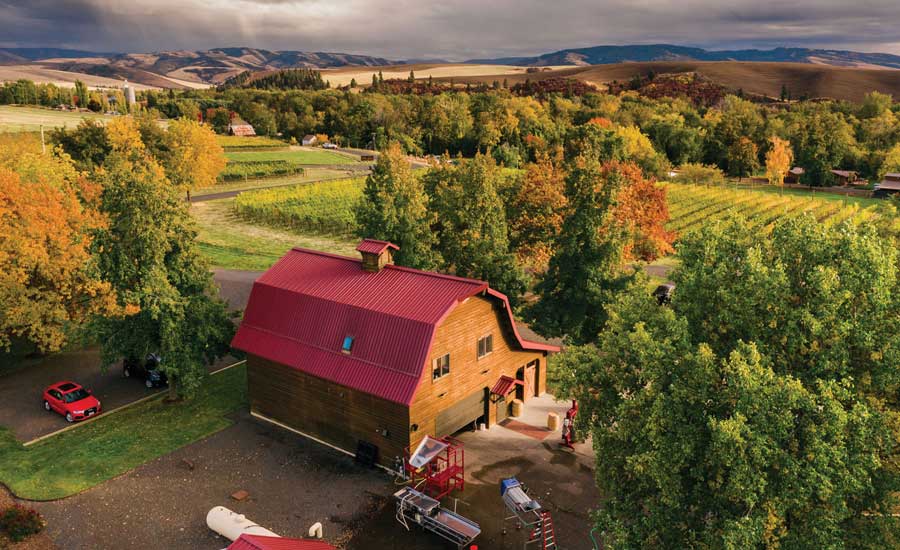 It helps that the course isn't home to a single tree—one fewer than another top Washington venue, Chambers Bay. You can reach nearly every green here via some grassed throughway without having to hit over or past anything troublesome. But you'll do well to pay attention to land forms and use them to move shots toward the holes.
The course elicits superlatives by the third hole. You know you're in the hands of a tactical master when you pick the wrong route on this short par 5 and have to lay up because of water and nearly impossible approach angles. Some routes are more generous than they visually appear at first, reinforcing the idea that Hixson has seamlessly worked nuances into the holes. I noticed after playing a difficult route to one green that a hidden fairway lay beyond the intimidating central fairway bunker, an area that had appeared out of play.
Wine Valley's bunkering boasts infinite variety, and the course's rolling chipping areas allow cagey players to putt from unexpected distances and locations or hit creative, unexpected shots. The course demonstrates every one of the different ways golf is fun.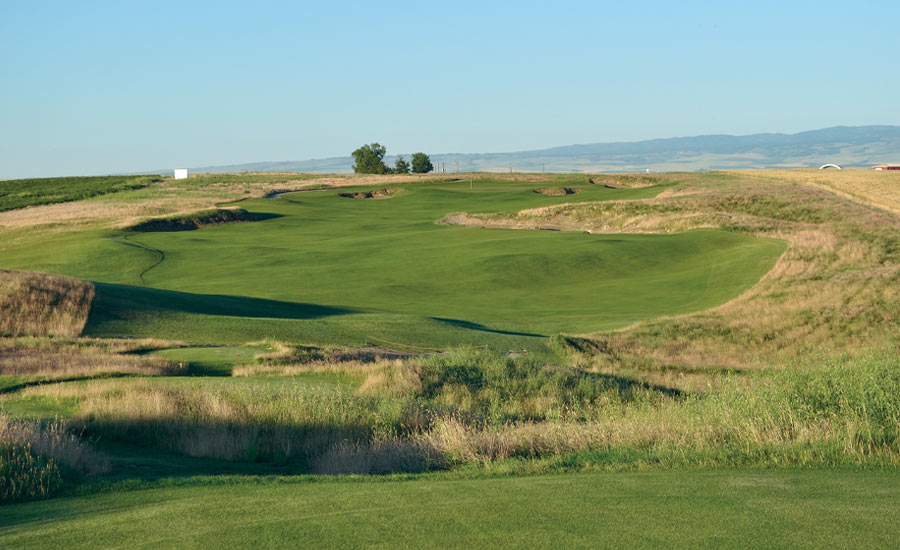 The putting here also provides sublime and giddy pleasure—greens tend toward slow, allowing fun-house bumps and slopes to remain fair and provide a real chance to make a triple-breaking 30-footer. The genius of the layout lies in each shot detail, and on the same day, different players will have entirely different experiences, or the same player might, on different days, have entirely different experiences with a change in wind, gusto or just where certain shots land.
The par-4 seventh boasts the punchbowl green you dream of, while the distant bunkers on the long par-5 10th look like canyon walls and discourage exploration. A wee, tricky par 3 and two rugged par 4s follow. Hole 14—a demanding short par 3 over a ravine and freckled with bunkers—ratchets up the yippee factor another notch. Fifteen presents possibly the only narrow driving hole you'll encounter all day, but it's on a 460-yard par 5 with a bunker complex canted away from the slice trajectory. You may watch tumbleweeds blow past here, a reminder that this is rugged, lonely country.
The beautiful par-4 17th climbs to a two-tiered green, leading you to the big finish—a risk/reward par five with a green framed by bunkers and a ragged, parlous waste area.
THE OFF-COURSE COURSE
In Walla Walla, bed down at the Green Gables Inn, located beside the leafy campus of Whitman College. The home, built in 1909, features five main guest rooms—several with balconies—and two additional guest houses. Visitors enjoy use of the covered porch, grounds, period public rooms with fireplaces and original woodwork and a friendly cat named Barnabas. Depending on weather, you can partake of a breakfast in the dining room or on the porch that will fuel 18 walking holes.
Walla Walla's atmospheric, historic downtown is home to many wine tasting rooms, including Seven Hills, Cayuse and Canoe Ridge. Top restaurants—which would be top restaurants even if they were in Portland or Seattle—include Saffron, with Mediterranean on tap; Four Brasserie, serving simple, clean French fare in a modern room; and TMACS, where I enjoyed the best Bolognese I've ever plowed into.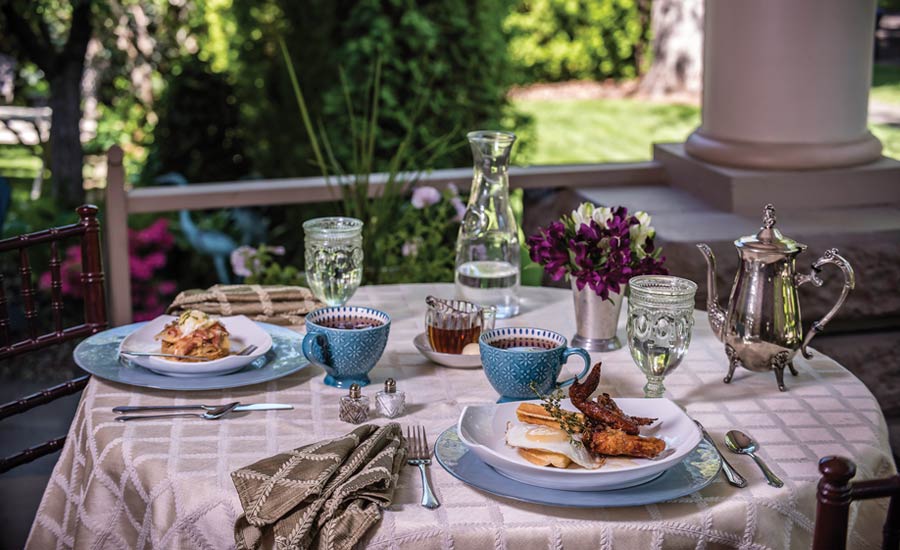 To make a day of wine tasting without having to decide who has to spit in a bucket so as to drive safely, consider hiring knowledgeable, well-connected oenophile Tom Olson, at Wine Country 2GO. Tom will take the wheel, set up appointments—including some at wineries that may
not even offer public tastings—and even walk you out into the vineyards just before the crush to taste ripe grapes as varied as Cab Franc, Merlot and Syrah. Among our favorites during Tom's tour were Walla Walla Vintners (loved their 2016 Cab Franc); Rasa's 2014 QED Convergence; and Adamant Cellars' unusual 2008 Malin.
And in case you didn't know, prior to the cultivation of grapes, the area gained fame for another form of produce. Reaching weights greater than two pounds, the Walla Walla sweet onion is Washington's Official State Vegetable. Summer showcases the jumbo delicacy at farmer's markets, restaurants (usually roasted, sliced into salads or fried as onion rings), and in the gourmet mustards and dips sold in shops around town. On July 18, the Annual Walla Walla Sweet Onion Festival takes over downtown.
COUGAR COUNTRY
Unless you're an alum or booster of Washington State, CU or another PAC 12 school, the town of Pullman doesn't warrant more than a 100-mile day trip from Walla Walla.
But go you must—in order to play the Washington State University-owned Palouse Ridge Golf Club.
The course represents the final masterpiece of regional architect John Harbottle III. Best known for his world-class Olympic Course at Gold Mountain in Bremerton, Wash., Harbottle (whose credits also include Shining Mountain Golf Course in Woodland Park, Colo.) passed away at age 53 in 2012. Featuring a bold, muscular style that stands in contrast to the subtleties you'd find at Wine Valley, Harbottle's layout at Palouse Ridge is brawny and challenging, calling for big shots delivered at the right moments.
WSU golf team members play from the 7,308-yard crimson tees, but you'll need a note from the Dean for that. It stretches 6,723 yards from the blues and 6,172 from the grays, both distances that will still test your golf faculties.
The syllabus of holes stretches up, over and around the Palouse—high, rolling hills that appear like giant dunes covered by wheat and barley fields. The venue is managed by students and faculty at this renowned western ag school. The yardage guide includes environmental notes for each hole.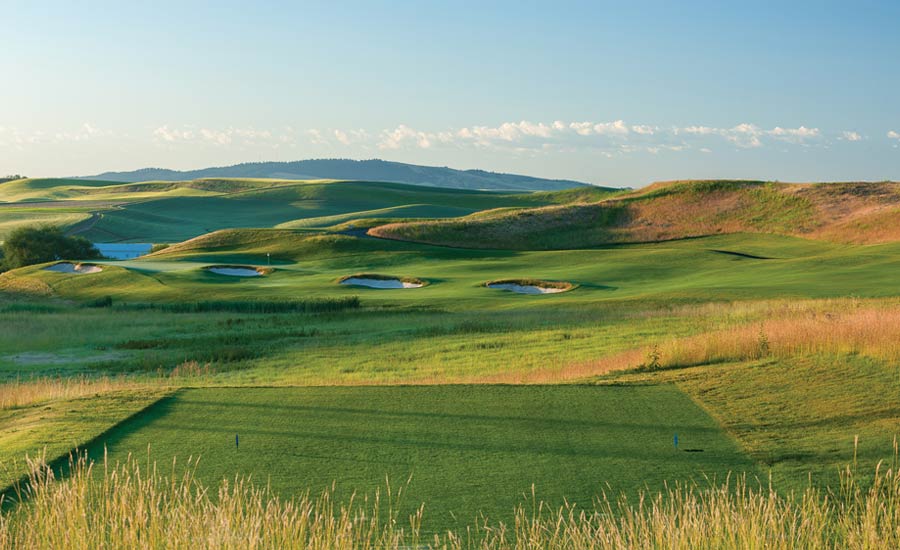 Start with a blind tee shot aimed at a distant clock tower, and don't miss right. Or left. The course expresses a mountain feel from the get-go, with steep slopes that may prove either friend or foe, depending on how you use them. The drama department must have started consulting on the course around the 530-yard fifth hole, which looks impossible given forced carries over waste areas and nests of bunkers along what would otherwise be the preferred route. Yet I was surprised to find myself putting for birdie nonetheless.
If one mark of a great golf course is visual demands that turn out less daunting than they appear, Palouse Ridge aces it. Subsequent holes are pure and classic, including a rugged cape hole at number seven that asks just how hungry you are.
The back nine begins with distant mountain views. Number 11 delivers a short par 3 with an Irish accent, where you can't quite see the shallow green surface beyond the forced carry. The five par 3s are generally characterized by crossings of water or waste areas, although the forward tees offer grassier routes. The lovely 307-yard 15th features angled bunkers disappearing down a tilted fairway. Actual trees appear on the uphill finishing hole and beside the large, sectioned green, leaving you feeling that a fun and engaging course grew more so as it matured.
In other words, like so much else produced in this region, age has only improved it.
---
The most recent of Jeff Wallach's five books, Mr. Wizard ($17.95 at open-bks.com), comes out this month.
This article was also featured in the April 2020 issue of Colorado AvidGolfer.
Colorado AvidGolfer is the state's leading resource for golf and the lifestyle that surrounds it, publishing eight issues annually and proudly delivering daily content via coloradoavidgolfer.com. Follow us on Twitter, Facebook and Instagram.