There's much to be said for the Chicago Company's latest driver.
By Tony Dear
As we mentioned in last week's post regarding Mizuno's new ST-Z driver, hanging your tech story on a single peg doesn't really cut it these days. Multiple innovations in a single club are necessary for it to pique the interest of today's equipment-savvy golfer. Wilson's new D9 driver, available at general retail for two weeks now, satisfies that demand with a couple of very compelling tech details but, for us, its most notable attribute is something else entirely.
Over the years, we've grown familiar with fellow Chicago manufacturer Tour Edge and its capacity for building really good stuff that sells for a really good price. We've learned more recently the Ben Hogan Equipment Company accomplishes much the same with its direct-to-consumer model. The Mizuno ST-Z comes in under at a penny below $400, and the 460cc Wilson D9, complete with its tried-and-tested [K]omposite crown and new Peak Kinetic Response (PKR) face, is even more affordable, indeed $200 less than today's best-selling drivers.
The three-part [K]omposite crown first appeared on the D7, launched in 2019, and features a middle layer of Kevlar sandwiched between two layers of carbon-fiber. Its purpose is really two-fold – allow engineers to reposition the discretionary weight it gives up elsewhere in the clubhead – i.e. low and back in the sole in the form of a 10g weight which pushes the Center of Gravity (CG) down and Moment of Inertia (MoI) up, making it more forgiving than previous D models; and absorb a little of the vibration of impact while improving acoustics, making impact feel and sound more satisfying.
Peak Kinetic Response, meanwhile, is the name Wilson has given to its supercomputer-enabled face design which, it says, seeks optimal ball speeds from every point on the face.
Until Artificial Intelligence (AI) began reconfiguring the back of driver faces a couple of years ago, the face was typically thickest in the center and got thinner as you moved out – a fairly uniform design common to nearly every reputable driver. Following millions of swiftly-performed (very swift) calculations and simulations, however, the back of clubfaces began to look very different with thick points and thin points scattered over the face in a seemingly random fashion. Really, at no point on the surface of the D9's face is there constant thickness, and some thinner areas are surprisingly close to the center. "We had 120 computers running for seven days a week to create the overall design," says John Pergande, Wilson's Manager of Club Innovation. "The process we used required over 100 processor cores of computing power, and it helped us as an engineering team get to a final design quicker than ever before."
Another interesting aspect of the D9 is that it is the heaviest D driver for seven years. Beginning with 2013's D100, Wilson went full-bore on lightweight, building clubs that hit the scale at 275g or less. The D9 is described as a more 'traditional weight' featuring the 10g back weight, a 67g shaft (stiff flex), and a Wilson Staff Lamkin Crossline Genesis Grip. Pergande believes this makes it more attractive to a wider number of golfers. "The face construction, head-shape, crown technology and PKR face all received Tour player feedback and allowed us to improve the performance at every stage and the end product is perfect for players looking for extra yards and forgiveness off the tee," he says, referring to…we, virtually everyone that plays the game.
For golfers that prefer their driver on the light side though, Wilson is also offering the D9 with a 3g backweight and lightweight versions (50g) of the stock shaft in 'A' and 'R'-flex.
The Wilson D9 is a lot of driver for a very reasonable price, and most definitely worthy of a test.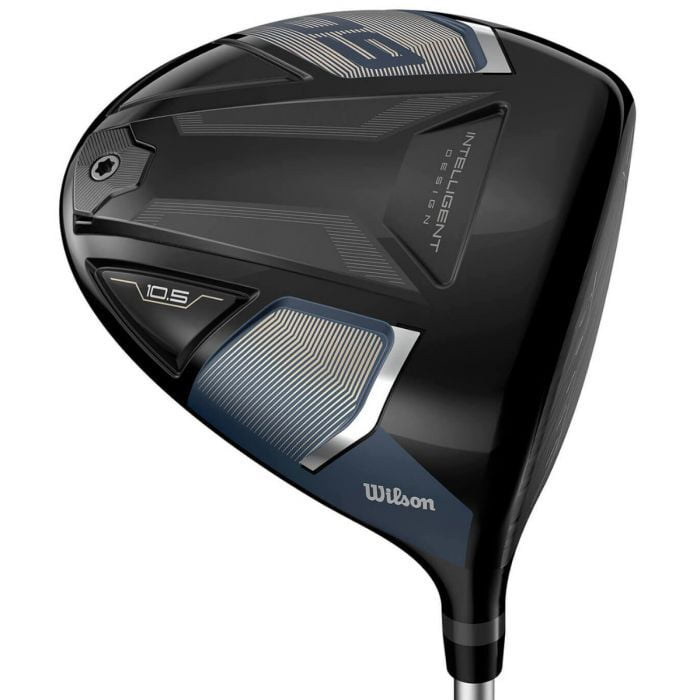 $350
Lofts – 9˚ (Right-hand only), 10.5˚, 13˚ (Right-hand only)
Shafts – Mitsubishi Tensei CK Blue
Wilson D9 Irons – Pick the Holes Out of That
Wilson's high-powered computers worked double-duty on the D9 line, coming up with an advanced iron design as well as the driver. The D9 iron shares with its predecessor – the D7, the same power holes designed to optimize face flex and thus protect ball speeds on slight miss-hits. Actually, they aren't quite the same holes. The D9's have been sized, shaped, and positioned by that busy supercomputer which indicated asymmetrical holes slightly wider at the heel end (because high-handicappers tend to miss the sweetspot on the heel side). These holes, Wilson call, Power Holes 2.0.
There are other differences between the two irons. The D9 has a significantly wider sole which prevents digging and lowers the CG to enable slower swingspeed golfers to get the ball up in the air. It's not forged like the D7, so has a more attractive price point. And it has a little more offset and a thicker top-line – while the D7 tried to bridge the gap between players' and game-improvers' clubs, the D9 is squarely back in the higher-handicappers camp.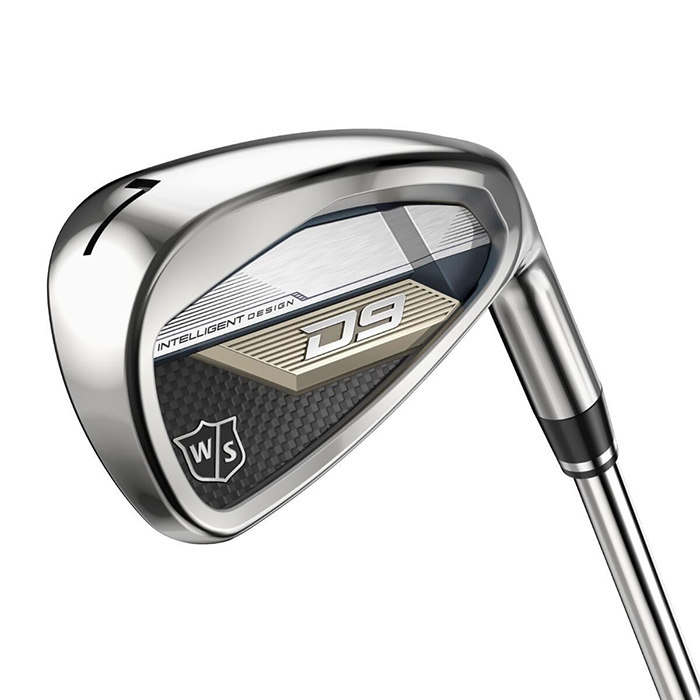 $650 (5-PW, GW – steel), $749 (graphite)
Lofts – 7-iron: 27˚, PW: 42˚
Shafts – KBS Max Ultralite (steel), Mitsubishi Tensei (graphite).
The D9 line also includes fairway metals and hybrids.
wilson.com  
---
Want to read more gear articles like this one? Visit our GEAR page.
Colorado AvidGolfer Magazine is the state's leading resource for golf and the lifestyle that surrounds it, publishing eight issues annually and proudly delivering daily content via coloradoavidgolfer.com.