As the New York International Auto Show previews next year's models, Dodge and Infiniti show that the future is now.
By Isaac Bouchard
---
The 2018 New York International Auto Show served as a wrap-up of the past season's debuts, while previewing notable models for the coming year. Highlights include:
2019 ACURA RDX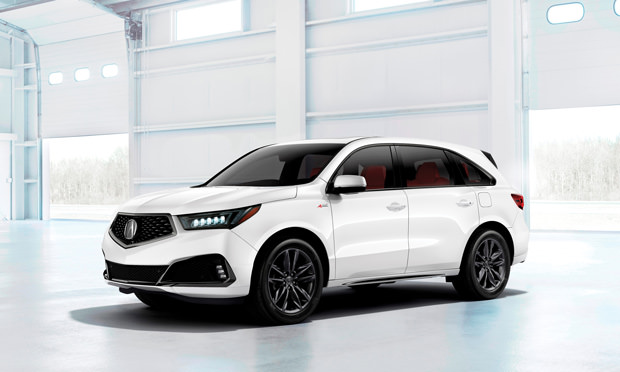 Acura is back, baby, if this all-new RDX is any indication. Artful surfacing hides how commodious the cargo area and back seat are; the front end is sufficiently aggressive for a modern SUV substitute without turning people off in the way prior Acuras—and many current Lexi—do. The interior's design, materials and infotainment interface look fully competitive with the best in the class, and its turbocharged 272hp 2.0L should provide ample thrust at our elevation. A return to the company's Super Handling AWD means the RDX should also be agile and responsive.
2019 CADILLAC XT4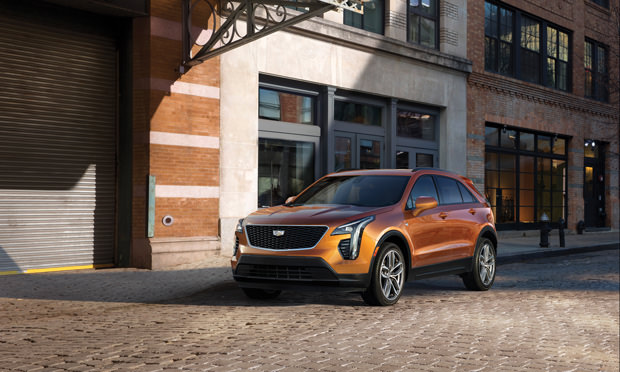 The drought of new product ended at New York (Cadillac's HQ) with the XT4, which is based on a thoroughly updated platform that gives its small footprint excellent interior room, a turbocharged 237hp engine which gives it more power than most competitors, active suspension that—based on recent Cadillac vehicles—should outhandle the competition, and a pleasing cockpit with revised instruments and CUE infotainment controller, which will make interfacing with its systems much easier and safer.
2019 LINCOLN AVIATOR CONCEPT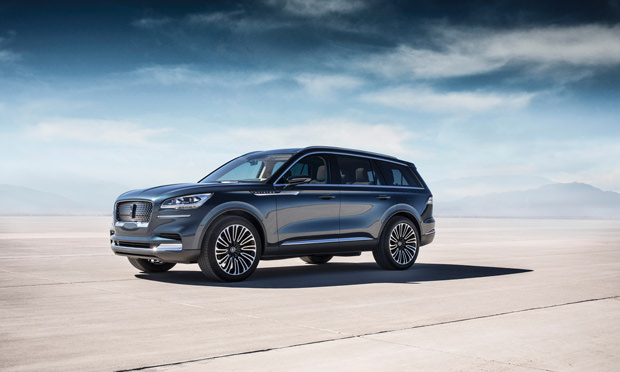 Situated directly across from the gorgeous Range Rover Velar, the equally compelling Aviator Concept (wearing near-production sheet metal) serves notice that Lincoln isn't messing around in the automotive world's most important segment. Pro-portions, stance and detailing of this luxurious midsizer were spot-on, and the production machine, which will arrive in both twin turbo rear- and all wheel drive form, or as an AWD hybrid, shows how serious Lincoln is about being ready for an unpredictable future. Whether electric or high performance gasoline, the Aviator appears to have it covered.
2019 SUBARU FORESTER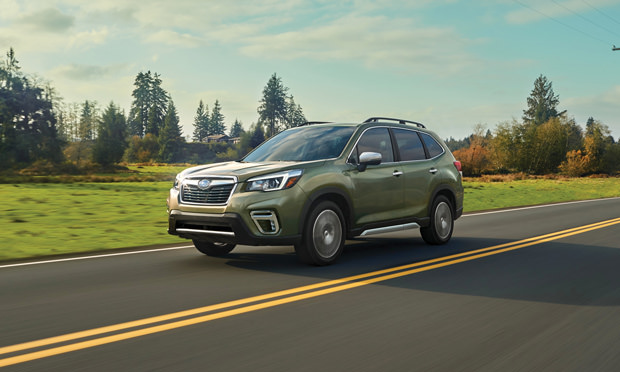 Subaru showed its brand new Forester next to the prior generation, and sometimes it was hard to tell which one is built on its new Global Platform architecture. Perhaps the lesson was "Why mess with success?" Regardless, the 2019's upgraded interface and interior materials should keep 'em buying. This component set (already used on the Crosstrek) drives much better, and the updated boxer engine now has direct fuel injection, boost-ing power to 182hp. Shed a tear though for the demise of the rocket-box XT Turbo, gone for good.
2019 TOYOTA RAV4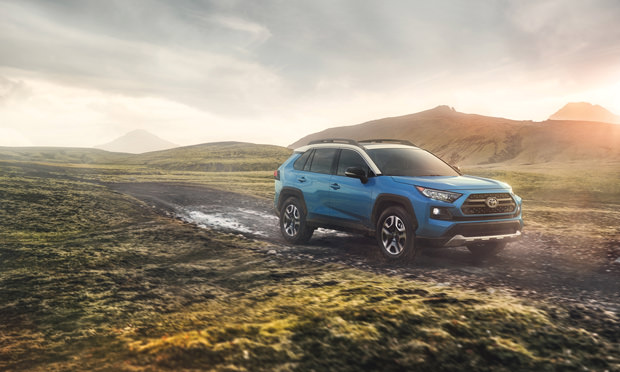 The outgoing RAV4, despite being well behind the curve dynamically, was the company's best-seller. That bodes well for the new one, based on the superb TNGA platform and packing new powertrains in conventional and hybrid form. Much more aggressive looking, it successfully blends cues from the classic 4Runner and Tacoma outside, and interior quality and electronics take a major leap forward. For those who don't want to wait for 2019 models, the following two excellent crossovers are available right now…
2018 DODGE DURANGO SRT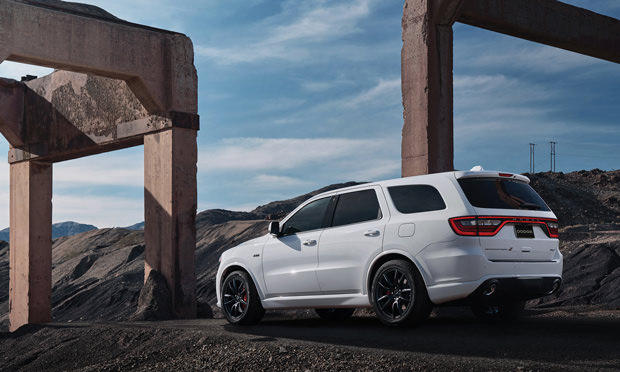 392 0-60mph: 4.6sec
Price as tested: $72,265
EPA ratings: 13/19mpg; 15mpg combined
Now that the Dodge brand has found its footing as the home of honest, affordable performance within the Fiat-Chrysler firmament, it was logical that the excellent Durango should get the full-fat SRT treatment. While not (yet) available with the 707hp Hellcat motor, even with "only" 475hp it becomes both the value champion for those look-ing for seven-passenger crossover performance and a compelling alternative to hotrod SUVs cost-ing tens of thousands more.
Riding the same basic platform as the Mercedes GLS550 and 63 models, it boasts superb moves, with direct, accurate steering and excel-lent body control. That it also rides so well is quite amazing; dial the dampers' stiffness down and it is almost luxurious.
The SRT is never retiring, however; a wide-body kit, giant hood scoop and monstrous Brembo brakes peaking from behind the gorgeous rims ensure abundant visual menace, and the exhaust system is gloriously old-school. There's almost enough go to match the show, too. 6.4 liters of honed V8 muscle means that at sea level the SRT 392 is a rocket, with 0-60mph dispatched in 4.6 seconds and a low-13s quarter mile time.
It channels 470lb-ft through an eight-speed auto that shifts so intuitively there's no actual need to use the satisfyingly large, metal paddles and rear-baised AWD system that can be adjust-ed for street or track use. Our altitude neuters straight-line performance to some degree, but the Durango still runs hard and those Brembos insure excellent deceleration. What really charms is the honing to all the controls; the SRT team is the equal of any of the fabled German engineers in its ability to create a cohesive, communicative, high- performance utility vehicle.
Inside, leather and faux suede upgrades to the Durango's already well-built and commodious interior bring it up to the level buyers in its price class expect, and the heavily bolstered front seats serve notice of its intent. The second row is comfy too and even the third row will actually fit adults—or, with seats folded, the SRT 392 becomes a very high-speed cargo jet. Dodge's touchscreen UConnect interface is fast and intuitive, and the latest active safety suite means you can let the Durango do the herky-jerky of stop-and-go traffic almost by itself. That the SRT 392 still has an 8,700 towing capacity just insures it's in a class of one for its breadth of practical abilities and driver-rewarding performance at an almost affordable price.
2019 INFINITI QX50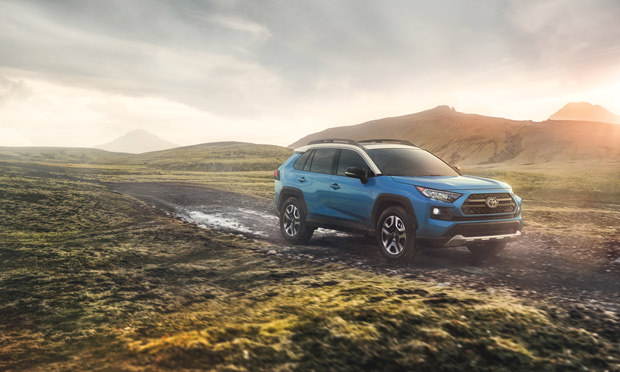 0-60mph: 5.8sec (est.)
Price as tested: $58,995
EPA ratings: 24/30mpg; 26mpg combined
Infiniti's most important new vehicle comes out swinging, sitting atop an all-new platform and boasting an engine that is the first of its kind in the production car world. This evolution of the company's fluidic styling works really well on the QX50, with cohesive sweeps of metal imbuing the fundamentally utilitarian shape with sufficient dynamism to attract a broad cross-section of buyers.
In top-spec form, the interior is gorgeous, all lovely quilted leather and swaths of ultrasuede. Roomier than most segment competitors, the QX50 is quiet, comfortable and well appointed. The infotainment system suffers from being divided between two screens whose graphics don't match, but you can't find fault with the responsiveness of the chipset. Likewise the latest suite of Level 2 autonomous hardware and software, dubbed ProPILOT. Now a top-rank system, careful coding means it provides lane keeping and traffic jam assist in a transparent, pleasing manner.
It integrates well with the latest (fifth-generation) version of Infiniti's fly-by-wire steering. No longer a deal breaker, it is accurate and precise enough to exploit a chassis that is the unsung hero of the QX50. Employing a really sophisticated, amplitude-sensitive damper design, the Infiniti resolves big suspension hits with nary a shrug; they pass by almost without notice and body control is superb. It hustles through twisties with more aplomb than all but the most sports-oriented crossovers. There's no head-toss either, some-thing that blights many high-cg vehicles, who use thick antiroll bars to minimize body sway.
The QX50's party trick is the first production, variable compression ratio engine ever made. Decades in development and transparent in operation, this turbocharged four-cylinder can vary the ratio of gases to fuel that get squeezed by the pistons over a 8:1 to 14:1 range, maximizing performance or economy. The 2.0-liter VC-Turbo outputs 268 horsepower and 280lb-ft of torque, competitive in its class, and has a superb, 26mph combined EPA fuel economy rating for the AWD model.
Real-world numbers seemed to corroborate the tests, too. VC-Turbo also makes the use of a CVT gearbox less objectionable; boost builds early and the faux gears programmed into the tranny means it sounds sweeter in operation than most powertrains of this type. The QX50 is a fully competitive member of the first tier of crossovers in its size and price range, ably demonstrating Infiniti's ability to blend the best of the car and truck worlds.
---
Automotive Editor Isaac Bouchard is the owner of Englewood-based Bespoke Autos
(303-475-1462). Read more of his writing on coloradoavidgolfer.com and bespokeautos.com.