A look inside the CEA display inside the new Columbine Country Club Clubhouse…
---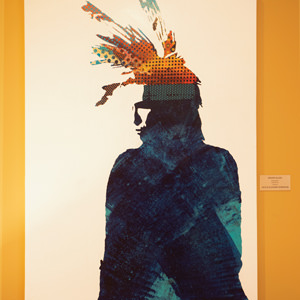 Built as part of a $30 million project, Columbine Country Club's new 56,000-square-foot clubhouse has utterly transformed the 63-year-old club. Its architecture, amenities, appointments and flow suggest a five-star resort rather than a suburban retreat.
As former club president, David Henry, puts it, "The clubhouse is meant to be a timeless place. It was designed to express a little bit of Western heritage, a little bit of Colorado, and some Mediterranean influences to give it some flair."
While the structure is impressive from the outside, much of that flair comes from the exquisite interior—from its beautiful skip-troweled wall texturing and faux-suede paint finishes to the custom lighting and dark wood trusses and floors. But what further distinguishes these surroundings is the artwork featured throughout.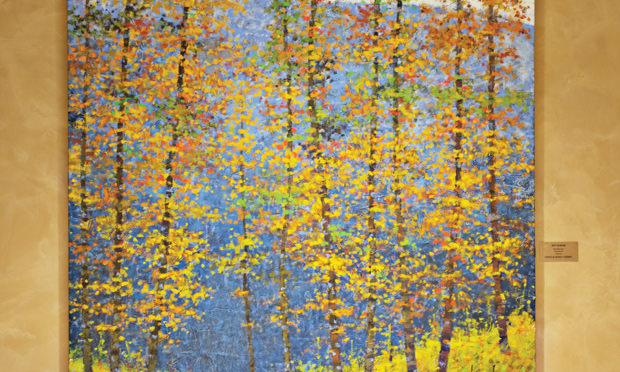 In total, 32 pieces have found their way into Columbine's new clubhouse—and what a fine collection they make. Illuminated by museum-quality picture lights, these paintings and sculptures—all by Colorado artists such as Jeff Koehn (pictured above), Michael Lynch, Anita Mosher and Kristen Lynch—complement the clubhouse's ambience and educate those inside about Colorado art's unique and historical roots. But where did the art come from?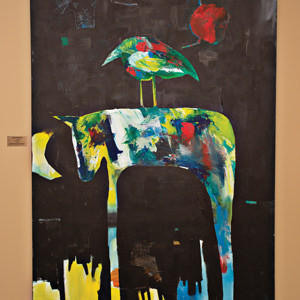 Last October, Columbine Country Club hosted The Gift of Art Gala as the first function held in the new clubhouse. More than 150 members and non-members attended the black-tie soiree, which culminated with a grand fireworks display viewed from the enormous new patio. By the end of the evening, the Gala generated more than $200,000 in art placements, ticket sales and cash donations for the Columbine Endowment for the Arts (CEA)—a local 501(c)(3) non-profit organization committed to Colorado art and its promotion. The CEA acquires, owns, conserves, maintains and displays original works of art of historical significance.
Henry, who serves as president of the CEA, helped to explain the donation process for the collection. Donors give a cash donation designated for the CEA to purchase a donor-chosen piece of art. The CEA, in partnership with Columbine Country Club and the Town of Columbine Valley, then agrees to display the endowment-owned pieces in the clubhouse and select locations in town. All donated pieces are recognized with a donor plaque from the CEA and the charitable individual(s).
With the help of Marsh & Associates and Debbrah Courtney, the curator at the Denver Art Company, Henry and Columbine's General Manager, Michael Bratcher, assembled quite a sprawling collection. The pieces span a variety of genres—from landscape, portraiture and abstract paintings to stunning sculptures and assemblages—that certainly depart from the aesthetic monotony found in other clubhouses.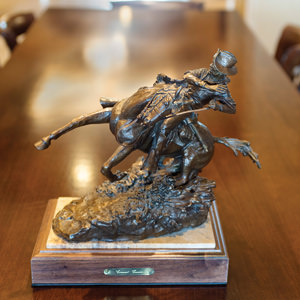 Joyce Coco's Earth Bubbles (pictured atop) that hangs over the main bar fireplace and Kristen Moore's Horse and Bird are among favorites. Walking the halls one can find Maura Allen's Bountiful Blue or touch Clyde Doney's Cornered Courier (at right) sculpture sitting on a tabletop.
Other pieces will soon join them. The clubhouse is vast, and the CEA has only just begun its collection. Future galas will take place, and participation is by no means exclusive to club members or Columbine Valley residents. As the CEA Board puts it "anyone can donate money or art—donated art must first be screened by the Arts Council, recommended for acceptance to the Trustees and subsequently approved."
"It's an ongoing endeavor," Henry explains, "and the vision is still young, but will evolve over time." ceart.org
---
This article appears in the May 2018 issue of Colorado AvidGolfer, the state's leading resource for golf and the lifestyle that surrounds it, publishing eight issues annually and proudly delivering daily content via coloradoavidgolfer.com.