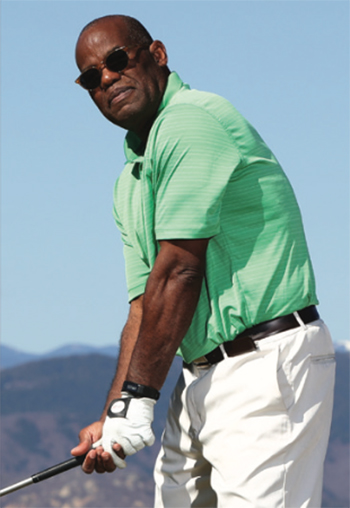 IT IS A TRICKY line to walk these days, being a lover of golf in 2020 amid the novel coronavirus. You walk into a pro shop wearing a mask—a tacit acknowledgment that the horrific disease that has savaged the world is still very much in our midsts—only to remove it and revel in the sunshine and fresh air and freedom afforded by nine or 18 holes, where, more often than not, the only misery you'll find is the shanked iron approach that sends that new Pro V1 careening to the bottom of the pond.
That is, if you can even get to the first hole—golf was one of the first outlets available to the public at the outset of the pandemic, and, months later, that hasn't changed; this entire season, tee sheets across Colorado have been more engorged than Bryson DeChambeau after his fifth protein shake of the morning.
Every day brings a new pronouncement on how "big" golf is: in late September, Golf Datatech reported that the number of rounds played in August were more than 20 percent higher than in 2019, the greatest increase in a peak-season in 20 years. This comes after an increase of approximately 17 million rounds, year-over-year, in June and July. According to the state's Guru of Golf, Ed Mate of the Colorado Golf Association, membership in that organization is the highest it's been in more than a decade.
But you have to wonder how golf's movers and shakers feel about the dichotomy that's seemingly at play—is there any sense at all that these suddenly-bulging coffers are some sort of ill-gotten gain? Or is there gratefulness that golf has perhaps been able to provide a pathway for some of us to escape the disheartening relentlessness that the pandemic represents everywhere but those four hours out on the course?
Just like so much of life these days, the coronavirus is omnipresent, lurking throughout this issue: Mate addresses the topic from his, as well as the CGA's perspective; here, you can read about how COVID-19 has infected the preparation for the weekend that sends a Colorado golfer's heart racing every new year—the Denver Golf Expo.
As it turns out, the pandemic has been, in the words of CEO Joe Assell, the fourth crisis that GOLFTEC, the Colorado-based giant, has faced in its 25-year existence. As was the case with the others—remember when you went to Golfsmith to get a tuneup from one of its pros?—the company appears to be bouncing back stronger than ever. Just like your local muni, GOLFTEC is shattering records, seeing more customers than ever before. In this issue's cover story, we look at its journey from two men noodling around with a computer in the basement of Cherry Hills Country Club to an enterprise that has given an astounding 10 million golf lessons and club fittings.
As we inch towards—hopefully—a return to normalcy, perhaps you'll decide that it's time to return to travel and test your game somewhere away from the Centennial State. Well, we have some ideas about that—Branson, Missouri, for example, was very good to Coloradan Shane Bertsch in August; the Parker resident won there on the PGA TOUR's Champions circuit. Here, we look at what's rapidly becoming one of the premier golf destinations in the U.S., one that you should make a point of visiting.
However, should your tastes lean more towards the tried-and-true, we've got you covered as well. Here, you can do a deep dive into our Getaways travel section, which offers a guide to some of the best golf—as well as other activities—in Arizona, Nevada and Utah.
As far as escapes from global malaises go, an avid golfer could do a lot worse.
---
This article was also featured in the Fall issue of Colorado AvidGolfer.
Colorado AvidGolfer is the state's leading resource for golf and the lifestyle that surrounds it, publishing eight issues annually and proudly delivering daily content via coloradoavidgolfer.com.