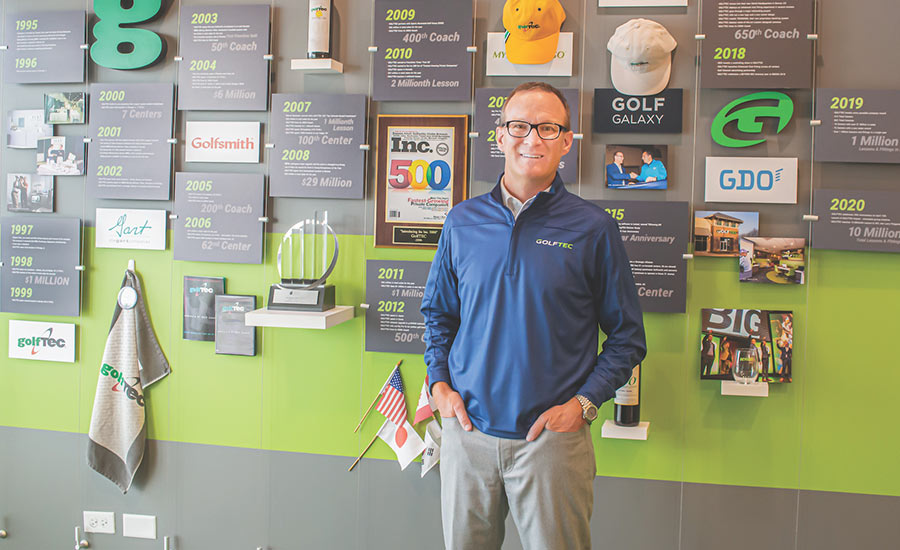 GOLFTEC started in a basement—now, after 25 years, it's known around the world. And with new innovations on the horizon, the future looks bright.
WHEN JOE ASSELL made the decision some 25 years ago to leave his native Chicago and attend Mississippi State University, it was his way of trying to scratch out a toehold somewhere in golf—"I was thinking of trying to get in on the business side of the game," he says. "Maybe a job with Titleist or something like that."
Chances are he had little idea that someday, he'd be the local personification of the ongoing Cold War between global superpowers.
"You hear all about China and them stealing intellectual property from the United States…I had a buddy who happened to be walking down the street there and he texts me," Assell, the co-founder and CEO of GOLFTEC, recalled recently with a wry chuckle. "He's like, 'Congratulations on opening in Beijing.' I'm like, 'We're not open in Beijing…'
"Somebody had stolen our logo, built a sign and opened up a golf deck—we didn't even know about it."
It likely made perfect sense to the enterprising thief—after all, who would question GOLFTEC making inroads into another lucrative market, particularly one in golf-crazed Asia? By that point, GOLFTEC was growing in such leaps and bounds that if a traveler saw its logo on a sign hovering above The Great Wall, it wouldn't have merited a second glance.
As it turns out, in 2019, the company debuted a performance center in Shenzhen, China. That was two years after the one in Singapore opened, which was a year after GOLFTEC moved into Hong Kong. Today, that ubiquitous logo can be found on more than 200 training facilities in six different countries; in the United States, GOLFTEC is in 88 cities in 38 states—"and we've got five under construction right now," says Assell. "When they open in the next month or two, we'll be at 220."
In 2017, the magazine Fast Company named GOLFTEC one the 10 most innovative businesses in sports, a list that included ESPN, Twitter, and even the NBA's Sacramento Kings.
"GOLFTEC," the magazine stated, "crunched roughly 225 terabytes of data—more than 6 million videotaped swings—to produce the most comprehensive analysis of the golf swing to date."
Chances are, the first data collector used by the company would have had difficulty measuring the tiniest fraction of that amount. As part of his golf management program at Mississippi State, Assell spent his summers interning at courses around the country; one of those stops was Cherry Hills Country Club, then under the direction of the legendary Clayton Cole.
"I was there in 1993," Assell says. "The next year I was finishing school and Clayton called me and said he had a computer in the basement at Cherry Hills that measured the golf swing and that the members kind of liked it. He wanted to open it up to all of Denver; he couldn't do that at the club, so he said if I wanted to move back out, we'd put it in a store and I'd work there."
Thus, the first GOLFTEC, located in a strip mall storefront in the Denver Tech Center, was born—but not really—initially, the operation was called Driving Obsession.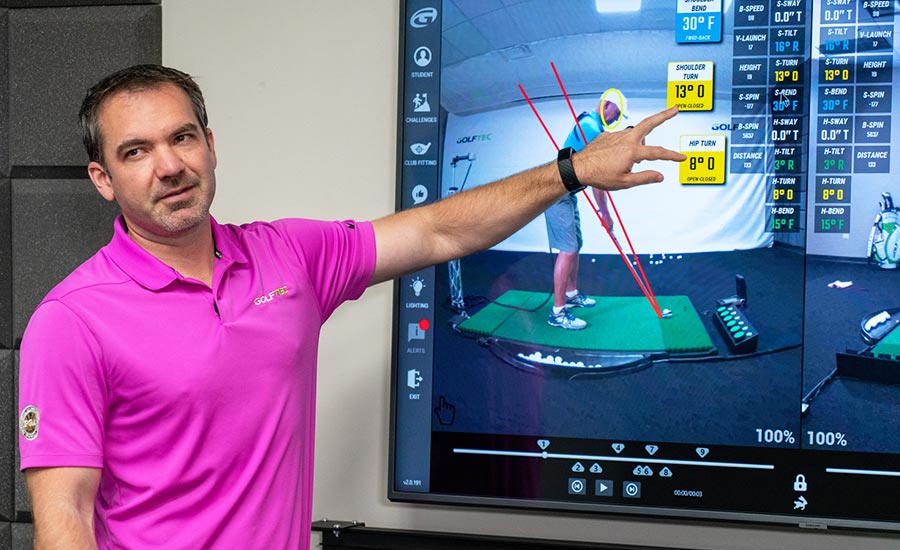 The business grew in fits and starts, branching out to the Midwest and Texas. As time went on, it was clear that it had the potential to completely disrupt an industry that had previously relied on someone, maybe a club pro or an assistant pro—if the student was lucky—taking that student outside, and, depending on how motivated the teacher was, watching a number of swings while offering a number of suggestions over the course of 30 minutes or an hour.
How much progress the student made when he or she returned to the course largely depended on what the instructor was seeing with their eyes—which often boiled down to that universal refrain, "Try keeping your head down."
Assell says he knew there was something else out there, a better way to go—but getting others to share that vision was another story.
"Everybody but the consumer thought this was a bad idea; I mean, this was a failed business idea—teaching golf indoors?—nobody would do that," he says. "Teaching golf by using technology? Up until then, it was all about feel; the older way of teaching golf said you had to actually see the ball and where it was going to know what you were doing.
"So there were a lot of doubters. Virtually everyone in golf I think in the early days, was a doubter."
In 1995, GOLFTEC's initial year, the company gave 2,000 lessons and totaled just $90,000 in sales. There were certainly a number of things GOLFTEC had in its favor—the location of the performance centers lent themselves to a certain clientele: rather than leave their jobs, drive to a course, change into golf clothes and spend an hour on a lesson before reversing the process and trying to get back to work, a GOLFTEC might literally be downstairs, or around the corner.
Following an initial one-hour evaluation session, lessons are no more than 30 minutes, giving students a chance to get in and out and continue on with their day.
Even so, there was still the stigma that it was all just…weird. Computers, players attached to sensors like they were part of a video game—"When I first started coming, they had a skeleton with a spine and a head— it was kind of eerie," says Bo Moorhead of Denver, a long-time GOLFTEC client.
Twenty five years and 10 million lessons later, it's obvious there was an alternative method lurking somewhere in the madness. "More of the criticism early was from people who just didn't know; people who had never come into one of our centers would be out there saying things—it was ignorance and not being educated about what we do," Assell says. "The reality is that we've tested hundreds of swings of PGA, LPGA, Champions Tour players with our sensors and collected this giant database of the best swings in the world. Everything we do is based on that research; it's facts, not anybody's swing thoughts or philosophies or opinion… "The only thing that matters is the split second the club and ball touch—that impact determines everything. By testing the best players in the world, we know the most efficient way to get to that point. But everybody in the world is different; every swing is different, even the tour players.
"But we know from our data that the average shoulder turn for a tour player hitting a 5-iron is 89 degrees—if a golfer walks in and has a shoulder turn of say, 55 degrees, I may not be able to get him to 89 degrees, but if we can get him to 75, that's a better golf swing."
Aside from a physics or geometry major, trying to enter those types of data points into the brain of someone who just wants to clobber the ball further down the fairway might seem like a disaster waiting to happen. Instead, says Nick Clearwater, GOLFTEC's Vice-President of Instruction, their teachers just take the advanced math out of the equation.
"If you were left to your own devices, then yeah, trying to figure out all the data could be super complicated," says Clearwater, who appears regularly on Golf Channel and is a staple on "Top Instructor" lists—including in 2019-20, where he registered at No. 33 on Golf Digest's Best Teachers in America list.
"So while in my head, the lessons are data-oriented, I'm just going to give you a cue—'Move your hands inwards more on your backswing'—that will more or less accomplish what the data is saying."
TY-BO
In his office in the Tech Center, Ty Walker, a regional manager for GOLFTEC, keeps a piece of paper—a tee sheet as it were—filled with the names of students and the number of lessons they've taken. Most of those figures are somewhere in the low double digits—until an entry at the bottom of the page. There, alongside Moorhead's name, the total is over 300.
"And this is only from after we went electronic in 2002; so there's also everything between 1995 and then," Walker says. "So really, he's probably had around 500 half-hour lessons with me."
If Walker was the first employee Assell and his co-founder Mike Clinton hired, it wouldn't be a stretch to say that Moorhead was one of the first customers to walk through the door.
"It's basically been about 24 and a half years of me taking half-hour lessons," he says. "I used to be the guy looking at all the golf magazines, their instruction sections, looking at the hints then running out to the course and trying different things."
Initially, when he came to GOLFTEC, Moorhead was seeking the golfer's Holy Grail—greater distance. To that end, Walker admits, he's failed Moorhead.
"The guy could hit it into a thimble 140 yards from here, but if you moved it back two yards he couldn't get to it, so he's always wanted more distance," he says. "To be honest, I haven't delivered on that—he'll hit it a few more yards, but there's never been any great leaps of distance."
But Moorhead has won numerous club championships since linking up with Walker. Perhaps even more importantly, a friendship has developed; these days, Moorhead's lessons often consist of the long-time pupil hitting about a dozen shots, then sitting down with Walker to solve society's ills or give each other a hard time about the $2 bill that's on the line in their running major championship pool (Moorhead's choice of Xander Schauffele put him on top in the recent U.S. Open). Now 64, Moorhead says these days he's not hitting it as far as he used to—even with whatever improvements came from working with Walker. Ty says Bo should consider concessions like moving up a set of tees in order to even things out a bit, but the teacher admits that the student is being a bit stubborn about it.
"Ty tries to help me with it, but it's hard mentally; I'm competitive, and so now that it's tough for me to break 80 because I don't hit it far enough, the fun of playing golf has really gone down for me," Moorhead says. "It's my biggest struggle right now, but I'll still come in for lessons because it's just been a fun, fun thing to do."
"I think it's therapy for him," Walker says. "He came in on the day his Mother died, because he said she would have wanted him to…he's got my prime spot, Friday afternoons at 4:30, and it will always be his for the rest of my teaching days."
LETTER PERFECT
A common misperception is that the TEC in GOLFTEC stands for technology; no surprise given all the innovation the company has brought to the game. In reality, each letter stands for something different—Technique, Equipment, Conditioning.
"Only if you have all three of those can you play your best," Assell says.
Clearly, technology has been a major component of the company—in the past, as well in the days ahead. As it turns out, some time in the very near future all those sensors, attached to the body to measure the swings of all those players, will be disappearing—the company will soon roll out a system that captures a player's movements and swing, minus the harness.
That's been made possible by a new camera developed by GOLFTEC.
"It's our own proprietary camera; we engineered the whole thing," Assell says. "The faster the shutter speed, the sharper your image—the shaft isn't going to be blurry at 100 miles an hour; you're going to see it, you're going to see the grooves of the club and the grip during the swing.
"We had about 15 camera companies give us their best shot, their best cameras, and nobody could meet our requirements, so we developed our own."
Along with numerous instruction studios, GOLFTEC headquarters in Englewood also features space that might best be described as paradise for a tech nerd. But alas, there isn't a yoga studio or Pilates reformer to be found. In its relentless climb to the top, Assell says the company has essentially focused on one thing at a time— "we try not to be mediocre at anything; we became No. 1 in the world in golf lessons and we're trying to be No. 1 in club fitting, and we've had great momentum there.
"I give Clayton Cole a lot of credit; now, everybody on tour is a fitness buff, but that wasn't the case when we started—23 years ago (when Driving Obsession became GOLFTEC) he knew that being strong and healthy would be an important part of playing your best golf…but we have not rolled out a fitness product, a fitness experience. But we know we're going to need it, so conditioning is moving up on our list."
Over the course of a quarter century, Assell says GOLFTEC has weathered four different crises that threatened the operation: when the dot-com bubble burst and money from investors all but dried up; when Golfsmith, which had partnered with GOLFTEC, bringing performance centers into their stores, went under—"we lost 51 GOLFTECs just like that—a major crisis," he says.
The third flash point was the recession of 2008; 10 years after coming through that economic downturn, GOLFTEC hedged its bets against future calamity by selling a controlling interest in the company to GDO Sports, a Japanese-based concern.
The fourth crisis didn't occur until 2020—the novel coronavirus. The global pandemic forced GOLFTEC to close its doors for approximately two months. However, as has been the case with most things in golf this year (the sport has emerged as an economic outlier in the pandemic), the company has rebounded.
"There's been this surge of business through our doors; the energy around golf is flowing through us as well," Assell says. "We set a record for the best June in the history of our company, and we did the same thing in July—we had a strong August and now we're completely rewriting our September record books."
Not bad for the quirky little company with the funny ideas about how to teach golf. "As we went around the country, city-by-city, we were always the new guy with the weird thing using a computer indoors," Assell says. "We always had to pioneer our way through, but at the end of the day, the results are speaking for themselves."
---
This article was also featured in the Fall issue of Colorado AvidGolfer.
Colorado AvidGolfer is the state's leading resource for golf and the lifestyle that surrounds it, publishing eight issues annually and proudly delivering daily content via coloradoavidgolfer.com.