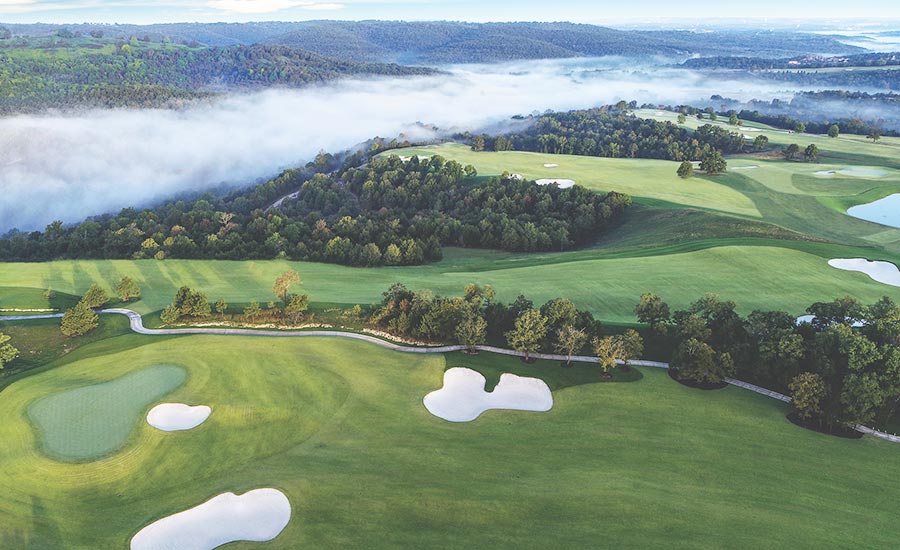 With Payne's Valley, Tiger Woods' first public course, Branson has truly arrived as a golf destination.
By Jon Rizzi
THIS IS NO fish tale. After dominating the 1997 Masters to win his first major, the 21-year-old Tiger Woods spent a portion of his $486,000 check on a Bass Tracker, the country's best-selling professionally rigged boat, motor and trailer package. Introduced by Bass Pro Shops in 1978, the Bass Tracker revolutionized the marine industry in the same way Tiger Woods would revolutionize golf.
Upon learning of Woods' order, Bass Pro Shops founder and CEO Johnny Morris brought his nine-year-old son, John Paul, to deliver it in person to golf's bright young star. The three spent the day on the water. "My boy and I were both very impressed by how down-to-earth and engaging Tiger was," Morris, now 72, remembers, "and by how much he loved to fish."
A close friendship developed, and this fall—23 years and another 14 major titles after that initial encounter—Woods made a delivery to Johnny Morris: Payne's Valley Golf Course.
The Woods-designed layout, his first public course, joins the courses designed by Jack Nicklaus, Gary Player, Tom Fazio and the team of Bill Coore and Ben Crenshaw at Big Cedar Lodge, Morris's spectacular wilderness resort tucked amid the abundant hardwoods and dramatic outcrops overlooking Table Rock Lake in the southwestern corner of Missouri's Ozark Mountains.
Far from the hillbilly backwater portrayed in Netflix's Ozark, this stunningly picturesque region orbits around Branson, a town of around 10,000 to which more than 7 million vacationers annually flock for its profusion of natural beauty, country-music performances, theme parks, museums and down-home restaurants.
In 1991, a 60 Minutes report anointed Branson "the live music capital of the universe." Back then, performers like Roy Clark, Bobby Vinton, Glen Campbell and Andy Williams performed in their own theaters. Today, Branson claims to have more theater seats than New York's Broadway does, with those filling them treated to country acts such as Gene Watson, the Haygoods and the Presleys; rock, soul and country tribute bands; music-comedy revues; and dinner theaters like Dolly Parton's Stampede.
Increasingly, world-class golf has also become a calling-card for the region.
Payne's Valley honors the late World Golf Hall of Famer Payne Stewart, who grew up in nearby Springfield, the same town that spawned Johnny Morris and the first Bass Pro Shop. Born 18 years apart, Stewart and Woods both lived in Florida's posh Isleworth enclave and shared the glory of winning the 1999 U.S. Ryder Cup a month before Stewart's fatal Learjet accident.
In addition to winning 11 PGA Tour events (including three majors), Stewart left a legacy of philanthropy that's immortalized by the PGA TOUR's annual Payne Stewart Award and continues through the Payne Stewart Family Foundation. So when Payne's Valley celebrated its Grand Opening September 22, it did so with a mic'd-up, made-for-TV Golf Channel event to benefit the Foundation. The inaugural Payne's Valley Cup starred the U.S. team of Woods and Justin Thomas versus Europeans Rory McIlroy and Justin Rose.
EYE OF THE TIGER
Having designed private courses at Diamante in Cabo and Bluejack National near Houston, Woods says he wanted to "honor Stewart" with Payne's Valley, the first public course in his TGR Design firm's portfolio.
Accomplishing this required a layout that rewarded the kind of strategic course management and shot-making for which the famously beknickered star was known. However, it also had to provide the vacationing bogey golfer—as well as his buddies and family—with an enjoyable, memorable round.
Payne's Valley succeeds on both counts—and does so with eye-catching style. Your first view of it is a drone-worthy panorama from the clubhouse it currently shares with Big Cedar's aptly named Mountain Top Course—a 13-hole Gary Player-designed roller-coaster ride of cliffhanging par 3s with views all the way to Arkansas.
From this perch, Payne's Valley is no less stunning. Its flashed, smooth-edged, blindingly white bunkers suggest Augusta National, while its liberal use of outcroppings, water and rolling terrain unify it with its lush surroundings.
Creating that unity demanded significant work. "It was a rock," says Woods' Senior Design Consultant Beau Welling of the location. "The Ozarks are solid limestone finger ridges, so we had to do some considerable blasting to tame the site."
They cleared enough to fit in more than 200 acres of playable turf, with nearly half coming in the form of wide, undulant, firm and forgiving fairways carpeted in Meyer zoysia. Should you somehow stray from the short grass, a playable—rather than penal—fescue awaits. "Tiger doesn't want you to remember the course by the number of balls you lost," notes Bryon Bell, the president of Tiger Woods Design, who has caddied for his boss and known him since childhood.
Closely mown, finer-blade Zeon zoysia surrounds the huge, undulant bentgrass greens. "Cutting the Zeon to a quarter-inch allows Tiger to put the putter in the golfer's hands off the green," Big Cedar's Director of Agronomy Todd Bohn explains. "This way higher handicappers don't have to chip, while the players who like playing their wedges have tight lies."
"I want the ground to be a player's friend," Woods said last September. "Tightly mowed green surroundings allow players the option of using everything from a putter to a lob wedge when recovering from a missed green. I believe this allows players to play to their strengths versus forcing them to hit a lob wedge out of thick rough. It also promotes creativity."
And, notes Bell, it fosters doubt: "When you give players multiple options it creates indecision and makes it harder for them to commit to a shot. It becomes a mental challenge."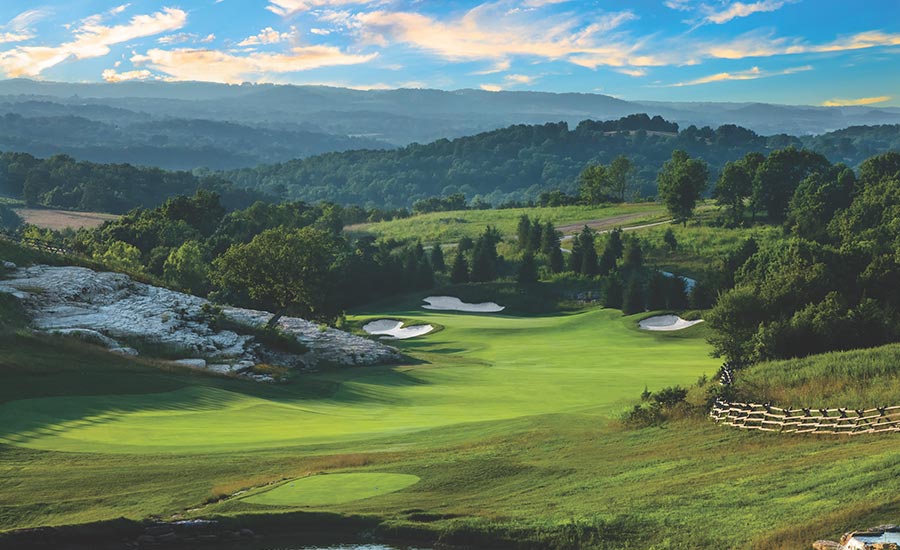 PLAYING THROUGH PAYNE
Payne's Valley stretches to 7,370 yards, but those are called the Tiger tees for a reason. Even moving up a set or two presents a delightful test.
Existing and dynamited rock formations abound, as does water in the form of streams, waterfalls and lakes. The risk-reward par 5s on holes four and 18 both flirt with boulders and large ponds. The par-4 third, seventh and 12th are potentially drivable, but not when the air drips with the kind of Midwestern humidity that makes holes like the 653-yard 13th play much longer than their stated lengths. (For this reason, consider visiting in fall when the air dries and the region's deciduous forests—thick with hickory, ash, white oak, maple and sycamore—burst with color.)
The course's four par 3s are picturesque, especially the fifth, which demands a full carry over a lake, and the 10th, bordered by a stream and waterfall at the green.
"That waterfall was Johnny's idea," Welling says, adding that Morris was heavily involved in every step of the process. "He is so passionate about the Ozarks and sharing this area with as many people as possible, and with Tiger being a very client-oriented person, we made sure we did everything we could to achieve Johnny's vision."
Among Morris' many contributions was the cart-path routing. "We usually want to hide the paths and make them as short as possible to save the client money," Welling notes. "Johnny saw them as an asset, a chance to showcase the beauty of the area with the best possible views."
Calling him "the greatest choreographer of experiences I've ever met," Welling says Morris made "us see the world differently. He was so concerned with how you flowed through the property, what you experienced as you waited to putt or tee off. He saw possibilities everywhere."
(As example of that vision, Bell and Welling both cite Morris' reaction to the 2015 sinkhole that collapsed a Tom Watson-designed Himalayas Putting course at Big Cedar Lodge. Rather than filling the 40-foot-deep by 70-foot-wide chasm and reseeding, Morris excavated further, revealing the caves and caverns that now form the resort's 350-foot-wide "Cathedral of Nature" attraction. In 2018 Watson rebuilt the Himalayas near the clubhouse Payne's Valley shares with the Mountain Top course.)
At Payne's Valley, Morris saw the formidably steep cliffside climb from the 18th green to the clubhouse as the perfect place for a par-3 match-settler called "The Rock"—replete with an island green created by a creek that completely rings the putting surface.
Even better, by this time next year multiple cottages will also alight on this west-facing mountainside to provide golf groups with two-, three-and four-bedroom accommodations, spectacular sunsets and a luxury-suite perspective of the on-course action.
A BUDDING GOLF MECCA
The advent of Payne's Valley and attendant cottages continues to elevate the golf reputation of Big Cedar Lodge that began with the 2014 debut of the Shangri-la known as Top of the Rock.
Winding through the verdant woodlands overlooking glorious Table Rock Lake, this nine-hole Jack Nicklaus Signature Par-3 Course also became the first-ever par-3 layout to be included in a professional championship. Between 2014 and 2019, it co-hosted with other Big Cedar courses the PGA TOUR Champions Big Cedar Lodge Legends of Golf Tournament. Top of the Rock—which, in addition to the lemonade-from-lemons Cathedral of Nature, also features a barn that Morris relocated from Arnold Palmer's family home in Pennsylvania and the chapel where golfer Scott McCarron got married—remains the only Big Cedar Lodge golf course located on the same property as the resort. The other four, including Payne's Valley, lie seven miles northeast in Hollister; all have come online within the last seven years.
In 2013, Morris purchased Fazio-designed Buffalo Ridge (then known as Branson Creek) and Murder Rock, a John Daly (yes, that John Daly) layout Morris promptly shuttered.
Renovated by Morris and Fazio, the challenging Buffalo Ridge has become the highly regarded host of the AJGA's annual Bass Pro Shops/Payne Stewart Junior Championship. This August, it served as the site of the PGA TOUR Champions Charles Schwab Series at Bass Pro Shops Big Cedar Lodge (won by Coloradan Shane Bertsch with an eagle on the first hole of a four-way playoff).
Murder Rock's erstwhile front-nine acreage would eventually comprise parts of Payne's Valley, while Ben Crenshaw and Bill Coore used some of the land occupied by the defunct course's back nine to build Ozarks National Golf Club, rated Golf Digest's "Best New Public Course of 2019" and the co-host of last year's final Bass Pro Shops Legends of Golf event.
On August 26, just three days after Bertsch's triumph at Buffalo Ridge, Phil Mickelson shot a 22-under at the Charles Schwab Series at Ozarks National to win his PGA TOUR Champions debut in a pandemic-induced back-to-back similar to what occurred in July when Muirfield Village hosted the PGA TOUR's Workday Charity and Memorial events on consecutive weekends.
Ozarks National, which will also serve as home to the extraordinary Payne Stewart Learning Facility, masterfully blends multiple ridgelines and divergent landforms into a 7,067-yard work of art. "Johnny has such a sensitivity for the movement of this land, and we would just follow that where it took us," Coore said of working with Morris. "Everything fell into place. It's a beautiful place, and a great golf experience."
And a much different one than the lush Payne's Valley. "We want it to look as though Johnny Morris ran out of money," Coore quipped, referring to his preference for parched, firm and fast turf conditions and eyebrowed bunkers.
The aforementioned Gary Player-designed 13-hole Mountain Top layout (as well as a Himalayas-style putting course designed by Tom Watson) round out the golf offerings, and with the forthcoming addition of cottages at Payne's Valley, Big Cedar Lodge guests will no longer need a car to reach four of the resort's five courses.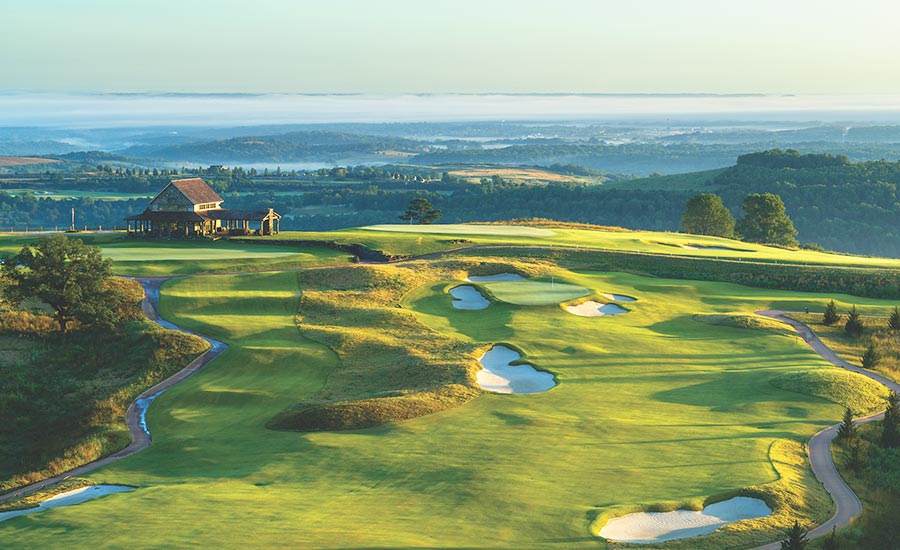 UNCOMPROMISED MISSOURI
In Branson, theme parks abound. Experience everything from frontier blacksmiths and glassblowers to heart-racing rides with names like PowderKeg and Firefall at Silver Dollar City, which turned 60 this year and still accompanies dinner with a show.
Bigfoot Fun Park will test your nerves with the Gravity Bomb's 200-foot free fall and an Adventure Golf putt-putt traversing Sasquatch habitats such as woodlands, caves and frozen tundra.
This visitor set course for the marvelously interactive Titanic Museum, housed in a re-creation of the doomed ship, with thousands of original artifacts retrieved from the wreck and stories of all classes of passengers. Don't let the sensation of standing on the listing deck and plunging into freezing water deter you from enjoying a sunset cruise on the Branson Belle, a paddle-powered riverboat that plies Table Rock Lake while keeping you fed and entertained.
Staying at Big Cedar Lodge affords access to scores of amenities you'd expect from "America's Premier Wilderness Resort." Among them: fishing, shooting, waterskiing, spa treatments, pickleball, swimming, hiking, biking, three stellar restaurants, the Ancient Ozarks Natural History Museum, Cathedral of Nature and a sunset salute at Top of the Rock featuring a bagpiper and the firing of Civil War-era cannon.
Barbecue is ubiquitous. Famous Dave's, which runs the restaurant at the Mountain Top clubhouse, has another outpost at Branson Landing, a retail promenade on the Lake Taneycomo waterfront near the Convention Center Hilton in downtown Branson.
For more local flavor, bring an appetite to Big D's, an award-winning BBQ joint run by pitmaster Dana "Big D" Petersen, whose crisp KC burnt ends, Texas-style brisket, Carolina pulled pork and dry-rub Memphis ribs reflect his wide-ranging passion for low-and-slow-cooked smoked meats. Petersen, who took orders for more than 2,500 turkeys last Thanksgiving, has also come up with the ultimate holiday dessert—a pecan pie made with bourbon and smoked bacon—that's available year-round.
What to do after inhaling this confection? The same thing you do after finishing a round at Payne's Valley or any of Big Cedar Lodge's other layouts. Savor the sweet experience—and get ready for the next course.
–Jon Rizzi is the founding editor of Colorado AvidGolfer.
GOLF BEYOND BIG CEDAR
Branson Hills Golf Club. Payne's Valley isn't the first Branson course named for Stewart. Set
amid the densely wooded hills and running streams on the north side of town, the 7,324-yard
Chuck Smith and Bobby Clampett-designed Payne Stewart Golf Club opened in 2008. The
first-rate facility has ranked atop Golfweek's "Best Courses You Can Play" in Missouri seven times,
the last four coming after 2015, when the licensing deal with Payne Stewart Enterprises expired,
prompting the name change. bransonhillsgolfclub.com
Thousand Hills Golf Club. Similar to Colorado's challenging Homestead layout in Lakewood,
this 5,111-yard, par-66 punches way above its weight, with mighty elevation changes, plenty of
wetlands and fiddly greens. thousandhills.com
The Pointe Golf Club. Winding through the gated, tree-lined village of Pointe Royale, which
music stars such as Andy Williams and Mickey Gilley have called home, this 6,515-yard course
don't sound tough, but with water on more than half the holes, tight landing areas and abundant
uphill and blind shots, this par-71 design hits all the right notes. visitthepointe.com
INFO TO GO
Getting There: From Denver, Branson is an 11-hour drive or a two-hour flight. Frontier offers direct round-trip service to Branson Airport (BKG), while United flies direct into Springfield-Branson National
Airport (SGF), 60 miles north.
Resources:
Big Cedar Lodge: bigcedar.com; 1-800-225-6343
Branson/Lakes Area CVB: ExploreBranson.com; 1-800-296-0463
Branson Hilton: BransonConventionCenter.Hilton.com; 417-336-5400
---
This article was also featured in the Fall issue of Colorado AvidGolfer.
Colorado AvidGolfer is the state's leading resource for golf and the lifestyle that surrounds it, publishing eight issues annually and proudly delivering daily content via coloradoavidgolfer.com.