The popular Vokey lob wedge just became a sand wedge too.
By Tony Dear
---
In this era of rapid turnover and frequent equipment releases, it's easy to miss an important launch. We've missed a couple actually. The last Vokey wedge we featured was the SM5 Raw in July 2015, since when the Canadian wedge wizard has introduced the SM6 and, this January, the SM7 (SM stands for Spin-Milled).
SM5 users, and subsequently those who purchased a set of SM6 wedges, would have been fairly confident their scoring clubs were about as they could ever get (Vokey's are by a distance the best-selling wedges at retail, and the most-used on the PGA Tour), but Vokey has never been one for laurel-resting so amendments and enhancements followed every other year with a formidable array of grind (6), loft (9), bounce (5), and finish (3) options available.
---
SM7 K-Grind from Vokey Wedges on Vimeo.
---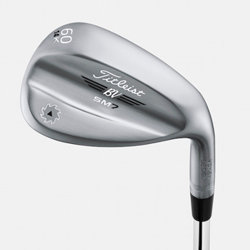 The SM7, introduced during this year's PGA Merchandise Show in Orlando and available in stores in March, featured improved Progressive Center of Gravity positioning with the CG in lower-lofted wedges moving down slightly, and the higher-lofted clubs' CG moving up, the familiar line-up of lofts and grinds, and grooves that Vokey said were more durable than their predecessors and whose edges would remain intact for longer thanks to a new proprietary heat treatment.
Originally available in just 58˚ and 60˚ versions with 14˚ of bounce (the K Grind is the highest-bounce model in the line-up), Vokey added two more lofts last week – 54˚ and 56˚ each with 16˚ of bounce, and which are designed, says Vokey, for players who prefer to use a club with true sand wedge loft as their primary tool from bunkers and around the greens.
"The K Grind is one of my favorites," says Vokey.
"It has been a great lob wedge, but now we're seeing a trend on tour of players using more 54° and 56° wedges around the green, where versatility is key."
Wedges at this loft have to work well for full swing shots, adds Vokey, particularly controlling trajectory.
SM7 Technology – Spin Milled Grooves from Vokey Wedges on Vimeo.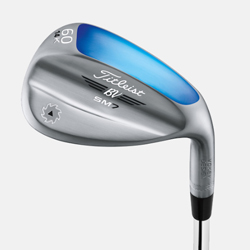 "This is why the measured bounce is 16°," he says. "But I'm particularly excited about the enhanced camber of this wedge. The camber allows the high measured bounce to be much more versatile from tight lies and greenside shots. We tightened the radius from the leading edge to the trailing edge, so what a golfer will see and feel is the club gliding through the turf and sand."
With fairway turf and bunker sand getting ever-firmer it seems, one wonders why Vokey designed a club with quite so much bounce.
"Good point," says Vokey's Director of Marketing, Jeremy Stone."It speaks to the importance of the grind shape as well as the amount of bounce. What makes the K grind unique is the camber (radius from leading edge to trailing edge). Bob made the sole more rounded compared to the sole on the 58° and 60° clubs. This allows the high bounce wedge to work effectively on firm tight lies while still providing high measured bounce."
The specific designs are primarily motivated by feedback from the professional tours, says Stone, adding that a combination of high measured bounce with the new shape provides greater versatility.
---
Starting at $195 – Vokey.com
Available in Brushed Chrome and Oil Can (will rust over time)
Double US Open champion Brooks Koepka has three Vokey SM7s in the bag (52°/12° F Grind, a 56°/10° S grind, and a 60°/08 M grind) but no K Grind.