Famous Scenes:  Filmed here at Tubac Golf Resort & Spa (signage are on the tee boxes)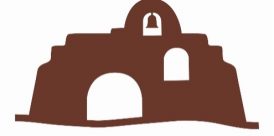 Movie was filmed in 1995 & 1996
Actors: Kevin Costner, Renee Russo, Don Johnson, Cheech Marin
Rancho #4:  "The Tin Cup Hole"
This hole was the location for the famous scene early in the movie where Kevin Costner aka Roy McAvoy, as Don Johnson's caddie, goads the pros (Craig Stadler, Don Johnson, Gary McCord, and a very young Phil Mickelson) into going for the green over the lake, on their second shot.  Craig Stadler takes the bait, tried the shot and drunks his ball, disgusted.  At everyone's urging, Costner tries the shot and makes it on the green, and is immediately fired by Don Johnson.  The spot where the shot was taken, which is from 240 yards out, is marked by the plaque on the right side of the fairway, so you can try it yourself!
Rancho #3:  "Break All the Clubs in the Bag"
On this tee box, as Kevin Costner aka Roy McAvoy is trying to qualify for the US Open, he demands the driver from his caddie, Cheech Marin.  Marin refuses, advising the 2-iron as the safer play.  Things heat up and finally Marin breaks the driver in half!  Costner proceeds to break every other club in the bag in half except the 7-iron, which he uses to complete the round.  He does not qualify for the Open!  We do not recommend this course of action.
Entry Arch to Resort: "Longest 7-iron"
Don Johnson challenges Kevin Costner to a "Who can hit it the longest" contest.  Costner chooses 7-iron (all he has…see above)!  Costner hits a great shot out onto the range, confident of victory.  Johnson hits his own shot down the entry driveway, bouncing forever toward the arch…and wins Costner's Cadillac El Dorado.
Several other bar scenes were filmed here, though with the resort remodel in 2005 and 2006, the exact locations have changed.  The famous finishing hole scenes in the movie, where Costner loses the US Open by taking many shots and finally makes it over the water, which was filmed at the Kingwood Country Club outside of Houston, TX.
---
Want to read more about golf in Arizona? Visit our TRAVEL ARIZONA Page.
Colorado AvidGolfer Magazine is the state's leading resource for golf and the lifestyle that surrounds it, publishing eight issues annually and proudly delivering daily content via coloradoavidgolfer.com.