It wasn't just a blip. There's more good news. Are manufacturers getting back in stride?
By Tony Dear
We weren't beginning to despair exactly, but even a few weeks of equipment inactivity and the temporary loss of contact with personnel within the industry had us feeling a little down. We twiddled thumbs, sighed repeatedly, wore vacant expressions, and got excited at the arrival of circular emails from manufacturers that a million other people no doubt received. It's been a weird time.
Last week's Ben Hogan Golf Equipment Company story – a bona fide maker of hardware golf goods releasing some bona fide hardware golf goods provided very welcome relief. And the mild celebration continues this week with perennial Colorado AvidGolfer favorite Tour Edge releasing more of the EXS Pro lineup that began surfacing seven days ago under the tagline "Straight from the Tour van".
Last week, we got the Exotics EXS Pro Driver, EXS Fairway Metals, and EXS Pro Hybrids, which have been joined this week by the Exotics EXS Pro Forged Irons, EXS Blade Irons and EXS Blade Wedge.
Tour Edge, which for 34 years has sought to build top-quality, Tour-caliber gear that sells for significantly less than that of the high-end brands, had intended to release the Exotics EXS Pro lineup a month ago but the lockdown stalled its plans. Because the Pro series is a limited edition release, however, company founder, President and CEO David Glod felt comfortable holding off until now. "The timing was not good for anyone on this thing," he says. "We had our most complete product line-up in our history, and we were on track to shatter every sales record this year. We will pick back up right where we left off because all of our products' performance speaks for itself."
As its name suggests, the Exotics EXS Pro series borrows from the firm's EXS 220 line that was introduced at the start of the year but has been modified to appeal to better players with faster swing speeds, the emphasis very much on shotmaking, control, and feel, rather than forgiveness and playability.
"At first, we were just designing prototypes for the pro tours," says Glod. "But along the way, we realized there was space in the market for these tour-inspired designs as a limited-edition series."
The 441cc EXS Pro Driver of which just 1,000 will be made (true also of the Fairway Metals and Hybrids) features a deep face, relatively compact toe-heel width, and a sloping crown that pushes the Center of Gravity (CG) forward to promote a low, boring trajectory with very little spin. FlightTrack is an adjustable sliding weight port that houses a six-gram weight, enabling you to set the configuration that will promote a draw, fade or straight ball. A weight kit with three, nine, and 15-gram weights is sold separately. Unique to the EXS Pro is Diamond Face technology, which Tour Edge describes as a 'major breakthrough in face technology' featuring 33 different thick and thin diamond shapes or "mini-trampolines" behind the face, which the company says produces a hotter face with faster ball speeds on off-center hits, and further reduces spin. "The EXS Pro Driver spins less than the EXS 220 Driver by 400 RPM's on average," says Glod who adds that he had heard a number of PGA Tour and PGA Tour Champions players asking for a lower CC driver.
The sloped, carbon-fiber crown gave Tour Edge engineers the freedom to push the CG well forward while the high-strength Beta Titanium face creates the fastest ball speeds Tour Edge has ever created and, yes, even provides a little forgiveness.
The Sound Diffusion Bar (S.D. Bar) inside the clubhead is designed to improve the acoustics not only of the Driver but also the Fairway Wood and Hybrid, and was developed using Finite Element Analysis software which basically tries to predict how a product will react to real-world forces such as vibration, heat fluid flow and stress.
The adjustable hosel allows golfers to adjust the loft +/- two degrees from the standard loft. $400
Lofts – 9.5˚, 10.5˚
Shafts: Mitsubishi Tensei CK Orange: 60g (R,S,X), 70 g (S,X); Project X HZRDUS Smoke Yellow: 60g (5.5 R, 6.0 S, 6.5 X)
Right-hand only, available June 1st.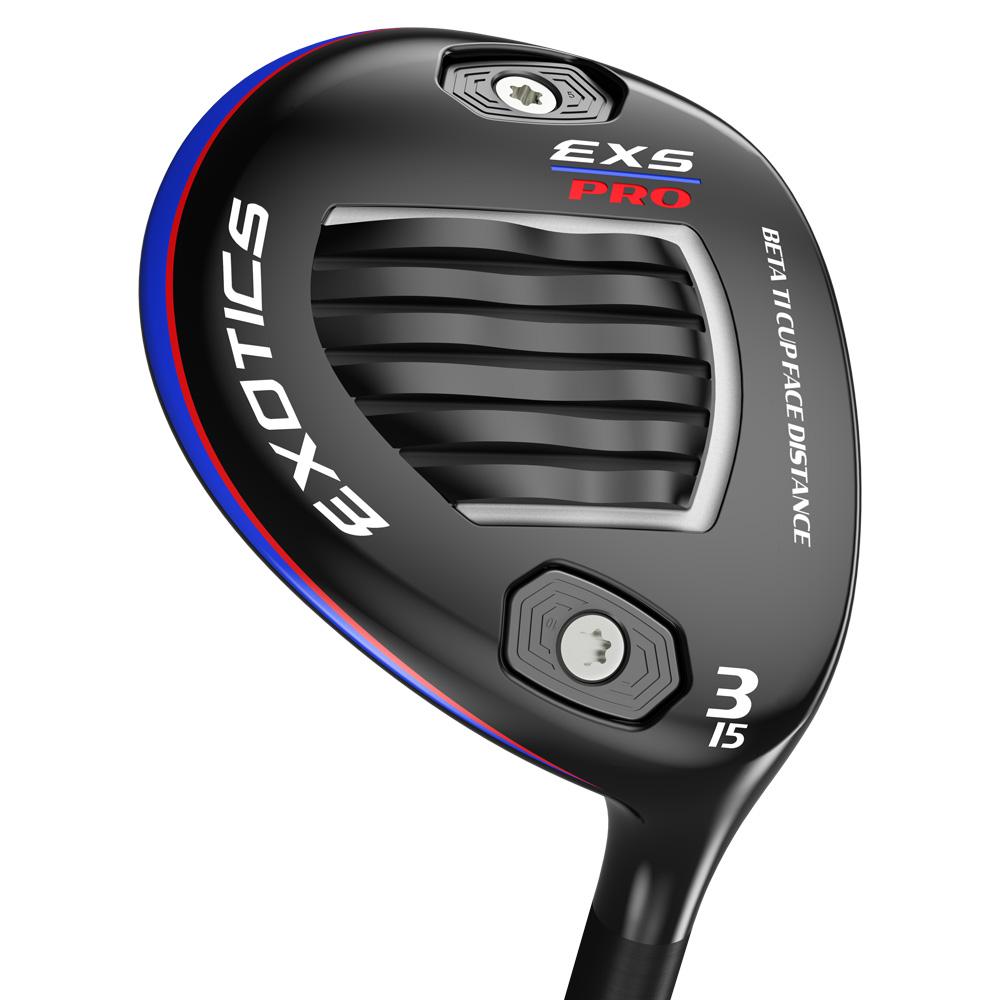 The similarly compact, deep-face EXS Fairway Metal is 170cc in size and likewise features a sloped crown to push the CG well forward and minimize spin promoting that low, penetrating trajectory. The Beta-Titanium/360-degree Cup Face combo is brazed (zero-welding technology that fuses titanium to steel, reducing weight in the face and allowing for a faster and more powerful transfer of energy from club to ball) on to the steel body. Wider Slipstream channels on the sole than were present on the EXS 220 reduce turf interaction, and the S.D. Bar enhances the sound of impact.
Flight Tuning System (FTS) dual weights in heel/toe ports allow the golfer to pre-program his preferred ball flight. Clubs come standard in the draw position (heel-ten grams, toe-five grams). A weight kit with ten, 15 and 20-gram weights that are interchangeable in both the EXS Pro fairway and Hybrid is available separately. $300
Lofts – 13.5°, 15°, 16.5°, 18°
Shafts: Mitsubishi Tensei CK Orange: 60g (R,S,X) 70 g (S,X) Project X HZRDUS Smoke Yellow: 60g (5.5 R, 6.0 S, 6.5 X)
Right-hand only, available June 1st.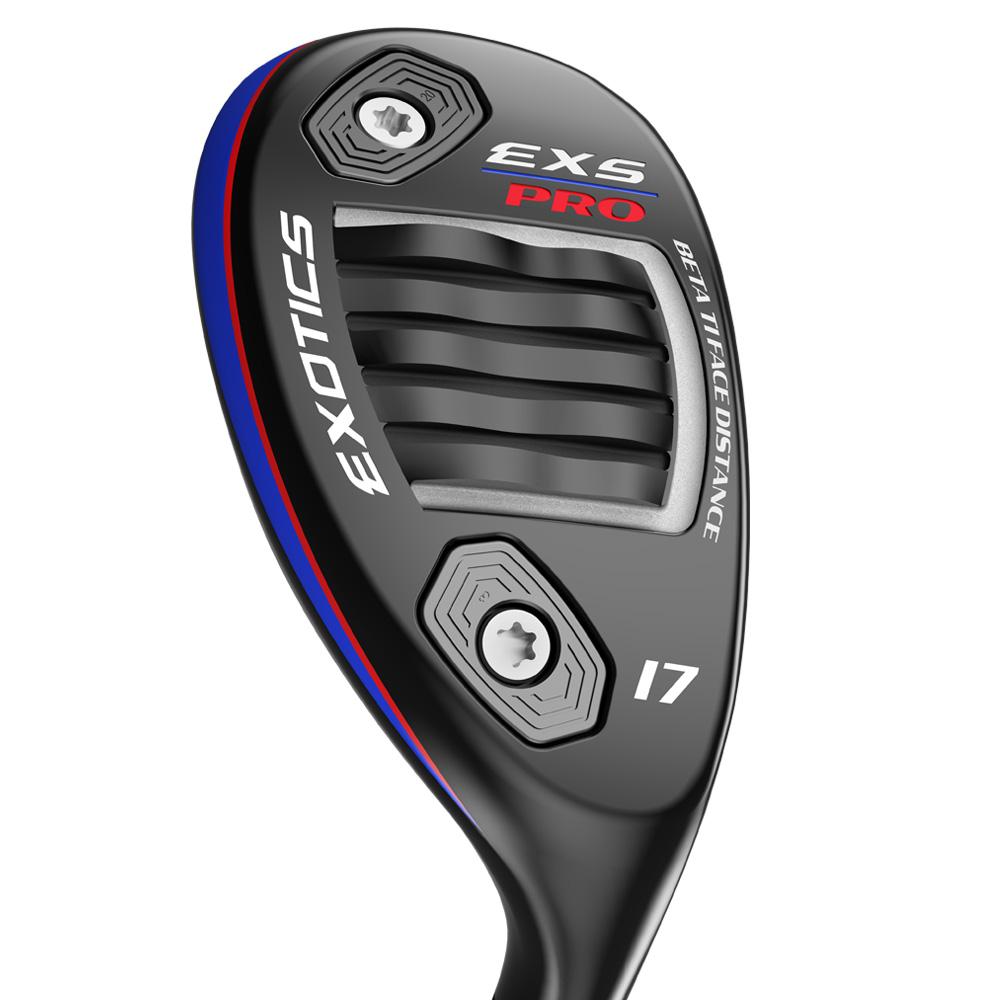 The EXS Pro Hybrid continues the theme of deep but compact. The titanium face is brazed to the Stainless Steel body, the FTS weight ports and S.D. Bar are present, and curved-edge speed channels on the sole reduce turf interaction. $250
Lofts – 16°, 17°, 18°, 19°, 20°, 22°
Shafts – Mitsubishi Tensei AV Silver Hybrid Shaft: 65g (R), 70g (S), 75g(X); Project X HZRDUS Smoke Black: 80g (5.5 R, 6.0 S, 6.5 X)
Right-hand only, available June 1st.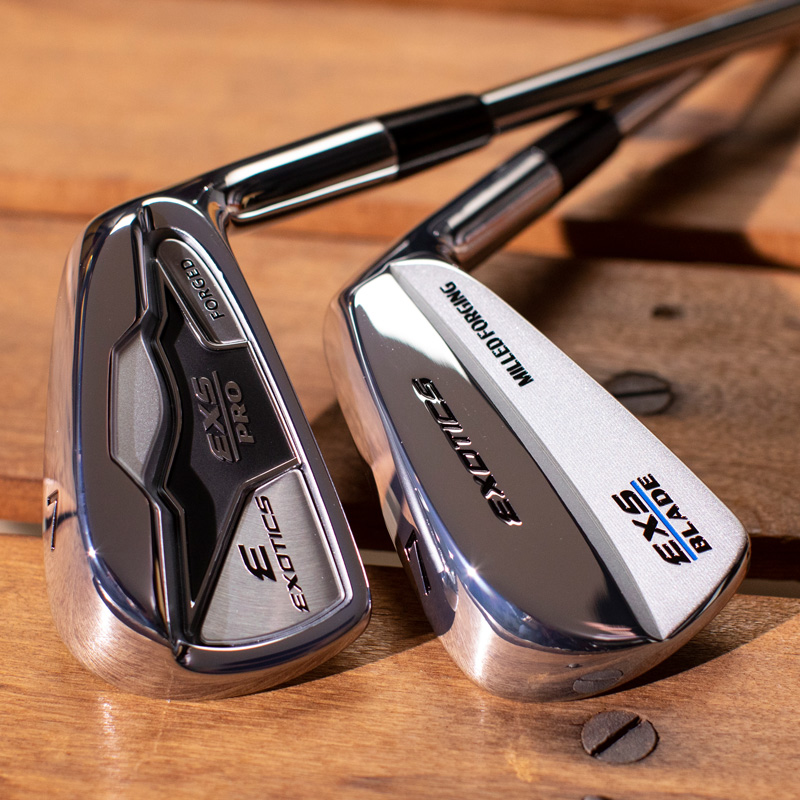 The handsome Exotics EXS Pro Forged Iron, launched earlier this week, is a forged cavity-back made with high-grade Japanese S25C Carbon-Steel that delivers a soft feel and maximum forgiveness in a player's iron design, says Glod, adding that the forged face is CNC-milled for perfect flatness and the grooves on the face are also CNC-milled.
A triple-forging technique provides a thinner center and creates heel & toe weight pads for more forgiveness and more consistent ball speeds. The 3-6 irons feature a ten-gram weight in the toe, elongating the sweetspot and maximizing forgiveness. And the cavity possesses a layer of steel, ABS polymer and a dampening agent for better sound and feel. $150/iron
Shafts – True Temper Elevate Tour VSS Pro (R, S); True Temper Dynamic Gold 105: R300, S300
Only 250 sets will be made – available June 15th.
While the EXS Pro Forged iron might be handsome, the EXS Blade, like and blade or muscleback iron, is absolutely gorgeous. And it's made to feel as good as it looks with S25C Carbon-Steel placed low and behind the hitting area to facilitate shot-shaping.
A narrow sole, thin top line and the decreasing clubhead size as the loft increases scream better player, while the CNC-milled faces and grooves highlight precision. A rounded leading edge helps reduce turf interaction. Chrome-plated., satin finish. $150/iron
Shafts – True Temper Elevate Tour VSS Pro (R, S); True Temper Dynamic Gold 105: R300, S300
Only 250 sets will be made – available June 15th.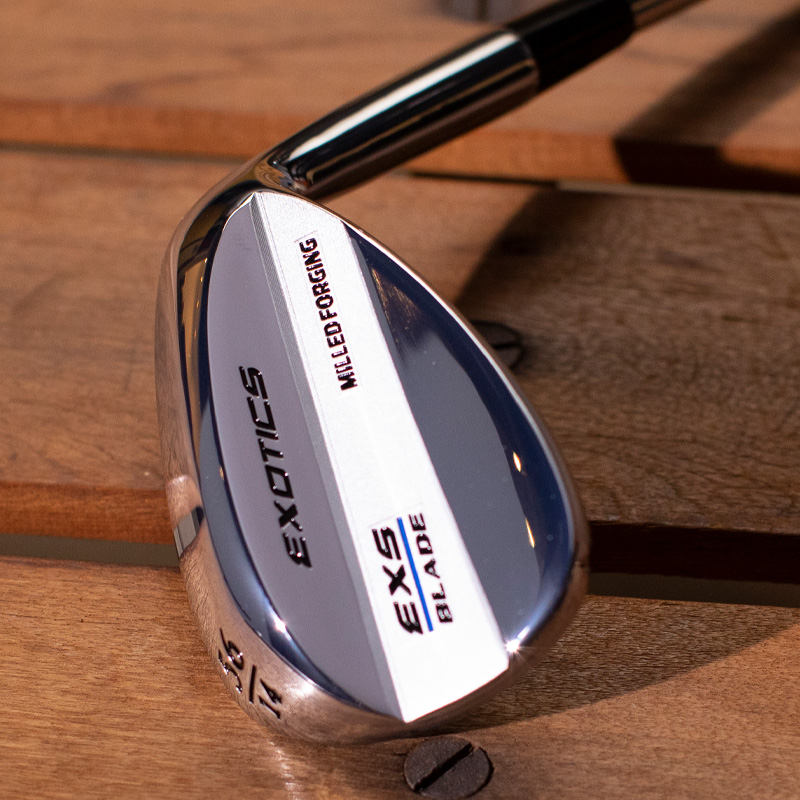 Last but not least is the EXS Pro Wedge which is also CNC-Milled and forged from S25C Carbon-Steel. The sole grind is designed to reduce bounce from the heel and toe making the club easy-to-hit from all lies. A Flare Toe design places the CG higher for a lower launch and more spin, and a chamfer was added to the trailing top line of the wedge for a slightly thicker top line that moves weight up raising the CG and promoting a flatter, more controllable trajectory. To improve control on the longer approach shots, the lower lofts (50° – 52°) have deeper, narrower grooves than the 54° – 60° clubs. $150/wedge
Lofts – 50°, 52°, 54°, 56°, 58°, 60°
Shafts – True Temper Dynamic Gold 115 Wedge Flex
Only 500 sets will be made – available June 15th.
We've long been fans of Tour Edge's model of building quality clubs that sell at great prices. The new launches are only going to cement that. We've also always been impressed by the company's tenacity and staying power over the years in a very competitive marketplace. "Tour Edge has always been a challenger brand," admits Glod. "We've had to go toe-to-toe with golf's largest OEMs. We've learned how to navigate those waters and how to innovate and create products that will stand up to or surpass anything else out there." The Exotics EXS Pro line fits the bill.
---
For more on the latest and greatest gear in golf, visit our GEAR PAGE.
Colorado AvidGolfer Magazine is the state's leading resource for golf and the lifestyle that surrounds it, publishing eight issues annually and proudly delivering daily content via coloradoavidgolfer.com.