TPT Shafts

have

no backbone

, by design. 

 
By Tony Dear
To watch the company's videos of its team at work, you'd think you were witnessing footage from the SLAC National Accelerator Laboratory at Stanford University or the European Synchrotron Radiation Facility in Grenoble, France… or something. Clearly, there is some incredibly advanced, hi-tech work going on.  
But instead of conducting vital research into electron beams, X-rays, radiology and the like, TPT is actually manufacturing… golf shafts. 
TPT Golf (Thin-Ply Technology) is an off-shoot of Swiss company North Thin-Ply Technology which makes pre-preg products (in layman's terms a reinforcing fabric which has been pre-impregnated with a resin system) used in a variety of industries – motorsport, marine, aerospace, sporting goods, and luxury accessories. The company has been around since 2001, its golf division since 2016.
TPT Golf made its debut at the PGA Merchandise Show in Orlando in 2017 – wowing, bemusing, impressing, and stunning show-goers with a mix of exciting-sounding technology and an extraordinary price point. 
Shafts sold for $1,000 in the company's early days and no, they weren't made of gold. They were, in actual fact, made with a fully-automated, proprietary process that TPT says guarantees (yes, they guarantee their products) better-performing shafts – shafts that feel significantly more solid and allow you to hit the sweet spot more consistently as it minimizes inconsistencies.  
The problem with the vast majority of graphite shafts, TPT will tell you, is that they are hand-made or, to put it in industry-speak, constructed using a process called 'roll-wrapping'. Basically, strips of graphite – 'flags' – are hand-rolled on to a tapered mandrel. If the mandrel were a perfect cylinder this method might work but, because it is tapered, TPT likens it to 'gift-wrapping a megaphone'. It's impossible, they say, to make exactly the same shaft twice – on every shaft the wraps will inevitably overlap creating inconsistent layers. Excessive and unwanted material overlap causes a condition known as 'spine'. In an extremely educational 2004 article, compositesworld.com described spine as a 'lengthwise zone of higher stiffness'.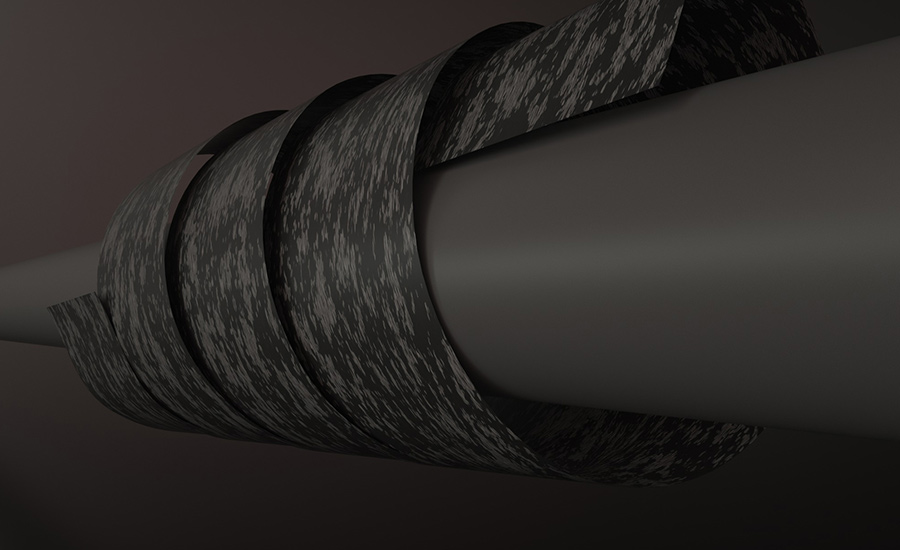 TPT takes pre-preg from its parent company and makes what it call 'pre-forms' by attaching multiple layers of pre-preg together. The pre-forms are then cut into rolls an inch wide and applied to the mandrel with a 'robot-driven, software-driven machine', that creates 'continuous fiber'.  
This, says TPT, does two things:
1. Eliminates the areas of overlap that create spine.
2. Applies the fibers at a precise angle to ensure the desired shaft characteristics. 
TPT shafts are available only through certified fitters. Currently, there are three TPT fitters in Colorado – Tour Fit Golf Labs in Edwards, D'Lance in Englewood, and Club Champion in Highlands Ranch (every one of Club Champion's 70+ stores across the country carries TPT). We asked Club Champion's co-founder Nick Sherburne for his take on TPT.  
"The process certainly allows for more precision, if you will," he says. "Though I'm not sure you can definitively say there are performance benefits every time over other companies, otherwise everybody would play a TPT shaft. That being said, what they are able to do with the thin-ply is create more profiles that effectively fit more golfers." 
Sherburne offers this analogy – "F1 racecars are sleek and light and go really fast. But when they hit the wall, they blow up. A NASCAR racer might not go as fast, but can hit a wall without self-destructing." What Sherburne is saying is that, at their best, TPT shafts are incredibly impressive. But when something goes wrong, disaster can ensue. Perhaps you remember the moment John Senden's driver shaft snapped during the 2018 Australian PGA Championship. It was awful timing for the company as the incident was aired on the Golf Channel and got plenty of views on YouTube and every other video app you can think of. And the Aussie's TPT shaft certainly wasn't the only one to break in the company's first two years of production.  
It would be wrong to focus too sharply on that incident and suggest it was a regular occurrence, because it wasn't. But one wonders how it affected TPT's sales and reputation. "When you are pushing the edge of design and creating lighter, thinner products, occasionally the durability suffers," says Sherburne. "That's not to say their shafts aren't quality though, and it's worth reiterating they do warranty their products." 
Sherburne adds that durability issues hasn't stopped him from fitting customers for TPT shafts, though the cost certainly has been a factor. "If data were the only factor, TPT would make it into a lot more fits," he says. "The price has come down to $500 per shaft, but that's still pretty tough for many people. We sold 167 TPT shafts at all our stores in 2019, so about 2.5 shafts per store. That's not many considering the number of fits we do, but we consider price point and budget when recommending components. It's important that the shaft itself and the price tag both fit the individual golfer."
TPT's latest release came in September of last year when the 20 LKP-MT-SW (Low Kick-Point, Mid-Torque, Standard Weight) was launched. It was the softest TPT shaft to date and recommended for golfers with a driver swing speed between 60 and 90mph. 
Instead of having a flex, TPT shafts are identified by number (14-20) – the lower the number the stiffer and heavier the shaft. Professionals that have won with them include Justin Rose, Bryson DeChambeau, Jason Day, and Jin Young Ko.  
We've been wanting to tell you about TPT shafts for quite a while. Perhaps the technology was too young, and with each negative story we just bit our lip and put it off for another week. The lockdown and absence of equipment releases has, however, given us the chance to feature the company which has become increasingly-familiar with its own manufacturing process over the last four years, and has continued to record significant professional wins.  
The price tag will certainly put some off but, if you're able to splash on some golf gear, TPT shafts are most definitely worth a look. 
$500
tptgolf.com  
---
For more on the latest and greatest gear in golf, visit our GEAR PAGE.
Colorado AvidGolfer Magazine is the state's leading resource for golf and the lifestyle that surrounds it, publishing eight issues annually and proudly delivering daily content via coloradoavidgolfer.com.