At their heart, Titleist's new Tour Soft and Velocity golf balls are driven by larger cores and thinner covers.
By Tony Dear
Just as there are pay-offs for varying club designs depending on who's swinging, no single golf ball design can suit every golfer's needs.
As we've seen recently with Callaway MAVRIK and TaylorMade SIM drivers, clubs that profess a great aerodynamic shape may not boast the biggest Moment of Inertia (MoI), and vice versa. Until manufacturers can produce one club that ticks every box, golfers will have to choose which features and characteristics are most important to them (but don't hold your breath waiting for such a club).
With golf balls, price seems to be a major consideration at purchase for golfers. When they are in the market for clubs, however, cost seems to be less of a factor (unless perhaps PXG, XXIO or Honma Beres are options). This is simply because once they set their heart on a certain model they commit mentally to spending whatever the price tag says or, alternatively, begin saving. Balls are a lower priority item and tend get lost more often.
Performance-wise, golfers need to choose between balls with different spin rates, distance potential, greenside spin, putting feel and so on. This means choosing between a multi-layered, urethane-covered, Tour-caliber ball or a two/three-piece model with an ionomer cover.

Multi-layered models lower the ball's spin rate making it fly lower, straighter and typically farther, and usually have a urethane cover which combines the strength of rigid plastics with the flexibility/elasticity of rubber. Therefore, they have noticeably better feel on and around the green but are prone to picking up more scuff marks than their ionomer-covered counterparts. Ionomer (polymer) is a resilient plastic that won't scuff nearly as much, if at all, but won't give a ball nearly the same feel as one sporting a urethane shell.
Multi-layered, urethane-covered balls are the more expensive of the two, of course, costing $40 and upwards, while two or three-piece ionomers, such as Bridgestone's e12 Soft, tend to be positioned in the $20-$30 range.
Titleist's 2020 Tour Soft is a two-piece ionomer that features the largest core the company has ever made which results in greater initial ball speed. Of course, the larger core forced engineers to make the cover thinner, and, according to Titleist, the new 4CE grafted cover increases short-game spin.
To combat the comparatively high spin of a two-piece ball, Titleist developed a new dimple pattern–342 circular dimples which, it says, create a more penetrating ball flight. And to aid alignment, a 'T' sidestamp has been added.
With a combination of greater ball speed and the resulting distance gains, more penetrating ball flight, extremely low compression and soft feel and improved (over its predecessor–the 2018 version) greenside spin, Titleist insists the new Tour Soft is the leading ball in its category.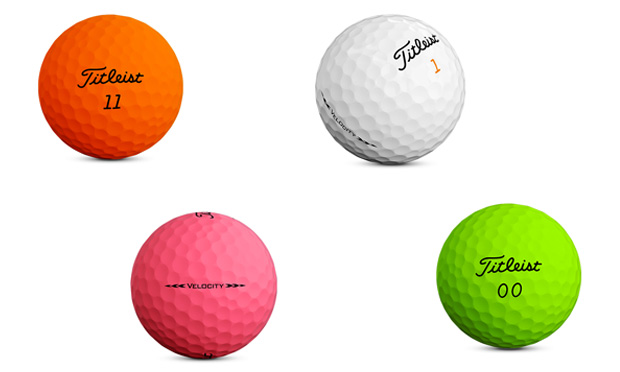 $35/dozen
White and yellow
Joining the Tour Soft in Titleist's storefront is the new Velocity, which is not dissimilar to its close relative in that it is a two-piece model with an ionomer cover and a larger core than its predecessor. The major difference is the 328 tetrahedral dimple design which gives it a much higher trajectory. The Velocity, Titleist says, is aimed primarily at golfers looking for higher ball speeds and more distance though its greenside spin has improved since the last version of the ball.
$28/dozen
White, matte green, matte orange, matte pink
---
For more on the latest and greatest gear in golf, visit our GEAR PAGE.
Colorado AvidGolfer Magazine is the state's leading resource for golf and the lifestyle that surrounds it, publishing eight issues annually and proudly delivering daily content via coloradoavidgolfer.com.