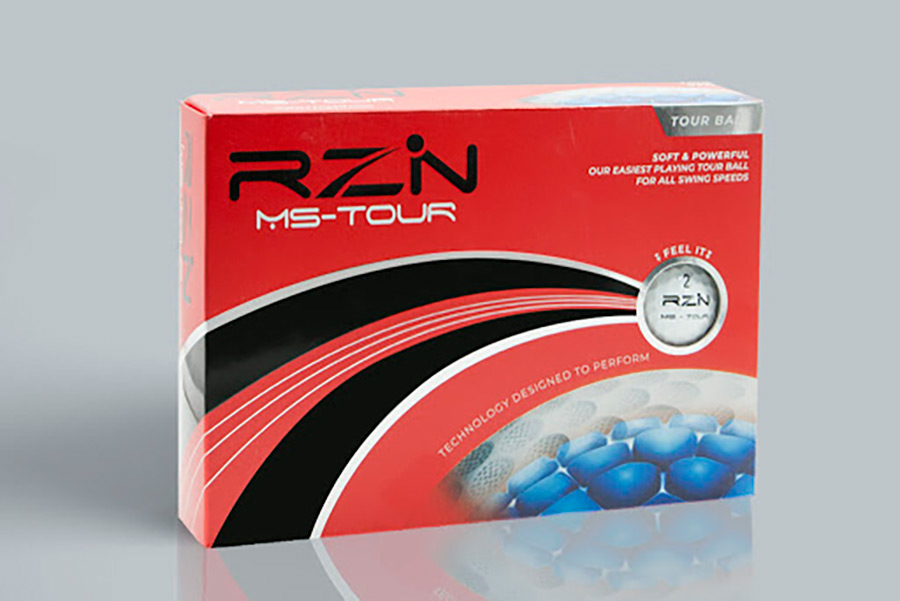 A trio of recent ball launches—from RZN, Titleist, and OnCore—offer a range of spin-rates, launch angles, trajectories, and feel. One of them might be what you're looking for.
By Tony Dear

RZN HS Tour
How the RZN Core technology Nike once used in its golf balls (claiming over 50 pro tour wins around the world) is available today, four years after the Oregon giant exited golf's hard goods arena, doesn't really matter. All that does is that it is.
Basically, Taiwanese manufacturer Feng Tay, which created the RZN core, sold the tech to Nike in 2006 and when Nike went soft only, it sold it back. RZN balls were available in Europe and Asia soon after, but they didn't arrive in the US until earlier this year when Feng Tay negotiated a deal with distribution company Adtech D&D Corp. Technically, the company's HS Tour and MS Tour balls had been launched over here, but the website that presented them didn't have a sales option so they remained virtually silent for months.
A US PR company was bought in, cart capability was added, and now the RZN HS Tour and MS Tour (as well as the discount Distance and Speed balls) are getting some play. Because of the language barrier between manufacturer (Taiwanese) and distribution company (founded in Spain), one or two amusing wording issues still crop up on the web site—under the 'fitting' link, if you are a 10-18 handicapper you are 'very close to being one digit'.
But, like I say, none of that matters. What does is that you end up with a ball that suits you very well, not only from a performance perspective, but also price. In recent years, we've seen a handful of companies making Tour-quality, or near Tour-quality, balls and selling them for significantly less than premium balls. Add RZN to the list.
Under the strictest lab conditions, the HS Tour might not quite match the Titleist Pro-V1 perhaps, but the majority of golfers won't discern the difference in feel or performance. It features four-piece construction and a soft, urethane cover, and is targeted at high swing-speed players. RZN says the Resin Core helps maximize contact surface between layers which improves the transfer of energy, and the 13,558 micro-dimples on the cover reduce drag. That all adds up to longer drives. And in testing (numerous visits to the practice chipping green), spin and feel on short-game shots is comparable with anything costing $10/dozen more.
If you're stuck on the Pro-V1, TaylorMade TP5, Bridgestone Tour B X, or any other premium Tour ball and won't be swayed, fair enough. If you can tolerate a change, however, and want to save a few bucks without sacrificing anything significant, then you really should give the RZN HS Tour a try. And if you swing at 90-100 mph, try the three-piece MS Tour too.
HS Tour—$35/dozen
MS Tour—$30/dozen

Titleist Tour Speed
You remember when, last October, Titleist introduced its experimental EXP-01 ball in very limited quantities? It wasn't an official launch as such, but a plan to try something new on golfers who would then offer Titleist feedback. The result of the process is the Tour Speed.
While the company's premium balls are manufactured with cast urethane cover technology, the Tour Speed uses a less expensive process called MTR (Multi-layer Thermoplastic Urethane via Retractable Pin Injection). Minor tweaks were made to the core (surrounded by a firm, low-spin casing) and cover (346-dimple pattern) in getting from EXP-01 to Tour Speed, the result being a ball one notch down from the flagship Pro-V1, but competitive with any other ball in its class—would you expect anything else from Titleist?
White only for now, yellow coming.
$40/dozen

OnCore Vero X1
The Vero X1 is OnCore's first four-piece, urethane ball aimed at better players (though the company says it is actually suitable for a 'broad spectrum of players'), and comes six years after the Buffalo, NY-based company entered the market with its hollow, metal core MA 1.0 following months of wrangling with the USGA over conformity (company president Brett Blakeley managed to convince rules officials that ball met the five quantifiable metrics—weight, size, spherical symmetry, initial velocity, and overall distance standard—and that several metal-core balls had actually been approved in the past).
Since then, OnCore has confirmed itself a highly innovative manufacturer, and the Vero X1 will surely further solidify its growing reputation. The ball draws on technologies used for the Tour-quality Elixr that was introduced in early 2017, in particular a mantle layer formulated with a dense, metal additive that moves a significant amount of the ball's mass outwards. That, says OnCore, increases its Moment of Inertia (MoI), making its flight pattern more consistent and stable with less spin.
The combination of thinner, cast-urethane cover and larger mantle is designed to produce greater ball speeds and better feel on short-game shots compared with the Elixr.
$40/dozen
---
For more on the latest and greatest gear in golf, visit our GEAR PAGE.
Colorado AvidGolfer Magazine is the state's leading resource for golf and the lifestyle that surrounds it, publishing eight issues annually and proudly delivering daily content via coloradoavidgolfer.com.