Wynn Golf Club
in Las Vegas reopens—again.
By Tom Mackin/Photographs By Brian Oar
IN LAS VEGAS the house almost always wins. That's why the Strip overflows with gaming tables beckoning gamblers more than willing to part with their money. But every once in a while, the powers that be overplay their hand, albeit temporarily.
Take the Wynn Las Vegas. In December 2017 it shut down its Tom Fazio-designed golf course—which in 2005 replaced the old Desert Inn golf course that debuted in 1952—in order to use the 130-acre site for Paradise Park, a planned convention center and entertainment complex featuring a massive lake to be roamed by water skiers and paddle boarders.
That plan never came to fruition, and closing the course resulted in the loss of an estimated 16,000 rounds of golf and up to $15 million of gaming business. A drop in the sprawling casino's very deep bucket? Of course. Still, high rollers do love their often-comped amenities, and lower rollers got a kick out of taking the short elevator ride and walk from their Tower Suite (even-numbered rooms overlook the course), stepping into the sunshine and knocking the ball around a very manicured layout.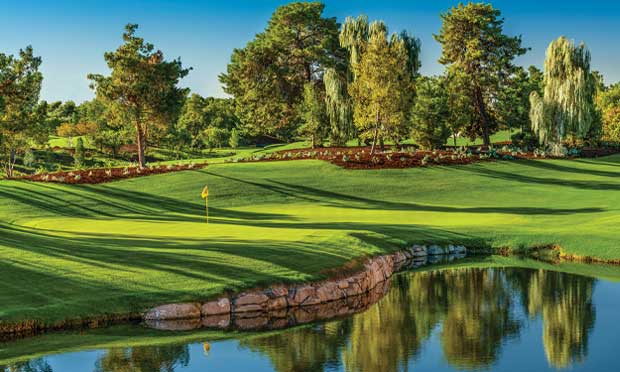 But no one stays successful for long in Las Vegas without making quick adjustments. Paradise Park was scuttled and golf made its comeback. Re-enter Fazio, along with his son Logan. Their new design opened this past October with eight brand new holes and 10 others altered somewhat from their previous incarnation but using similar hole corridors. The result is a lush, plush effort with 15-minute tee time intervals. This is Vegas, so anyone surprised by the Wynn Golf Club's $550 green fee shouldn't be. It includes 18 holes, cart with pre-loaded water, soda and sports drinks, a mandatory forecaddie (gratuity not included) and top-shelf rental clubs if needed. Off-season rates, from June to mid- September, are $300 on weekdays and $375 on weekends.
"We feel that we include basically everything that one might need in that price point," general manager Brian Hawthorne says. "So there's not any additional layered-on expense. We have locker room attendants tending to everyone's needs and pro caddies (whose ranks include more than a dozen PGA of America professionals), all included in that price point. And if you keep somebody from gambling for four and a half hours, we might be saving people money."
Count Fazio among those who remains shocked that a golf course even exists right off the Strip (technically it's behind the Wynn Las Vegas). But he believes the singular location helps explain the massive green fee.
"If you put the economics involved in that, it's really not a high price because of the value of the real estate, the value of what was spent to build it, and the cost to maintain it in that location is extremely high," he says.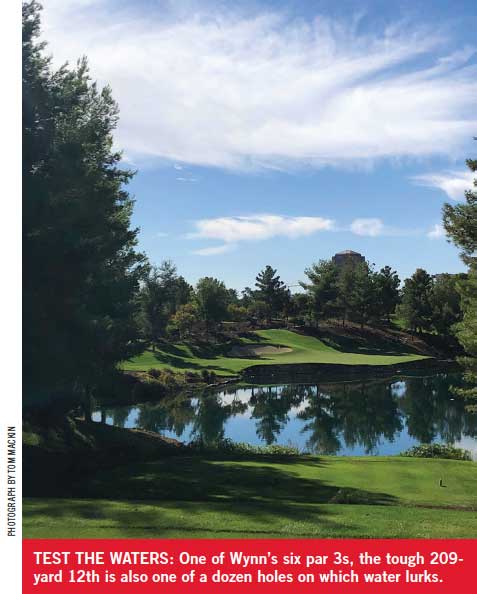 But then most numbers in Las Vegas are overwhelming. Wynn Las Vegas and the adjacent Encore Resort serve up 4,748 spacious hotel rooms, suites and villas, with 192,000 square feet of casino space, 22 dining options and 11 bars, not to mention approximately 160,000 square feet of retail space.
Thousands of rounds have been played there too, dating back to the 1950s Rat Pack days of Frank, Dean and Sammy, when
both celebrities and pro golf tournaments made regular stops to the Desert Inn. A sampling of those moments are captured in black and white photos lining the walls of the elegant if compact locker room area. But anyone who played that version of the course—an essentially flat layout that closed in 2003—won't recognize it. And if you played Wynn Golf Club 2.0, circa 2005– 2017, a new increase in the overall movement of the terrain will come as a pleasant surprise.
Despite an incredibly quick build, which took a mere 10 months, the bentgrass greens are already as pure as you will find anywhere. They are also expansive, which can lead to putts of 90 feet or more at times (listen to your caddie). Water is in play on multiple holes, most notably on the downhill par 3 12th. Wind can play a factor too, especially come the springtime. Two sharp doglegs—on six and 17—inject some memorable flavor, while some trees dating back to the Desert Inn days remain part of the course. Conditioning, as you would expect, more than meets the standard of a very upscale, private club.
Thanks to an expansion of the resort's convention space, the former par 4 18th is now a par 3, the first time Fazio has ever ended one of his designs in such a manner. "You normally don't do that," he said. "Not that it's not accepted overall, but usually you have lots of other choices and opportunities. We had choices and opportunities; none was as good as the 18th hole and where it's placed."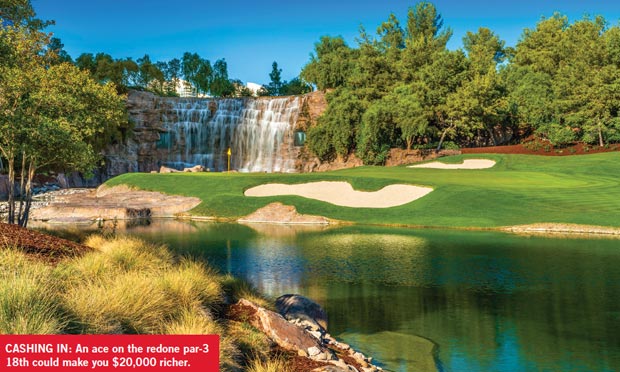 And if you hit the shot of your life and ace the closer—avoiding multiple greenside bunkers and a 30-foot high waterfall behind the green—you'll win enough money to buy a few tee times for your buddies: $20,000 from the Black tees (249 yards), $15,000 from the Gold tees (200 yards) and $10,000 from Platinum (160 yards) and Bronze (140 yards) tees. Do read the fine print on a sign near the tee and keep in mind that security cameras are everywhere in Vegas. You have to earn that money.
"Arguably it may be one of the most dramatic par 3s I've ever had the opportunity to be involved with," Fazio says. "I personally like the 18th being a par 3. Now I loved the 18th hole when it was a long strong par 4. I don't think one is better than the other. I think it's just a difference in how you perceive it."
For The Wynn
Golfers with a room reservation at Wynn Las Vegas and Encore Resort can secure tee times 90 days in advance. Non-resort guests can reserve tee times 30 days in advance. 702-770-4653; wynnlasvegas.com/ experiences/golf
Lucky 7
Wynn Golf Club's $550 green fee isn't as high as the $600 it costs to play Shadow Creek (shadowcreek.com), the first Tom Fazio-Steve Wynn collaboration, now owned by MGM Resorts International. In comparison, a $299 tee time at the Rees Jones layout at Cascata (cascatagolf.com) in Boulder City seems like a bargain.
That said, the Las Vegas area boasts no shortage of less expensive golf. Herewith a sampling of best bets, starting with the priciest published rates:
Bear's Best Las Vegas
18 holes culled from Jack Nicklaus' private-course portfolio. $179-$199. bearsbestlasvegas.com
Rio Secco Golf Club
Stellar Rees Jones golf in nearby Henderson—and sister property of Cascata. $119 and up. riosecco.com
Falcon Ridge Golf Course
One of the many treasures in golf-rich Mesquite, 80 miles northeast of Las Vegas. $105-$125. golffalcon.com
Las Vegas Paiute Golf Resort
Three 18s by Pete Dye, including The Wolf and its Sawgrass-like island green. $99-$109. lvpaiutegolf.com
Angel Park Golf Course
Summerlin venue hosts the Arnold Palmer-designed Mountain and Palm courses. $89-$125. angelpark.com
Highland Falls Golf Club
A favorite of locals, one of four Summerlin courses 10 miles from the Strip. $79-$109. golfsummerlin.com
Coyote Springs Golf Club
A Nicklaus-designed course 50 miles north of Las Vegas and well worth the drive. $68-$98. coyotesprings.com
---
Tom Mackin is an Arizona-based writer.
This article appeared in the 2019 Winter Issue of Colorado AvidGolfer.
Colorado AvidGolfer Magazine is the state's leading resource for golf and the lifestyle that surrounds it, publishing eight issues annually and proudly delivering daily content via coloradoavidgolfer.com.