Jaw-dropping

Tara Iti

puts New Zealand's Te Arai Coast on the path to becoming golf 's next great destination.
By Jon Rizzi/Photographs by Joann Dost
NEW ZEALAND admittedly doesn't have the golf pedigree of its brawny neighbor across the Tasman Sea. Aussies, for example, have won 17 major championships; Kiwis Bob Charles and Michael Campbell have won exactly two. And in Golf Digest's latest rankings of the World's 100 Greatest Golf Courses, Australia's layouts outnumber New Zealand's 12 to five.
Then again, New Zealand ranks second in the world only to Scotland in the number of golf courses per capita, and one in particular has achieved a feat unsurpassed by any other in the 50-year history of Golf Digest's biennial rankings. In 2018, Tara Iti Golf Club debuted at No. 6—the highest rank ever for a first-time course.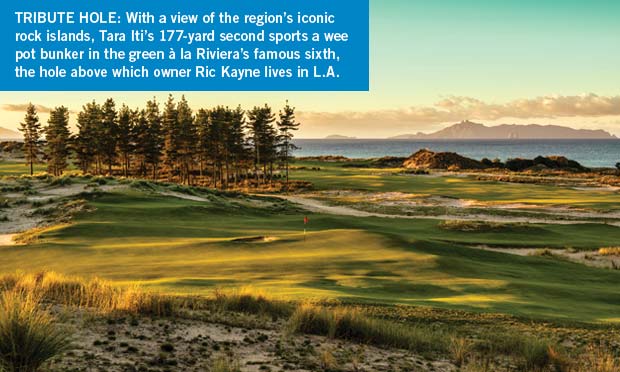 Built along the Te Arai coast 90 minutes north of Auckland Airport on the North Island, the par-71 masterpiece designed by Tom Doak's Renaissance Golf team unfurls over 6,840 rippling yards of hard, fast fescue, marbled by sand and shaped as much by wind and natural vegetation as by the blade of a bulldozer and a hydroseeder's nozzle.
Tara Iti evokes Doak's links-inspired layouts at Bandon's Pacific Dunes, Long Island's Sebonack, Tasmania's Barnbougle Dunes and, yes, even landlocked Ballyneal in Colorado. Shots pinball along the ground and seem to run forever. They also flutter in the wind and land in sand so parlous and pervasive that you may ground your club anywhere without penalty. Walking Tara Iti with a caddie is a must to negotiate the strategies, physics-defying breaks and undulations that only come with playing the course multiple times.
Which even nonmembers can do. While Tara Iti is literally a once-in-a-lifetime course—that is, nonmembers can play it once in their lifetimes (with approval and the requisite letter from their home club)—that "one time" policy only applies to a stay in one of eight on-premises cottages. During your visit, you may play as often as daylight and your back allow.
You can also walk miles of unspoiled beach, kayak, surf, paddleboard and fly-fish, or rusticate in the tastefully understated clubhouse built from sandstone mined onsite. By all accounts, the membership—which is hand-picked from around the world by billionaire club owner Ric Kayne and managing partner Jim Rohrstaff—exudes a friendliness that belies the club's exclusivity.
Before you call your pro for a letter and check your frequent-flyer miles, however, consider the economics of spending 20 hours in the air to play one course—albeit a great one. And if you're thinking about adding more world-class courses to your itinerary, get out a map.
From Tara Iti, it's a three-hour drive north to the magnificent Rees Jones redesign at Kauri Cliffs and a six-hour drive south to Doak's cliff-hanging Cape Kidnappers. Another four hours in the car separates Cape Kidnappers from the venerable Paraparaumu Beach Golf Course. And if you want to check Jack's Point Golf Course off your Top 100 list, you'll need to fly from Wellington on New Zealand's North Island to Queensland on its South.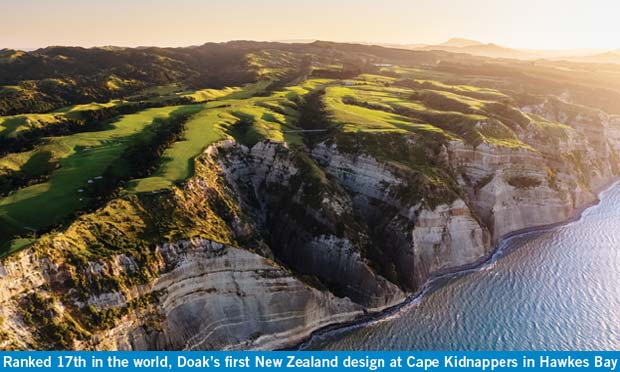 Kayne has a better plan. He wants to turn the Te Arai area into the next Monterey Peninsula. When the Los Angeles-based billionaire purchased the land now occupied by Tara Iti from the indigenous Ngati Manuhiri iwi in 2012, he pledged to respect the land and uphold its heritage—a promise he has steadfastly kept. He designated nearly 500 of the roughly 1,100 acres to the Te Arai and Mangawhai Shorebirds Trust, whose most notable success lies in a redoubt behind the 15th tee, just beyond the course's north boundary. This is where New Zealand's rarest breeding bird—the "critically endangered" fairy tern known locally as tara iti—nestles and increases its minuscule population (last reported at 40).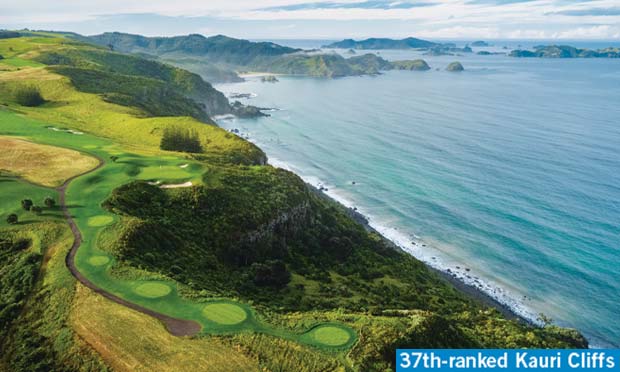 Kayne and his development team also intend to increase the area's golf course population. Working with the Ngati Manuhiri, Kayne's team plans to lease for more than 100 years an 1,888-acre block of land adjacent to and south of Tara Iti. Five hundred of those acres will extend the existing reserve areas, with the remainder comprising the two public courses of Te Arai Links—the North Course designed by Doak and the South Course designed by the team of Bill Coore and Ben Crenshaw. Both will play along a beach facing the iconic Little Barrier Island and the Hen and Chicken Islands.
"Mike Keiser pointed out that the South Course may have more ocean frontage than any course in the world," Rohrstaff says, referring to the visionary behind of the highly successful golf destinations of Bandon Dunes, Sand Valley and Cabot Links. Rohrstaff and Kayne envision Te Arai to join the ranks of those golf meccas within the near future.
"We intend to create a world golfing destination, a treasure unlike any other place in the world," Kayne told the New Zealand Herald. It will feature visitor accommodations, a clubhouse, 60 luxury home sites, a public camping ground and retail shops. "The goal is to create a significant recreational, economic and environmental asset for Auckland and New Zealand."
Rohrstaff compares it to the trio of courses along 17 Mile Drive. "Tara Iti will be Cypress Point," he explains, "and the North and South courses will be like Spyglass and Pebble." The timeline for this year-round paradise to come to fruition, he says, is late 2021 or early 2022. "Best of all," he says, noting the natural beauty and surfeit of outdoor activities, "this will be a golf destination that your spouse will happily want to join you."
For more information, visit taraiti.com/general-enquiry.
---
Jon Rizzi is the editor of Colorado AvidGolfer.
This article appeared in the 2019 Winter Issue of Colorado AvidGolfer.
Colorado AvidGolfer Magazine is the state's leading resource for golf and the lifestyle that surrounds it, publishing eight issues annually and proudly delivering daily content via coloradoavidgolfer.com.