Vidanta's 46 holes of golf only hint at the splendors awaiting at the Mexican luxury resort group's flagship property.
By Denny Dressman/Photographs courtesy of Grupo Vidanta
DANIEL CHÁVEZ MORÁN is not a golfer, at least not a serious, avid golfer. He's a real estate developer—one of Mexico's 100 most important businesspersons, according to CNN.
But that doesn't mean he doesn't appreciate golf or recognize its importance to those who enjoy the sport.
In addition to the more than 30 hotels and resorts he has built in Latin America since founding the real estate consortium Grupo Vidanta in 1974, Chávez Morán is responsible for the largest collection of golf courses in all of Mexico—including four conceived by design firms headed by either Jack Nicklaus or Greg Norman.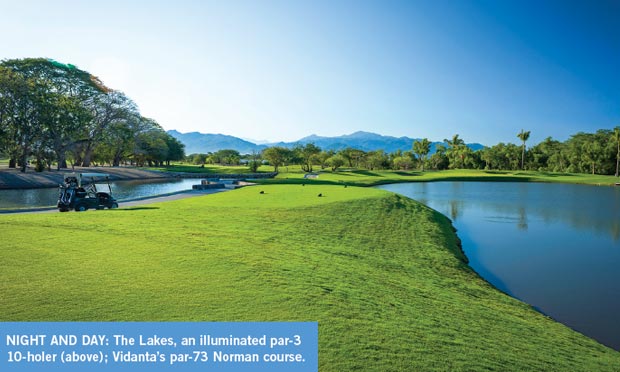 Grupo Vidanta operates more than a dozen high-end layouts, including several at many of Mexico's most popular destinations: Nuevo Vallarta, Riviera Maya, Los Cabos, Acapulco, Puerto Vallarta and Puerto Peñasco. The flagship location is Nuevo Vallarta.
Located less than a 20-minute taxi ride north of Gustavo Díaz Ordaz International Airport in Puerto Vallarta, the Vidanta Nuevo Vallarta resort covers 1,700 acres with 1.25 miles of beachfront. The property comprises 25 swimming pools plus a kids' water park and lazy river, 10 hotel buildings, more than 40 restaurants and bars, the outdoor Santuario nightclub, two spas, a gallery and outdoor Mexican market and a two-story shopping plaza. A lavish Cirque du Soleil Theme Park is under construction at a reported cost of nearly a billion dollars. Plans call for the complex to open in 2020.
"People want things to do," Chávez Morán told Forbes magazine in 2016.
That naturally also includes golf on the resort's two 18-hole championship courses—one by Nicklaus and one by Norman—and an innovative Nicklaus-designed 10-hole par three course lighted for night play called The Lakes.
COURSES AND CLASSES
The Nayar Course, a Nicklaus design and the first course built on the property, runs on both sides of the Rio Ameca, which flows into Bahía de Banderas—the "Bay of Flags," so named for the plumes carried by the indigenous tribes who confronted the Spanish conquistadors. Golfers cross Rio Ameca via a one-lane steel suspension bridge that affords a compelling view of the landscape.
Bordered by lush jungle and the Sierra Madre Mountains to the east and the crosswind producing Pacific to the west, Nayar takes its name from El Nayar, territorially the largest municipality in Nuevo's home state of Riviera Nayarit. The course sports seven lakes, measures 6,668 yards from the black tees and 6,153 from the blues, but is a playable 5,681 for those who prefer teeing from the whites. Generous Bermuda fairways give all players room for error. The greens on the par-70 layout are also Bermuda.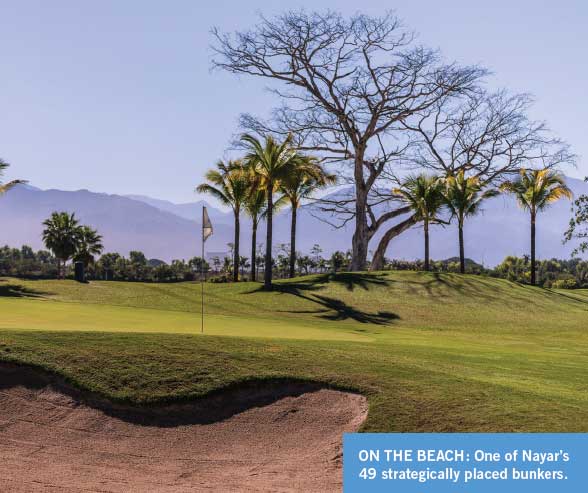 The Greg Norman Signature Course lies to the south of the river, with views of the Sierra Madre in the distance and the sights and sounds of nearby Ordaz Díaz International. Here, the greens are salt-tolerant paspalum platinum first generation.
"Norman" measures 7,287 from the tips, 6,793 from the blue tees and 6,221 from the whites. It even has a set of gold (senior) tees that measure 5,748. Vast waste areas and bunkers help make this par-73 layout much more difficult.
The courses get steady play, Director of Golf Jesus Torres notes: 18,000 rounds on Norman and 33,000 rounds on Nayar in a typical year.
Caddies are required at both courses, and the loopers are well worth it—particularly for their ability to read the subtle greens but also for their local knowledge and the camaraderie they add. (If you go, ask for a caddie named Hipolito, who goes by Polo. He's among the best.)
If you need help in more than club selection, however, head for the resort's Jack Nicklaus Academy of Golf, an outstanding training facility for everyone from beginners to low-handicap players want to work on a particular phase of the game. Instructional offerings include: Total Game Golf Schools, Golf 101, Problem Solver Clinic and Swing Analysis.
Among the many features are two state-of-the-art coaching studios, multiple high-speed video
cameras, the K-Vest Kinetic Training System (movement analysis technology to analyze your swing) and TOMI Computerized Putting Lab (to analyze your putting stroke), Vertex Whole Body Vibration Technology, 1024-point integrated pressure/balance mat, industry-leading ball flight monitors, and the Jack Nicklaus Academy's integrated technologies package and proprietary analysis software. The academy even offers custom club and ball fittings.
WHAT'S NUEVO AT VIDANTA?
Vidanta Nuevo Vallarta seems to be ever-changing, and the Nayar and Norman courses are a good example. As work proceeded on the Cirque du Soleil park in the past year and a half, five of the original Nicklaus holes were sacrificed to make room, shifting five of the Norman holes to Nayar. The Norman layout remained whole with the addition of five scenic new holes along the Rio Ameca.
The other recent development is The Lakes, a 10-hole floodlit Par Three, created by Nicklaus Design.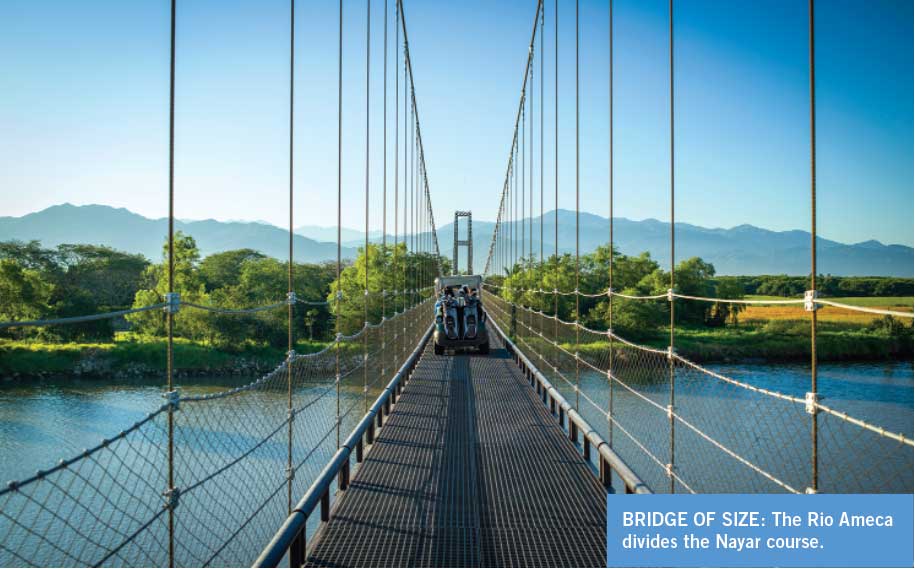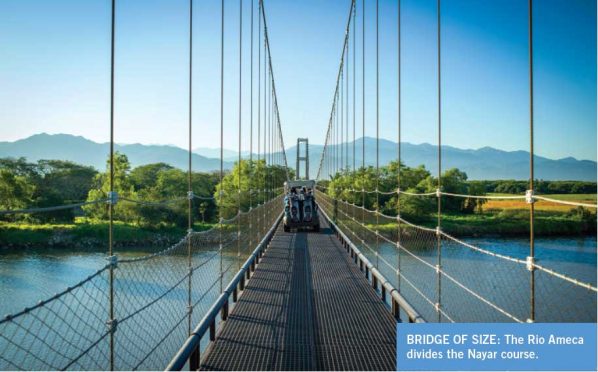 With no hole longer than 114 yards (from the blue tees) and a couple as short as 49 yards (from the whites), it might not seem very challenging at a total 890 yards. But factor in the water, which borders the walking paths from many tees and wraps around virtually every green, and you'd better be able to hit your targets (or bring a lot of balls). It's fun, especially at night when it's not as warm as midday.
Staying at Vidanta as a timeshare owner or guest ensures access to the Norman, Nayar and The Lakes courses, as well as all the other attractions and amenities. Golfers not staying on-property can play but must subscribe to the availability and reservations policies. During high season, that means after 2 p.m. on the Norman course.
If that seems too late, just wait till dark and tee it up under the lights.
THE TIGRE NEXT DOOR
Though not a part of Vidanta Nuevo Vallarta resort, the celebrated El Tigre Golf Club at Paradise Village Resort lurks just north of the Nayar Course. Designed by the team of Robert von Hagge, Michael Smelek and Rick Baril, the course features six sets of tees, allowing it to play from 5,159 to 7,239 yards. Water factors into 13 holes (including an island green on the par-3 sixth), while all 18 have wily bunker placements—especially the short par-4 seventh, known as "La Tierra de los Bunkers," which requires navigation around 17 sandboxes. Paradise Village Resort offers three- and five-day stay-and-play golf packages. Resort guests and club members get preference for tee times, but the course welcomes outside play. eltigregolf.com
---
Contributor Denny Dressman is a member of the Denver Press Club Hall of Fame. For more information on Vidanta Nuevo Vallarta, visit vidanta.com/en/web/nuevo-vallarta or call 800-292-9446.
This article appeared in the 2019 Winter Issue of Colorado AvidGolfer.
Colorado AvidGolfer Magazine is the state's leading resource for golf and the lifestyle that surrounds it, publishing eight issues annually and proudly delivering daily content via coloradoavidgolfer.com.