A year after launching golf's next big star, the TPC Colorado Championship at Heron Lakes is primed to do it again.
By Jon Rizzi
WHEN DISCUSSING the 2020 TPC Colorado Championship at Heron Lakes, the old saw about a tree falling in the forest comes to mind. Untelevised and closed to spectators because of COVID-19, the Korn Ferry Tour tournament represented just the second event to take place after the PGA TOUR's three- month pandemic-related suspension.
"We were in the bubble, and we were able to step up and do things safely," Drew Blass, the tournament director for the TPC Colorado Championship at Heron Lakes, says. "If that hadn't been the case, who knows if Will would be Will."
"Will," of course, is Will Zalatoris, whose victory at TPC Colorado—his first as a professional—would ultimately lead to his "special temporary membership" on the PGA TOUR, where he has had five top-10 finishes. Three of them have come in major championships: sixth place at the 2020 U.S. Open, eighth at the 2021 PGA Championship and, in between, a memorable runner-up performance at the 2021 Masters.
At Augusta National, the 24-year-old former Wake Forest standout's 9-under left him one shot behind first-time champion Hideki Matsuyama, $1.2 million richer and an instant fan favorite. The best player on the PGA TOUR without an official PGA TOUR card, he would currently rank 20th on that tour's money list, but he'll only be eligible for the FedExCup Playoffs if he wins a PGA TOUR event between now
and August's Wyndham Championship.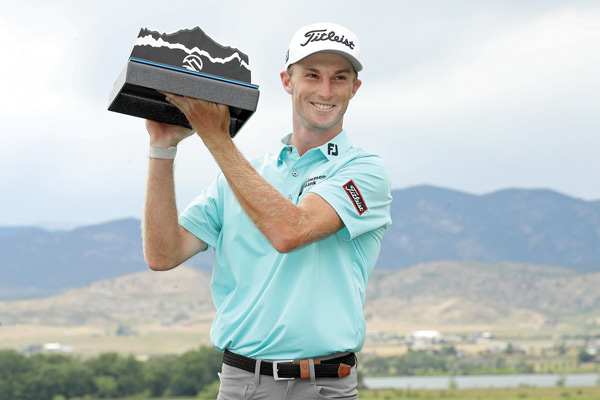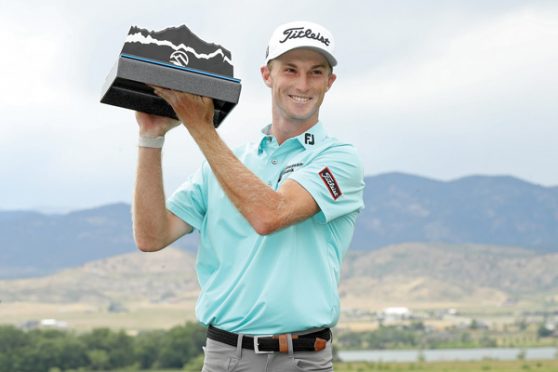 Although it's way premature to compare it to the inaugural triumphs of Jack Nicklaus and Annika Sörenstam at The Broadmoor in Colorado Springs, Will Zalatoris also launched his star on a Sunday in Colorado—even if nobody except the volunteers, media members and tour officials saw it.
For the record, the Dallas native shot a final-round 69 to withstand a run by Kent State University alum Chase Johnson, who leapfrogged from 20th to second place with a blistering 9-under 63. Zalatoris finished 15-under, one shot clear of Johnson and two shots ahead of four other competitors. "I know Will's from Texas, but Colorado can claim him," Blass says. "And I don't think he minds that one bit."
"ONE OF THE BEST COURSES WE PLAY"
Zalatoris' winning score of 15-under in 2020 was identical to that of Argentina's Nelson Ledesma, the tournament's inaugural winner in 2019. "It's not a birdie-fest," explains Jared Wolfe, who finished tied for 10th, five shots behind Zalatoris at 10-under. "That makes it a fun course to play. It allows one part of your game to make up for the other. If you're playing in a shootout, that doesn't happen."
"Having played a full season on the Korn Ferry, I think it's one of the best courses we play," Johnson says of the 7,991-yard Arthur Schaupeter design. "I'm not alone. Everyone I talked to loves the course. The views are unbelievable, there's a healthy mix of drivable greens and other holes where you just man up and hit it. And in terms of conditions, it's one of the closest to a PGA TOUR venue."
Johnson, an Ohio native, experienced PGA TOUR conditions at this year's Memorial Tournament Presented by Nationwide, playing on an invitation from Jack Nicklaus and missing the cut by one. "You really get punished for hitting it in the rough, like you do in Colorado," he shares.
"Zalatoris' victory shows how good this course is," Tom Whitney, an Air Force Academy graduate who has four top-10s during the current Korn Ferry season, says. "The caliber is unmatched on this tour."
"I've had players come up and tell me, 'This place is so good, when is it going to become a PGA TOUR event site?'" Bo DeHuff, the PGA TOUR's director of tournament business and sponsor relations, says.
One of those players, Michael Gellerman, who tied for third in 2019, called it "a different kind of test than we see all year—a big championship-style golf course that requires precise shots all the way around. Not to mention, it requires a big-time finish. I love that place and know it always produces a deserving champion."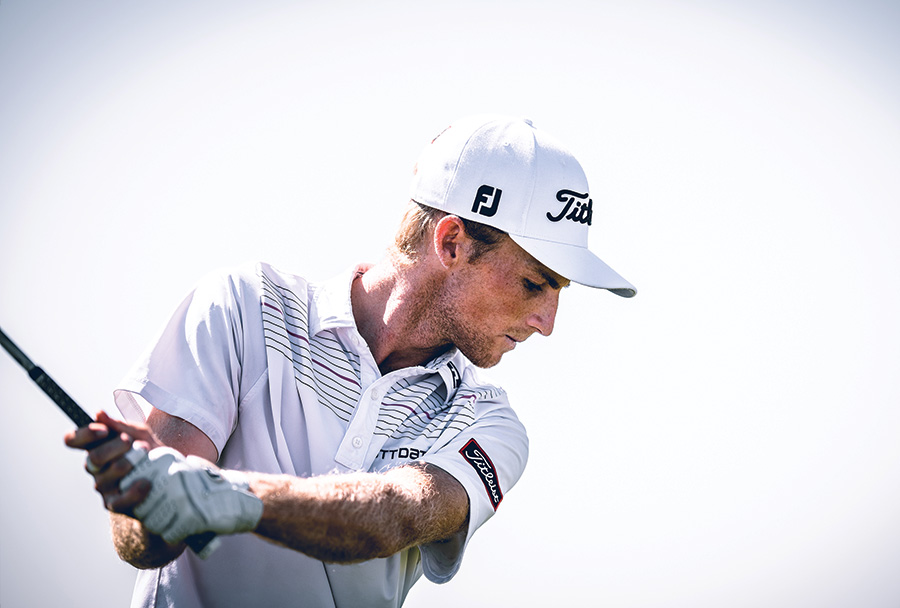 "IT TAKES A VILLAGE"
To Whitney, the TPC Colorado Championship at Heron Lakes "really gives you a sense of what the PGA TOUR feels like."
Adding to that feeling, he says, is the ubiquity of marshals, standard-bearers and other volunteers. "There are twice the number of volunteers out here than at most of our events," he observes. The statistics bear him out. According to Blass, 300 people volunteer for an average Korn Ferry Tour event, and 550 signed up in 2019.
"We have 700 this year," he boasts. "We had to do a waiting list. I know it's cliché but it really does take a village. The local hotels, the caterer, the sponsors like Citywide Bank, PointsBet, BirdieBall and Pepsi, Centura Health and Landmark Homes and so many others…organizations like the Colorado PGA Section, which is putting on a kids' clinic, and the Colorado Golf Association, the JGAC. There are so many. We have members of clubs like Colorado National, Fort Collins Country Club, Boulder and Highland Meadows marshaling holes."
The event is one of the few on the tour that has standard-bearers with every foursome. Blass says some of the players even wrote thank-you notes to their standard bearer saying how much they appreciated seeing their names on every hole.
"The whole Northern Colorado community is behind this, and I volunteer because you've got to put your money where your mouth is," says Chris Parkes, a TPC Colorado member who ferries players starting on the 10th tee from the practice range. "Without volunteers, these events simply do not happen, and without someone getting a player to the tee on time, he gets a two-stroke penalty."
Parkes' enthusiasm for the event earned him the tournament's "volunteer of the year" award. He loves having access to the players. "Most of them are kids living out their dream, which is cool," he says. Plus, "words can't describe the sound of the ball coming off the face when these guys hit it."
More people will hear that sound in 2021 than in 2019, when the tournament broke a Korn Ferry Tour record for first-year attendance. Ticket sales are trending much higher than two years ago. This time, patrons will also get to experience the glorious 65,000-square-foot clubhouse, which had yet to be completed the last time the event took place.
With few trees on the property, the tournament has also added more shaded viewing decks, as well as a shuttle with stops at holes 3, 6 and 10. The shuttle stop at the third green also serves the 13th.
"The Korn Ferry Tour named us the 2019 Product of the Year, and the PGA TOUR really believes in this event," Blass says. "They want to keep Colorado on the professional golf map."
"NOT THE MINOR LEAGUES"
The Korn Ferry Tour may be the PGA TOUR's "developmental" tour, but DeHuff says the quality of the players makes it "more of an expansion or extension of the 150-member PGA TOUR."
"This is not the minor leagues," Blass says flatly. "These players are among the best in the world. And as you get to see them up close and get to know them, you start to take pride in their achievements."
"The talent pool these guys are in is just amazing," Jon Turner, the owner and developer of the Heron Lakes community, says. "There's just wave after wave of good talent. Basically, there's a whole pack of golfers vying for automatic entry to the PGA TOUR. So, the field is going to be very exciting."
The first TPC Colorado Championship at Heron Lakes included such players as Scottie Scheffler, Lanto Griffin, Mark Hubbard and Harry Higgs—all of whom now play on the PGA TOUR. And the second one featured Will Zalatoris, who won't be playing in Berthoud but in Iowa at the John Deere Classic, and a raft of future stars that fans can say they got to see in person at the 2021 TPC Championship at Heron Lakes.
WHOM TO WATCH
Because of the pandemic-instigated wraparound 2020-21 season, no players graduated to the PGA TOUR last year. However, any player who wins three events during the 46-event schedule automatically advances to the PGA TOUR. As of June 20, only Chile's Mito Pereira—who won the Country Club de Bogotá Championship in February of '20 and the Rex Hospital Open and BMW Charity Pro-Am last month, received what's colloquially known as a "battlefield promotion." In addition, the five top-ranked players from PGA TOUR University are eligible.
POISED FOR PROMOTION
*ALL PHOTOGRAPHS COURTESY PGA TOUR
PGA TOUR UNIVERSITY

Jon Rizzi is the editor of Colorado AvidGolfer.