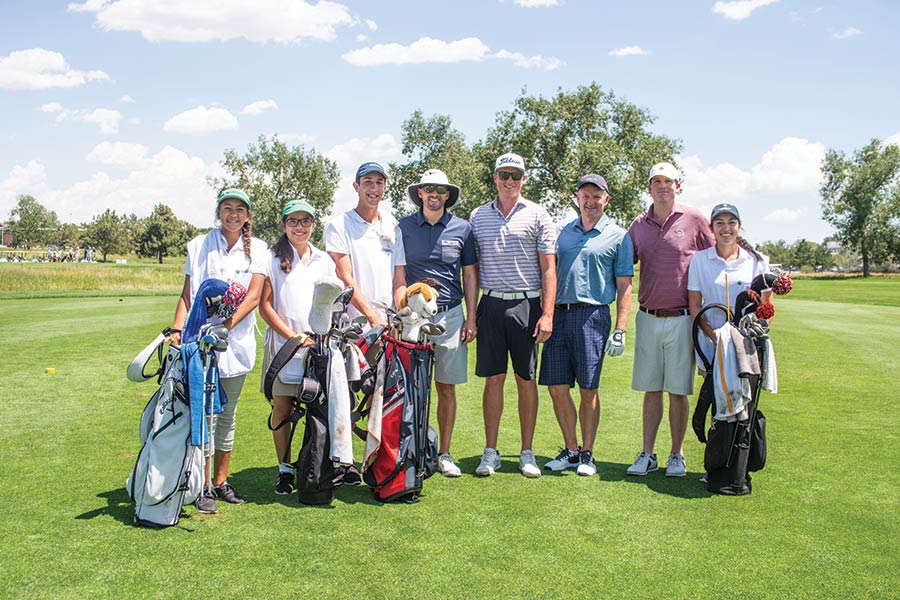 Taking a caddie is a bottom-line decision that pays great dividends.
LIKE IT or not, every business is now held to higher standards. As consumers increasingly scrutinize a company's efforts to serve its community and protect the planet while also delivering economically sensible products, more businesses must consider the triple bottom line—an ac- counting framework that incorporates the social, environmental and financial dimensions of performance—when looking at their balance sheets.
At the Colorado Golf Association, we are using that same triple-bottom-line approach when it comes to our efforts to support Colorado caddie clubs and establish Solich Caddie and Leadership Academy chapters across Colorado.
The Academy program has become an in- credible way for golfers to save money by taking a "free" caddie instead of paying for a cart; reduce their environmental impact on the course by walk- ing; and serve their community by providing kids with their first experience at holding a job.
These caddies earn money through educational grants, and, in some cases, they help their families financially by continuing on to receive the Evans Scholarship at the University of Colorado. Since 2012, 30 Solich Academy graduates have gone on to receive this prestigious scholarship ad- ministered by the Western Golf Association.
The CGA is currently launching its fifth chapter of the Academy. By summer's end, in addition to our flagship at CommonGround Golf Course in Aurora, we'll have outposts in Engle- wood (Meridian GC), Grand Junction (Tiara Rado and Lincoln Park GCs), Montrose (Black Canyon GC) and Colorado Springs (The Broadmoor Caddie and Leadership Academy).
These programs are teaching kids the values of hard work, financial literacy, leadership and communication through the Be Somebody: Cowboy Ethics Program developed by the Central Wyoming Boys & Girls Clubs and based on the bestselling book by Wyoming businessman and author James P. Owen. With generous funding from a local donor, this curriculum is taught by CGA staff and local volunteers to ensure our cad- dies live these values with every loop.
Ultimately every golfer makes that triple- bottom-line decision when they check in for their next round. Should they pay for another cart so they can keep their phone charged while they play, or enjoy a healthier round of golf with a local cad- die while giving back to their community?
Clearly, all of us at the CGA hope more people consider this value proposition and make the best triple-bottom-line decision in golf.
Cowboy Ethics of a CGA Caddie
Thoughts from Ellie, a 16-year-old sophomore at Englewood High School who has been a Solich Academy caddie for three years, despite never playing golf before caddying.
TAKE PRIDE IN YOUR WORK
"What I have learned most from caddying is how to communicate with people older than myself and improved my math skills when keeping score and gauging yardage if a golfer doesn't have a rangefinder."
DO WHAT HAS TO BE DONE
"One time when caddying, there was a rainstorm in the middle of the round. My golfer didn't want to make me stay in the rain too long and sent me back to the clubhouse. I listened to the golfer but felt like I let him down in doing so. However, he left me a tip at the clubhouse and requested me as a caddie the next time he played."
SOME THINGS AREN'T FOR SALE
"Being a caddie has been my first job. Earning that first paycheck felt amazing! It feels good to be able to help my parents while also saving money for myself. Hopefully, I can keep caddying and get the Evans Scholarship in the future."
Golfers can also help local caddies by entering the CGA's 6th Annual Dream Golf Vacation Raffle. Some of the top golf resorts in the world including Bandon Dunes, Whistling Straits, The Broadmoor, Casa de Campo and the six-destination Dormie Network have donated more than 35 rounds and other prizes. Tickets cost $40 and 100% of the proceeds benefit CGA youth programs like the Solich Caddie and Leadership Academy. Enter at coloradogolf.org/raffle.