JULY 29–AUG. 1, 2021
GREEN VALLEY RANCH GOLF CLUB, Denver
PHOTOGRAPHS BY CHIP BROMFIELD/PRO-MOTION, LTD
SIX FOR A FIVE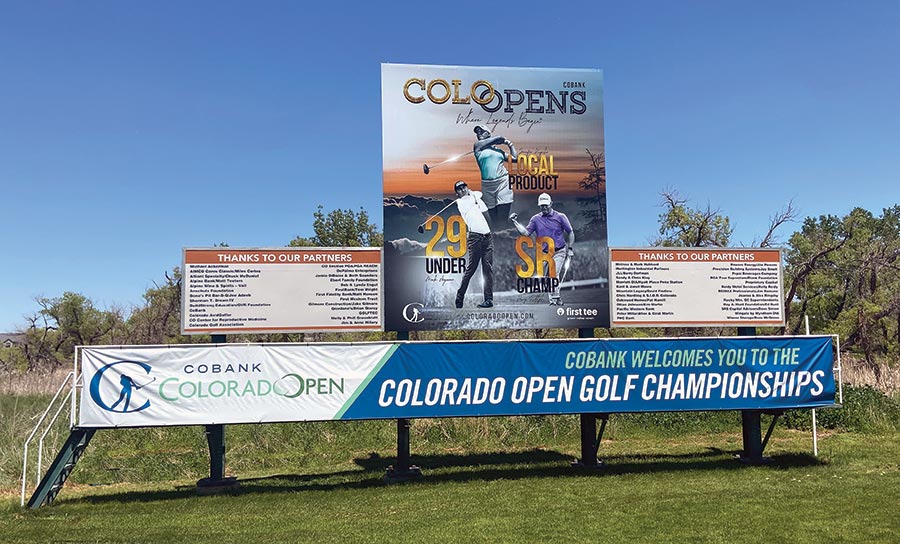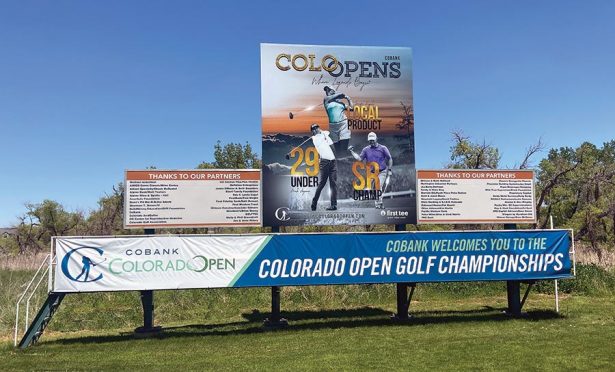 WELCOME TO THE sixth year of CoBank's five-year sponsorship of the Colorado Open Championships. Wait. Was the sponsorship handicapped? Did the NCAA grant an extra year of eligibility? Did they just forget to change the logo and the signs?
No, no and no.
In March of last year, five months after CoBank notified the Colorado Open Championships that it would not renew its title sponsorship of the three tournaments and related events past 2020, the COVID-19 pandemic shutdown began.
this not only made securing a title sponsor even more challenging; it also meant no 2020 special events that CoBank had previously sponsored, like the kids clinics and PEAK Performer exhibitions with stars such as Lexi Thompson and Matt Kuchar.
But it also meant that the money CoBank had budgeted for those 2020 events could be applied to sponsoring the 2021 championships. "We al- ready had a deposit from previous years, so no new money needed to be approved," Colorado Open Golf Foundation CEO Kevin Laura said. "They were very gracious."
The money covered about one-third of the title sponsorship sponsor package. Laura says the remaining two-thirds came from a "substantial grant from a private foundation, monies from the 2020 championships and donations from multiple sources," including Colorado Open Golf Foundation board members.
Calling it a "creative solution," Laura also noted saving "about $80,000 by not having to rebrand this year's event by removing CoBank from all the signage for just one year."
Like last year, the kids clinics and PEAK Performer events will not take place. Yet, registration in the First Tee-GVR is up 40 percent and 18 First Tee kids are enrolled in the Caddie program at Green Valley Ranch Golf Club.
Laura anticipates naming the next title sponsor no later than the CoBank Colorado Senior Open Aug. 25–27.
Two and Tree
COMPETITORS WILL FIND two major differences in the Green Valley Ranch course this year:
• The second hole, which has played as a 577-yard par 5 the last few years, will play as a par 4 between 510 and 521 yards. This changes the course par from 72 to 71—the same number it was before 2015, the year 12th hole went from a par 4 to a par 5. No. 2 yielded two eagles and 35 birdies in last year's championship, its average score of 4.43 trailing only the 12th (4.41) as the least difficult hole.
• For safety reasons, the largest of the large cottonwoods that blocked the right-side approach to the 16th green was cut down in March. Its enormous trunk had become a decaying husk. "It was going to fall," CoBank Colorado Opens CEO Kevin Laura says, "and we didn't want anyone to get hurt when it did.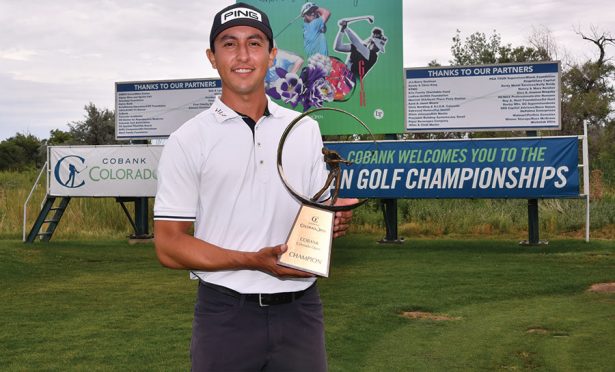 HOW LOW CAN THEY GO?
AT LAST YEAR'S CoBank Colorado Open, Mark Anguiano of Playa Vista, Cal., shot better than his age. The 27-year-old went 29-under. His four- round total of 259—which included a course-record-tying 12-under-par 60 in the third round—shattered by five strokes the event's previous re- cord of 24-under set by Albuquerque's Sam Saunders the previous year (Saunders also carded a round of 60 in 2018, as did Nicholas Mason in 2007).
"I had no expectations," Anguiano says, "but going into event, I was playing really consistent, solid golf. I'm just glad I performed under pressure."
He had to. Nipping at his heels were Carson Jacobs of Tennessee, who finished at 27-under and Jose Toledo of Guatemala (26-under). That's three players who broke Saunders' short-lived scoring record, while fourth-place finisher, former DU Pioneer James Love, tied it.
Colin Prater, who took low-amateur honors, laughs with disbelief. "My goal was to be top-10 overall, and I shot 12-under," says Prater, who won last year's State Amateur with a 14-under. "I tied for 34th, seventeen shots behind the winner and eight out of the top 10."
The flood of professional talent and impressively low scores cor
relate almost directly to the 2016 increase in the event purse to $250,000 and the winner's share of $100,000.
"The prize money lures a lot of players from all over the country," Anguiano says, noting that last year was his first time competing in the event. "The level of competition in the Colorado Open is the closest thing to playing in a tour event. You definitely want to peak for it."
Another appeal, Anguiano reflects, is greens that "are unbelievably smooth. For a state open, that's incredible."
He also ascribes last year's exceedingly low scoring to rain falling the nights before the third and fourth rounds. "It softened the course to the point you knew that your shots were going to stick," he reasons. "You could go for flags. There's no way the course plays the same way when the conditions are firm and fast."
In the year since winning the event, Anguiano has qualified for the PGA TOUR's Waste Management Phoenix Open and missed the cut. Prior to arriving in Denver to defend his title, he'll compete in the Waterloo and Cedar Rapids opens. "It's the same thing I did last year."
Does his 2020 performance in Colorado give him extra confidence? "No way. I have to pretend it's my first time again. Otherwise, you can slip mentally and be way behind where you should be."
If that happens in a field as strong as this year's portends to be— aside from the Olympics, there are no PGA TOUR, PGA TOUR Cham- pions or Korn Ferry Tour events scheduled that weekend—even a guy capable of going 29-under doesn't stand a chance.
OH, SAVANNAH!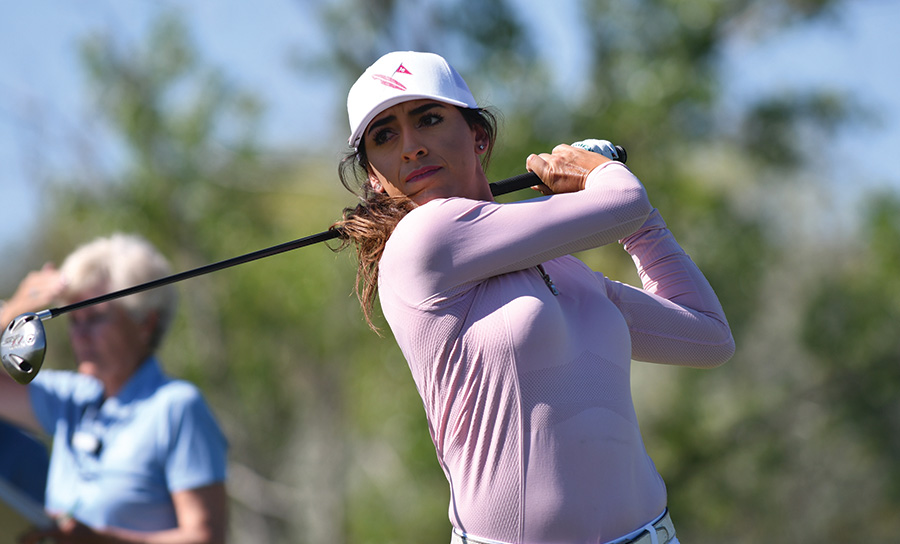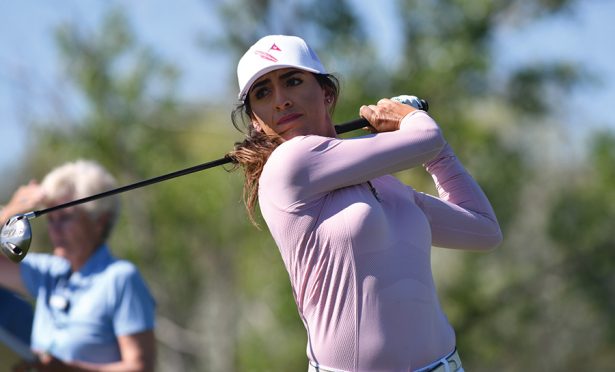 HEADING INTO the 54th and final hole of this June's CoBank Colorado Women's Open, Savannah Vilaubi had a five-stroke lead over Colorado's Becca Huffer and a chance at tying the event's 16- under-par scoring record if she birdied Green Valley Ranch's long par-5 finisher. But the 27-year-old pro from Downey, Cal. wasn't taking any chances. She hit an iron off the tee, took the safe route to the green and made her seventh consecutive par for the win—and $50,000.
That amount exceeded the $48,774 she has earned during her five years on the Symetra Tour—a total that includes the $16,733 she made May 30th with her runner-up finish in the Mission Inn Resort & Club Championship. Her victories in the 2016 and 2019 Texas Women's Open yielded payouts of $5,000 and $10,000, respectively.
"You guys make us feel like the professionals we strive to be," she said addressing the organizers and volunteers during her victory speech. "It's nice to have women's golf be as celebrated as it has been this week. We hope other tours and tournaments can learn from the example you guys set."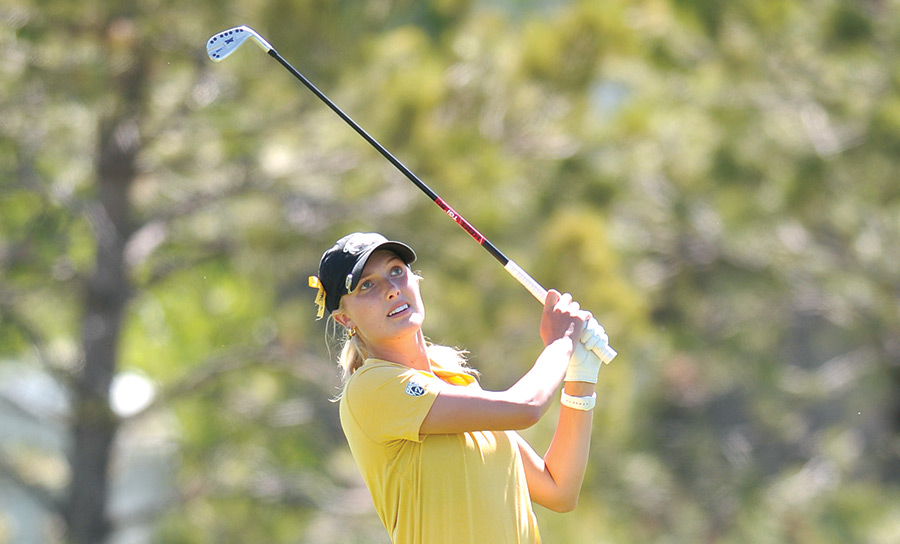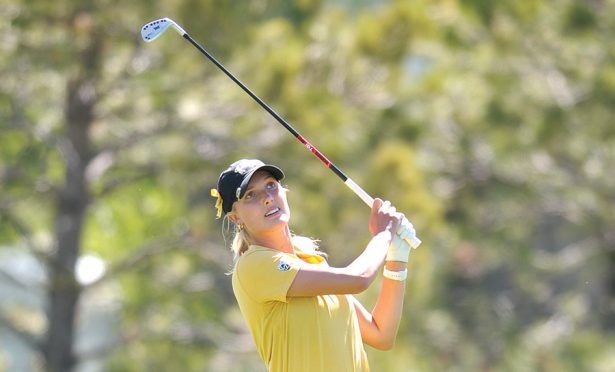 On the amateur side, three-time Colorado high-school state champion Hailey Schalk, who hadn't made the cut in her two previous Colorado Women's Opens, took low-amateur honors. Now a sophomore at the University of Colorado, the 19-year-old carded a 3-under 213, one shot better than the University of Denver's Caroline Jordaan and strong enough for a T10 overall.
A FUTURE VENUE?
COULD A COMPANION or alternate course be in the future of the Colorado Open Championships? Last month, Oakwood Land Company —the same developer of Green Valley Ranch— announced it had closed on a 907-acre par- cel located east of Parker Road between the Chenango community and E-470. Called Kings Point, the activity- and amenity-rich neighbor- hood will comprise approximately 1,700 homes of diverse sizes and price points, as well as a championship golf course and country club.
"Kings Point is the last undeveloped area of southeast Aurora that provides access to Denver International Airport and downtown Denver," Oakwood Homes Chairman and CEO Pat Hamill explains. "The opportunity to build a community that affords urban access and views of Pikes Peak, Mount Evans and Longs Peak is rare."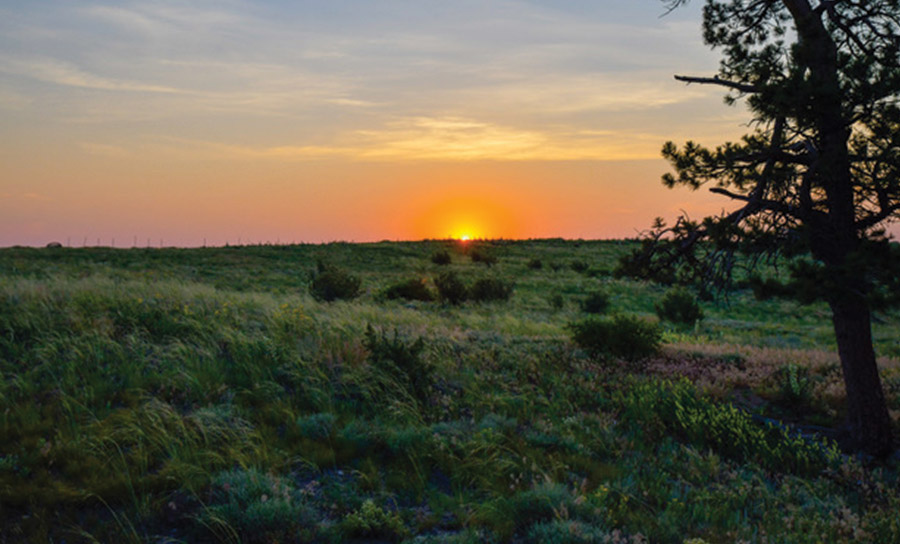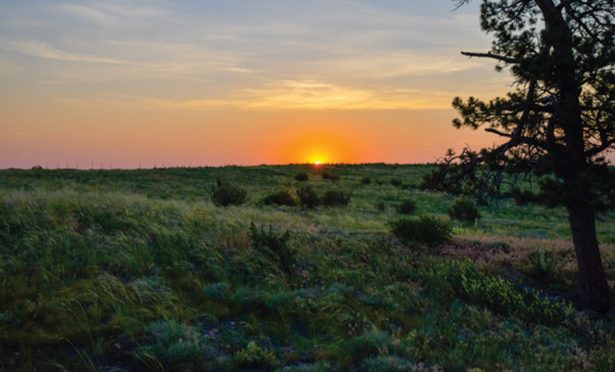 Those views also come on a property that's ideally suited to building a golf course. "It's similar in topography to Colorado Golf Club," Hamill says, referring to the private club 10 miles south. "It has 250 feet of elevation change, native grasses, yucca and pockets of ponderosa pines."
Preliminary plans call for the course to occupy the northwestern edge of the property with little, if any, real estate lining the fairways. "It will be connected to the community," Hamill says, "but not wind through subdivisions or neighborhoods."
The community will have clublike atmosphere," he says, "with four or five activity zones—parks, pools and playgrounds for community and socialization for everyone from young families to empty nesters. That diversity has always been key to our communities."
He has not settled on a course architect. "Ultimately, some designers don't want to be part of a master-planned community, but we've narrowed it down from five to two candidates," he explains.
Groundbreaking on both the course and the community will happen next year, with the course opening in 2024 or 2025. Kings Point will likely be private, with golf and social memberships, but Hamill insists he hasn't yet worked out the details.
Hamill does say, however, that rotating some of the tournaments with venues other than Green Valley Ranch "has always been one of our intentions. Nobody likes to take their course out of play for a week at a time."
Above all, though, he intends to make the golf operation the "crown jewel" of the Kings Point community. "We want to marry an out- standing community with families that will be there for hundreds of years and have a golf course that can be not only fun but also endure the test of time. And we have some exciting plans on how to achieve that."
A FIRST TEE FIRST
ON JUNE 20–24, as this issue headed to press, Hunter Swanson and Kyle Leydon of First Tee GVR were heading to the first tee of The Walker Course at Clemson University in South Carolina to compete in the first-ever The First Tee Nation- al Championship.
And to that list of firsts, add a few more:
Should either of them come in first among the 24 boys competing in the event, he'll be the first to win the Tattersall Cup, named for Richmond, Va., business and community leader Fred Tattersall, a longtime First Tee trustee who, according to First Tee CEO Greg McLaughlin, "created this opportunity for teenagers from across our 150 chapters who have worked hard to advance their golf games while also staying involved in school and their chapters."
Plus, the winner of the boys division of The First Tee National Championship will also join the medalist from the 24-player girls division as competitors in the PGA TOUR Champions' PURE Insurance Championship Sept. 24-26 at Pebble Beach Golf Links.
In all, the 48 participants came from 32 chapters, with First Tee-GVR one of 12 with multiple representatives (the Central Florida, Fort Worth, Oklahoma City and Roanoke Valley chapters each produced three). The 2020 Junior Golf Alliance of Colorado Boys Player of the Year, Swanson is a rising senior at Northfield High School. In addition to participating in First Tee since 2009, he belongs to the Hale Irwin Player Program at CommonGround Golf Course, won two Junior Golf Alliance (JGAC) events last year and was runner-up in the Colorado Junior Amateur.
In this June's 121st CGA Match Play Championship, Swanson advanced to the Quarterfinals defeating 2015 champion Nick Nosewicz 4 & 3 before losing to eventual champion Cole Nygren 2 &1. On a national level, Swanson carded a respectable 4-over 220 to tie for 18th in a field of 235 competitors in last August's High School Golf National Invitational at Pinehurst Resort in North Carolina.
Leydon, who just finished his sophomore year at Brighton High School, won April's JGAC boys Tour event at Walking Stick Golf Course in Pueblo and last year's Optimist Tournament of Champions at Green Valley Ranch. Also a member of the Hale Irwin Player Program, he ranks second on the JGAC Points list as of June 15.
Starting at First Tee-GVR in 2014, he is now an Eagle-level member who volunteers as a junior coach and has caddied at Cherry Hills.
Postponed from its original 2020 dates be- cause of the pandemic, The First Tee National Championship will be held annually at various college campuses around the nation, providing participants the opportunity to network and take in the college experience.
At Clemson, Leydon, Swanson and other participants also had the opportunity to hear from PGA Head Golf Professional Steve Scott on how his values intersected with his experience of finishing runner-up to Tiger Woods in the 1996 U.S. Amateur Championship.