A curated collection of gifts from CAG gear guru Tony Dear
As always, for this year's gift guide we've only picked out products we've used, tried, or seen ourselves so each comes highly recommended. And a wide range of prices should give you plenty of options.
1. Caddy Slacks Pants and Shorts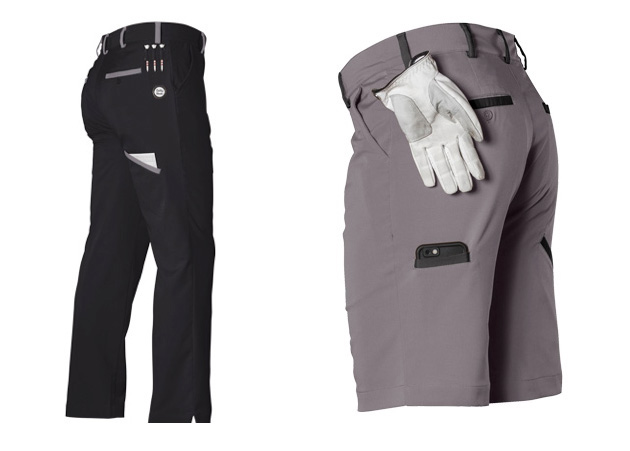 Each pair of Caddy Slacks pants (or shorts) has six unique features—detachable ball marker, tee slots, scorecard pocket, glove holder, cell phone pocket, ball pocket—that give you quick access to the tools you use on every hole. Made from a high-tech fabric, Caddy Slacks are comfortable, breathable, and quick drying, and have an SPF of 40. And they're made right here in Carbondale, Colorado!
$110 pants, $90 shorts
Black/charcoal, brown/khaki, charcoal/black, khaki/brown
caddyslacksgolf.com (enter promo code "Holiday" for 20% off)
2. Sun Mountain – Pathfinder 4.0 Pushcart

– Simple two-step folding mechanism.
– Accessory console designed to hold your cell phone (with slot for charging plug), score card, extra balls and tees.
– Mesh basket for extra storage and a velour-lined pouch for electronics and other valuables.
– Adjustable bungee cords on the upper and lower bag brackets secure the bag to the cart.
– Tracking system allows for easy adjustment, if needed.
$210
shop.sunmountain.com
3. Seamus Autocorrect Putter

Handcrafted in Alabama by Tad Moore who has been building custom clubs and putters for 55 years, Seamus Golf's Autocorrect putter is designed for generous use on fescue grass. It has a suede, side-out, leather-wrapped grip that is hand-tied with four-ply waxed linen thread to prevent slippage. With a hickory shaft and mild-steel head, the Autocorrect is a thing of beauty, and is available with a tan chap leather putter cover with snap enclosure.
$245
seamusgolf.com
4. 18birdies App

Free yes, but your golfer will love you for downloading this great app onto your phone. There are so many great apps for golfers out there, but 18birdies, with over 1.3m downloads, might just be the most useful, and fun, we've encountered yet.
Features include GPS capability on over 35,000 courses, tee-time booking, stat-tracker, ability to connect with friends and follow golf pros, lesson plans, a digital scorecard, and a whole lot more.
Free
18birdies.com


5. Linksoul "Make Par Not War" Tee

If your golfer hasn't got on board with Linksoul yet, it's about time they did. The coolest threads in the game bought to you by founder John Ashworth whose baggy polo shirts were worn by Freddie Couples and Ernie Els in the 1980s/90s. The company's 'Make Par Not War' slogan is a favorite among the cool crowd. The Revolution Tee is 50% polyester, 25% cotton, and 25% rayon.
$35
linksoul.com
6. Tour Tempo 2

I've been writing about, and recommending, the brilliantly-simple but effective Tour Tempo since it first appeared in 2004. There are no guarantees in golf, but Tour Tempo gets as close as anything to helping you eliminate stodgy technical thoughts and create a faster, more fluid swing. Tour Tempo 2: The Short Game and Beyond applies the same theory to the scoring shots.
$18
tourtempo.com
7. Golf Gizmo Club-Cleaner

A cracking little stocking stuffer that may not induce wild excitement in the recipient perhaps, but which will certainly be appreciated. The steel and nylon bristles are stiff enough to gouge clean the dirtiest of grooves, and the handle is made with durable plastic but possesses soft rubber grips. The retractable cord fixes easily to a golf bag, and the divot tool/Stars and Stripes ball-marker complete the set.
$20
golfinggizmos.com
8. Footjoy Canvas Duffel

Canvas and leather
– Constructed from durable, heavy-duty materials including leather accents to complete the classic canvas look
– Generous opening making it easy to load golf essentials. 21″W x 11″H x 11″D
– Leather Handle
– Removable Fit Strap: Easy to carry, with a removable/adjustable shoulder strap for a custom fit.
$135
footjoy.com
 9. The Evolution of Golf Course Design

Canadian golf course architect Keith Cutten has authored a stunning 350-page tome that some are saying will soon be regarded as one of the most important books on the subject ever written. Christmas stock is bound to run out soon, if it hasn't already, but more copies are on the way in the new year and Cutten will send a Certificate of Purchase to those ordering the book before Christmas.
$90CDN ($70US)
cuttengolf.com
10. Kentwool Sensationwool Socks

Kentwool has been saving, healing, and comforting golfers' feet for a decade, and with the Sensationwool it has introduced its most advanced sock to date. Featuring the company' superfine Merino wool and a nylon called Nufabrx infused with capsaicin and a synthetic cooling agent, the Sensationwool has been designed to provide comfort, keep your feet cool, and even provide temporary relief of aches, sprains, arthritis, cramps and other foot-related woes.
$25
kentwool.com
11. Chromax M5 Golf Balls

You may not see PGA Tour players teeing up a Chromax M5 anytime soon (though Bubba Watson came close-ish with his colored Volvik ball), but don't assume these balls rely on novelty value alone. Designed by engineer and scratch golfer Stuart Lin of Boulder, they are actually full of tech (75 compression, high-energy core mixed with titanium powder) and the distinctive metallic coating makes them highly visible.
$20/six balls
chromaxgolf.com
12.Pyramid Putters AZ-1

Precision heel and toe-milling allow putts hit anywhere off the sweetspot to feel solid and hold their line minimizing your shot dispersion. Putts struck on the sweetspot roll true with top-spin. The AZ-1 has a plumber's neck hosel, and a matte black finish.
$280
pyramidputters.com
13. CU Buffalo and CSU Rams Headcovers

Every golfing Buffalo, or Buffalo golfer, should have one of these. 100% polyester, machine-washable.
$30
shop.cubuffs.com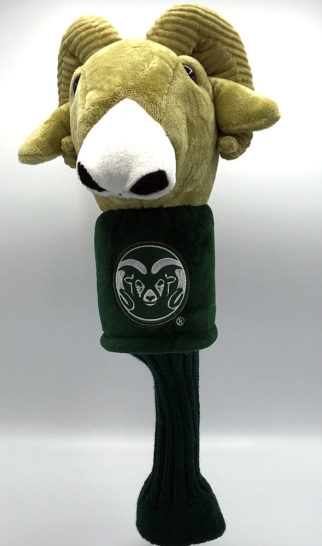 Likewise, self-respecting Rams fan should be covering their driver with one of these gifts.
$30
http://www.bookstore.colostate.edu
14. SkyTrak Launch Monitor

Portable, affordable launch monitors have become very popular the last couple of years and the SkyTrak is among the best with photometric technology and sophisticated image processing that calculates and displays the ball's flight path and distance. Key measurement parameters include: ball speed, launch angle, side spin, back spin, side spin, and side angle. Simulation play add-on available.
$1,695
skygolf.com
15. OptiShot Voice Caddie SC200


A less expensive alternative to the SkyTrak is Optishot's Swing Caddie SC200. It's lightweight, measures carry distance, swing speed, ball speed, and smash factor.
$350
optishotgolf.com
16. Adam Young's The Practice Manual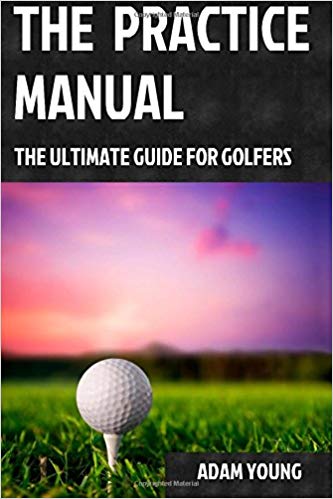 Adam Young is a British golf instructor currently based in Santa Barbara, CA. He has taught the game at Turnberry in Scotland and at the Leadbetter Academy in La Manga, Spain. The Practice Manual comes very highly recommended from a swathe of top teaching professionals and is an incredibly comprehensive and thorough guide to getting the most from your practice and understanding how to improve.
$23
adamyounggolf.com
17. Vice Golf Pro Golf Balls

Just as it's time for your golfer to discover Linksoul (see No. 7 above), it's also time he/she learned the benefits of playing Vice golf balls. Founded in Germany six years ago, Vice has become one of a handful of new brands selling top-quality golf balls for eye-popping prices. The Vice Pro is a three-piece ball with a urethane cover targeted at better players with mid-high swing speeds.
$25/dozen
vicegolf.com
18. TPC Colorado Championship/US Mid-Amateur Championship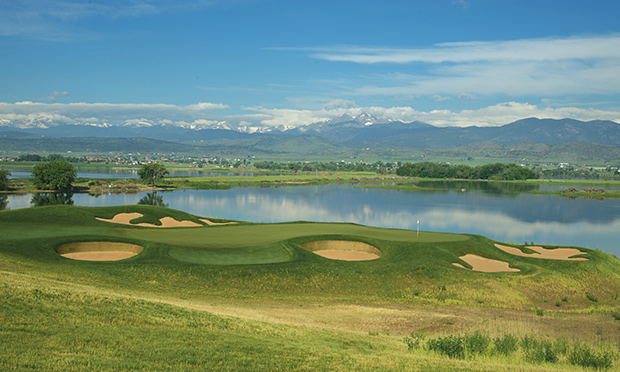 The signature par-3 16th a TPC Colorado
Next year, top-quality competitive golf comes to Colorado with the Web.com Tour's TPC Colorado Championship at Heron Lakes, to be played July 8-14 at the new TPC Colorado in Berthoud; and US Mid-Amateur Championship at Colorado Golf Club in Parker, September 14-19. Tickets are not yet available for either event, but how about a giving your golfer a card with a message inside saying both vents are on your calendar?
pgatour.com/webcom
usga.org
For more ideas, Click here.