Colorado junior golf

lost one of its most

passionate instructors when Terry Stearman passed away December 2, 2019 at age 77.

At one time or another, Terry Stearman, a native Australian, had coached some of the state's best young players. Like a proud grandfather, he hung photos of them, often holding trophies, on the walls of the office from which he operated at Family Sports Center in Centennial.

For more than 15 years, his affordable golf program focused on aspiring golfers from middle-class families who "don't belong to country clubs," he said in a 2013 CAG interview. "Nor do they fit The First Tee profile."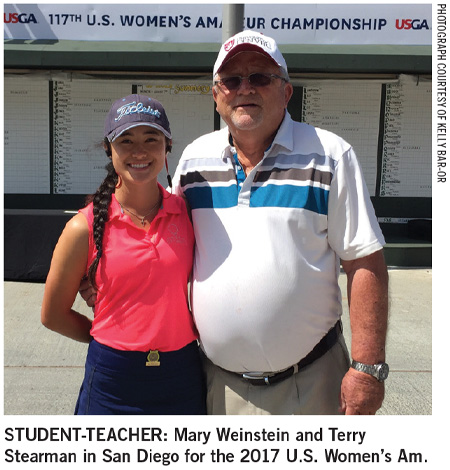 He counted hundreds of juniors among his charges. At one point or another, standouts such as Allie Johnson, Tyler Zhang, Gillian Vance, Delaney Elliott, Morgan Sahm, Delaney Benson, Elizabeth Wang, Katie Berrian, Dani and Max Urman, Katy Dyachkova, Claudia Davis, Hannah More and Chris Weinstein called Stearman their coach. Perhaps the most notable beneficiary of his teaching is Chris Weinstein's sister, Mary, the University of Denver senior who dominated both the Colorado Golf Association's Women's Stroke Play and Match Play Championships last year.
She began taking lessons from Stearman at age nine. "He was Mary's coach for as long as she's played golf and teaching her was one of his proudest accomplishments," his daughter Kelly Bar-Or said.
The winner of the 2019 Summit League individual championship and the Colorado Golf Hall of Fame's Person of the Year, Weinstein called Stearman her "personal golf coach and best friend" after last year's state Match Play victory.
"He taught everyone individually," she said in January. "He didn't try to put a player into a specific swing, but match the swing to the player—and I was super-grateful for that. On a personal level, he was extremely kind and extremely loving in a grandfatherly kind of way. I always had Christmas and Thanksgiving dinners with him and his family."
Although he also ran group programs, Stearman believed in individualized attention. "I tell my kids, 'If I do my job right, you'll become your best teacher,'" he said.
Students like Weinstein are now finding that out for themselves. "Terry was my role model, the most important person in my life," she says. "Even though he's passed away and I'm on my own, I can look at what I'm doing and figure it out for myself. I always will be grateful for his time and the lessons that he taught me."
---
This article was also featured in the Spring 2020 issue of Colorado AvidGolfer.
Colorado AvidGolfer is the state's leading resource for golf and the lifestyle that surrounds it, publishing eight issues annually and proudly delivering daily content via coloradoavidgolfer.com. Follow us on Twitter, Facebook and Instagram.