Bursts of color, crossover appeal and new companies are putting a fresh bloom on golf clothes and accessories this season.
By Suzanne S. Brown
SHARK TANK
The Shark's influence continues in the golf world through Greg Norman's extensive apparel offerings geared to men, women and children. The top line in the group is GN Collection, menswear with equal attention given to performance fabrics, technical innovations and on-trend styling. The spring collection includes a vibrant Sunset group with tropical print polos, $80, in fabrics that include recycled polyesters, and UPF sun protection ratings from 15 to 50-plus. The summer collection features pieces like the Victory Polo, $80, in the company's PlayDry fabric that wicks moisture from the skin and keeps the body cool and dry. It's shown with the Liberty Shorts, $76; in a stretch fabric with flat front styling and a 10-inch inseam. See the full line at gregnormancollection.com.
SHOE IN
When a course is hilly or conditions are wet, spiked golf shoes can offer more grip, stability and traction than flat-bottomed shoes, which is why they're the choice of many competitive golfers. But they can also be heavy and clunky. Adidas set out to create a spiked shoe without those drawbacks and after two years in the making, the ZG21 has debuted. The company's lightest spiked shoe to feature its trademarked Boost cushioning, the ZG21 provides shock absorption and stability in its EVA foam foot bed. The shoe's four-layer upper is also lightweight and waterproof and the outsole has six cleats and a thick TPU construction. The ZG21 comes in four models and several colors, with the styles priced at men's laced, $180; men and women's BOA lacing, $200 and $190; and juniors, $65. adidas.com.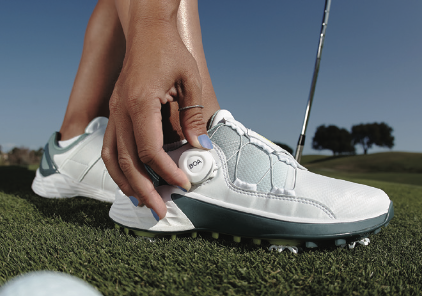 PLAYING THROUGH
Clubhouse closures at golf courses last year forced many players to buy their apparel online. Then again, that's how a lot of guys like to shop anyway. Among the brands embracing this trend is Devereux, which has decided to take its business direct to consumers and stop wholesaling. Making a statement of "same brand, new direction," the company says it can be responsive to consumers by creating affordable, frequent, smaller collections throughout the year rather than big seasonal rollouts, such as the "peachy" one it offered for the Masters. Among the other offerings is the DVRX Running Man cotton blend hoodie, $68, to wear when running from the course to home and everywhere else life takes a guy. Spring options also include drawstring waist shorts, $54; joggers, $68; easy quarter zips, $74; patterned polos, $64; and snapback hats with the company's sig- nature G*LF logo, $35. See the full collection at dvrxthreads.com.
FUN AND FUNCTION
Dianne Celuch and Tami Fujii are friends and business executives-turned-entrepreneurs whose mission in starting their apparel line in 2017 was to make golf accessible and fun for women. The company, Kinona (it means "shape" in Hawaiian), creates figure-flattering apparel using Italian fabrics made of regenerated nylon and Lycra. The materials have such features as four-way stretch, UPF 50-plus sun protection, and are antimicrobial and moisture-wicking. Styling details include pockets with tee holders, while skorts and dresses have mesh undershorts with gripper tape so they don't ride up on the leg. Among the spring offerings are a sleeveless dress with zip neck, two pockets and ruching one side. It comes in navy blue or a foulard print, $169. The ruching detail is also found in a shirt that has shaping details for a comfortable, flattering fit, $99; and a tailored skort, $129. Full collection at kinonasport.com.
WHAT LOHLA WANTS
Lisa O'Hurley grew up playing golf and spent a decade at the Golf Channel before moving over to the apparel side of the business. With a 5-handicap (and a hole-in-one she got at Eagle Springs Golf Club in Colorado), she knows what features golfers need and want in their clothes, plus she has a taste for de- signer fabrics and styling. O'Hurley spent seven years with the European brand Golfino before recently launching her own company, Lohla Sport. The name that her son helped her come up with is a combination of her initials: LOH (she's married to actor John O'Hurley) and LA, for her home in Los Angeles. The look is European-influenced and designed by Paul Rees, who has been at such brands as Burberry and Golfino. O'Hurley's spring collections pay tribute to California hot spots Venice and Malibu, but the sleek looks have coast-to-coast appeal in their vibrant coloring and designer fabrics. Tops are $90-$140; skorts and pants, $140; and outerwear, $210-$230. You'll find the collection at such Colorado clubs as Red Sky Golf Club and Telluride, as well as online lohlasport.com.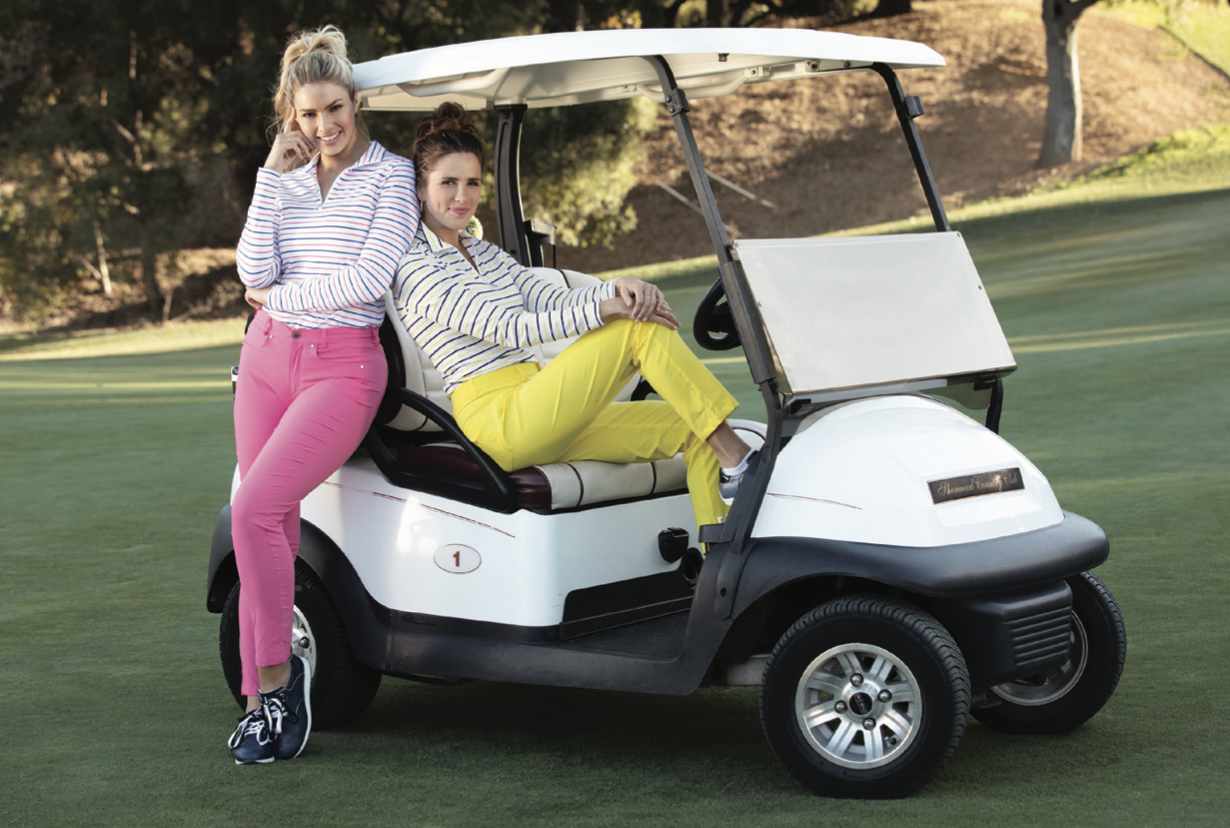 BREAKING DOWN BARRIERS
Sammy Berger and Tara Collins like to play golf, so when the University of Denver alumnae found them- selves with time on their hands during last year's pandemic, they started hitting the links more often. Then they went to shop for golf wear and found they didn't like the colors, patterns and lack of function in women's golf clothes. So they started their own company, Prio Golf. The business is named for Gloria Minoprio, a professional golfer who stood out for wearing pants as she played a major championship in England in the 1930s. The athlete's ground-breaking fashion choice led to more freedom of choice for women and that's what Prio aims to offer in the apparel line it's creating. As they put a collection together for fall 2021 delivery, Berger and Collins are also looking for ways to lower the barriers for women to enter the game, so for spring, they created a "Ladies Golf Etiquette Starter Kit" that includes practical advice on topics like setting tee times, renting clubs, etiquette around other players; plus golf balls, tees, a divot tool and hat. The kit is $50, and Colorado AvidGolfer readers can get a 10 percent discount by using the coupon code COAvidGolfer10 at priogolf.com.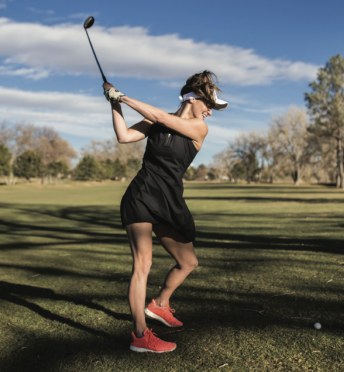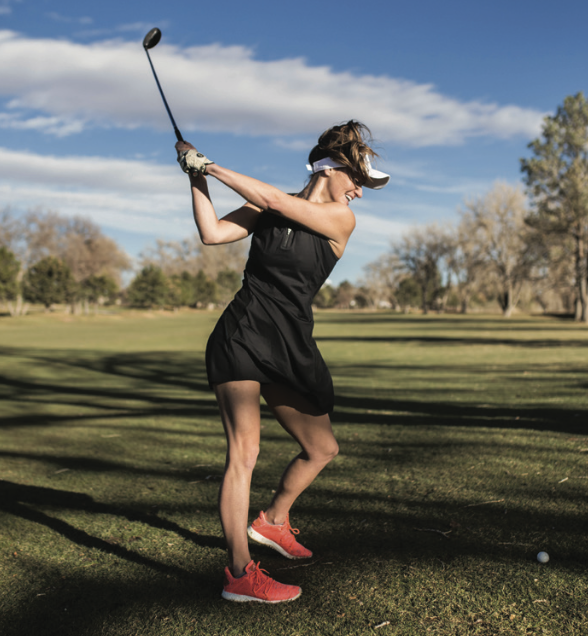 ---
This article was also featured in the May Issue of Colorado AvidGolfer.
Colorado AvidGolfer is the state's leading resource for golf and the lifestyle that surrounds it, publishing eight issues annually and proudly delivering daily content via coloradoavidgolfer.com.