Understand Your Shot Pattern To Dial In Approaches
By Ryan Gager
When you step up to a 100 yard golf shot, what is your expectation? Do you simply use your rangefinder to grab the distance, then go attack the flag? Do you account for where the trouble is on the hole? In this edition of Data Driven, GOLFTEC Instructors Zach Lambeck and Nick Clearwater take you through a few factors you should consider before pulling the trigger. It also would be helpful to review the P.A.R. Approach to help you hit more greens in regulation.
Depth of Shot Patterns for Various Skill Levels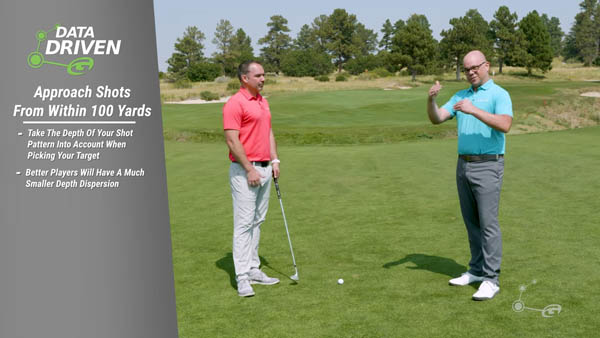 While Tour players will take dead aim at a pin that's 100 yards away, amateur players should take a different approach. All players should take into account the depth of their shot pattern when picking a target.
For an approach of 100 yards:
Tour Professionals will aim at the flag.
70s players have about 6 yards of depth dispersion.
80s players have about 10 yards of depth dispersion.
90s players have about 20 yards of depth dispersion.
With these dispersion numbers, it's important to find the correct aim point. With a hazard in front of this green, you don't want to come up short and end up in the penalty area.
 Taking A Look From The Green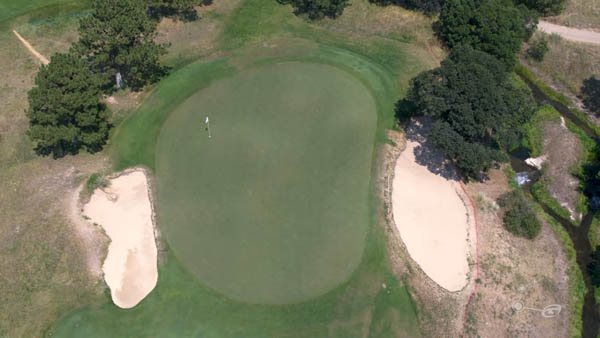 As Zach and Nick get onto the green, we can see that there is a hazard short and right. A greenside bunker to the right and a greenside bunker to the left.
With the green being 30 yards long, if the pin was in the front most players should be aiming well past the pin to ensure the ball is on the green and away from trouble. With the pin being in the back, it provides a better target to get your ball onto the green.
Looking at the trouble surrounding the green. 90s players will average 3.6 strokes from either of the greenside bunkers. So, getting the ball on the green and even 3-putting is a better outcome than trying to navigate the bunkers, or worse, the hazard.
Zach and Nick recommend mapping out your home course and noting where the trouble is around the greens, and where your aim points should be. You should also use a launch monitor to track your shots, or at least go to a range and review your shot pattern, looking for trends and common misses. Doing Skills Challenges at GOLFTEC is the perfect way to identify your patterns and work on your course management at the same time. Stop in to your local GOLFTEC today to set up a Skills Challenge and work with a GOLFTEC Coach, who will help you set up your game for success on the course!