Subtle Patriot is not your typical golf accessory manufacturer.
Tom Gocke seeks to respect every point of view, and certainly isn't about to throw the red, white and blue in your face. But he is most definitely a patriot.
Born into a military family 47 years ago, Gocke's grandfathers both served with distinction in World War II, his father began his career in the Navy but transferred to the Marines because "they got to go in first every time", his uncles were either Navy, Marine, or Green Beret in Vietnam, and now his nephews, one a Marine the other in the Air Force, are carrying on the family tradition.
Gocke's own path didn't include military service, but he has long done what he can as a civilian to support military personnel. And his latest venture is making a significant difference in the lives of veterans who return home after years on the battlefield without the skills to reestablish themselves in their own country.
Gocke graduated from UC Santa Barbara in 1994 with a degree in Sociology. "At the time, I thought I was going to play golf for a living for the rest of my life," he says. "However, I will say that understanding people's motivations and personality differences and tendencies has been very helpful in business, and in virtually every other part of life."
He moved to suburban Seattle in the late 1990s when he joined an upstart golf shoe company called 'Bite', remaining there until 2005 when he joined Ogio International, first as Director of Golf later becoming Global VP, Golf.
In 2012, Gocke took a call from Coronado, CA. The Navy needed to update its specialized bags, and Gocke met with the head of each training department – Communications, Snipers, Air Operations and Diving.
It was through the relationships he formed in Coronado that Gocke was asked to join the Board of NS2 Serves, a 501(c)(3) organization created in 2014 by Mark Testoni, the President of SAP National Security Services Inc. (the U.S. government sector arm for German software giant SAP). NS2 Serves exists to train returning service men and women for high-tech careers. "They needed a civilian on the Board and chose me," says Gocke. "NS2 Serves offers a twelve-week, boot camp-style program for veterans that awards graduates a highly-valued qualification. One hundred per cent of those that have successfully completed the course have found positions with a starting salary of at least $60,000."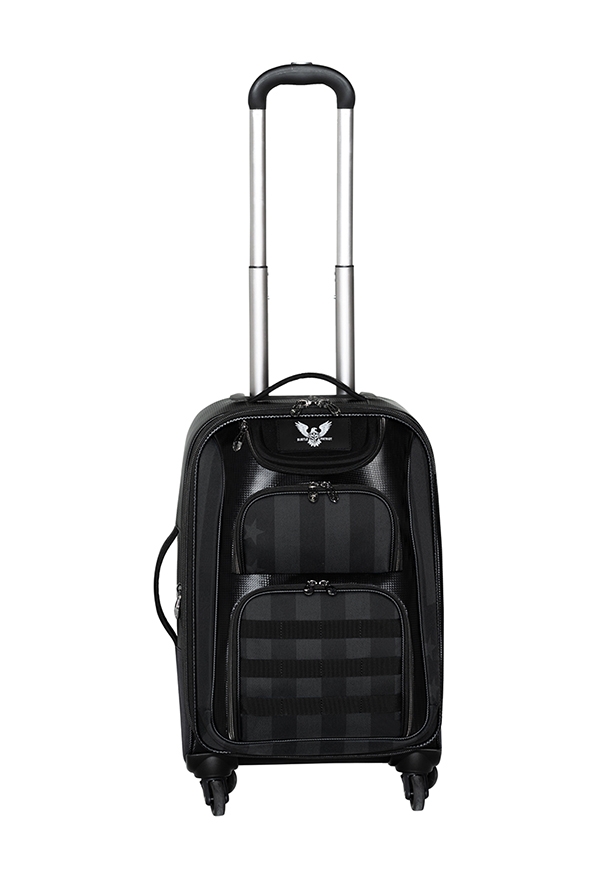 Still at Ogio at the time, Gocke was so involved, not to say impressed, with the vision of the program, he began designing a line of products emblazoned with the red, white and blue, the proceeds of which would go directly to the non-profit. "The first collection was a battle-worn, smoky-looking flag print called 'Stars and Stripes," he says. "It sold out, and in the second year, I made another collection called 'Special Ops' which was mostly black and grey." It too sold out. In year three, the collection was called 'Black Ops' – a black bag with highlights of the Special Ops print.
Gocke found that as the colors became increasingly subdued, the products sold quicker. His research told him that while 88% of Americans considered themselves patriots, only 4% were comfortable making bold statements by wearing clothes or carrying large accessories decorated entirely with the colors of the flag. "So I gradually reduced the amount of red, white, and blue on each product," he says. "The colors grew more subtle, hence the name 'Subtle Patriot', and sales increased fairly rapidly."
In January 2017, Callaway acquired Ogio and wanted Gocke to remain at the company. He didn't want to move to Carlsbad, however, so worked remotely for 15 months before cutting ties with the club manufacturer. Callaway chose not to go forward with the development of patriotic prints as they already had a number of existing programs devoted to supporting veterans.
Gocke was therefore able to commit full-time to his 'new' business which he incorporated in April 2018, releasing the first product officially in December. In just a few months, Subtle Patriot has expanded from a small, controlled collection within golf into a multi-category company. "We now make bags for travel, work, gym, and shooting sports as well as golf," says Gocke who uses the same factories he's worked with for the past 14 years – where he knows the quality is dependable.
The Henderson, NV-based company is decidedly upscale and also designs collections for other leading brands in the golf and shooting sports industries. It operates under the mission statement "Through the creation and sale of best-in-class products honoring our love of country, we will increase awareness and support for our nation's military veterans and first responders."
Each Subtle Patriot product features premium materials such as antique silver for the zippers, and duffel bags are designed to remain open, not collapse, while packing. The interior of every bag the company makes features a one-of-a-kind design depicting an iconic image of America's history – troops hoisting the flag at Iwo Jima, firefighters doing so at the Twin Towers, etc.
The golf shop currently includes putter covers, headcovers, travel bags, hats, luggage, and the excellent Covert Stand Bag which is currently available online and through 100 or so specialty retailers. Gocke's plans are to expand Subtle Patriot into Dick's Sporting Goods and PGA Superstore later this year, and finally into high-end department stores. And, given that he was able to donate $25,000 to NS2 Serves from first quarter sales alone, let's hope the expansions keep coming.
Buying cool accessories while helping veterans adjust to civilian life really is an excellent way to spend your golf budget.
Covert Stand Bag – $329
subtlepatriot.com
---
For more on the latest and greatest gear in golf, visit our GEAR PAGE.
Colorado AvidGolfer Magazine is the state's leading resource for golf and the lifestyle that surrounds it, publishing eight issues annually and proudly delivering daily content via coloradoavidgolfer.com.