First Green: STEM Sells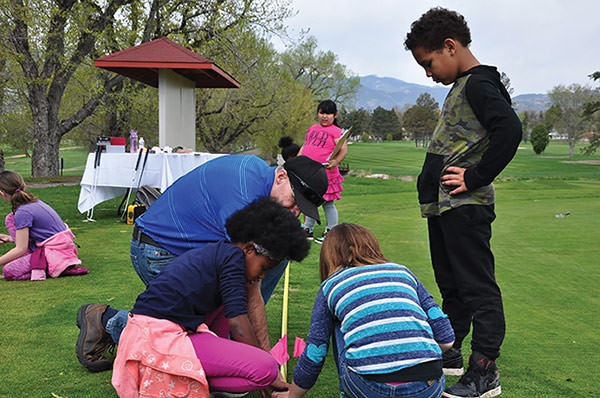 Turning a golf course into a STEM learning lab? First Green is all about it.
---
With STEM-related education becoming ever more critical in today's economy, parents and teachers are looking for fun, creative ways to spark young people's interest in science, technology, engineering and math.
So, how about turning the golf course into a STEM learning lab?
First Green does precisely that. Founded 20 years ago by golf course superintendents and members of the state junior golf association in Washington State, First Green is an innovative, hands-on environmental and STEM education outreach program. Not to be confused with The First Tee, First Green lessons teach everything from measuring greens to assisting in stream bed restoration to collecting and analyzing soil samples to identifying myriad flora and fauna, birds and bugs, fish and fungi and much, much more.
"Their eyes light up, they're absolutely invigorated by the process and what they're learning," explains First Green Board President Jeff Shelley. "They see that the lessons they learn in school have real-world applications."
First Green has benefited more than 20,000 students mainly in Washington, Oregon and British Columbia. National outreach has begun in earnest and David Phipps, the Northwest field staff representative for the Golf Course Superintendents Association of America (GCSAA), has gotten the ball rolling in Colorado.
Phipps introduced First Green during the annual G4 Conference in February. In May, the state's first First Green field trip took place, fittingly, at one of Colorado's first courses, Patty Jewett in Colorado Springs. The city's Golf Division Superintendent Pat Gentile and Patty Jewett Superintendent Jeff Wichman organized and hosted 41 third graders from neighboring Taylor Elementary School for a morning of learning and fun.
The kids learned to use a tape measure to figure the area of a green and what the differences were between sand, silt and clay soils. They compared the different grass clippings left by rough, fairway, and greens mowers, finding the fine, powdery cuttings from the greens particularly fascinating. The best part? "They're at the age where they love the equipment," says Gentile. "They learned what each piece does, and by far, their favorite was the greens roller." The kids, many who initially thought the grass on the greens was fake, also got to putt.
Colorado PGA Assistant Executive Director Keith Soriano and Phipps have discussed incorporating some of the First Green into the Section's Golf in Schools program. "We're looking to run four programs this fall," Soriano says. "Our curriculum and their curriculum both involve an hour at a golf course. We have to figure out how to jam two hours into one."
Plans currently call for a training day for course superintendents who want to bring the program to their courses. In addition to the members of the Colorado PGA and the Rocky Mountain Golf Course Superintendents Association, Phipps reports he has also received enthusiastic responses from the STEM coordinators at numerous school districts. "The level of support has been great so far," he says. "We're going gangbusters." thefirstgreen.org
---
This article appears in the July 2017 issue of Colorado AvidGolfer. Subscribe today!
Colorado AvidGolfer is the state's leading resource for golf and the lifestyle that surrounds it, publishing eight issues annually and proudly delivering daily content via coloradoavidgolfer.com.Follow us on Twitter, Facebook and Instagram.