Newport Beach's cosseting Resort at Pelican Hill defies visitors to resist its charms
By Ted Johnson
IN THE MAIN LOBBY of the Resort at Pelican Hill in Newport Beach the high windows facing the Pacific Ocean dilute the glare—the better for your eyes to take in the magnificent Tuscan Order columns and muted, hand-coated tan plaster walls supporting the 25-foot-high ceiling known as the Oculus. Who knew architecture could immediately soothe and ground you?
That same calming influence comes with the views from every balcony of the 204 bungalows and 128 villas, many with panoramic vistas of the Pacific, which, coupled with the large beach lounges, create a gravity belt that sucks your body onto the cushions for a Nirvana-like antidote to emails, tablet screens and other modern-world pressures.
If the "Escapability Factor" is what makes some getaways so rejuvenating, Pelican Hill steeps you in it. A stunning property whose main structures are built upon the principles of famed Italian architect Andrea Palladio, the resort opened in 2008, filling out 504 acres on the bluffs overlooking some of Southern California's best beaches. The Irvine Company intended it to be a warmer, Palladian alternative to Pebble Beach.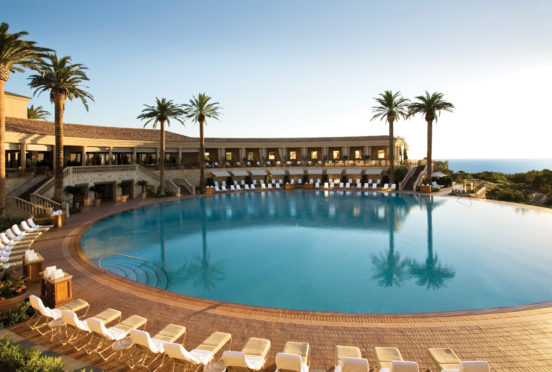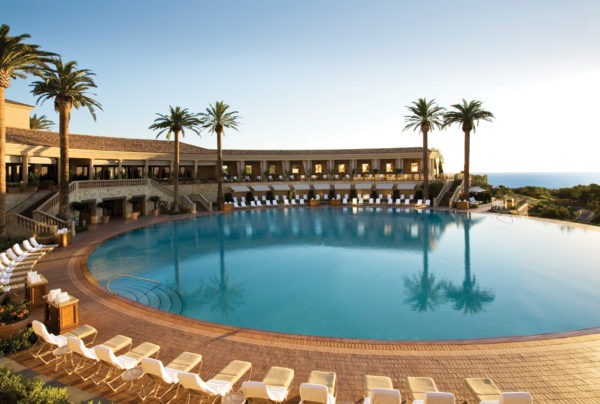 Pelican Hill's two top-rated, Tom Fazio-designed golf courses, its world-class spa, miles of hiking trails and its rental bikes for trips down the hill to Crystal Cove Beach across Pacific Coast Highway provide plenty of sources of physical and spiritual recreation.
You'll find the highest culinary standards in the resort's three main restaurants, with the Northern Italian-inspired Andrea the right call for its tableside-prepared risotto and wine collection (including a 1995 Chateau Margaux for $1,500). The café and market feature handmade gelato. All pasta is made on the premises.
The location, the views and the weather have made Pelican Hill a very popular wedding location. The resort limits celebrations to one a day in the "Wedding Estate" that includes the La Cappella chapel with its own bell tower and the iconic, soaring-dome Rotunda perched on the bluffs against the Pacific backdrop.
Luxury abounds. Mercedes SUVs ferry guests about. At the circular driveway next to the golf shop, local dealers drop off Ferraris, Rolls-Royces, Lamborghinis and Porsches. The resort refuses to say who and how many times, but celebrities frequent the resort. Staff will admit to Mark Wahlberg because his visit aired on TV. Sightings have also included President Bill Clinton and Golden State Warriors shooting guard Klay Thompson.
If all of this sounds too elitist or pricey, consider that a stay at Pelican Hill shaves about five hours and beaucoup dollars off a Caribbean or Mexican vacation, and DIA-to- John-Wayne Airport flights are plentiful and inexpensive.
That translates into more time in a luxurious environment. That saved money gets transformed into more enjoyment of your risotto with Parmesan grated from Andrea's 50-year-old cheese wheel. That's more spa time in the 22 treatment rooms to go along with steam rooms, saunas and saltwater Roman soaking tubs.
That means more time soaking up the sun next to the
Pool, unique in that it is 136 feet in diameter, four feet deep and bedazzled by 1.1 million glass mosaic tiles. The surrounding terraced decks with private cabanas and fabulous ocean views invite you soak it all in.
That also translates to more time on the North and South golf courses that demand pictures on their signature holes—the par- 5 17th and par-3 16th, respectively—whose greens hang impossibly on the horizon.
Resort guests pay $275 a round, and first-timers will appreciate paying an additional $45 each for a forecaddie. Both courses are built on rolling terrain where uphill and downhill are often difficult to discern. Without local knowledge, you'll be moaning about a lot of four-putts on these fast and tricky greens. Plus, knowing what plays up when it looks down and what hides behind some of Fazio's shapes will save strokes and lost balls.
The South course is known for holes 11- 12-13—a string that takes golfers to the west side of the highway. A short par 4 and back-to- back par 3s, this stretch hints at natural links, but note that the large rocks on the par- 3s are really blown fiberglass, much like that which constitutes Disneyland's Matterhorn.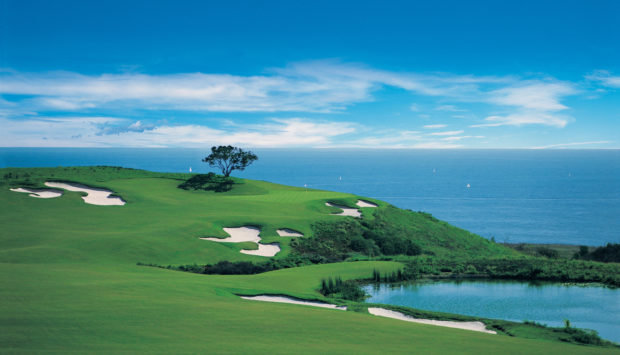 The North course feels more ethereal, particularly on the 17th. Morning players can find themselves in misty conditions that suddenly clear to offer panoramic views of the Pacific. Fazio's bunkering is exquisite and the yardages on the cards often mean little due to the elevation changes. Caddie insight for carry distance and where to hit the greens prove well worth the money.
The bungalows start at about $700 a night, the villas at $800. Most villas have at least two large master suites and an extra bedroom and bath, easy for two or three couples or large families to inhabit. The villas are equipped with hand-made wood-beam alder ceilings, marble walk-in showers, wine cabinets, gourmet kitchens with Sub-Zero refrigerators and Wolf ranges, professional cookware, Bose audio systems and much more.
On shoppelicanhill.com, the resort's online store, the No. 1 inquiry comes from guests looking to buy the plush, custom beds. With accommodations and activities like these, escapability transforms into captivity. You don't want to leave.
Ted Johnson is a California-based CAG contributor. For more information, visit pelicanhill.com; 888-507-6427.
---
Colorado AvidGolfer Magazine is the state's leading resource for golf and the lifestyle that surrounds it, publishing eight issues annually and proudly delivering daily content via coloradoavidgolfer.com.