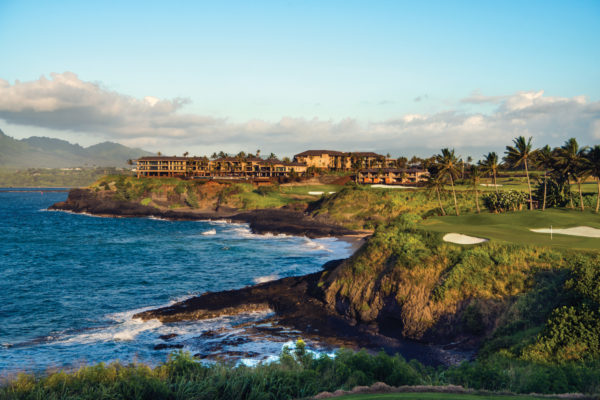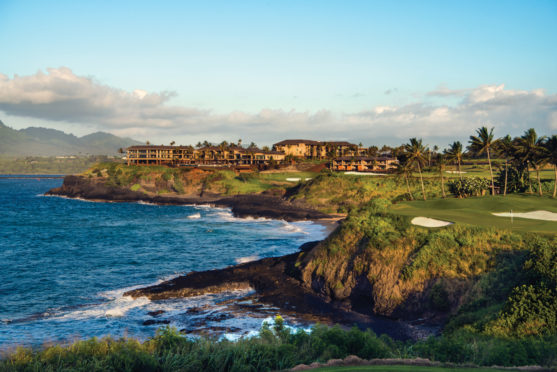 The island of Kaua'i is as good as it gets for golf
By George Fuller
Robert Trent Jones Jr. has been designing golf courses in Hawaii for close to 50 years, first as an assistant to his father on the seminal Mauna Kea Golf Course on Hawaii Island in the early 1960s, before setting out on a solo career that includes some of the Aloha State's best original layouts.
When asked to define what makes golf in the islands stand apart, Jones answers without hesitation: "There's a beautiful wildness to Hawaii. And a wonderful spirit of aloha everywhere you go. Best of all, most of the courses have ocean views. The combination of these things makes playing golf in Hawaii unique in the world."
The "beautiful wildness" Jones describes is most easily found on Kaua'i, an island defined by majestic green mountains ribbed with knifelike ridges that plunge to the Pacific, thick and colorful foliage that has provided the ideal tropical background for films including South Pacific (1958), Elvis Presley's Blue Hawaii (1961), Jurassic Park (1993), The Descendants (2011) and Jurassic World (2015), and adventures from horseback riding to zip-lining to ocean sports. And yes, the golf is darn good too.
A Perfect Landscape for Golf
"Kaua'i is a perfect landscape for golf," Jones says. "Although everyone immediately recognizes the dramatic beauty of the ocean, Kaua'i also has spectacular inland views of the rugged mountain ranges."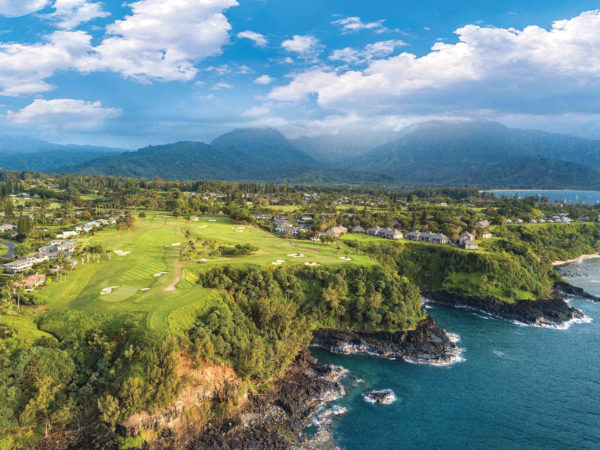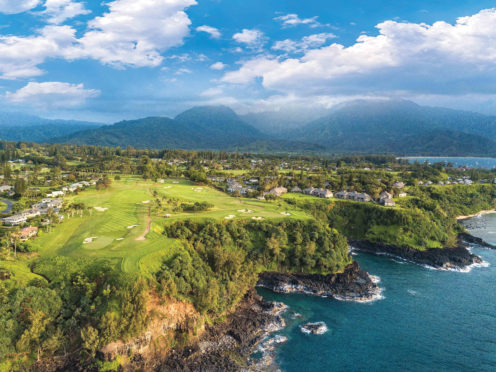 In addition to owning a home on Kaua'i's north shore for many years, Jones has stamped his signature on some of the island's best designs, including the Princeville Makai Golf Club in Princeville and Po'ipu Bay Golf Course in Koloa.
Both of these designs take full advantage of those panoramic ocean and mountain views Jones describes, and while both are resort-style courses, make no mistake: these are championship-quality challenges.
"The three pillars of our club are oceanfront beauty, immaculate conditions, and unmatched aloha," says Doug Sutter, general manager of Princeville Makai Golf Club. "These pillars give our entire team the utmost pride in our product and passion for delivering the best guest experience possible."
The course is a joy to play. Traversing rolling landscape above the Pacific, Princeville Makai boasts six oceanfront holes—three on the front and three on the back.
The most spectacular stretch might be holes six through eight, all of which play along oceanfront cliffs. After your drive on No. 6, you play towards the ocean on your second shot to an infinity green that appears to spill over the cliff and into the ocean. Whales are sometimes seen offshore from this vantage point, and soaring albatross showcase their seven-foot wingspan as they gracefully glide to their nearby nesting areas.
Makai No. 7 rates as one of the best par-3 holes in the state, playing from a cliffside tee box to a putting surface on the other side of a chasm. When staying on the north shore, consider The Westin Princeville Ocean Resort Villas, a low-key property that offers studio, one- and two-bedroom villas adorned with Hawaiian touches and all the comforts of home.
Sunny South Shore
Po'ipu—on the south shore of the island—not only dishes up a really good golf course with Poipu Bay Golf Course, but offers some of the best beaches, local shopping, and dining on the island. Two of the premier accommodation choices in this sunny area are the Sheraton Kaua'i Resort and the Grand Hyatt Kaua'i Resort & Spa.
Set on 210 acres of dramatic headlands above the Pacific, with several holes playing right along the cliff 's edge, Poipu Bay Golf Course is where the PGA Grand Slam of Golf was played from 1994 to 2006. Greg Norman won the inaugural major-winners-only event in 1994, and his successor as number-one player in the world, Tiger Woods, dominated from 1998 through 2002. Phil Mickelson set the course record with a remarkable 13-under-par 59 on the final day of play in 2004.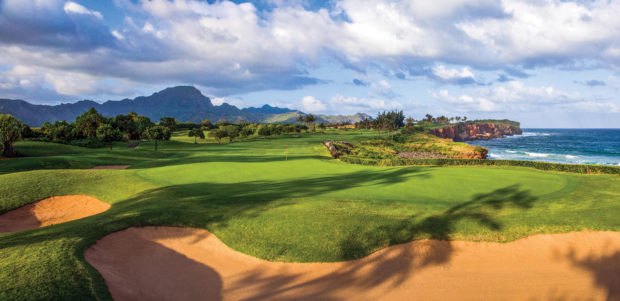 This Jones II-designed track ranks among Hawaii's most beautiful, although it can also rank among the Aloha State's toughest when the wind is blowing off the Pacific. No. 15 is an awesome hole: A 477-yard par-four, the tee box is situated on an elevated bluff with a steep cliff plummeting down to the Pacific Ocean on the left. Your tee shot typically plays downwind to a wide fairway. Favoring the right side (as the ocean is on the left) a decent drive leaves players a mid-iron approach to the green backdropped by the Grand Hyatt and a sweeping view of the cliffs and water.
Players also encounter a number of significant historical sites that are protected and maintained by Poipu Bay staff, including several ancient Hawaiian heiau (places of worship) and handmade stone walls that date back an estimated 500 years.
A Golfer's Paradise
In Lihue, adjacent to the island's main airport, players find the magnificent Jack Nicklaus designed Ocean Course at Hokuala (formerly known as the Kiele Course at Kaua'i Lagoons). The front nine is a big hitter's dream with wide fairways and memorable holes, such as the par-3 fifth, where your tee shot must traverse a gaping canyon filled with towering mango trees.
But it's the back nine where the scenery really kicks into high gear. In fact, Hokuala features the longest continuous stretch of oceanfront holes in Hawaii—Nos. 12 through 16—and they are at once extremely scenic and great fun to play.
Hole 14 is a dynamic par 3 that plays from a blufftop tee to a blufftop green, with shots missed left standing a good chance of landing in the Pacific. The hole is ringed by swaying coconut trees, with as-good-as-it-gets ocean and mountain views.
Number 15 is a new hole along the same bluff, playing to a green in the shadow of the recently opened Timbers Kaua'i Ocean Club & Residences, where some of the newest and most coveted real estate on the island is located.
Then there's No. 16. As fun a hole as you'll ever play, you fire your tee ball toward the crest of a blind fairway that careens downhill to a putting surface next to a picturesque lighthouse. It plays less than 285 yards from the resort tees, and with the downhill run you stand a chance of getting close. But birdie, par, or "other," the picturesque beauty of this hole overlooking Nawiliwili Harbor does truly outweigh your score.
The golf course is managed nowadays by Timbers Resorts, as are Hokuala's shopping areas and residential units.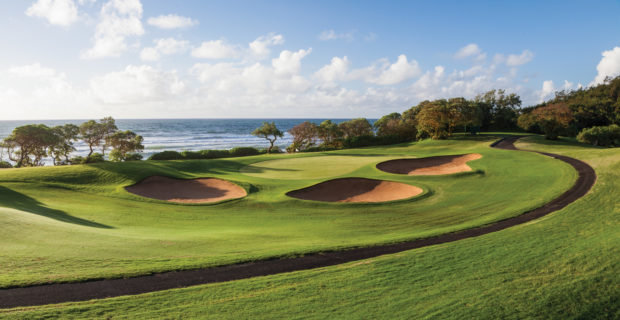 Nearby Puakea Golf Course opened as an 18-hole course in the summer of 2003, after several years as "the best 10-hole course in the world" as Sports Illustrated called it. Designer Robin Nelson created a routing that plays around deep ravines and streams, with dramatic mountain views so stunning that even the most obsessed of golfers pause to take them in. A fun daily-fee course, Puakea is preferred by many local players. Actor Craig T. Nelson, who has a home in Princeville, calls it one of his favorites, and rates here are under $100.
Another favorite of locals is Wailua Municipal Golf Course, a layout that fronts the ocean on several holes and has hosted three Amateur Public Links Championships over the years. A golf shop and restaurant are available to serve golfers and the public, and the course is a lot of low-key fun to play. Non-resident rates on this walkable layout range from $48-$60.
There is a phrase in the islands, Hawai' i no ka oi … Hawaii is the best. Ask any golfer who has experienced his or her favorite game in the beautiful wildness of Kaua'i, and they are likely to strongly agree.
Hot Tips
Princeville Ranch—2,500 acres of authentic adventure, including horseback riding to hidden waterfalls, zip-lining from mountain ridges, ATVs, more, in the land where Jurassic Park was filmed.
Waimea Canyon State Park—14 miles long, a mile wide, and more than 3,600 feet deep, Mark Twain called it "The Grand Canyon of the Pacific." Drive to the top and look out at rugged crags and deep valley gorges, or hike the Waipo'o Falls Trail through the canyon.
Na Pali Coast—Spring storms washed out the road leading to this 17-mile stretch of 3,000-foot-tall cliffs accented with green valleys and sea caves, but you can still take an air or boat tour of this must-see area. • JO2—One of the best restaurants on the island, JO2 is Chef Jean Marie Josselin's delightful eatery in Kapaa. Think lemongrass sesame-crusted mahi mahi, lots of creative veggie options, and local banana cream pie with a scoop of banana gelato.
Kilohana—A vintage, 16,000-squarefoot 1935 sugar baron's plantation house is the centerpiece of this step-back-in-time experience, complete with a working plantation railway, Gaylord's Restaurant, and Koloa Rum Co.
Lappert's—No visit to Kauai is complete without a visit to Lappert's for ice cream. With three locations, it's easy to find and hard to forget. The caramel coconut is divine, but the white chocolate macadamia nut runs a close second. They also ship to the Mainland!
George Fuller is a Hawaii-based writer and president of Flagship Communications.
For more information, visit GoGolfKauai.com, gohawaii.com/kauai, or call 800-262-1400.
---
Colorado AvidGolfer Magazine is the state's leading resource for golf and the lifestyle that surrounds it, publishing eight issues annually and proudly delivering daily content via coloradoavidgolfer.com.