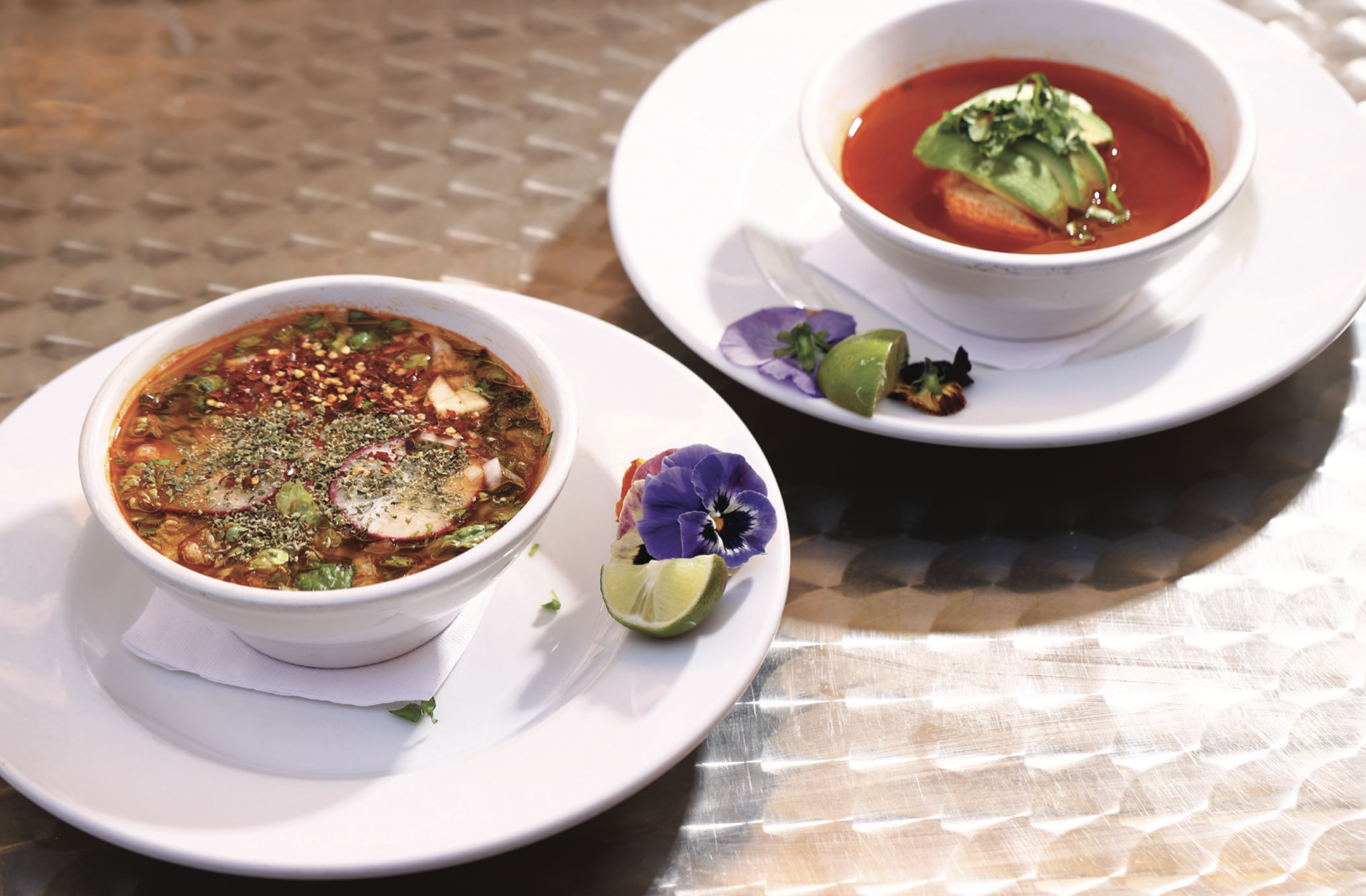 Bowls of brothy goodness from around the world own permanent slots on Denver's restaurant menus.
By John Lehndorff
SOUP MAY BE THE most social dish we eat—yes, even more social than nachos. We lean forward over our bowls to eat soup, our faces close together as we inhale the steam and sip that first boiling hot spoonful…
Soup is also the noisiest food around. We may chew our sandwiches quietly, but we openly and loudly slurp our noodles. Slurping cools and aerates soup; in many nations it's expected in pub- lic. That's the sound of satisfaction.
From Thailand to Italy, every great cuisine on the planet serves a much-loved hot soup—and that's true even in the muggiest tropical regions. Thankfully, when people migrated to Colorado, they brought along their soul-satisfying meals in a bowl—everything from pho ("phuh") to chicken matzo ball soup. Unlike pumpkin-spice pancakes and seasonal salads, the following broth-based
icons take up permanent residency on Denver restaurant menus. These are the soups we turn to when we need to melt the midwinter frost off our faces.
CHILI VERDE'S CALDO TLALPEÑO
Chicken and vegetable soup is pretty simple, right? Not when it's a great soup. At North Den- ver's Chili Verde restaurant, Caldo Tlalpeño is layers of flavor built around a red-hued, broth that simmers for days. The perfume that wafts from the spicy soup is downright charismatic.
The broth is packed chunks of potatoes, sweet carrots and onions that aren't mushy, plus pulled chicken breast and a topping of sliced avocado. A squeeze of lime on top harmonizes nicely with the chipotle kick. Walk in shivering and this soup will send you out the door with a warm afterglow.
Chili Verde's authenticity is maintained by Puebla, Mexico-raised brothers and owners Eder and Hanzel Yanez-Mota. The tables at the spa- cious, airy eatery are set with cloth napkins. The menu shines a culinary light on regional dishes not always available in the city's other taquerias. Chili Verde also offers a stellar Pozole Poblano with chunks of pork, real hominy and red salsa.
2311 Federal Blvd., Denver chiliverdedenver.com
RAMEN STAR'S SPICY MISO RAMEN
You can tell when a restaurant takes its soup seriously. Denver's Ramen Star slow cooks a rich, meaty broth and makes its own authentic Japanese noodles. Our favorite, the spicy miso ramen, is all about umami, the lip-smacking
taste that comes from broth and noodles topped with chashu braised pork, ground beef, green on- ion, beansprouts, corn, bamboo shoots and chile paste for heat. A tea-infused soft-boiled egg lends some yolky richness. Depending on your skills, you can nab coils of slightly chewy noodles with chopsticks or, like me, use a fork.
Consider pairing this ramen with a cup of sake from Ramen Star's curated list.
For an out-of-the-ordinary experience, sample the eatery's Chocolate Ramen. It's not a dessert, but rather a rich, meaty ramen bowl dotted with house-made dark chocolate wontons. It has a unique savory and sweet appeal reminiscent of a Mexican molé sauce. This dish is for dine-in enjoyment only.
4044 Tejon St., Denver ramenstar.com
ZAIDY'S CHICKEN MATZO BALL SOUP
It's not called "Jewish penicillin" for nothing, bubby. Chicken soup has been prescribed by doctors and grandmothers for colds, chills and the blahs. Generations of Denverites sipped chicken matzo ball soup at the original Zaidy Deli. Thankfully, they can continue now at the reborn Zaidy's in a new location which boasts the same menu.
The soup arrives at the table brimming with that signature clear broth topped with a chicken- fat sheen and shimmer. Chopped celery and onions, carrot rounds and shredded chicken are joined by a large tender matzo ball dumpling. It is an immune-boosting, nutrient-rich comfort. The soup comes served with a plate of classic deli pickles and a challah roll you can dunk in the soup or enjoy with butter and honey.
600 S. Holly St., Denver zaidysdeli.com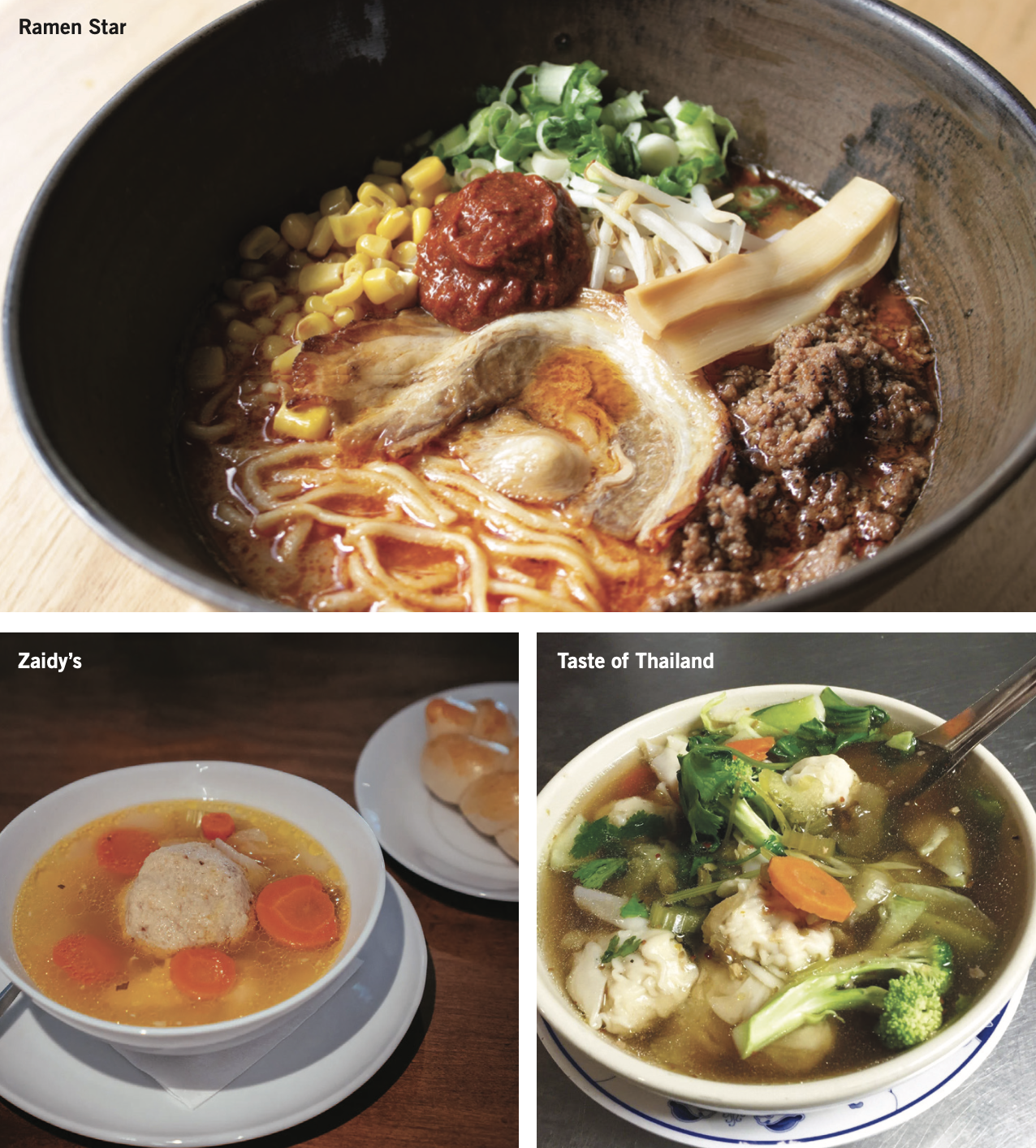 TASTE OF THAILAND'S FLU SHOT SOUP
The Flu Shot Soup at Denver's Taste of Thailand is a local legend, with fans travelling miles to grab a quart when it rejoins the menu each fall. While this Thai tom kha variation can be topped with chicken wontons or with tofu, it comes in only one invigorating flavor: Hot! The menu notes in bold-faced type that this soup "cannot be made less spicy." Flu Shot Soup is laced with a truly medicinal level of herbs, Thai chilies, fresh ginger and garlic along with loads of fresh vegetables. You know that the prescription is working when beads of sweat start forming on your forehead and your nose clears.
In a town loaded with Thai eateries, Taste of Thailand has always stood out for its devotion to careful preparation and a focus on exceptional fresh vegetables.
The restaurant also features a great version of Tom Ka Gai, the cream coconut milk and chicken soup with lemon grass, galangal and cilantro. 2120 S. Broadway, Denver tasteofthailand.net
NEW SAIGON'S RARE STEAK AND MEATBALL PHO
When New Saigon opened 30 years ago on South Federal Boulevard, only a handful of Colorado eateries served pho and most diners had never tasted it. Now there are spots all over the region advertising the Vietnamese hot noodle soup, but none do it as authentically as New Saigon's pho pros.
This is the original bone broth, a meaty elixir laced with star anise and packed with thin, soft rice noodles. Our selection was topped with rare steak which cooked in the broth and little meat- balls. Fresh mint, bean sprouts, sliced jalapeno and lime add crunch and spice. Individual bites can be customized with hoisin sauce, sriracha sauce or chilies in oil.
This pho is a salty, sour, herbaceous soup that bounces around happily on your taste buds. At the end of the meal don't be shy about grabbing the bowl, tipping it up to your lips and savoring every last bit of broth. It's the polite thing to do. New Saigon also dishes a slew of other traditional soups including wonton, hot and sour, and roast duck with egg noodle soup.
630 S. Federal Blvd., Denver newsaigondenver.com
GAETANO'S MINESTRONE
Everyone from Leonardo Da Vinci to Federico Fellini have expressed their love for minestrone, the humble Italian meal starter. Even the Smaldone brothers—the Denver mobsters who originally ran Gaetano's—always had minestrone on the menu, and there it remains. Besides the big flavor, we like Gaetano's minestrone because you can eat it with a soup spoon. You get chunks of multiple vegetables and macaroni in every bite and a bit of the bright basil pesto that garnishes the top of every bowl. We like our minestrone with a liberal flurry of grated Parmigiano, slices of soft Italian bread and a glass of red wine. 3760 Tejon St., Denver gaetanositalian.com
Great Hot Soups on Denver Menus
French Onion Soup: Caramelized onions in broth topped with Gruyere cheese and croutons. LeRoux, Denver, lerouxdenver.com
Zurek Soup: Fermented cheese broth with kielbasa sausage, potatoes and hard-boiled egg. Cracovia Polish-American Restaurant, Westminster, cracoviarestaurant.com
Wonton Noodle Soup: Rich broth with wontons and noodles. Lao Wang Noodle House, Denver, laowangnoodlehouse.com
Butter-poached Lobster Ramen: Served with wakame, mushrooms and miso-bonito broth. Chimera Ramen, Boulder, chimera.kitchen
Lebanese Lentil Soup: Red lentils in broth with vegetables, spices and herbs. Ali Baba Grill, Denver, alibabagrill.com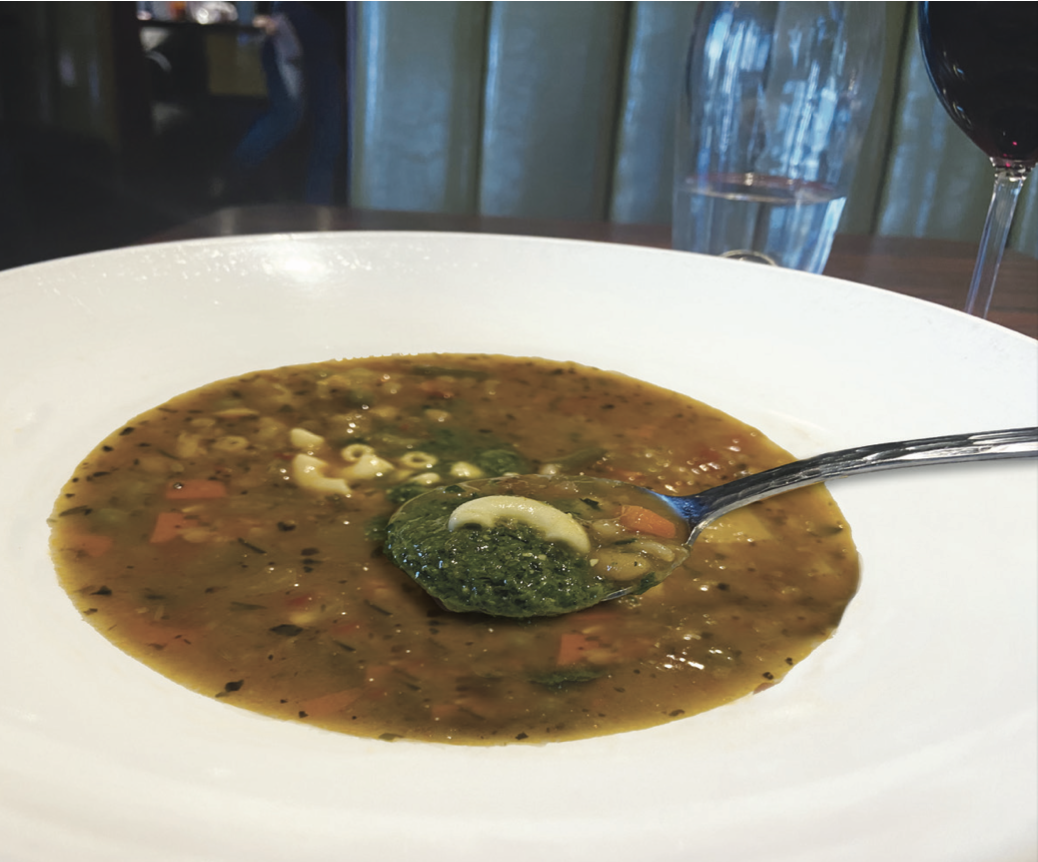 Classic Minestrone with Pesto
This recipe is inspired by the traditional minestrone served at Gaetano's restaurant in Denver.
Ingredients:
For the Minestrone:
11⁄4 cups dried Great Northern beans
1⁄2 teaspoon salt
1⁄2 cup olive oil
1 medium onion, chopped
1 large stalk of celery, diced
1 carrot, peeled and diced
3 large garlic cloves, sliced
1 cup trimmed, cut fresh green beans
1 medium zucchini, cubed
3 cups shredded spinach leaves
2 to 3 small red potatoes, diced
2 cups shredded cabbage
1 small eggplant, peeled, cubed
7 ounces pasta (elbows, bowties, etc)
1 28-ounce can chopped tomatoes,
5 to 6 cups chicken broth (preferably unsalted)
Salt and fresh ground black pepper, to taste
Grated Parmesan cheese
For Pesto:
1 to 2 cups fresh basil leaves
2 to 3 large cloves garlic, peeled
1⁄4 cup pine nuts
4 ounces pecorino and Parmesan
cheeses, grated
1⁄4 cup olive oil
Directions:
Soak beans in warm water over night. Rinse and cover with water in a large pot. Add salt. Bring to a slow boil and cook for 60 to 70 minutes or until tender. Add more water as needed. Set aside. In a deep pot add olive oil, onions, celery, potatoes and saute for 15 minutes on medium heat. Add broth and simmer for 30 minutes. Add green beans, zucchini, eggplant, cabbage and cooked beans and simmer another 15 minutes. Place a couple of ladles of the soup into a blender or food processor, purée and add back into pot along with spinach and pasta. Add more broth or water as needed. Simmer another 8 to 10 minutes and stir to keep from sticking. Taste and add salt and pepper. Allow soup to sit for 15 minutes before serving.
To make the pesto, place all ingredients in a blender or food processor. Add more olive oil as needed. Taste, adjust seasonings and spoon on top of servings of soup. Serve with grated cheese.
Noted soup lover John Lehndorff is the former Dining Critic of the Rocky Mountain News. He writes the Nibbles column for the Boulder Weekly and hosts Radio Nibbles on KGNU.
---
This article was also featured in the Winter 2021 Issue of Colorado AvidGolfer.
Colorado AvidGolfer is the state's leading resource for golf and the lifestyle that surrounds it, publishing eight issues annually and proudly delivering daily content via coloradoavidgolfer.com.