New models of many colors, engines, shapes and sizes add spice to car-buying life.
By Isaac Bouchard
VARIETY IS ESSENTIAL to avoiding a humdrum existence. This applies to automobiles as much as it does to films, books, food, music, travel and other essential indulgences. Thankfully we are living in a true Golden Age for those who love cars, trucks and SUVs; there are roaring internal combustion engines, pure electric vehicles and combinations of the two in most every shape conceivable.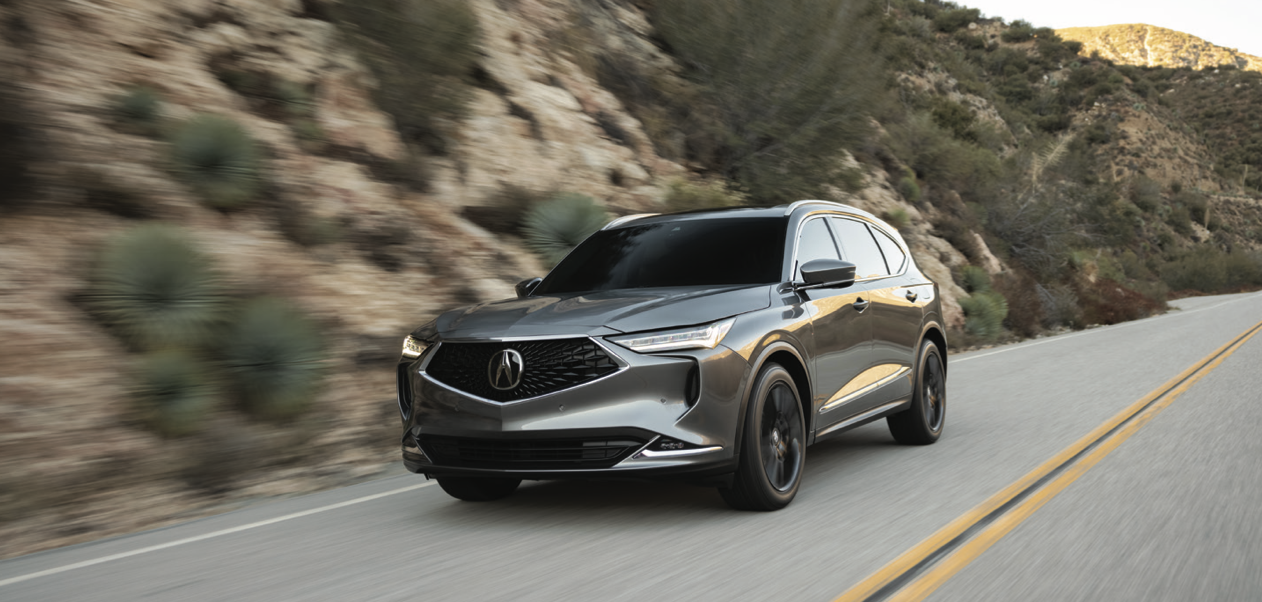 2022 ACURA MDX
EPA RATINGS: 19/25/21 0-60MPH: 6.4 SEC
PRICE AS TESTED: $62,175
Acura plays in a somewhat broad market space; it is generally seen as a notch down from Lexus or Mercedes, but it is certainly premium. Call it attainable luxury. The new MDX fits well there; it is more upmarket than the outgoing model, with fashionable styling (especially that clean, pert tail) and enough soft-touch surfaces inside to reward prodding, probing fingers.
On the Advance model, everything is standard, including real wood trim, upgraded leather, 16-way adjustable front seats and a panoramic roof. The middle row buckets are comfy too, but the third row is more restrictive than before, a disappointment given the MDX's larger, stiffer body shell.
The 3.5-liter, 290hp V6 engine is mostly carry over, as is the 10-speed automatic; acceleration is class-average at 6.4 seconds to 60mph. Handling, always good, is even better now, thanks to a switch to a control arm front suspension. Acura's great-as-always Super Handling AWD hardware means it resolutely resists understeer, too.
The helm is precise but doesn't offer the level of feel of a less expensive Mazda CX-9. Ride quality on the adjustable damping is superb; Acura has done a great job of keeping the luxury end covered. The True Touchpad interface takes getting used to, yet once that takes place, it is logical and fast. And, while the ELS Studio name may not conjure audiophile dreams, this 16-speaker setup is much more resolving and accurate than many, better-known systems.
Although it costs roughly $15,000 more than terrific three-row rivals like the Mazda CX-9 and Kia Telluride, the MDX is priced tens of thou- sands less than Audi and Volvo crossovers, and in this newest iteration conveys enough excellence to still seem a good value.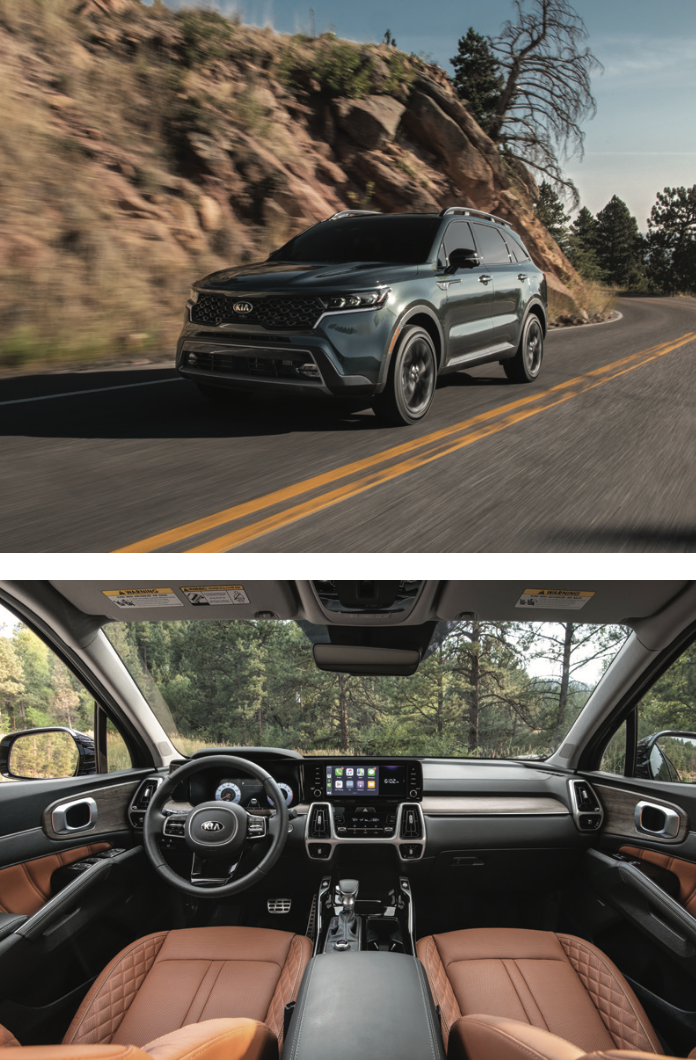 KIA SORENTO
EPA RATINGS: 21/28/24 0-60MPH: 6.3 SEC
PRICE AS TESTED: $44,285
The all-new Sorento comes in myriad forms—from a very basic, midsize crossover to a plugin hybrid that gives the Toyota RAV4 Prime a real run for its money to powerful, near-lux models. The X-Line tops the lineup; it features unique, grayed-out trim, a beefer looking roof rack and other styling updates outside. Inside, there's well-done, faux barnwood, seats and trim in high contrast, attractive colors and large, high-resolution screens. The interior is well-sized for four (the back seat is occasional use only) and capacious for cargo and most modern conveniences come standard. The X-Line has the most powerful Sorento engine, a 2.5-liter turbo with outputs of 281hp and 311lb-ft and a twin-clutch transmission; 0-60 takes 6.3 seconds. Ride and handling are above average, only underdamped shock settings hold it back. While not the total home run the Telluride is, the Sorento is an excellent addition to Kia's burgeoning line of crossovers.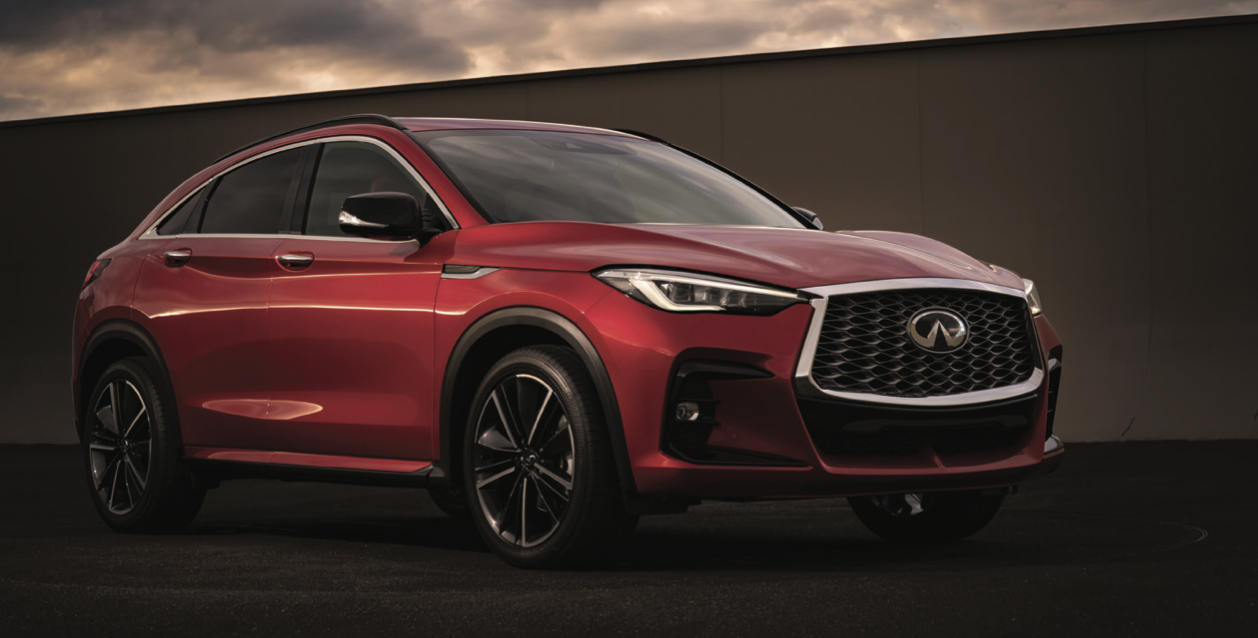 INFINITI QX55
EPA RATINGS: 22/28/25 0-60MPH: 6.4 SEC (EST)
PRICE AS TESTED: $58,770
Variety really is the only reason the QX55 exists. No one needs a utility vehicle with less utility, do they? However, one of the savviest ways for a car company to leverage its investment in a vehicle platform is to build different versions of it. With crossovers, that means a coupe version with a sweeping, fastback roofline. Infiniti took this lesson to heart with the QX55, updating some excellent foundations, while increasing the drama.
Mechanically, it is basically identical to the QX50, which lands on the larger end of its size category for interior volume. This means the coupe still has a roomy back seat and very large cargo hold, despite its chopped roof. Changes inside are mostly down to trim material and color selection, but that is not a bad thing, as the twin, stacked infotainment screens work well when used with a smartphone, and material quality is excellent.
Outside, Infiniti has bestowed a different grill and front fascia to go with that derrière; the 20-inch wheels are unique, and the overall pack- age does stand apart from its donor. The QX55's chassis is comfortably refined yet has more than a dash of handling acumen.
The powertrain is perhaps the weakest part of the overall package. While the 2-liter, 268hp/280lb-ft turbocharged engine is incredibly advanced in design, output from it doesn't flow in a linear fashion. This is exacerbated by a continuously variable transmission; the result is a long-distance relationship between the pressure applied to the accelerator pedal and forward progress. Still, the QX55 represents good value, undercutting competitors in price and lease payment while insuring a superb aftersales experience, according to independent surveys.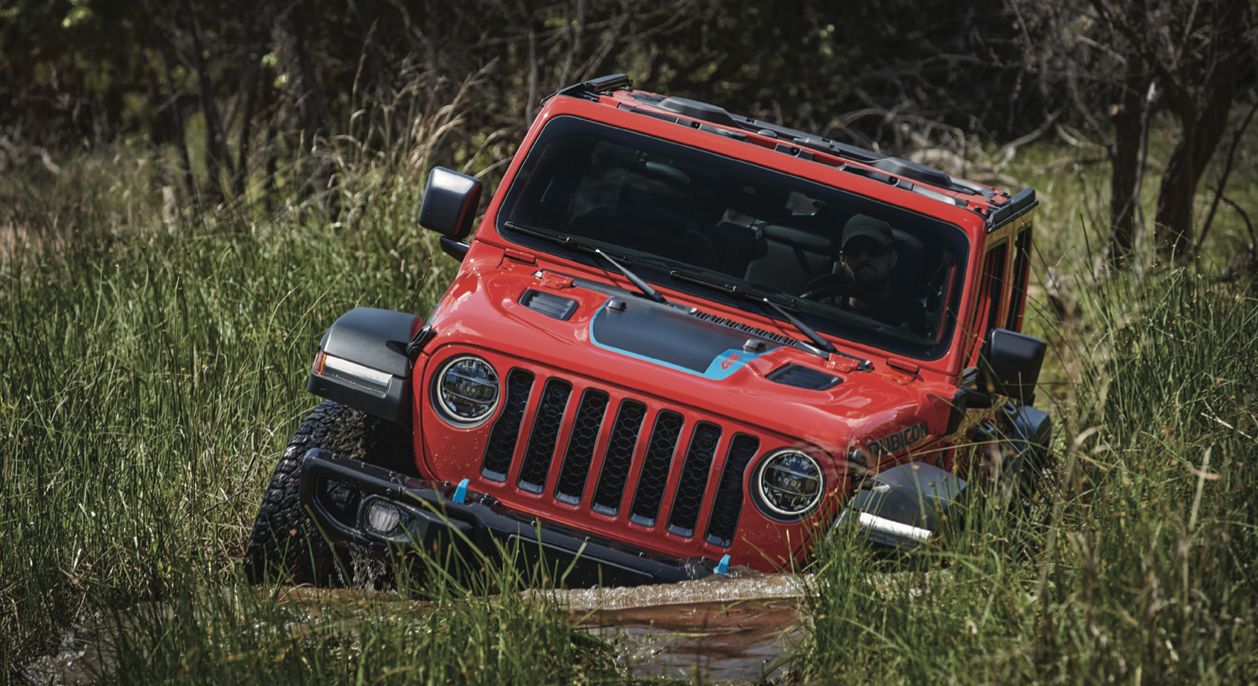 JEEP WRANGLER 4XE
EPA RATINGS: 49MPGE 0-60MPH: 5.5SEC
PRICE AS TESTED: $61,265
The Wrangler is one of the most conceptually archaic vehicles you can buy, which is a big part of its charm and what makes the idea of a 370hp, plugin hybrid version somehow so appealing.
Obviously, this "Four By E" isn't something anyone needs, but then again, how many of the
best things in life are? With a powertrain comprised of a lithium-ion battery, two electric motors and a turbocharged engine, the Wrangler's numbers are impressive: Combined output is 375 hp and 470 lb-ft, and it does 60 in only 5.5 seconds. The 4xe will go more than 20 miles on electrons, and there is—in theory—the ability to go off-roading in near silence.
The reality comes up a bit short, in that the two electric motors' 134hp isn't enough oomph to move the 5,300lb Jeep over real obstacles,
and sometimes there are pauses in power delivery, but overall it is very compelling. The Wrangler has become Jeep's 911; like that Porsche model there are so many variants it can be hard to keep up. However, between the mild hybrid 4-cylinder turbo, V6s that run on either gas or diesel, this plugin hybrid and the bonkers, 470hp "392" V8, there is one Wrangler that will suit anyone whose fallen for this glorious, rolling anachronism.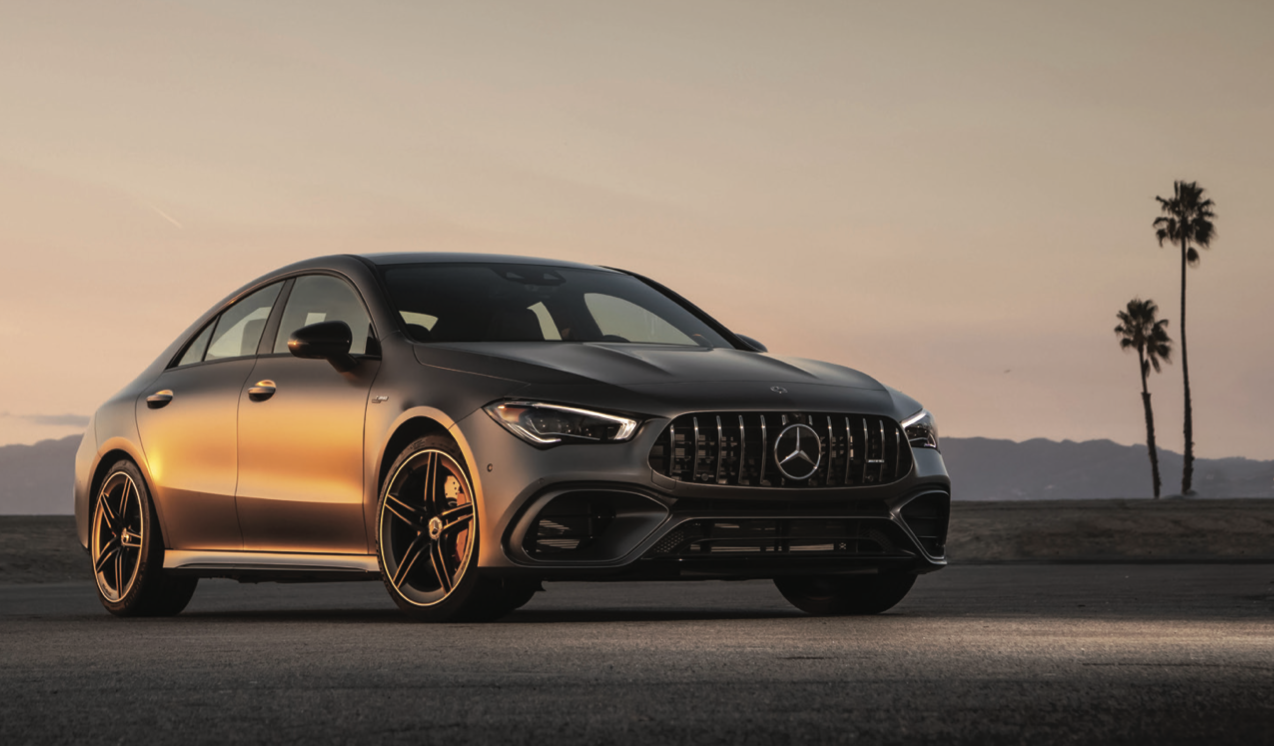 2021 MERCEDES-AMG CLA45
EPA RATINGS: 20/29/23 0-60MPH: 3.7 SEC
PRICE AS TESTED: $70,150
They used to say Germans had no sense of humor. Whether or not that stereotype's lack of political correctness bothers you, there is no doubt the CLA45 makes a mockery of it. There is absolutely no way the designers and engineers behind this 382hp four-door pocket rocket weren't laughing as they conceived of it, and there's no way you can drive it without a grin on your face.
The torque-vectoring rear axle (which even lets you drift in rear-drive mode) means the CLA45 stays resolutely locked on-line in the 4Matic+ AWD settings. The ride is AMG-locked down in "Race," yet Mercedes-supple and quiet
in "Comfort." Road and wind noise are well contained, and the CLA45 gets great real-world economy for something so potent.
While the CLA45 shares its underly- ing structure with the A-Class sedan and GLA and GLB crossovers, the CLA45's body, which the company calls a coupe, is low and svelte, classy yet unassuming. Add the various black- out and carbon option packages to impart the right amount of pitlane flamboyance. Inside it is modern without being modish, and uniquely groovy in Mercedes' signature "Berlin Disco at Night" way.
The future may be electric and autonomous, but the CLA45 leverages AMG's decades of technical excellence to bring the attitude and sheer joy of machines like the original "Hammer," the modern-day classic E63 S wagon and frankly ab- surd G63 down to an obtainable level.
---
This article was also featured in the Winer 2021 Issue of Colorado AvidGolfer.
Colorado AvidGolfer is the state's leading resource for golf and the lifestyle that surrounds it, publishing eight issues annually and proudly delivering daily content via coloradoavidgolfer.com.