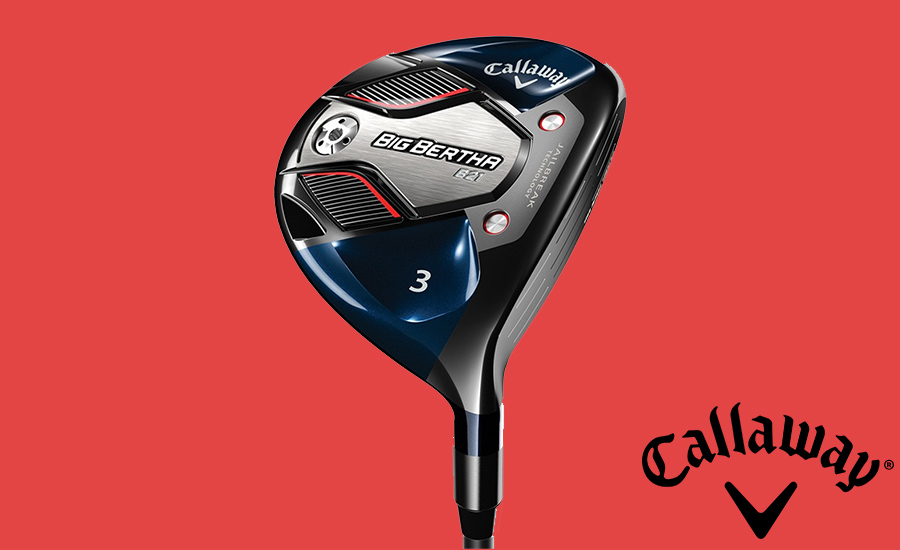 A week after featuring the Callaway Big Bertha Reva to coincide with Women's Golf Day, we're back with another Callaway launch—the Big Bertha B-21 which is designed to help slicers keep the ball on (or nearer at least) the short grass.
By Tony Dear
It's the age-old question in golf—well, one of the many imponderables in our unfathomable sport – should you buy yourself a better game, or just work harder to eliminate the flaws in your swing? Should you spend hundreds of no doubt frustrating, grueling (but ultimately fulfilling) hours on the range trying to decipher your teaching pro's most recent instruction on how to beat a hook or banish a slice, or does it make better sense to simply purchase a club designed to do all the grunt work for you?
Only you can decide which way to go, of course. For many, there is something pure, something admirable and virtuous about taking the time and expending the effort to correct an over-the-top move or establish the proper weight shift for instance. And while the rest of society possibly relishes such a task, they simply might not have the time. They have things like jobs and families which make buying the slice/hook/shank/top-busting club a much better use of their time and money.
The latest weapon in the high-handicapper's destruction-reduction arsenal is Callaway's Big Bertha B-21, a driver built with time-tested Big Bertha DNA (shape, size, club configuration, etc.) that doesn't look like the sort of unsightly, heavily-offset band-aid hapless golfers once employed to take the edge off their worst slices, but a sophisticated tool any golfer would be happy to put in the bag. It was announced three weeks ago, and is set to hit stores on Thursday when internet pre-orders will be shipped.
The slice-fighting tech on the surface and within the B-21 cover all the slicer's most injurious bases.
Increases stability—Callaway acknowledges there are drivers with significantly higher MoIs (Moment of Inertia), but max-MoI wasn't the top priority with the B-21. The triangular(ish) head shape and light composite crown which allows Callaway to redistribute weight elsewhere in the head, together with a back weight screw combine to stabilize the head when contact is made away from the sweet spot.
Reduces Spin—Some of the weight saved by use of a composite crown is positioned low and forward in the head pushing the Center of Gravity (CG) low and forward which reduces spin.
Promotes a draw—Heel-weighting provides the draw bias common to many of today's drivers.
The result is a driver that launches high, reduces sidespin, and forgives mis-hits. And ball speed is retained by Callaway's Artificial Intelligence-created titanium Flash Face SS21, and Jailbreak technology which stiffens the frame and optimizes face-flex. Unlike anti-slice drivers of the dark past, the B-21 isn't offset but not quite as onset as its flagship models. The stock shaft is Callaway's own stable, but tip-active, RCH. Loft and lies can be adjusted with the Opti-Fit hosel.
It's a comprehensive and innovative package in an attractive shell that should appeal to many golfers whose banana shots have gotten out of control.
The Fairways Woods are built on similar grounds – an oversize, shallow head to push the CG low and forward, but a back weight screw to increase MoI. That's a recipe for high-launch, low-spin. There is a little offset to help slicers square the face prior to impact and salvage a shot invariably resulting from a steep, over-the-top swing. Slightly shorter shafts than what is standard on contemporary fairway woods should result in better contact making up for the distance lost from slightly slower clubhead speed. The Flash Face SS21 and Jailbreak bars combine for greater ball speeds across more of the face. As with the driver, the stock shaft is Callaway's own RCH.
Driver
$500
Lofts—9 ˚, 10.5 ˚, 12˚
Shaft—RCH 40
Available—September 10th
Fairway Woods
$300
Lofts—3, 5, 7, 9-wood
Shaft—RCH
Available—September 10th

---
For more on the latest and greatest gear in golf, visit our GEAR PAGE.
Colorado AvidGolfer Magazine is the state's leading resource for golf and the lifestyle that surrounds it, publishing eight issues annually and proudly delivering daily content via coloradoavidgolfer.com.