Five new pairs for 2021 that blend performance, comfort and style.
By Tony Dear
FootJoy Premiere
'They don't make stuff like they used to' – it's a time-worn phrase and certainly true in most cases. But while a lot of things made decades ago were built to last and had character, they probably didn't perform as well as modern products. In the second half of the 20th century, the FootJoy Premiere was by far the most popular shoe among professionals and discerning club golfers who appreciated hand-made quality regardless of the price.
But, as tastes evolved, and quicker, cheaper, and more efficient methods of production appeared, so demand for the Premiere waned. Acushnet which owns the brand, finally closed the FootJoy Premiere factory in 2009.
Last year, however, a version began re-appearing on the PGA Tour. Billy Horschel, Ian Poulter, Justin Thomas, and Adam Scott were seen wearing them in the Fall and at November's Masters they were the most-worn shoe in the field.
The new version retains the classic looks of the original, but there are some updates and tweaks that definitely make it a modern shoe. The old leather outsole has ben replaced by thermoplastic polyurethane (TPU). That will instantly dissuade some loyalists from reverting to the Premiere, but the stabilizing and durability benefits of what FootJoy calls it VersaTrax outsole are significant.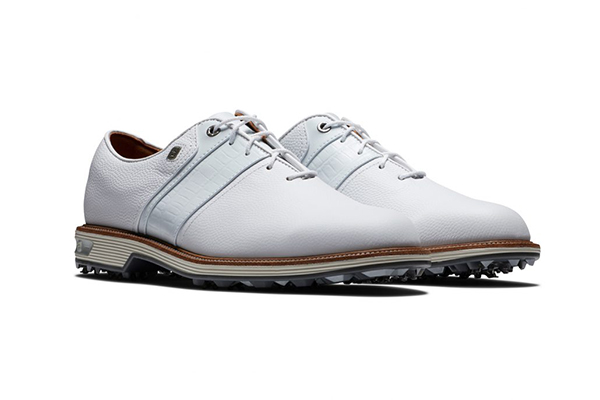 Specifically-arranged, multi-directional traction elements provide a firm grounding, and the Ortholite EcoPlush FitBed cushioning system ensures better comfort.
The elegant upper is crafted with Pittard's leather that is so good as keeping water out the shoe comes with a two-year waterproof guarantee.
The men's shoe comes in three styles – Packard, Flint, and Tarlow with multiple color options available in both the laced and BOA (Packard only) versions. There is also a women's model
$200 (laced), $230 (Packard BOA). Woman's laced model is $170, while the BOA is $200.
Sizes – 7-12 with half-sizes, plus 13, 14, and 15
Width – medium, wide
FootJoy Hyperflex
The Hyperflex couldn't look much more different to the Premiere and might appeal to a very different generation of golfer, but the objectives are very similar – comfort and stability.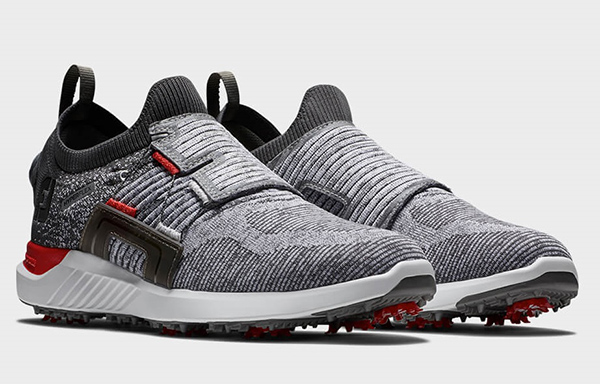 The StratoFoam cushioning system is designed for maximum comfort, absorbing shock and reducing walking fatigue. The OptiFlex outsole, meanwhile, adds torsional control during the swing. The Hyperflex has a waterproof and breathable mesh layer that FootJoy says 'provides complete protection in any weather condition'.
$150 (laced), $170 (BOA)
Multiple color options available.
Sizes – 7-12 with half-sizes.
Width – Medium, Wide, Extra-Wide
Puma Ignite Fasten8
Puma has proven itself one of the most innovate of shoemakers in recent years, and its new Fasten8 fit system will certainly help retain that reputation. Advanced nylon webbing straps integrate with the lacing system to wrap the foot and provide a secure fit. And, as you tighten the laces, the PWRCAGE – a strong, lightweight TPU saddle –  likewise forms to the shape of your foot maximizing stability. The sole's traction elements are designed to ensure good footing whatever the ground conditions, and the Ignite Foam provides welcome cushioning. The upper also features a non-stretch waterproof/breathable mesh to keep your feet dry.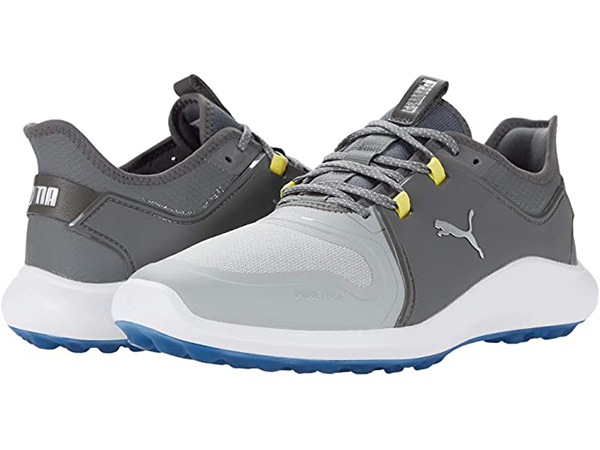 The men's shoe is available in three styles – Standard, Disc, and Pro. The standard model is laced, Disc is Puma's ratcheting mechanism, and the Pro features a leather upper.
$120 (Standard, Disc, and Pro). Women's shoe is $100.
Multiple color options
Sizes – 7-12 with half-sizes, plus 13 and 14. 
Width – Standard, Wide
Adidas ZG21
Just as a driver needs to optimally-weighted for it to perform at its potential best, so your golf shoe needs to have weight in all the right places without being heavy. Last year Adidas introduced the extremely light, spikeless Codechaos that proved popular among professionals including world number one, Dustin Johnson. For 2021, the company has created a similarly light, spiked shoe that was first worn at the year-opening Sentry Tournament of Champions by Collin Morikawa and Xander Schauffele.
The ZG21 features technology first developed for Adidas's basketball shoes – namely Lightstrike, a foam that doesn't compact like most and which is 40% lighter than most golf shoes' EVA foam. It works with the Adidas's now-familiar Boost foam to provide extra cushioning.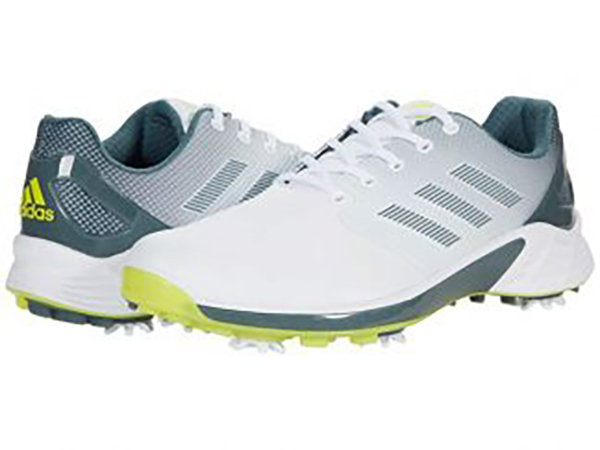 Added to the midsole is a fin-shaped piece of TPU that provides lateral support. The sole features six spikes and numerous fang-shaped elements to keep your footing solid. 'Swingplane' is a technology Adidas developed after analyzing exactly where on the foot pressure is at its greatest. It is designed to increase stability and firmness in the right places without adding excessive weight. A polyurethane film is applied to the upper's waterproof material to ensure the shoe repels water.
$180 (laced), $200 (BOA). Women's shoe is $190, and Juniors' $65.
Multiple color options
Sizes – 7-13 with half-sizes, plus 13, 14, and 15
Ecco Biom H4
Ecco's familiar Biom shoe has become a favorite among judicious golfers and the H4 should prove every bit as popular. The new MTN outsole has three sections that seek to provide a combination of traction, stability and rotational support. Fluidform Direct Comfort Technology provides all the cushioning you need, while TPU posts between the outsole and midsole wrap around the foot to add stability and, thanks to their colors, suggest the Danish company will be hoping to attract a slightly younger age group than it has in the past. Waterproof leather upper incorporates Gore-Tex which we all know does a fine job of keeping water and perspiration out.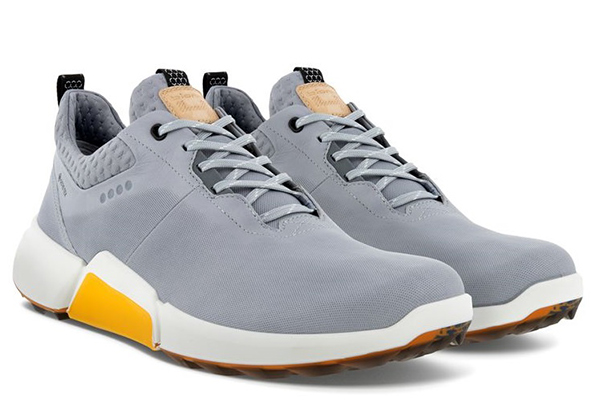 $200
White/Concrete
Sizes – 6-13
Available – 3/22/21
---
Want to read more gear articles like this one? Visit our GEAR page.
Colorado AvidGolfer Magazine is the state's leading resource for golf and the lifestyle that surrounds it, publishing eight issues annually and proudly delivering daily content via coloradoavidgolfer.com.