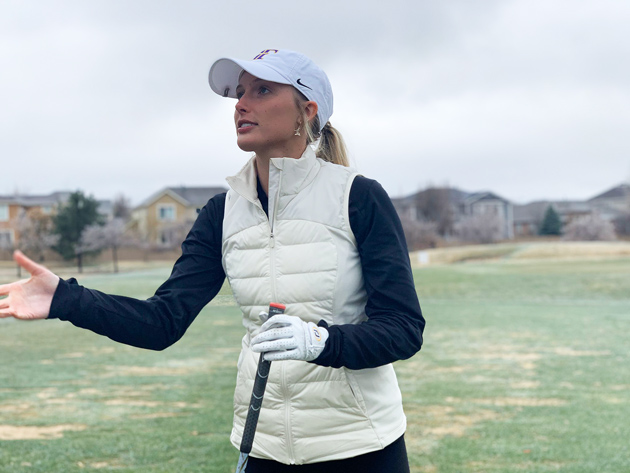 Holy Family senior hoped to become first golfer—male or female—with four individual championships.
As Hailey Schalk's burgeoning golf career took flight, her father Matt made the decision he wouldn't watch her play, lest parental pressure become one more thing on the list of obstacles confronting a youngster learning to compete on the junior circuit.
Even after Hailey began playing at Holy Family High School in Broomfield—where Matt would eventually become the coach—that early decision held firm, with Matt only relenting after his daughter implored him, "Dad come watch me play!"
That was one reason why this season was going to be such a special one for Matt; after winning three consecutive individual state championships, Hailey was a solid favorite to make history, becoming the first Colorado golfer to take four titles.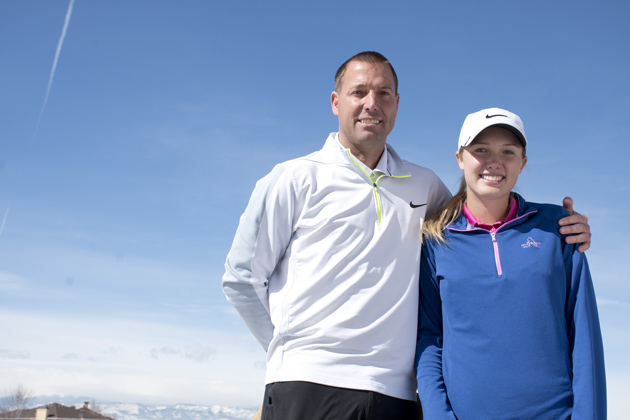 "If I take my Dad hat off, I still say she's the best high school player Colorado has ever produced—male or female," Matt says.
Compounding the Schalks' anticipation of the event was the fact that Colorado National Golf Club in Erie—where Matt is the PGA director of golf and Hailey practices daily—was scheduled to host the 4A Championship.
Alas, on Tuesday, Hailey Schalk, like athletes in every sport across the state, lost the chance to prove it on the field of play. Like a final, winding, 80-foot putt to win, the small glimmer of hope of returning to the course was lost when, in the most foregone of conclusions, the Colorado High School Activities Association (CHSAA) cancelled all of its spring seasons.
Dream Denied
In a letter issued Tuesday, CHSAA Commissioner Rhonda Blanford-Green wrote: "We have proceeded with cautious optimism, holding on to a thread of hope that the spring season would be able to realistically resume, knowing that the health and safety of our sports communities would dictate our course of action. It was our hope to be able to create the memories because we understood what it meant to our high school communities — especially seniors — statewide.
"…We convened a meeting of the Sports Medicine Advisory Committee on Monday evening. The group came to a consensus, and stated: 'It would be impractical and irresponsible for the Association to move forward with a spring season in the next weeks or even the summer months.'"
The decision left both Schalks feeling dejected. Matt said he regretted not watching Hailey more during her prep career, while Hailey decried having her high school experience come to such an abrupt end.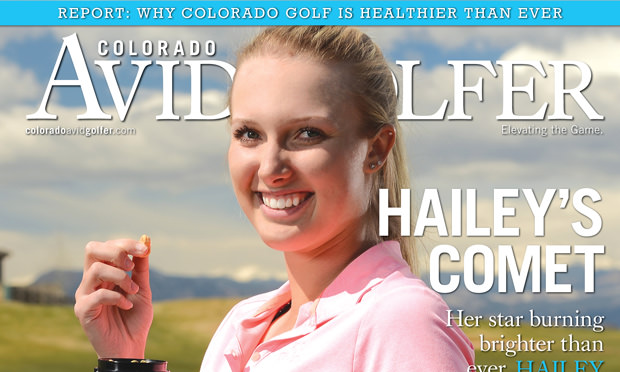 "I think I accomplished more than anyone, even I, thought I was going to, but it's disappointing to not get that last chance (at a fourth state title)," Hailey said. "Even if I lost, it would have been nice to get the opportunity to try out on the course."
With the high school season lost, and other possible tournament cancelled because of the coronavirus, Hailey admitted she went into a funk. Because she didn't know when she would tee it up again, Schalk said her attitude suffered.
"Why go out and practice if I didn't have anything to look forward to?" she said.
But, speaking following the conclusion of a practice session at Colorado National, Schalk says she's now come around, realizing "there's no point to sitting around doing nothing."
What Schalk has been doing in a big way is working out–"a ton." As a result, she says, she's noticed a definite increase in her swing speed.
"I didn't have this much time on my hands before," she said. "I'm just trying to take advantage of it; I'm hitting the ball really well–it's been nice."
"A really weird place to be in"
One of the events Schalk lost out on was the U.S. Women's Amateur Four-Ball, scheduled for this weekend in Florida. She would have partnered with Charlotte Hillary, the duo participating in the USGA event for the second time in three years.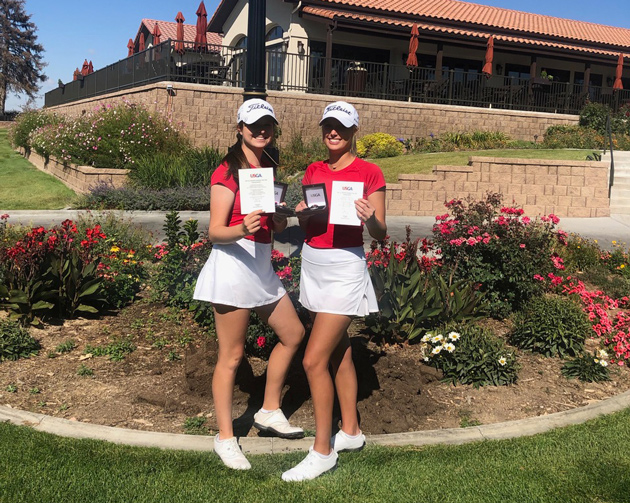 Hillary, a senior at Kent Denver, said she was part of a group text from her coach, imploring the players to keep their heads up, that there was still a chance of the season being salvaged.
"Then boom," she said of Tuesday's news, which was tempered a bit, coming amid a day-long birthday celebration for her dog, Callie.
"She had a good day!" Hillary said.
Like Schalk, Hillary says she's become something of a workout fiend during her forced hiatus.
"Between school and golf, I never really had time," she said. "Now I've been doing a lot of YouTube challenges; it's gotten me into a routine—if it's 3 o'clock, it's workout time."
Hillary says she's also gotten stronger, with increased swing speeds—she just isn't sure yet how that's going to actually translate out on the course.
"It's just a really weird place to be in," she says. "You want to see where your game is, but going out and playing 18 holes isn't the same as playing in a tournament. So it's hard to really know where you are, or where your game is going to be when you play in that (first) tournament—whenever it comes."
Right now, Hillary is entered in the CoBank Colorado Women's Open; the event, June 3-5 at Green Valley Ranch, is still on the schedule. After that…
"I'm just filling out as many applications to tournaments as I can," Hillary said. "Some of them might conflict with each other, but with cancellations, who knows what will happen?"
---
For more of the latest Colorado golf news, visit our NEWS & PROFILES PAGE.
Colorado AvidGolfer Magazine is the state's leading resource for golf and the lifestyle that surrounds it. CAG publishes eight issues annually and delivers daily content via coloradoavidgolfer.com.